A wedding is a beautiful occasion that provides lifelong memories. It often takes the bride and groom months – even years – to plan their dream wedding, ensuring that every item on the list is ticked and that every little detail is correct. One of the most important details of a wedding is the wedding cake! It is typically positioned on the center table of the wedding and serves as a focal point to draw people's attention. The cake usually features an intricate design and is created using prime ingredients to achieve a delicious taste.
1. Autumn Wedding Cakes
Autumn is a beautiful wedding season, with its colorful foliage, crisp air, and cozy atmosphere. When it comes to wedding cakes, there are many ways to incorporate the spirit of autumn into the design. Here are some ideas for autumn wedding cakes that will inspire you:
Rustic Charm: A rustic-style wedding cake is perfect for autumn weddings. Think of earthy colors, texture buttercream, and natural decorations such as fresh flowers, greenery, or even berries. You can also add some wooden accents, such as a cake stand or a topper made of birch bark.
Warm Colors: Embrace the warm colors of autumn with a cake that features shades of orange, red, and brown. You can use edible flowers, leaves, or even pumpkins and gourds to decorate your cake. Metallic accents, such as gold or copper, can add a touch of glamour.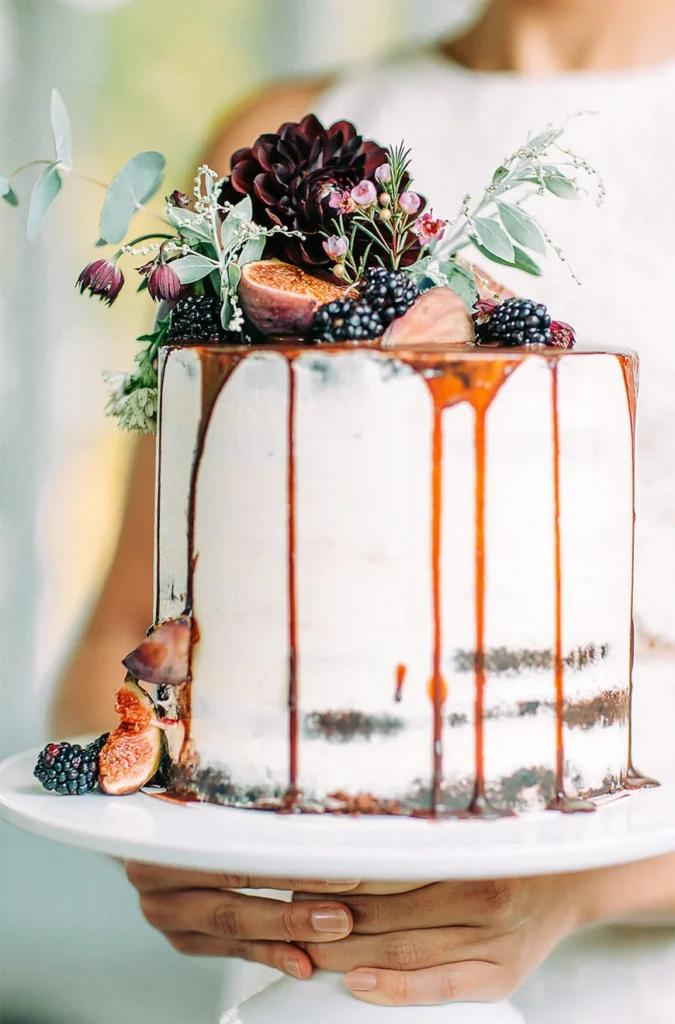 Seasonal Flavors: Incorporate the flavors of autumn into your wedding cake, such as apple, cinnamon, or pumpkin. A naked cake, which has little or no frosting on the outside, can be a great way to showcase these flavors. You can also add some spice to the frosting or filling for a warm, cozy taste.
Modern Elegance: If you're looking for a more contemporary look, consider a modern wedding cake that incorporates autumn themes in a sleek and elegant way. Use clean lines, geometric shapes, and metallic accents to create a chic design. Incorporate autumn elements, such as leaves or berries, in a subtle way for a sophisticated touch.
2. Summer Berry Wedding Cakes
Summer is a season of bright colors and delicious fruits, which makes it the perfect time for a berry wedding cake. Whether you're planning a rustic barn wedding or a sophisticate garden soirée, a summer berry wedding cake is sure to delight your guests. Here are some ideas and tips for creating the perfect summer berry wedding cake.
Choose your berries: The key to a delicious berry wedding cake is to use fresh, in-season berries. In the summer, you'll have plenty of options to choose from, such as strawberries, raspberries, blueberries, blackberries, and cherries. Consider mixing different berries to create a vibrant and colorfull look.
Pick your flavors: The flavor of your cake should complement the berries you choose. For example, a vanilla sponge cake pairs well with strawberries and cream, while a lemon cake goes well with blueberries and raspberries. You can also consider adding a layer of jam or compote made with your chosen berries to add an extra burst of flavor.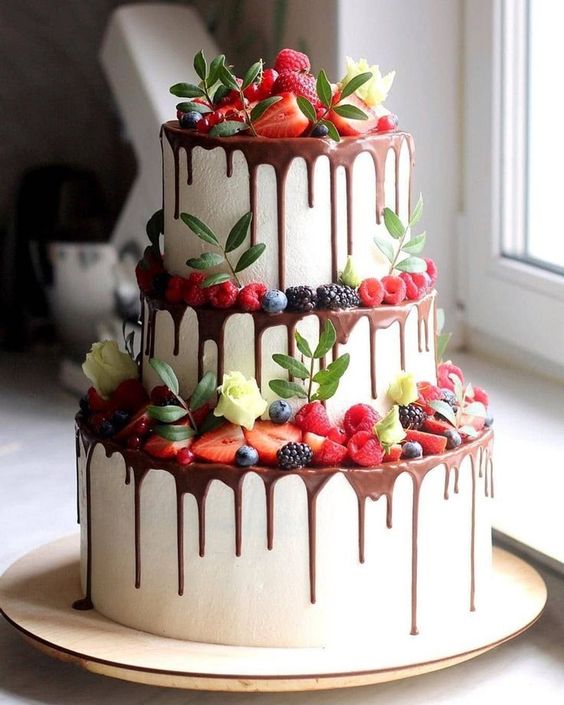 Think about presentation: Summer berry wedding cakes can be presente in a variety of ways. You can opt for a naked cake, which is a cake that is partially or completely unfroste, to showcase the fresh berries. Alternatively, you can go for a fully frosted cake with fresh berries piled on top, or decorate the cake with a berry reduction or fresh whipped cream.
Don't forget the decorations: In addition to the berries, you can decorate your cake with other summer-themed decorations, such as edible flowers, leaves, or even a small sprig of mint. You can also add a touch of gold or silver leaf for a more elegant look.
3. Vintage-Style Wedding Cakes
Vintage-style wedding cakes are a beautiful and timeless addition to any wedding celebration. These cakes often feature intricate details, soft pastel colors, and delicate floral designs that transport you to a bygone era. In this blog post, we'll explore some of the key features of vintage-style wedding cakes and provide tips for creating your own.
Choose the right color palette: Soft pastel colors are a hallmark of vintage-style wedding cakes. Shades of pink, blue, and ivory are particularly popular. Consider incorporating these colors into your cake design using fondant or buttercream frosting.
Include intricate details: Intricate details such as lace patterns, delicate floral designs, and vintage-inspired decorations add a touch of elegance to your cake. Edible sugar flowers, pearl accents, and gold leaf can also help create a vintage look.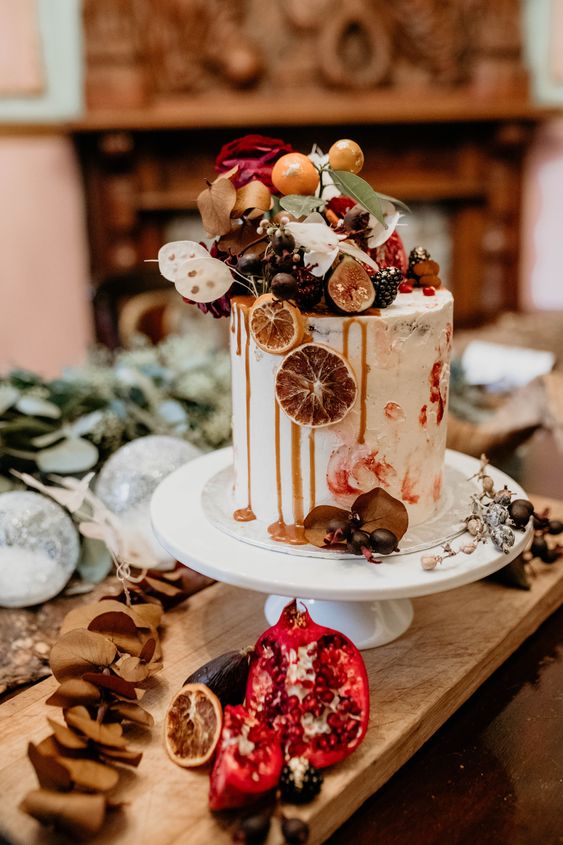 Use tier designs: A tiered cake design is a classic choice for vintage-style wedding cakes. Consider stacking two or three tiers of varying sizes and decorating each tier with its own unique design elements.
Opt for a textur finish: A texture finish on your cake can create a vintage look and feel. Consider using buttercream frosting or fondant with a texture finish to add depth and interest to your cake design.
4. Kitsch Buttercream Wedding Cakes
Vintage cakes are made with buttercream frosting using traditional piping techniques that your Gran us to make. Think buttercream swirls, lace, basketweave, and frills. Mix it all together in a variety of colors, patterns, and shapes and you get this delightful on-trend current style.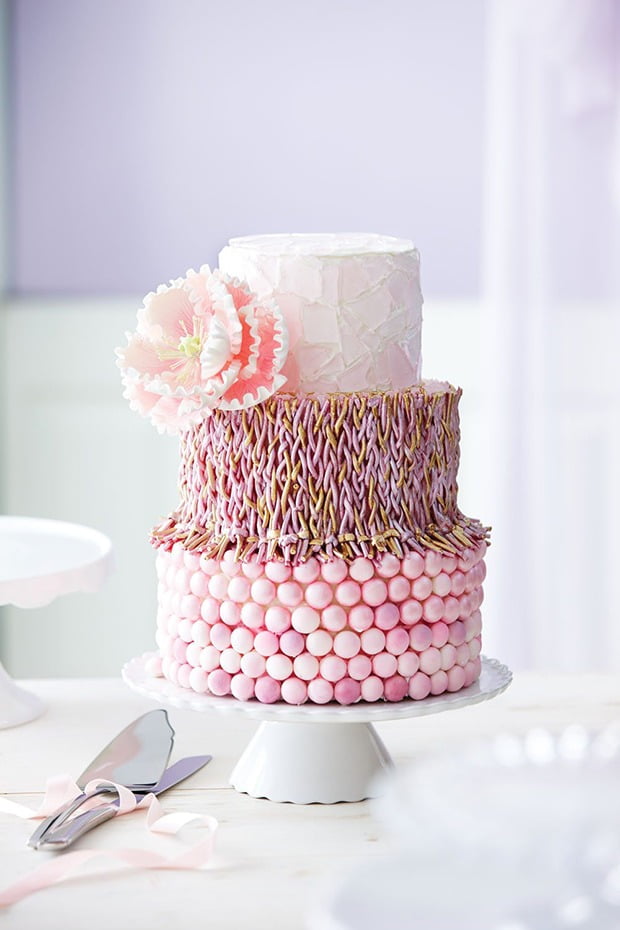 5. Feather Wedding Cakes
Feather wedding cakes are unique and stunning wedding cake that incorporates delicate feathers as a decorative element. The feathers can be real or made of sugar, fondant, or other edible materials. The cake itself can be any flavor or style, such as a classic white cake or a modern nake cake.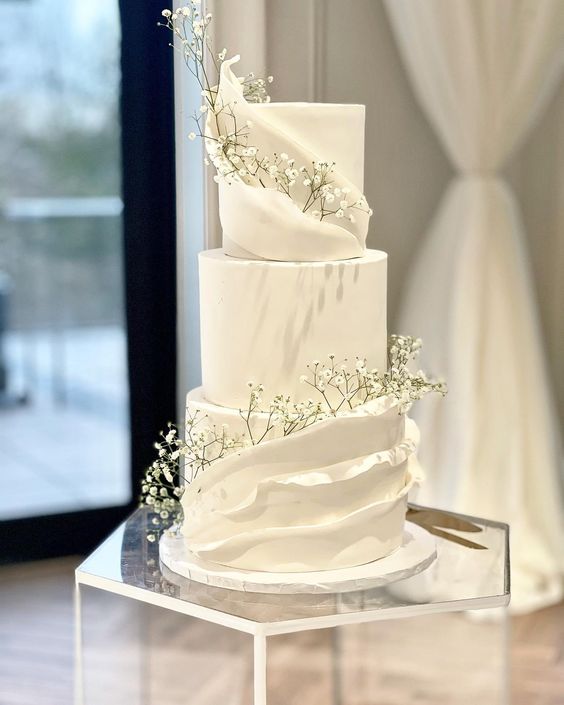 Feather wedding cakes have become increasingly popular in recent years due to their whimsical and elegant look. They can be design to fit any wedding theme, from bohemian to glamorous. If you are interest in a feather wedding cake for your own wedding, it is recommend to work with an experience baker who specializes in this type of cake design.
They can help you choose the right feathers and design the perfect cake to fit your wedding style and preferences. Additionally, it is important to make sure that any feathers us in the cake are properly cleaned and sterilized to ensure they are safe for consumption.
6. Red Velvet Wedding Cakes
Red velvet wedding cakes are a popular choice for couples who want a classic yet unique dessert for their special dayich pairs
When it comes to designing a red velvet wedding cake, there are many options to consider.
Classic tiered cake: A classic tiere red velvet cake is always a popular choice for weddings. The cake can be decorat with white or cream cheese frosting, and embellished with flowers or other decorations to match the wedding theme.
Naked cake: For a more rustic or minimalist look, consider a nake red velvet cake. This style of cake is left unfrosted on the sides, allowing the red velvet cake layers to show through. The top can still be frosted and decorated with fresh fruit, flowers, or other toppings.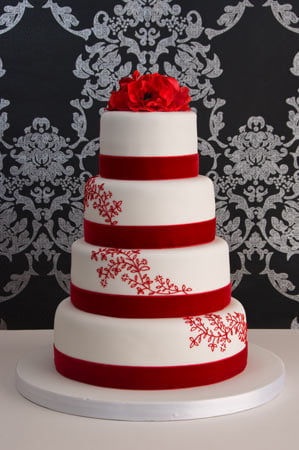 Ombré cake: An ombré red velvet cake is a stunning way to incorporate the red velvet color into the wedding cake design. The cake layers can be gradually shaded from light pink to deep red, and decorated with buttercream or cream cheese frosting.
Red velvet cupcakes: If you want a more casual or interactive dessert option, consider serving red velvet cupcakes at your wedding. They can be decorat with cream cheese frosting, and guests can choose their own cupcake flavour and toppings.
7. Marble Wedding Cakes
Marble wedding cakes are a type of cake that combines two flavors, usually vanilla and chocolate, in a swirled or marbled pattern. These cakes are a popular choice for weddings because they offer a delicious combination of flavors and a beautiful visual effect. To make a marble cake, bakers typically start by making a vanilla cake batter. They then divide the batter in half and mix cocoa powder and other chocolate ingredients into one half to create a chocolate batter. The two batters are then alternated in the cake pan, creating a swirl or marbled effect. Marble wedding cakes can be decorated in a variety of ways, including with buttercream frosting, fondant, or fresh flowers. They can also be layered with fillings like fruit preserves or ganache for added flavor and texture.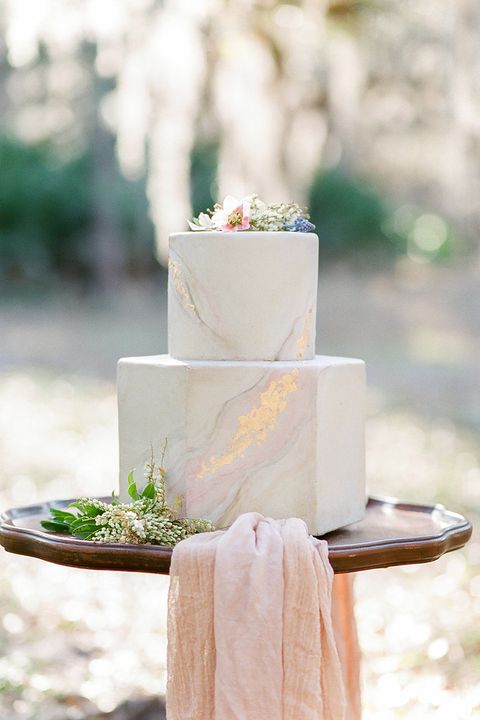 Wedding cakes are a big deal. They signify the final step in planning your wedding and they will be on display at your reception for all of your guests to see. Wedding cake styles can vary from traditional white with buttercream frosting to more creative options like tier cakes or fondant-covered cakes, so you must find one that reflects who you are as a couple. In this blog post, we'll discuss what different types of wedding cakes exist and how they're styled, their cost range, and which ones might work best for a variety of budgets! There are several different types of wedding cakes to choose from, so let's start with the basics. The three most common styles of wedding cake are separated tiers, press floral cake, and confetti wedding cakes.