The engagement ceremony marks the beginning of a beautiful journey with your partner. It is also one of the first times you get to meet all of his friends and family in one place! Since it is such an essential ceremony, it is important to hire a photographer and capture all the precious moments. And when it comes to engagement photos and engagement poses, you will find some very common and cheesy pictures online.
1. Close-Up Engagement Photos
Close-up engagement photos are a popular choice for couples who want to capture their love and connection in an intimate and personal way. Here are some tips for creating stunning close-up engagement photos:Use a Macro Lens: A macro lens allows you to get up close and capture the tiniest details of your subject. It's perfect for taking close-up shots of your engagement ring or capturing the little details of your partner's face like their eyelashes or the curve of their lips.
Play with Depth of Field: Adjusting the depth of field in your photos can help you create a dreamy, romantic look. Try shooting with a wide aperture to blur the background and create a shallow depth of field. This will make your subject stand out and give your photos a beautiful bokeh effect.
Focus on Hands: Holding hands is a classic symbol of love and commitment, and taking close-up photos of your intertwined fingers can create beautiful and intimate images. You can also try capturing other gestures, like the way your partner touches your face or plays with your hair.
Experiment with Lighting: Soft, natural light is always a great choice for engagement photos, but you can also get creative with lighting to create dramatic and romantic effects. Try using a backlight to create a halo effect around your subject, or experiment with colored gels to add a pop of color to your photos.
Use Props: Props can add a fun and personalized touch to your close-up engagement photos. You could incorporate items that are meaningful to you as a couple, like a favorite book or a sentimental piece of jewelry. Or, you could use props like flowers or balloons to add a playful and whimsical feel to your photos.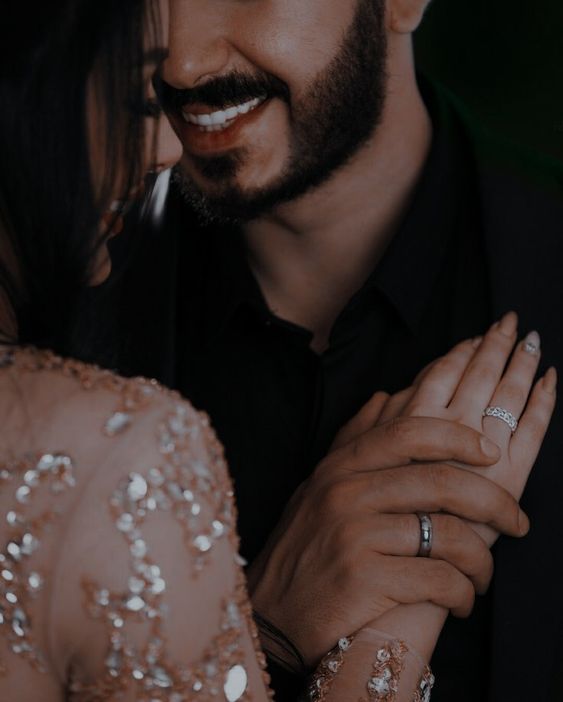 2. Dreamy Engagement Photos
Engagement photos are a wonderful way to celebrate and document this special time in your life.
Choose the right location: Pick a location that is special to you and your partner or that has a beautiful backdrop. Whether it's a beach, a park, a forest, or a cityscape, choose a location that reflects your personality and style.
Time of day: The best time to take engagement photos is during the "golden hour," which is the hour before sunset or the hour after sunrise. The lighting during this time is soft and flattering and creates a romantic and dreamy atmosphere.
Outfit coordination: Coordinate your outfits with your partner to ensure you both look cohesive and complement each other. Choose colors that work well together and avoid anything too busy or distracting.
3. Fun Engagement Photos
Engagement photos are a wonderful way to capture the love and excitement between a couple before their big day. Here are some fun ideas for engagement photo shoots:
Picnic in the park: Have a cozy picnic with a basket of snacks and a bottle of wine or champagne. Get playful with a game of frisbee or catch.
Beach day: Take a trip to the beach and capture some fun shots in the sand and surf. Build a sandcastle, fly a kite, or take a dip in the ocean.
City Adventure: Explore your city and take photos in front of iconic landmarks or colorful murals. Take a romantic stroll through a park or down a busy street.
Outdoor adventure: Take a hike or go on a bike ride and capture the beautiful scenery. Bring a blanket for a romantic picnic in the woods.
Movie night: Set up a cozy outdoor movie theater with a projector and screen. Cuddle up with some popcorn and take some playful photos.
Animal lovers: Visit a local farm or animal sanctuary and take photos with some furry friends. Hold hands while petting some cute goats or feeding some friendly cows.
Hobby showcase: Showcase your shared hobbies or interests in your photos. Take some shots while playing music together, baking cookies, or painting.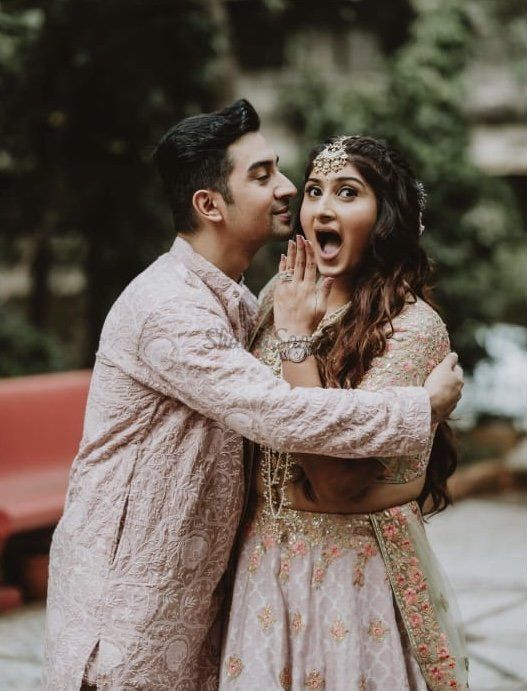 4. Intimate Engagement Photos
Intimate engagement photos are a beautiful way to capture the love and connection between two people. These photos can be taken in a variety of settings, from a cozy living room to a beautiful outdoor location. If you're looking for inspiration for your own intimate engagement photos, or just enjoy viewing beautiful photography, here are some great blogs to check out:
Junebug Weddings: This popular wedding blog features a section on engagement photography, including intimate photos that capture the connection between couples.
Green Wedding Shoes: This blog features a section on engagement shoots, with plenty of examples of intimate and romantic photography.
Once Wed: This wedding blog has a section on engagement sessions that features beautiful and unique intimate photography.
Style Me Pretty: This blog features a section on engagement sessions with plenty of beautiful examples of intimate photography in a variety of settings.
The Knot: This wedding planning website has a section on engagement photography with plenty of inspiration for couples looking to capture their love on camera.
5. Simple Engagement Photos
Simplicity can be a beautiful thing. Here are some tips for creating simple and stunning engagement photos:
Choose a natural setting: Look for a location that has a simple and natural beauty. This could be a park, beach, or even a local hiking trail.
Keep it casual: Engagement photos don't need to be overly posed or formal. Keep things relaxed and natural by choosing casual outfits and poses.
Use natural lighting: The best time to take engagement photos is during the "golden hour" – the hour before sunset when the light is soft and warm. This will give your photos a beautiful, natural glow.
Focus on each other: The most important element of engagement photos is the connection between the couple. Instead of worrying about getting the perfect shot, focus on each other and let your love shine through.
Bring along props that have meaning: If you want to add a personal touch to your photos, bring along props that have special meaning to you as a couple. This could be anything from a favorite book to a special piece of jewellry.
6. Romantic Engagement Photos
Are you looking for inspiration for your romantic engagement photos? There are so many different styles and settings you can choose from to make your photos truly special and unique. Here are some ideas to help you get started:
Natural landscapes: Find a beautiful natural setting, like a forest, beach, or mountain range, and let the scenery provide the perfect backdrop for your photos.
Urban settings: Explore your city and find unique, picturesque locations like graffiti walls, brick alleys, or rooftop views.
Romantic locations: Consider places that have special meaning to you and your partners, such as the spot where you had your first date, a favorite restaurant, or a place where you've shared special moments.
Seasonal themes: Use the beauty of the season to your advantage, with flowers in bloom during spring or colorful leaves in autumn.
Casual, intimate settings: Sometimes, the best photos are the ones that capture you and your partner just being yourselves. Consider taking photos at home, or in a relaxed setting like a coffee shop or bookstore.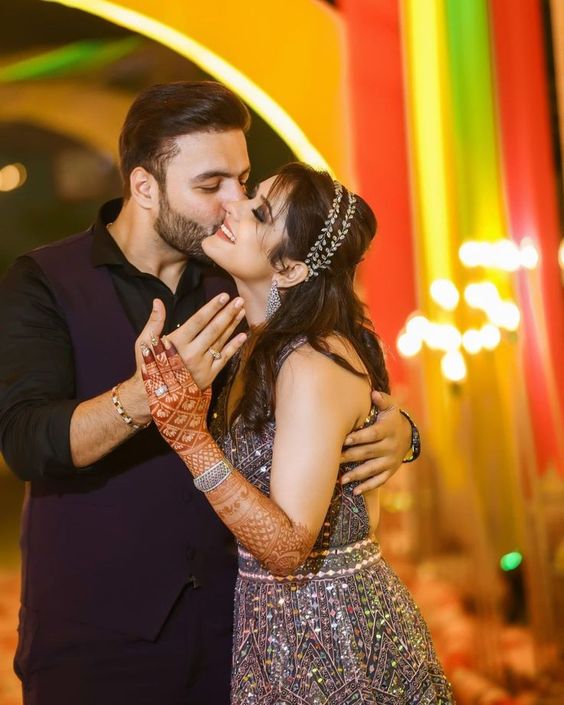 Couples come in all makes and models. They're tall and short and thick and thin. Some are shy, while some love the spotlight. And some fall naturally into photo-worthy poses, while others need a bit more guidance. One thing is true, though no matter who the lovebirds are, they expect you as the photographer to capture that connection on camera.