Indian weddings are quickly becoming a trend. More and more millennial couples are looking to add a picturesque location to their wedding and get the best pictures and videos clicked. If you've been invited to a beach wedding – yay! There's just something absolutely mesmerizing and beautiful about a bride tying the knot and listening to the waves crashing in the background. But, on second thought, what are you going to wear? There's always the option of wearing a gown or a dress but if you're looking at something Indian.
1. Anything But Red
Any Indian person will tell you that nearly everything in Indian culture is a symbol, and the colour is no exception: Yellow, orange, white, and green all have powerful symbols attached to them, for example. Of all those colours, red is likely the most prominent. A dominant colour in most religious ceremonies, red has an array of positive connotations in Indian culture. "Every woman we speak to has their own take on why red is significant to them because it is such a rich and meaningful symbol," says Ritika.
"In our culture, it means new beginnings, passion, and prosperity. Red also represents the Hindu goddess Durga, who symbolizes new beginnings and feminine power.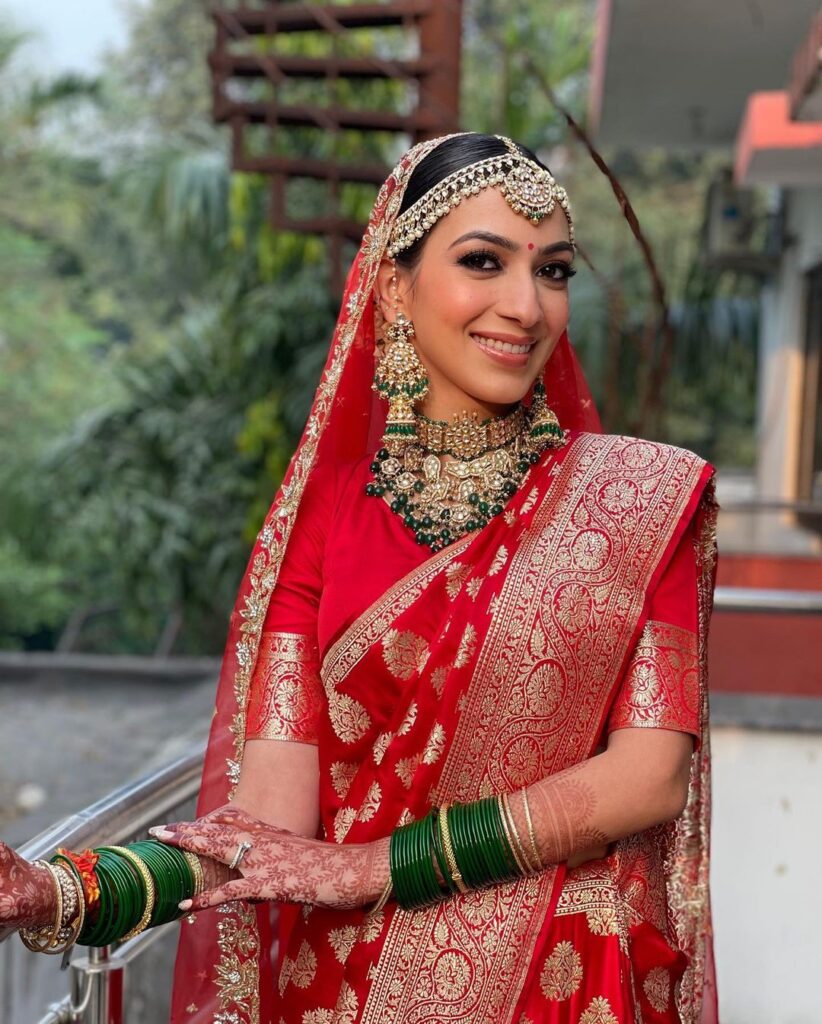 2. Monochromatic Lehenga
If you're planning a Indian wedding and looking for the perfect monochromatic lehenga, you've come to the right place! Monochromatic outfits have been in trend for a while now, and they add an effortless and chic touch to any wedding look. Here are some tips and ideas for selecting the perfect monochromatic lehenga for your Indian wedding:
Pick a Colour: First and foremost, decide on the colour you want to go with. Monochromatic doesn't necessarily mean just one colour, but it can also include different shades of the same colour. Some popular monochromatic colours for lehengas include red, pink, yellow, green, blue, and ivory.
Fabric and Embellishments: Once you've decided on the colour, think about the fabric and embellishments you want to incorporate. For a Indian wedding, lightweight fabrics like chiffon, georgette, and crepe work best. Embellishments like sequins, embroidery, and mirror work can add the perfect amount of bling to your outfit without making it too heavy.
Keep it Simple: When going for a monochromatic look, it's important to keep it simple. Don't overload your outfit with too many colours or embellishments. Instead, opt for a minimalistic yet elegant design that accentuates your beauty.
Accessorize Wisely: With a monochromatic lehenga, you can experiment with different types of jewellry and accessories. You can go for a contrasting colour or stick to the same colour family. Just make sure your accessories complement your outfit and don't overpower it.
Consider the Location: When choosing a monochromatic lehenga for your destination wedding, consider the location and its surroundings. If you're getting married on a beach, go for lighter colours like ivory or pastels. If you're getting married in a forest or mountainous area, darker colours like navy or emerald green would work well.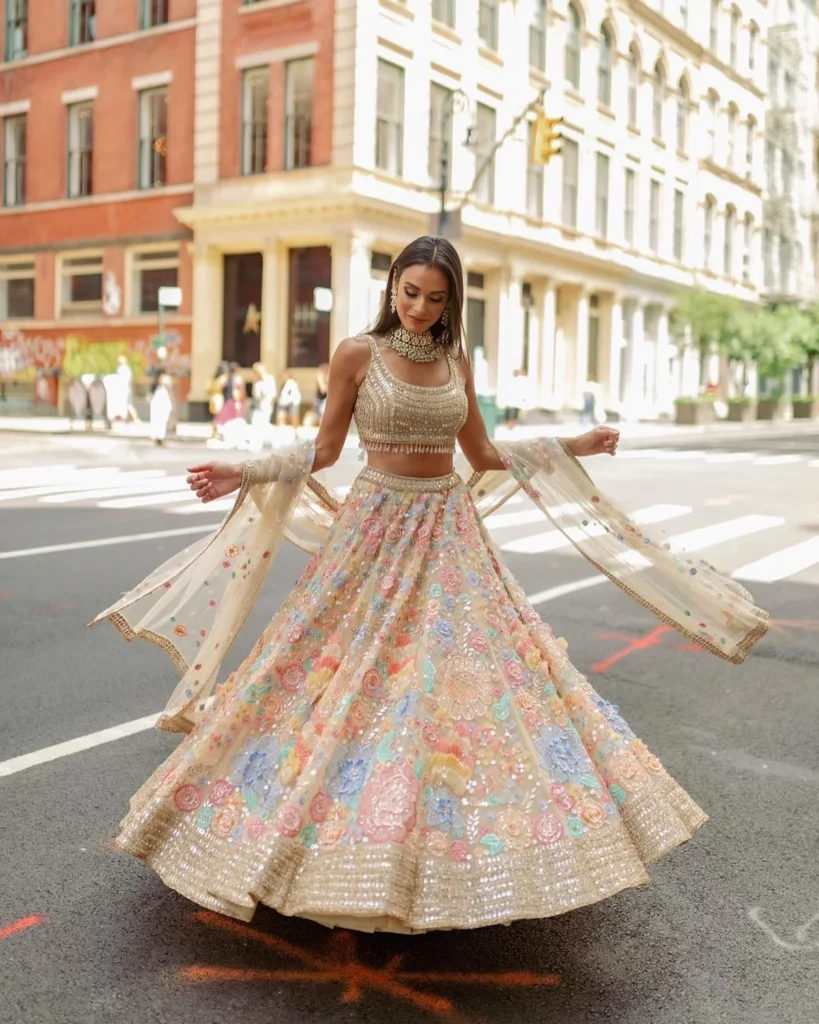 3. Jumpsuit
If you're attending a indian wedding and the dress code calls for a jumpsuit, you might be wondering what style and fabric to choose, and how to accessorize it. Here are some tips to help you look fabulous and feel comfortable:
Consider the location: If the wedding is in a tropical destination, opt for a lightweight and breathable fabric like cotton or linen. If it's in a cooler location, consider a jumpsuit in a heavier fabric like velvet or wool.
Think about the style: Choose a jumpsuit that flatters your body shape and fits well. If you're petite, go for a jumpsuit with a tapered leg or a cropped style to elongate your frame. If you're tall, try a wide-leg jumpsuit or one with a flowing silhouette.
Accessorize with jewellry: A jumpsuit is a statement piece on its own, but you can elevate your look with some statement jewellry. Try a bold necklace or earrings to add some sparkle.
Choose the right shoes: Heels can elongate your legs and add some glamour to your outfit, but if you're attending a beach wedding or a casual outdoor event, consider wearing sandals or wedges for a more relaxed look.
Bring a cover-up: If the wedding is outdoors or at the beach, bring a cover-up like a light cardigan or a shawl to keep you warm in case it gets chilly.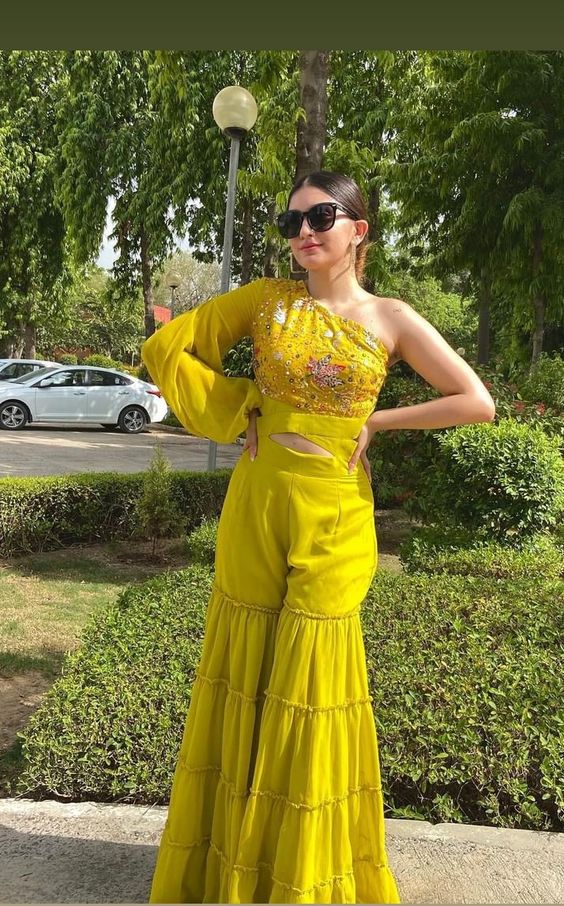 4. Saree Gown
A saree gown is a fusion of the traditional Indian saree and the western gown. It is a contemporary outfit that is perfect for a indian wedding. The saree gown is elegant, stylish, and versatile, making it an ideal choice for a bride who wants to make a statement on her big day. Here are some tips for wearing a saree gown at a indian wedding:
Choose the right fabric: When selecting a saree gown, it is essential to consider the fabric. Lightweight fabrics such as chiffon, georgette, and net are perfect for a indian wedding as they are easy to carry and do not weigh you down.
Select the right colour: Choose a colour that complements the location of the indian wedding. If it is a beach wedding, opt for light and breezy colours such as pastels or whites. If it is a garden wedding, choose bright and bold colours to stand out.
Pay attention to the draping: The draping of the saree gown is crucial to the overall look. Make sure that the drape is neat and in place. You can experiment with different styles of draping, such as the traditional saree drape or a modern drape, to add a unique touch to your outfit.
Accessorize appropriately: Accessorize your saree gown with statement jewellry such as a maang tikka, jhumkas, or bangles. Opt for comfortable footwear such as flats or sandals as you may have to walk on sand or uneven surfaces.
Hairstyle and makeup: The hairstyle and makeup should complement the saree gown. For a destination wedding, opt for a natural and dewy makeup look and keep the hairstyle simple yet elegant.
5. Jacket Set
If you're planning a indian wedding, choosing the right jacket can be a crucial part of your overall outfit. You want to look stylish and put-together, while also being comfortable in whatever climate you'll be in.
Think about the colour scheme: Your jacket should complement the rest of your outfit and the overall colour scheme of the wedding. If you're wearing a classic black tuxedo, a black or navy jacket would be appropriate. If you're wearing a lighter-coloured suit, a beige or light grey jacket may work well.
Consider the style of your wedding: The style of your wedding can also influence the type of jacket you choose. For a more casual beach wedding, a linen jacket or a light-coloured blazer would be appropriate. For a more formal wedding, a classic tuxedo jacket or a dark suit jacket would be more appropriate.
Choose the right fit: The fit of your jacket is crucial. You want to make sure it fits well and flatters your body shape. If you're unsure about your size or the fit, consider getting your jacket custom-made or tailored to ensure a perfect fit.
Don't forget about accessories: Accessories can make or break an outfit, so make sure to choose the right ones to complement your jacket. A pocket square, tie or bowtie, and boutonniere can all add a touch of personality and style to your outfit.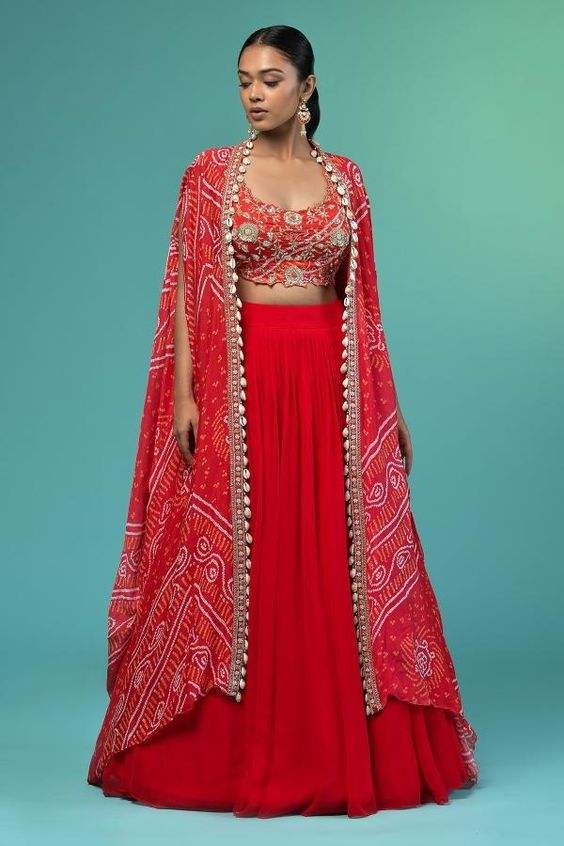 Always an auspicious colour, red was first worn by Indian monks and hermits in the third millennium B.C., but wasn't worn by brides until the Mughal Era in the early 16th century. With astrology so closely connected to the Hindu religion, red is also a symbol of Mars—the planet that rules marriage. Niki explains, "In Indian culture, the woman is the one who is leaving her house and going to the man's house to be with his family. It's a far bigger change for the woman than the man, so it is appropriate that she be the one commanding the most attention and wearing a bold colour like red that symbolizes new life."