Simple and minimalist wedding dresses have been on-trend for a while. Brides are opting for clean lines, subtle details, and understated elegance. Non-traditional colors such as blush, blue, and even black have been gaining popularity among brides. It's a great way to add some personality and uniqueness to your wedding dress. Bridal separates, such as a skirt and top, allow brides to mix and match to create a look that's unique to them. It's also a great way to switch up your look for the reception. Off-the-shoulder wedding dresses have been a popular trend in recent seasons. This style is both romantic and modern, and it's a great way to show off your décolletage. Sheer fabrics, illusion necklines, and cutouts have been on-trend for a while. These details add an element of allure to your wedding dress without being too revealing. Sleeves are back in a big way! From long, billowy sleeves to delicate cap sleeves, there are plenty of options for brides who want a little more coverage.
1. Multi Hued Lehengas
Multi-hued lehengas are a popular choice for weddings as they add a pop of colour to the bride's ensemble.
Rainbow Lehenga : A lehenga with a vibrant rainbow of colours is perfect for the bride who wants to make a statement. The colourfull hues will add a festive and fun vibe to the wedding.
Ombre Lehenga : An ombre lehenga is a great way to incorporate multiple hues into your outfit without it being too overwhelming. You can choose a blend of colours that complement each other to create a stunning effect.
Pastel Lehenga : A pastel lehenga with a mix of soft colours like pink, peach, lavender, and mint is perfect for a summer wedding. It gives a romantic and ethereal look to the bride.
Floral Lehenga : A floral lehenga with a mix of different coloured flowers is perfect for a garden or outdoor wedding. The colours of the flowers will complement each other and give a fresh and lively look to the bride.
Jewel-Toned Lehenga : A lehenga with jewel tones like emerald green, ruby red, and sapphire blue is perfect for a winter wedding. The rich colours will add warmth and elegance to the bride's ensemble.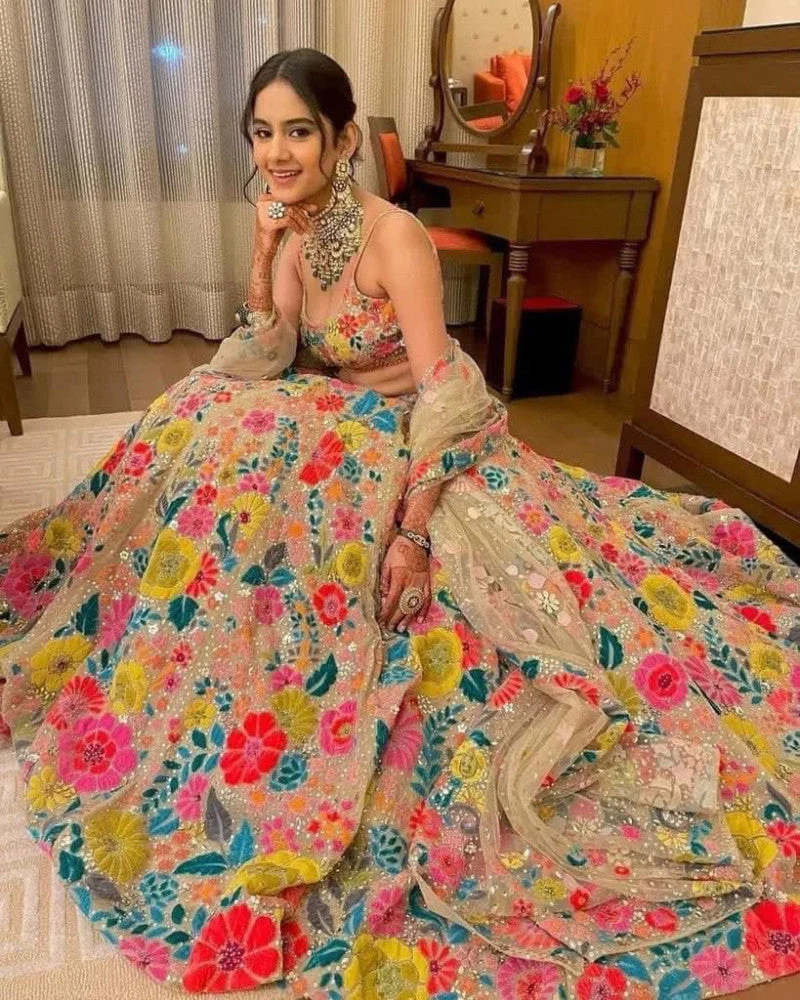 2. Peacock Motifs on the Lehenga
Peacock motifs are a popular choice for wedding outfits, and they add a beautiful and elegant touch to a lehenga. Here are some ideas for incorporating peacock motifs into a lehenga for a wedding:
Embroidered Peacock Motifs: One way to incorporate peacock motifs into a lehenga is through embroidery. You can choose a base colour for the lehenga and then have intricate peacock motifs embroidered onto it using thread or sequins. This will create a beautiful and eye-catching design that will stand out.
Peacock Print: Another way to incorporate peacock motifs is through a peacock print. You can choose a lehenga that has a peacock print on it or have the print added to the lehenga using a printing technique. This option is great for those who want a more subtle peacock design.
Peacock Feathers: You can also incorporate actual peacock feathers into the lehenga. This can be done by adding a border of peacock feathers to the lehenga or by attaching feathers to the blouse. This will create a unique and beautiful look that is sure to turn heads.
Peacock Jewelry: If you want to keep the lehenga simple, you can add peacock jewelry to it. This can include a peacock-inspired necklace, earrings, or bangles. The jewellry will add a pop of colour and tie the whole look together.
3. Plain Sarees With Border
Plain sarees with borders can make for a stunning bridal look. The simplicity of the saree allows for the border to stand out and make a statement. Here are some ideas and tips on how to style a plain saree with border for a bridal look:
Choose a colour scheme that matches your wedding theme or personal style. You can never go wrong with classic colours like red, gold, and white. Look for sarees with intricate borders made of embroidery, sequins, beads, or zari work. These details add texture and glamour to the otherwise plain saree. Play with draping styles to give a unique touch to your look. You can try the traditional Gujarati style or drape it in a more modern way like the dhoti saree style. Accessorize your saree with statement jewelry pieces like a choker, long necklace, or jhumkas. These pieces can add sparkle and complement the border of your saree. Consider adding a contrasting blouse to your saree for a pop of colour. You can also experiment with different blouse designs like off-shoulder, halter neck, or a backless blouse. Keep your makeup and hair simple and elegant to balance out the intricate border.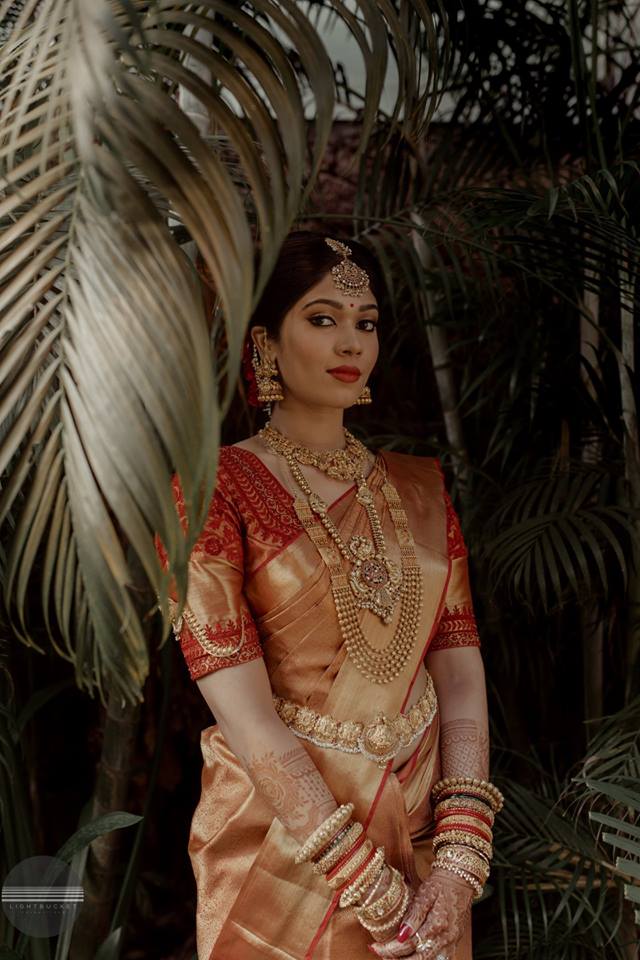 4. Dramatic Sleeves
Dramatic sleeves are a beautiful and elegant choice for wedding attire. They add a touch of sophistication and can make a statement without being too over the top. Here are some ideas for dramatic sleeve clothes for a wedding:
Off-the-shoulder ball gown : An off-the-shoulder ball gown with dramatic sleeves is a classic choice for a formal wedding. The sleeves can be puffed or ruffled, and the skirt can be full and flowing.
Caped dress : A dress with a cape is a unique and dramatic option. The cape can be sheer or solid, and can be attached to the dress or worn separately.
Bell sleeve dress : A dress with bell sleeves is a simple yet striking choice. The sleeves can be long or short, and can be paired with a fitted or flowing skirt.
Embellished sleeve dress : A dress with embellished sleeves, such as beading or lace, is a beautiful way to add some drama to your wedding attire. The embellishments can be subtle or bold, depending on your preference.
Bishop sleeve dress : A dress with bishop sleeves is a romantic and elegant option. The sleeves are full and gathered at the cuff, creating a soft and flowy look.
One-shoulder dress : A one-shoulder dress with a dramatic sleeve is a modern and chic choice. The sleeve can be oversized or asymmetrical, adding a unique touch to your wedding attire.
5. Black Dresses
History and symbolism of black wedding dresses : While black wedding dresses are not traditional, they do have a history of being worn in some cultures and time periods. You could explore the symbolism of black (such as mourning or rebellion), as well as the contexts in which black wedding dresses have been worn historically.
Modern interpretations of black wedding dresses : While black wedding dresses may still be seen as unconventional, they are becoming more popular among modern brides. You could highlight some of the contemporary designers and brands that offer black wedding dresses, and discuss the different styles and materials they use.
Choosing a black wedding dress : If a bride is considering wearing a black wedding dress, there are some unique considerations she should keep in mind. For example, she may need to consider how the dress will look in photographs, or how it will fit in with the overall theme and decor of the wedding. You could offer advice and tips for brides who are considering a black wedding dress.
Accessories and styling for black wedding dresses : Black wedding dresses offer a lot of opportunities for creative styling and accessorizing. You could provide inspiration and ideas for brides who are wondering how to style their hair, makeup, shoes, and jewelry to complement a black wedding dress.
Real-life examples of black wedding dresses : Finally, you could showcase some real-life examples of brides who wore black wedding dresses and looked stunning. You could feature photos and interviews with these brides to learn more about their decision to wear black and how they styled their dresses.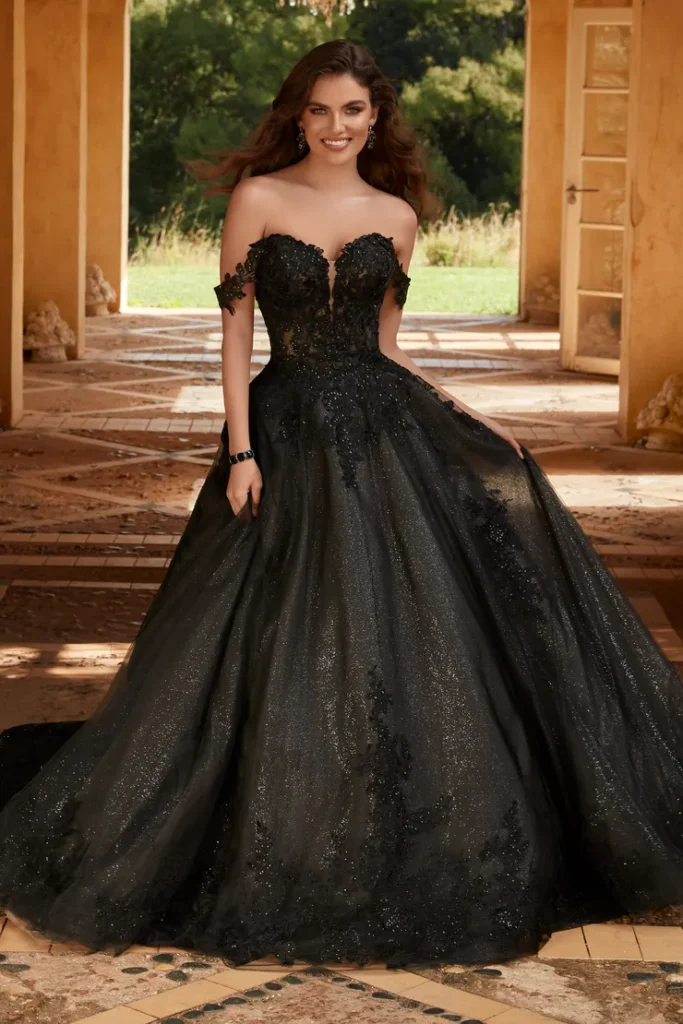 If you want to look stunning in your wedding dress, it is essential to give serious consideration to the options you have. The magnificent experience of wearing a stunning wedding gown while making your way down the aisle is something that every bride dreams of having. To accomplish this and to make sure your day is one that you will always remember.