There's so much about a wedding that's exciting. One such element that adds a touch of elegance is a wedding couple coordinating their outfits. From color coordinating to color contrasting to matching prints and fabrics, couples diversely combining their outfits have been in vogue for quite a while now. This super adorable and downright stunning trend somehow adds a personal touch to the wedding.
1. The Fairytale-like Pastel Blue & White Look
The enchanting world of pastel blue and white outfits, perfect for creating a fairytale-like aesthetic. Whether you're planning a special occasion or simply want to express your unique style as a couple, these delightful color combinations are sure to captivate. Join us as we explore different outfit ideas, from casual to formal, all centered around the dreamy palette of pastel blue and white.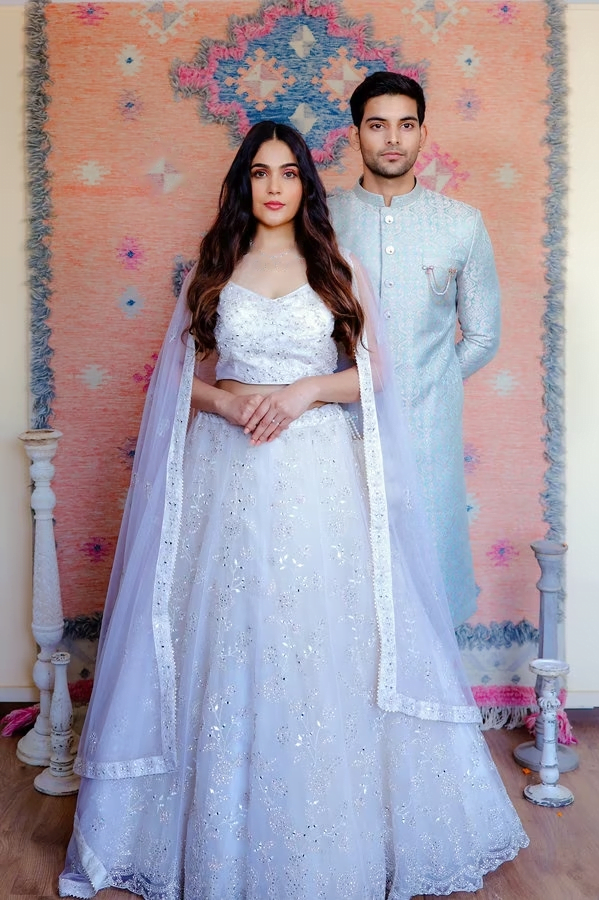 Casual Stroll in the Park :
For a relaxed and whimsical daytime look, embrace the soothing pastel blues and whites. Opt for a pastel blue sundress adorned with delicate white lace details for her, paired with white sneakers. For him, a light blue linen shirt paired with white chinos creates a complementary ensemble. Accessorize with minimalistic silver or pearl jewelry to complete the ethereal look.
Romantic Date Night :
Ignite the spark on your next romantic date night with a pastel blue and white ensemble that exudes elegance and charm. She can wear a flowing pastel blue maxi dress with white floral embroidery, while he can complement her attire with a crisp white shirt, paired with pastel blue trousers or chinos. Complete the look with coordinating accessories like a white clutch and pastel blue tie or pocket square.
2. Shades of Pink That Make Our Hearts Skip A Beat
A wedding is a celebration of love and unity, and what better way to showcase your affection than by coordinating your outfits as a couple? If you're looking to create a dreamy and romantic ambiance on your special day, shades of pink are a fantastic choice.
The color pink symbolizes love, tenderness, and femininity, making it a wonderful palette for both brides and grooms.
The Blushing Bride :
For the bride, wearing a pink wedding dress can be a breathtaking choice. From delicate pastels to bold fuchsias, pink offers a wide range of options to suit your personal style.
Consider a soft blush-toned gown with intricate lace detailing for an ethereal and feminine look. Alternatively, opt for a bold, modern silhouette in a vibrant pink shade to make a statement. Don't be afraid to explore different hues and fabrics to find the perfect pink dress that embodies your individuality.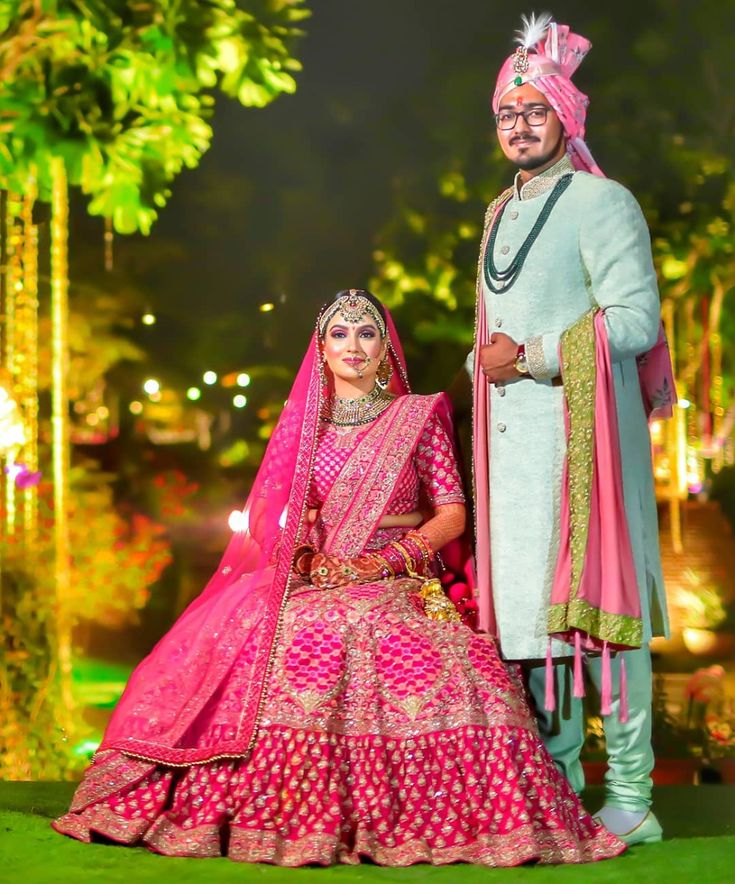 The Dashing Groom :
Grooms can also incorporate shades of pink into their wedding outfits while maintaining a stylish and sophisticated look. A classic choice is a light pink suit paired with a crisp white shirt and a coordinating tie or bowtie.
This combination exudes elegance and ensures that the groom stands out in a subtle and charming way. For a more formal affair, a traditional black tuxedo with a pink pocket square or boutonniere adds a touch of romance and complements the bride's pink ensemble beautifully.
Perfectly Coordinated :
To create a cohesive and visually stunning look, coordinating the shades of pink between the bride and groom's outfits is essential. Harmonizing the undertones and intensities of the colors will contribute to a unified aesthetic.
For example, if the bride opts for a soft blush dress, the groom could wear a suit in a slightly deeper shade of pink to create a complementary contrast. Accessorizing with pink accents such as ties, bowties, pocket squares, or even socks can further enhance the coordinated look.
3. Similar colors are worn differently but paired with white
When it comes to wedding outfits, white is the go-to color for many couples. However, adding a touch of uniqueness and personal style to your special day can make it even more memorable. One way to achieve this is by incorporating similar colors into your outfits while styling them differently.
In this blog post, we'll explore how you can pair similar colors with white in various ways to create a stunning wedding ensemble for you and your partner.
Blush and Ivory: The Soft and Elegant Combination
Blush and ivory are gentle, romantic hues that complement each other beautifully. For the bride, consider a blush-coloured gown with delicate lace detailing and an ivory sash to add a touch of contrast. Pair it with ivory accessories, such as a pearl necklace and earrings, to complete the look. For the groom, an ivory suit with a blush tie or pocket square will create a harmonious ensemble that perfectly balances the colors.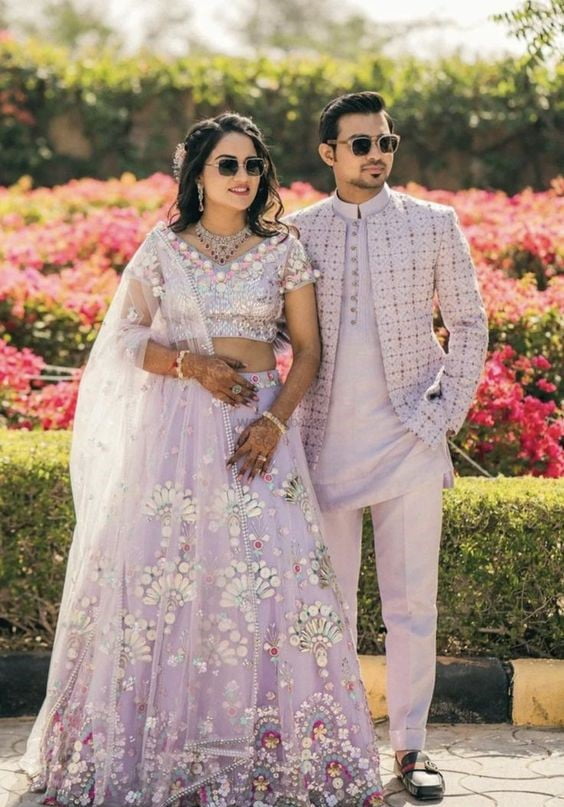 Navy and Off-White: Classic and Timeless
Navy and off-white create a sophisticated and timeless combination that exudes elegance. The bride can opt for an off-white A-line dress with navy accents, such as a sash or embroidered floral motifs.
Complete the look with navy shoes and a bouquet featuring white and blue flowers.
Dusty Rose and Cream: Vintage Charm
Dusty rose and cream evoke a sense of vintage charm and create a soft and dreamy ambiance. For the bride, a flowy dusty rose gown with cream lace overlays or floral appliqués will give a whimsical touch.
Add cream-colored accessories, such as a floral crown or vintage-inspired jewelry, to enhance the romantic feel. The groom can opt for a cream-colored suit with a dusty rose boutonniere and tie, tying the look together beautifully.
4. Sage Green with Yellow couple wedding outfit
Weddings are a celebration of love, and what better way to showcase your unique bond than through your wedding attire? If you're a couple seeking a captivating and refreshing color palette, look no further than the enchanting combination of sage green and yellow.
The Bride's Attire :
The bride is the centerpiece of any wedding, and a sage green and yellow wedding gown can make a memorable statement. Consider a sage green gown with delicate yellow floral embroidery, or opt for an ethereal yellow dress adorned with sage green accents. Enhance the elegance with intricate lacework, beading, or appliques, and complete the look with accessories like a flower crown or a sage green sash.
The Groom's Attire :
For the groom, a sage green suit or tuxedo paired with yellow accents creates a dashing and fashion-forward look.
Coordinated Bridesmaids and Groomsmen :
Extend the sage green and yellow color palette to your wedding party for a cohesive and visually stunning effect.
Flower Girl and Ring Bearer :
Incorporate the sage green and yellow theme into the attire of your flower girl and ring bearer. Opt for a charming sage green dress for the flower girl with yellow flower accents or a yellow dress with a sage green sash. For the ring bearer, consider a sage green suit paired with a yellow bowtie or suspenders, adding a touch of whimsy to the overall look.
5. Magical Off White
A wedding is a beautiful celebration of love, and what better way to showcase your bond than with enchanting matching couple outfits? Off-white, with its timeless elegance, exudes a sense of charm and grace.
Classic Elegance :
For those seeking a classic look, a matching couple outfit in off-white can be a perfect choice. Picture the groom in a tailored off-white tuxedo, complete with a crisp white shirt, a matching bowtie, and a pocket square with delicate floral accents.
The bride can complement the groom's attire with a stunning off-white lace gown adorned with intricate beadwork and embroidery. This classic ensemble will leave everyone awe-inspired.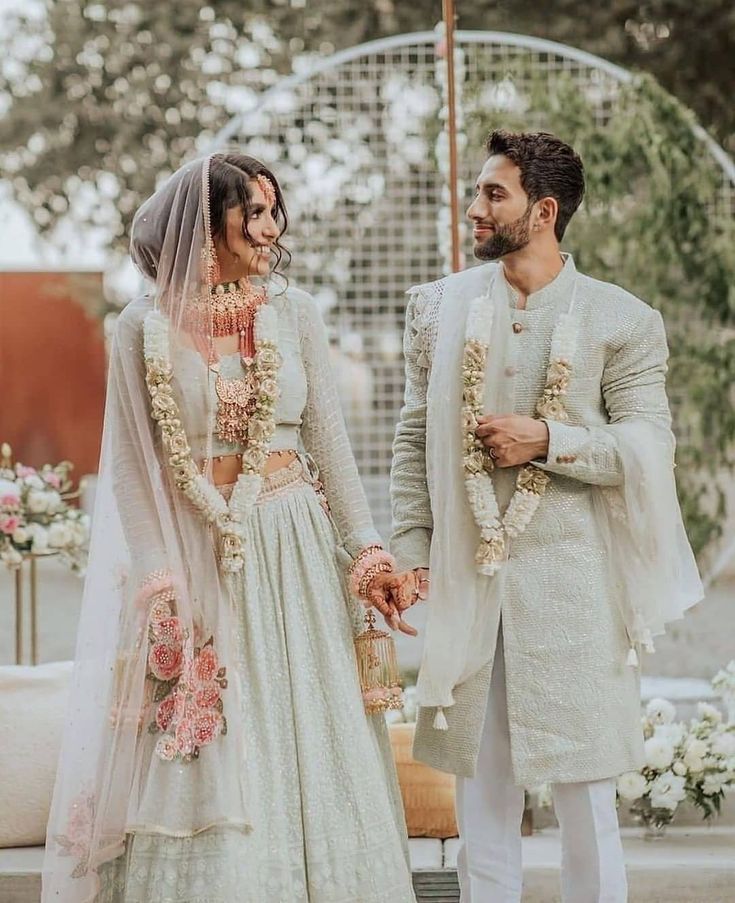 Whimsical Romance :
To add a touch of whimsy to your wedding, consider opting for off-white outfits with a romantic flair. The groom could wear a charming off-white linen suit paired with a light-colored shirt and a floral-print tie. The bride can embrace a bohemian vibe with an off-white flowing maxi dress featuring delicate lace details and ethereal sleeves. These dreamy outfits will create an atmosphere of love and magic on your special day.
Cultural Fusion :
Celebrate your diverse heritage by incorporating cultural elements into your off-white matching couple outfits. For example, a fusion of Eastern and Western influences could see the groom in an off-white sherwani—a traditional Indian garment—embellished with gold embroidery and paired with white trousers. The bride can wear a breathtaking off-white lehenga—a traditional Indian skirt and blouse ensemble—with intricate silver and pearl embellishments. This fusion of cultures will make for a visually stunning and meaningful display.