Capturing the beautiful moments of a wedding is an essential part of the celebration. Outdoor wedding photoshoots offer a plethora of natural backdrops and lighting that can elevate the visual appeal of the photographs. In this blog, we will explore a history of stunning outdoor wedding photoshoot ideas that have gained popularity over the years. From breathtaking landscapes to unique props and themes, these ideas will inspire couples and photographers alike to create memorable and enchanting wedding photographs.
1. A Game Of Roses
A couple photoshoot is a beautiful way to celebrate love and capture cherished moments between two individuals. And what better way to symbolize love than with the elegant and timeless beauty of roses? In this blog post, we will explore the concept of "A Game of Roses" and how it can inspire a romantic and memorable couple photoshoot. Get ready to immerse yourself in a world of love, roses, and stunning photography!
Setting the Stage : Choosing the Perfect Location
The first step in creating a magical couple photoshoot is selecting the perfect location. Consider enchanting gardens, blooming rose fields, or even a charming vintage-style studio backdrop. The presence of roses will add a touch of romance and elegance to your photos, creating a dreamy atmosphere.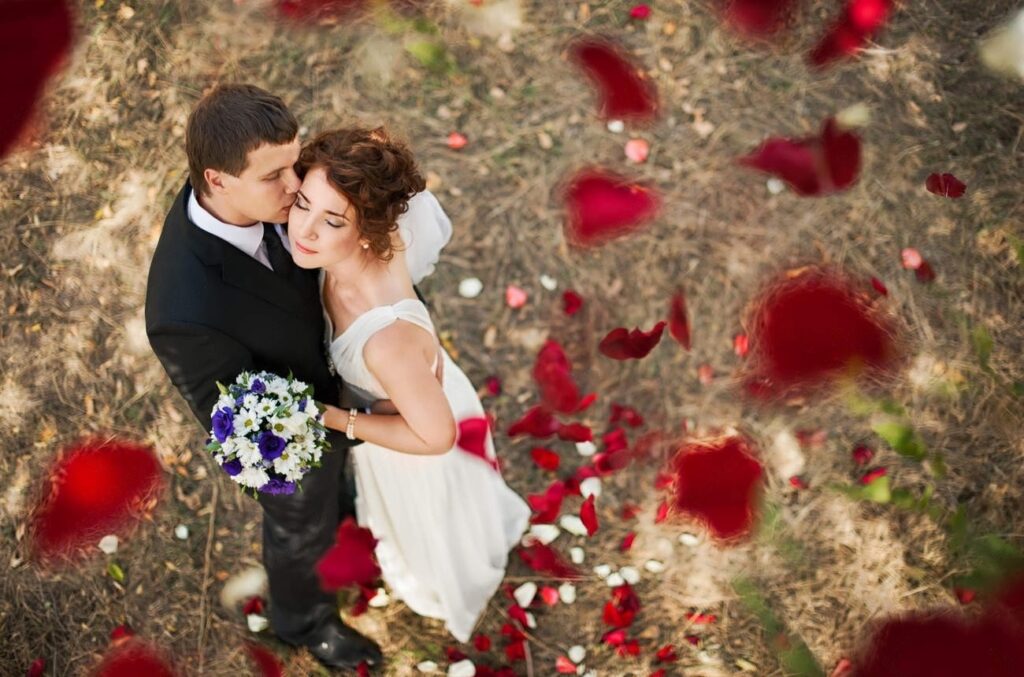 Outfit Inspiration : Roses as a Fashion Statement
When it comes to outfits, draw inspiration from the enchanting beauty of roses. Opt for colours like soft pinks, deep reds, or vibrant burgundy to echo the hues of this iconic flower. Incorporate floral patterns or rose-themed accessories to add a whimsical touch to your ensemble. Don't forget to coordinate your outfits with your partner for a harmonious look.
Romantic Poses : Embracing the Language of Roses
Roses have long been associated with emotions and messages of love. Use this symbolism to your advantage by incorporating romantic poses into your photoshoot. Capture intimate moments like holding hands, exchanging gentle kisses, or sharing heartfelt whispers. Experiment with different poses that evoke emotions and showcase the love between you and your partner.
2. The Elopement Shoot
An elopement shoot is a wonderful way to capture intimate and romantic moments between a couple on their wedding day. Here's a suggested outline for an elopement shoot :
Location Scouting : Begin by selecting a stunning location that complements the couple's style and preferences. It could be a scenic outdoor spot like a beach, forest, mountains, or a picturesque urban setting.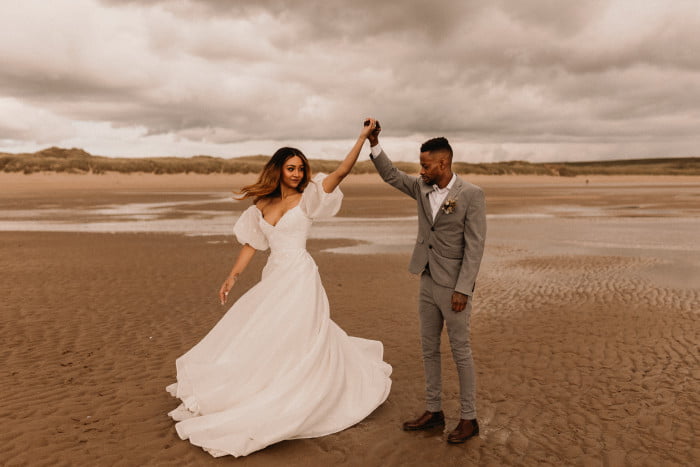 Pre-Shoot Consultation : Meet with the couple to discuss their vision, preferences, and any specific shots they have in mind. This consultation helps you understand their personalities and build a rapport with them.
Bridal Preparation : Start by capturing the details of the bride getting ready, such as putting on her dress, shoes, jewelry, and applying makeup. These shots create a narrative and add depth to the story of their elopement.
First Look : Plan a special moment for the couple to see each other for the first time on their wedding day. Capture their emotions and reactions as they lay eyes on each other. This can be done in a secluded spot or a beautiful setting.
3. A Good Sunset Backdrop
A sunset backdrop can create a beautiful and romantic atmosphere for a wedding couple photoshoot.
Beach Setting :
Choose a beach location where you can capture the stunning sunset with the ocean in the background. The golden hues of the setting sun reflecting on the water will add a magical touch to your photos. Include some beach props like a blanket or beach chairs to create a cozy and intimate atmosphere. You can also incorporate elements like seashells or a driftwood arch for added visual interest.
Rolling Hills :
Find a location with rolling hills or a picturesque countryside landscape. The soft, warm light of the setting sun will cast a beautiful glow on the landscape, creating a serene and romantic ambiance. Look for a spot where you can capture the couple silhouetted against the sky or framed by the gentle slopes of the hills. Incorporate some props like a picnic setup or a vintage car to enhance the romantic feel.
Urban Rooftop :
The combination of the colourful sky and city lights will create a dramatic backdrop for your photos. Look for a rooftop terrace with interesting architectural features or a rooftop garden with flowers and greenery. Experiment with different angles and compositions to capture the couple against the backdrop of the cityscape.
Mountain Overlook :
If you have access to a mountainous region, choose a location with a scenic overlook. As the sun sets behind the mountains, it will create a breathtaking panoramic backdrop. Find a spot where the couple can be positioned on a higher point, allowing the mountains and the colourful sky to fill the frame.
4. The Snowy Mountains
The Snowy Mountains provide a stunning backdrop for a wedding couple photoshoot. With its breathtaking landscapes, snow-capped peaks, and picturesque settings, you'll have plenty of opportunities to capture beautiful moments and create unforgettable memories. Here's a suggested plan for your Snowy Mountains wedding couple photoshoot:
Choose the Location : The Snowy Mountains offer various scenic spots for your photoshoot. Research popular locations like Thredbo, Perisher, or Charlotte Pass. Consider spots with mountain views, snowy landscapes, or charming alpine settings.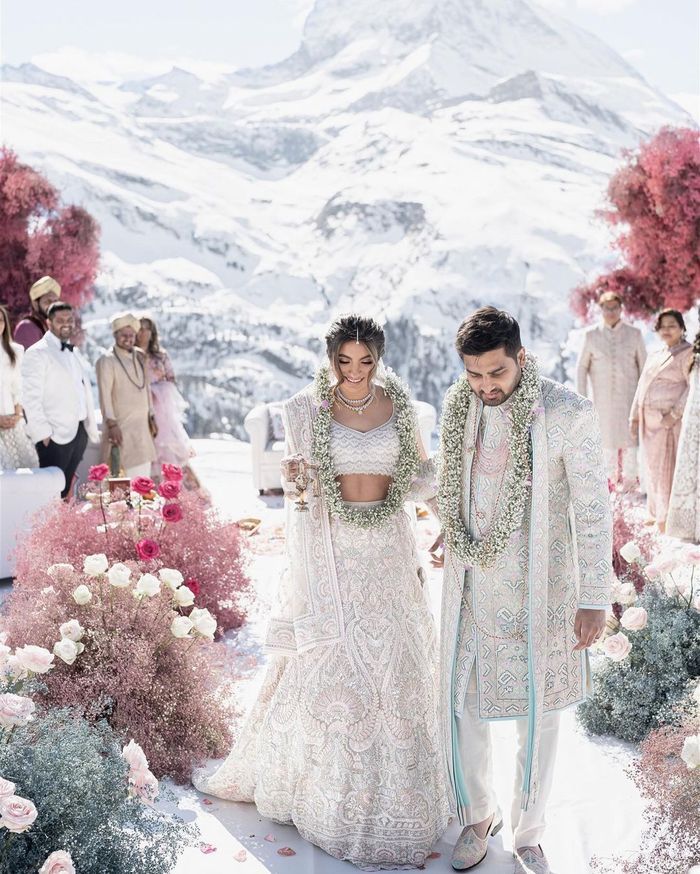 Props : Consider bringing along props that add a romantic and wintery vibe to your photos. Ideas include a vintage sled, fur blankets, rustic wooden signs, or even snowballs for a playful touch.
Capture Natural Moments : While it's great to have some posed shots, don't forget to capture candid and natural moments as well. Encourage your photographer to capture your genuine emotions, laughter, and interactions as a couple against the stunning snowy backdrop.
5. Choose A Natural Green Backdrop
Choosing a natural green backdrop for couple photos can create a beautiful and romantic atmosphere for wedding photography. Here are a few options you can consider:
Lush Garden : Find a nearby botanical garden or a well-maintained public park with vibrant greenery, blooming flowers, and neatly trimmed hedges. Look for areas with winding paths, archways, or secluded spots for a more intimate setting.
Forest or Woodland : Seek out a picturesque forest or woodland area with tall trees and moss-covered ground.
Vineyard : If you have access to a vineyard or winery, it can offer a unique green backdrop with neatly arranged rows of grapevines. The vineyard's scenic landscape can add a touch of elegance and romance to your couple photos.
Flower Fields : Look for fields of wildflowers or specific blooms like lavender, sunflowers, or poppies. These colourful flower fields can provide a stunning backdrop and add a whimsical touch to your wedding photos.
You have to ensure that you get the pictures in the best natural light, and find places with minimal interference and privacy. After all, many couples can be camera shy.