A destination wedding offers a unique opportunity to exchange vows in a breathtaking location while immersing yourself and your guests in an unforgettable experience. To make your wedding truly remarkable, consider incorporating a theme that complements the destination's charm and ambiance. In this blog post, we will explore a collection of captivating destination wedding themes that will help you create a wedding celebration like no other.
1. Retro
A destination wedding is a perfect opportunity to infuse your special day with a unique and memorable theme. If you're a couple who appreciates the nostalgia and elegance of the past, a retro destination wedding theme might be just what you're looking for. Combining the allure of a destination setting with vintage vibes, a retro wedding theme can transport you and your guests to a bygone era. In this blog post, we'll explore some fabulous retro destination wedding themes that will add a touch of timeless charm to your celebration.
Vintage Mediterranean Soiree :
Transport your guests to the romance and allure of the Mediterranean in the 1950s. Choose a destination with a charming coastal setting, such as the Amalfi Coast or the French Riviera. Embrace a colour palette of soft pastels and incorporate retro elements like vintage postcards and classic Vespa scooters. Opt for a Mediterranean-inspired menu featuring regional cuisine and signature cocktails. And, of course, don't forget to have a dance floor where everyone can sway to the rhythm of traditional Mediterranean music.
Tropical Tiki Paradise :
For a vibrant and fun retro destination wedding theme, consider a tropical tiki paradise. Select a beach destination with lush palm trees and sandy shores. Embrace the colourful aesthetic of the 1950s and '60s Polynesian pop culture with tiki-inspired décor, including bamboo accents, tiki torches, and vibrant floral arrangements. Serve tropical cocktails in carved-out pineapples or coconuts and have a Hawaiian luau-inspired feast. Encourage your guests to wear colourful Hawaiian shirts and hula skirts to complete the festive atmosphere.
2. Bollywood
Planning a destination wedding can be an exciting and memorable experience, and what better way to infuse your celebration with vibrant colours, captivating music, and a touch of glamour than by incorporating Bollywood-inspired themes? Bollywood, the Indian film industry, is known for its larger-than-life productions, beautiful costumes, and enchanting music. In this blog post, we will explore some captivating Bollywood themes that will add a dash of Bollywood magic to your destination wedding. Get ready to make your special day a truly unforgettable experience for you and your guests!
Vintage Bollywood Glamour" :
Step back in time and embrace the elegance and grandeur of vintage Bollywood. Incorporate classic elements like vintage cars, black-and-white photographs, and opulent decor inspired by the golden era of Indian cinema. Have your guests dress up in traditional attire from the bygone era, and dance the night away to timeless Bollywood melodies.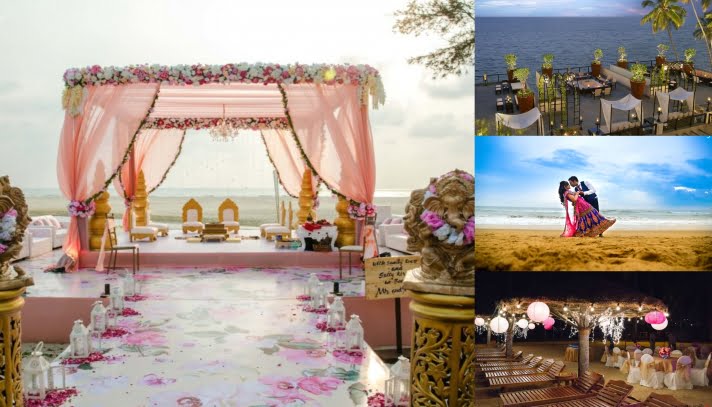 "Beachside Bollywood Extravaganza" :
If you've chosen a beach destination for your wedding, why not combine the beauty of the coast with the charm of Bollywood? Set up a stage on the beach, decorate it with vibrant colours, and create a festive atmosphere with Bollywood music and dance performances. Encourage your guests to dress in breezy, tropical outfits with a touch of Bollywood glam.
"Palace-inspired Bollywood Royalty" :
For a regal and opulent affair, draw inspiration from the palaces featured in many Bollywood movies. Choose a venue that resembles a majestic palace or opt for a stunning historical location. Adorn the venue with luxurious fabrics, chandeliers, and ornate decorations. Have your guests dress up like royalty, and don't forget to include a dance performance reminiscent of a Bollywood royal wedding.
3. Rajasthani
A Rajasthani-style destination wedding can be a grand and opulent affair, inspired by the rich cultural heritage of Rajasthan, India. Here are a few themes and ideas to help you plan a Rajasthani-style destination wedding:
Royal Palace Wedding : Rajasthan is known for its magnificent palaces, and hosting your wedding in a royal palace would create an enchanting atmosphere. Decorate the venue with regal elements such as antique chandeliers, vibrant fabrics, and traditional Rajasthani artwork. Use rich colors like royal blue, deep red, and gold for the decorations. You can also incorporate peacock motifs, which are significant in Rajasthani culture.
Desert Oasis Wedding : Rajasthan is famous for its desert landscapes. Create a desert oasis ambiance with rustic decor and elements that reflect the desert theme. Use warm tones like sandy beige, burnt orange, and earthy brown. Decorate with traditional Rajasthani umbrellas, colorful Rajasthani textiles, and camel motifs. You can also have a camel caravan as part of the wedding procession.
Mughal-inspired Wedding : Rajasthan has a strong Mughal influence in its history and architecture. Create a Mughal-inspired wedding theme by incorporating elements like arches, domes, and intricate patterns. Use luxurious fabrics like velvet and silk in deep jewel tones such as emerald green, ruby red, and sapphire blue. Incorporate Mughal-style artwork and floral arrangements with roses and jasmine.
Folk and Cultural Extravaganza : Rajasthan is known for its vibrant folk culture. Celebrate this with a wedding theme that showcases Rajasthani folk music, dance, and art forms. Decorate the venue with colorful Rajasthani puppets, embroidered textiles, and traditional musical instruments. Include live performances of folk musicians and dancers to entertain your guests.
4. Beach Weddings
A beach style destination wedding offers a picturesque backdrop, gentle ocean breezes, and a relaxed atmosphere that can make your special day truly unforgettable. If you're dreaming of saying "I do" on sandy shores with the sound of crashing waves in the background, it's essential to choose a wedding theme that complements the beach setting. In this blog post, we'll explore some captivating beach style destination wedding themes to inspire your big day.
Tropical Paradise :
Embrace the vibrant colours and exotic elements of a tropical paradise theme. Incorporate lush greenery, bold floral arrangements, and vibrant hues like fuchsia, coral, and turquoise. Decorate the venue with palm leaves, tropical fruits, and seashells. Enhance the ambiance with steel drum music, tiki torches, and a signature tropical cocktail for your guests to enjoy.
Nautical Chic :
Embrace the timeless elegance of a nautical chic wedding theme. Opt for a colour palette featuring navy blue, white, and hints of gold. Incorporate maritime elements like anchors, ropes, and sailboat motifs into your décor. Set sail with nautical-inspired invitations, table settings adorned with seashells, and incorporate elements like ship wheels and buoys into your wedding signage.
Bohemian Beach :
Create a bohemian-inspired beach wedding with a relaxed and carefree vibe. Embrace natural elements, such as macramé backdrops, dreamcatchers, and driftwood accents. Use earthy tones like beige, sand, and pastel shades to decorate the space. Add whimsical touches with feather accessories, fairy lights, and comfortable floor seating for your guests.
5. Garden Wedding
Welcome to our blog dedicated to garden destination wedding themes! In this blog, we'll explore various enchanting garden wedding themes that will make your special day truly memorable. From elegant garden soirées to whimsical botanical celebrations, we've got you covered. Let's dive in!
Rustic Garden Elegance :
Embrace the rustic charm of a garden setting by incorporating natural elements, such as wooden accents, burlap linens, and wildflower arrangements. Opt for soft pastel colour palettes and vintage-inspired details to create an atmosphere of timeless elegance. Decorate with string lights, lanterns, and rustic signage to enhance the romantic ambiance of your rustic garden wedding.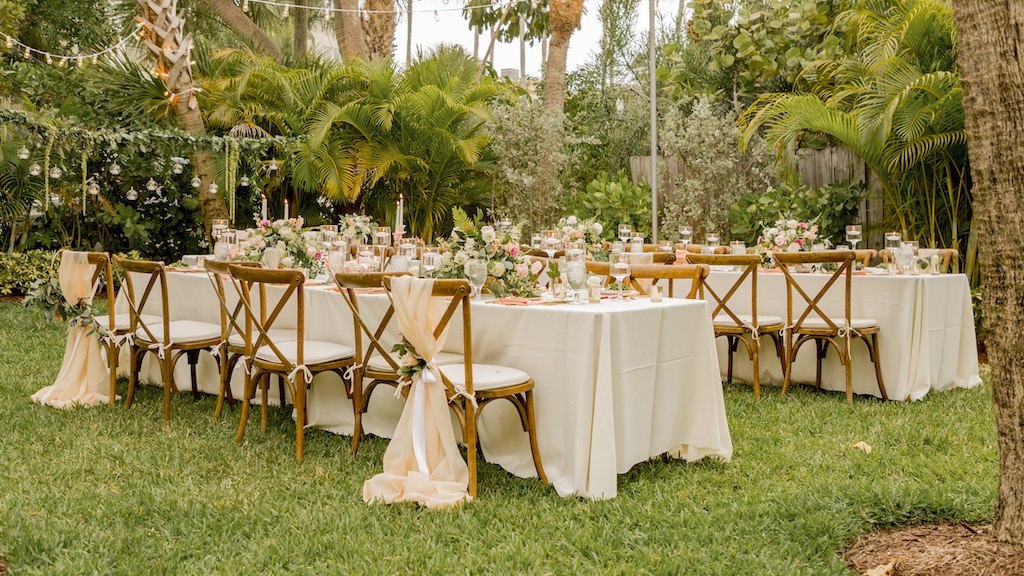 Fairytale Secret Garden :
Create a magical wonderland by transforming your garden into a fairytale-inspired setting. Think lush greenery, blooming arches, and whimsical floral arrangements. Use fairy lights and lanterns to add a dreamy glow to your evening celebration. Consider incorporating elements like delicate birdcages, vintage keys, and hidden treasures to evoke a sense of mystery and enchantment.
Tropical Paradise :
If you're planning a destination wedding in a tropical garden, embrace the vibrant colours and exotic flora of your surroundings. Consider adding a touch of beachy elegance with seashell accents, bamboo details, and a refreshing signature cocktail served in coconuts.
Planning a destination wedding allows you to combine your special day with an unforgettable travel experience. One way to make your wedding truly memorable is by choosing a unique and distinctive theme that reflects your personality as a couple. In this blog, we will explore a selection of extraordinary destination wedding themes that will captivate your guests and create a truly magical atmosphere. From tropical paradises to historic cities, let's embark on a journey to discover these remarkable themes for your dream destination wedding.