The bond between a mother and daughter cannot be defined in words. For some it is the bond of the best friends they've ever had, for others, it can be a bond of two people being dependent on each other with utmost love and understanding. These are just a few examples of the beautiful bond that a mother and daughter share. Now, like us, you all may also not be able to define your bond with your mother but you can now give an ode to her at your wedding functions. Yes, ladies, we are suggesting that you match or twin your outfit with your mother's. You can wear the same colors or even opt for the same prints in different silhouettes.
1. Dark Coloured Outfits
Matching outfits for mothers and daughters have become a popular trend in recent years, including for weddings. Dark-colored outfits can create a sophisticated and elegant look for both the mother and daughter.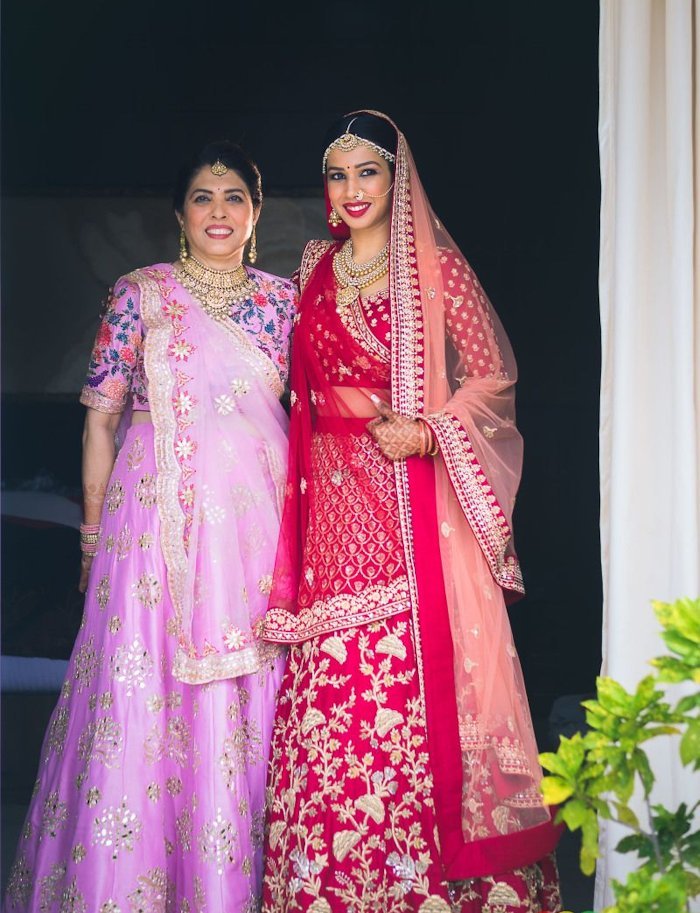 Color coordination: Choose a dark-colored theme for both outfits, such as navy blue, burgundy, or black. This creates a cohesive look without being too overwhelming.
Complementary styles: Select outfits that have a similar overall style, such as both wearing dresses or pant suits. This ensures that the outfits are visually balanced when photographed together.
Varying shades: Play with different shades of the chosen dark color. For example, if you choose navy blue, the mother could wear a navy blue gown while the daughter wears a navy blue dress with light blue accents.
Matching accessories: Coordinate accessories like shoes, belts, or jewelry to tie the looks together. For instance, both mother and daughter can wear silver accessories to complement their dark outfits.
Consider comfort: Ensure that the outfits are comfortable and suitable for the wedding venue and weather. You want both the mother and daughter to feel at ease and enjoy the special day.
2. Yellows for Twinning
Weddings are joyous occasions filled with love, laughter, and memorable moments. When it comes to fashion, one trend that has gained popularity in recent years is coordinating outfits between the mother of the bride and the bride herself. In this blog post, we dive into the world of matching yellow outfits, exploring how this vibrant color can create a stunning and cohesive look for both the mother and the bride on the big day.
The Significance of Yellow:
Yellow is a color often associated with happiness, positivity, and energy. Its radiant and cheerful nature makes it an excellent choice for weddings, as it symbolizes the joy and optimism that surrounds such a momentous occasion. Incorporating yellow into the outfits of the mother and the bride can create a visually striking and cohesive aesthetic.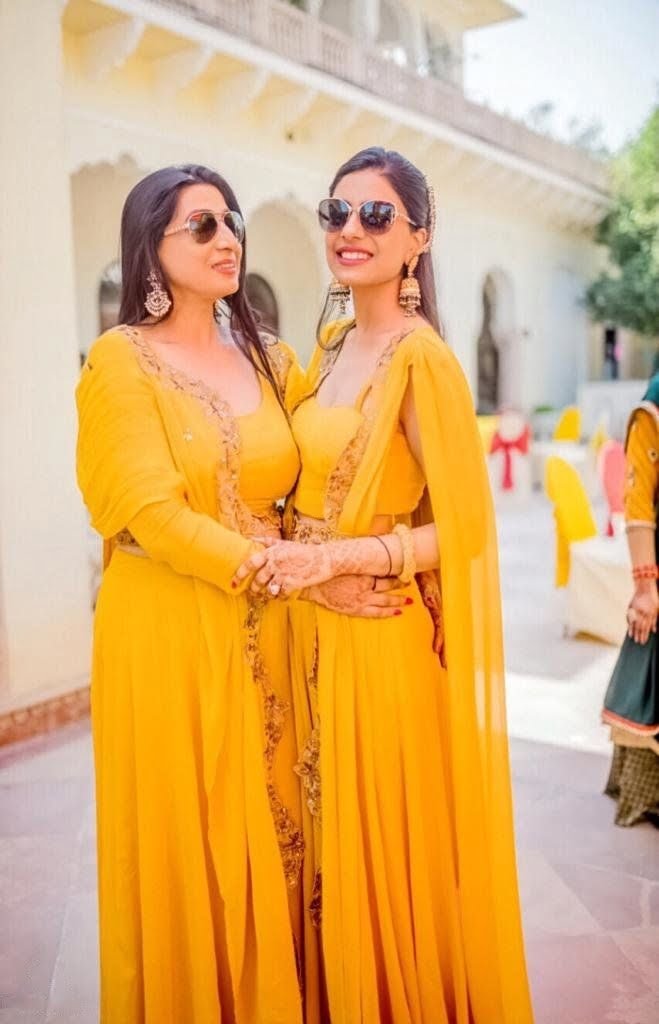 The Bride's Yellow Ensemble:
The bride's dress is undoubtedly the centerpiece of her wedding day look. A yellow wedding gown or a white gown with yellow accents can be a bold yet beautiful choice. Whether it's a flowing yellow ball gown or a sleek, modern yellow sheath dress, the bride is sure to stand out in her radiant yellow ensemble, radiating warmth and happiness.
Coordinating the Mother's Outfit:
To achieve a harmonious matching look, the mother of the bride can opt for a complementary yellow outfit. However, it's essential to ensure that the mother's outfit doesn't overshadow the bride. One option is for the mother to wear a yellow dress in a slightly different shade or tone, allowing her to shine while maintaining a cohesive color palette. Alternatively, the mother can wear a yellow blouse or jacket paired with a neutral-colored skirt or pants, striking a balance between elegance and individuality.
3. Same Outfit
Attending weddings can be an exciting and joyful experience, but it often comes with the dilemma of what to wear. Many of us feel pressured to wear a new outfit for each wedding, fearing that repeating an outfit might be considered a fashion faux pas. However, in this blog post, we aim to debunk that myth and celebrate the idea of wearing the same outfit to multiple weddings. Join us as we explore how to style and accessorize your favorite ensemble to create unique and stunning looks for each occasion.
Attending weddings should be about celebrating love, not stressing about outfits. By embracing the idea of wearing the same company to multiple weddings, you not only contribute to a more sustainable fashion culture but also showcase your creativity and personal style. So go ahead, experiment with accessories, mix, and match, and confidently rock that favorite outfit at every wedding you attend. Remember, it's not about what you wear, but how you wear it that truly makes a statement.
4. Pink Outfits
A wedding is a joyous occasion that celebrates the union of two souls. While the bride steals the spotlight, the mother of the bride also plays a significant role on this special day. If you're planning a wedding and considering incorporating pink into your color scheme, you'll be delighted to know that there are numerous elegant and stylish options available for both the mother and the bride. In this blog post, we will explore some stunning pink wedding outfits that will make the mother and bride shine with beauty and grace.
Blushing Bride:
The bride is the star of the show, and a pink wedding gown can add a touch of romance and femininity to her look. Consider a pale pink ball gown with delicate lace detailing or a blush-colored mermaid dress adorned with shimmering sequins. For a more subtle look, opt for a white gown with pink accents, such as a sash, floral appliqués, or a blush-toned veil.
Chic Mother of the Bride:
The bride's mother deserves to look fabulous and elegant on her daughter's wedding day. A sophisticated pink dress or suit can be a great choice. A knee-length sheath dress in a soft pink hue with a matching jacket exudes timeless charm. Alternatively, a flowing pink chiffon gown with a beaded bodice can create an ethereal and graceful appearance. Accessorize with complementary jewelry and a clutch to complete the ensemble.
5. Red Outfits For The Wedding Day
On a day as momentous as a wedding, every detail matters, and the outfits of the mother and the bride hold a special significance. Red, a color symbolizing love, passion, and celebration, can be an excellent choice for both the mother and the bride.
For the Mother of the Bride:
The mother of the bride deserves an outfit that exudes elegance and sophistication. Consider these stunning red ensemble ideas:
a) Classic Red Gown: A floor-length red gown with a flattering silhouette and delicate embellishments will make a timeless statement. Opt for a sweetheart neckline or off-the-shoulder style for added grace.
b) Red Lace Dress: Choose a red lace dress that strikes the perfect balance between refined and glamorous. The intricate lace patterns add a touch of femininity and elegance to the outfit.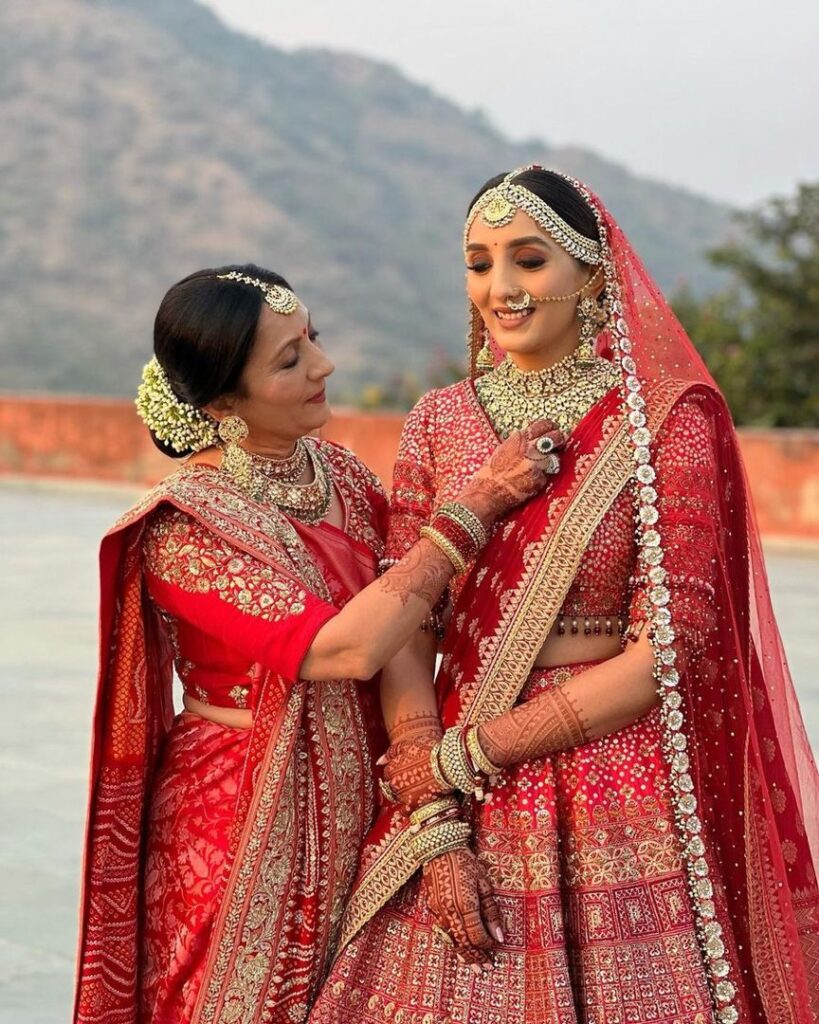 For the Bride:
The bride, the center of attention, can make a breathtaking statement with a red wedding dress or incorporate red accents into her attire:
a) Red Wedding Gown: Opt for a bold and unforgettable entrance by choosing a red wedding gown. Whether it's a deep crimson, romantic ruby, or a soft blush hue, a red wedding dress will make you feel like a true queen on your special day.
b) Red Accessories: If a red wedding dress feels too daring, you can incorporate red accents into your ensemble. Consider a red sash or belt, red floral hair accessories, or a stunning pair of red heels to add a pop of color to your bridal look.
Coordinating Mother and Bride Outfits:
To create a cohesive and harmonious look, consider coordinating the outfits of the mother and the bride:
a) Complementary Shades: Opt for different shades of red for the mother and bride, allowing them to stand out while complementing each other. For example, the mother can wear a deeper burgundy while the bride chooses a vibrant scarlet.
b) Matching Accessories: Select matching accessories, such as red statement earrings, bracelets, or clutches, to tie the outfits together.