When choosing a gift, think beyond the bridal theme and consider the bride's traits and hobbies. It's exciting for the bride-to-be to be surprised with a unique gift that she wouldn't have thought of for herself. Whether the gift is practical or luxurious, she will undoubtedly appreciate the thought that went into it.
1. A Special Trousseau Box for the Bride-to-be
Get this Flamingo Trousseau box to complete your wedding trousseau collection. This box is the perfect exhibition of classic south-Asian artisan work with all its vibrant appeal. This Flamingo style Trousseau box has a floral printed satin silk base, intricately hand-embroidered with subtle gold and multi-coloured sequins. It is lined with luxurious suede. The best thing about this design is that it is spacious. It has three compartments, two bangle sections on each side and the middle section, which can be used for jewellery keeping. You can store all your formal semi-formal jewellery in it easily. The units in this box are conveniently detachable, making the bridal trousseau box a very versatile piece.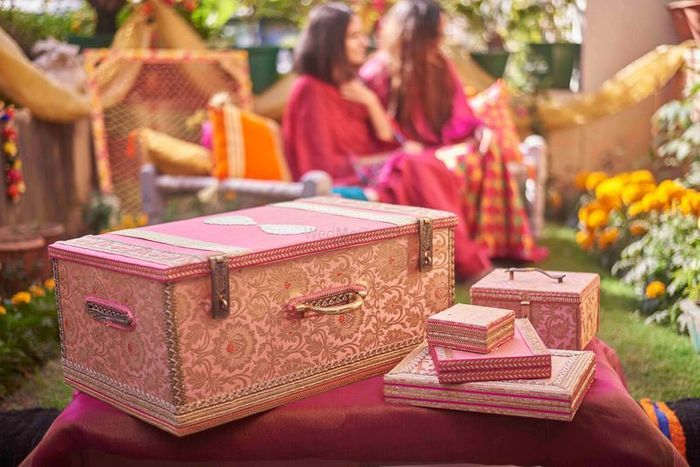 Wedding trousseau boxes are a phenomenon that comes from the French verb trouser, meaning "to tuck up", which relates to getting ready in the wedding context. In South Asian culture, it used to be deemed essential in the old times for a bride to have a trousseau box with her when married off to her new home. Although it's not an essential item today, it is still a much-valued feature that reflects fidelity to a rich tradition.
2. Personalized "Mrs." Clutch
What we love about this trend is that it works with any bridal style. For the modern and minimal bride, consider an acrylic box bag with your name delicately written in cursive script. Glamorous brides will love eye-catching sequin options guaranteed to turn heads. When shopping for your wedding day clutch, you'll also want to consider the size, personalization options, and overall quality. Keep in mind that custom pieces may take longer to make, so you'll have to plan in advance.
This personalized clutch bundle is the perfect gift for your bridal party if you are looking for a piece that you can all match with on the big day. This option is simple and sweet and comes in a few different clutch and font colors, which makes it easy to match with various wedding aesthetics and styles.
3. Cute Coffee Mug
This classic white ceramic mug with elegant gold lettering is a great way to celebrate the bride's special status. It will instantly put a smile on her face and make her feel extra special every time she sips her favorite brew.
What better way to cherish a memorable moment than by capturing it on a coffee mug? Customize a mug with a cherished photograph of the bride and her partner, or even a picture from their engagement shoot.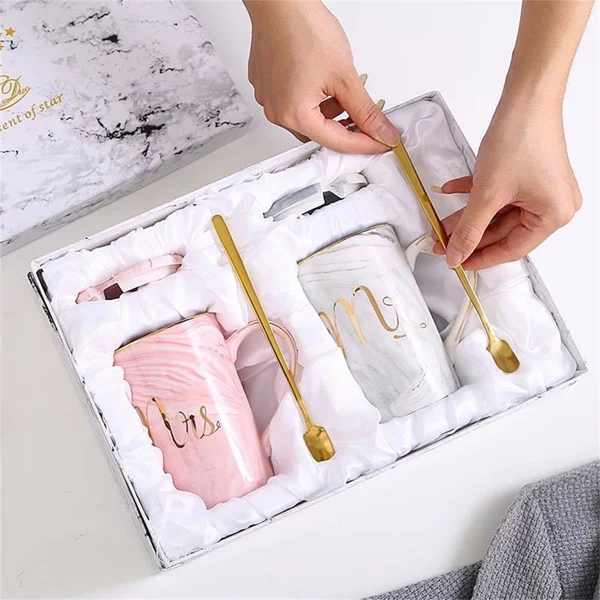 Embrace the bride's new identity with a charming "Future Mrs." mug. Available in various designs and colors, this mug will let her proudly show off her upcoming marital status while enjoying her morning coffee.
Bring a touch of nature into the bride's daily routine with a floral-themed coffee mug. Whether it's delicate roses, vibrant sunflowers, or dainty cherry blossoms, a floral mug is a beautiful and feminine choice that adds a pop of color to her mornings.
For the bride who embraces a modern and trendy style, a "Wifey" mug is the perfect gift. With sleek typography and contemporary designs, this mug will let her showcase her new role as a wife in a stylish and fun way.