Planning a destination wedding is an exciting adventure, and your wedding invitations set the tone for the entire celebration. To ensure your guests feel the excitement and embrace the unique experience that awaits them, it's important to choose destination wedding invitations that reflect your theme and location. In this blog post, we'll present ten creative and memorable destination wedding invitation ideas that will leave your guests eagerly counting down the days until your special day.
1. Wedding Invitation Printed On Plantable Paper
In an era of increasing environmental consciousness, couples are seeking unique and eco-friendly ways to make their special day more sustainable. One creative and meaningful option gaining popularity is printing wedding invitations on plantable paper. This innovative approach not only adds a touch of natural beauty to your invitations but also allows your guests to participate in the growth of new plants. In this blog post, we explore the concept of plantable paper invitations and discuss the benefits of incorporating them into your wedding plans.
Plantable paper, also known as seed paper, is a biodegradable paper embedd with seeds. It is typically made from recycle paper, cotton, or other plant fibers. The paper is crafte to be sturdy enough for printing, while the seeds remain dormant within it.
With plantable paper, you have the freedom to unleash your creativity. Whether you prefer a rustic, elegant, or whimsical design, plantable paper invitations can be customize to match your wedding theme. From intricate floral patterns to minimalist designs, the options are limitless.
Printing your wedding invitations on plantable paper is a fantastic way to minimize waste and contribute to reforestation efforts. Once your guests receive the invitations, they can plant them in a pot or garden, providing the seeds with the perfect environment to germinate. As the plants grow, they absorb carbon dioxide, release oxygen, and contribute to a healthier planet.
2. Laser Cut Wedding Invitation
When it comes to planning a wedding, every detail counts. Couples strive to create a memorable and magical experience for their guests from the venue to the decorations. One aspect that sets the tone for the entire event is the wedding invitation. Laser cut wedding invitations have become increasingly popular due to their intricate designs and timeless elegance. In this blog post, we will delve into the world of laser-cut wedding invitations and explore why they are the perfect choice for couples seeking a touch of sophistication and refinement.
Laser-cutting technology has revolutionize the world of wedding invitations. Using a high-power laser, intricate designs are precisely etched onto premium-quality paper or cardstock. From delicate lace patterns to elaborate floral motifs, the possibilities are endless. Laser cutting allows for precise detailing, creating a stunning visual effect that leaves a lasting impression on recipients.
Laser-cut wedding invitations exude a sense of luxury and sophistication that sets them apart from traditional invitations. The intricacy of the designs combined with the precision of laser cutting elevates the overall aesthetic, making these invitations truly exquisite. Whether you opt for a classic monogram or a whimsical design that reflects your wedding theme, laser-cut invitations are sure to make a statement.
3. Scroll the Wedding Invitation
A wedding is a magical celebration of love and commitment, and every couple dreams of making their special day unique and unforgettable. One way to add a touch of elegance and intrigue to your wedding is through scrolling wedding invitations. These exquisite invitations have a long-standing tradition and evoke a sense of grandeur and sophistication. In this blog post, we will delve into the world of scroll wedding invitations, exploring their history, design options, and the timeless charm they bring to any wedding.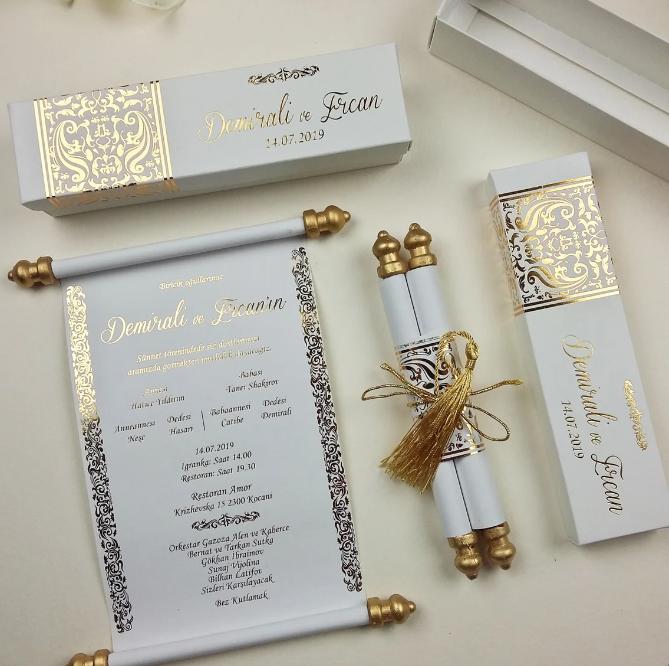 Scroll wedding invitations offer a plethora of design options, allowing couples to truly personalize their invites. Discuss different scroll materials such as parchment paper, silk, or handmade paper, each adding a unique texture and aesthetic appeal. Explore various color palettes, embellishments like ribbons or wax seals, and calligraphy styles that can be incorporat to match the wedding theme and create a cohesive look.
One of the most exciting aspects of a scroll wedding invitation is the unveiling experience. Describe the anticipation and thrill as guests open the carefully crafted scrolls, revealing the wedding details within. Discuss the various presentation styles, from elegant tubes to decorative boxes, and how they add to the overall charm and excitement of receiving a scroll invitation.
Highlight the timeless charm of scroll wedding invitations and their lasting impact on guests. Discuss how receiving a scroll invitation sets the tone for a memorable and extraordinary wedding experience. Emphasize the uniqueness and sophistication that scroll invitations bring, leaving a lasting impression on guests and setting the stage for a grand celebration.
4. Acrylic Wedding Invitation
Acrylic wedding invitations offer a mesmerizing visual appeal that instantly captures attention. Crafted from high-quality clear or colored acrylic, these invitations boast a smooth and glossy surface that exudes sophistication. The transparency of the material allows for creative designs that can incorporate various elements like floral arrangements, geometrical patterns, or even personalized monograms. From minimalist to extravagant, acrylic invitations can be customized to suit any wedding theme or style.
Unlike traditional paper invitations, acrylic invitations are exceptionally durable and long-lasting. They can withstand the test of time, making them a perfect keepsake for both the couple and their guests. The sturdy nature of acrylic ensures that these invitations won't easily get damaged during handling or transit, ensuring they arrive in pristine condition. Moreover, their resistance to water and tears guarantees that your guests will have a lasting memento to cherish long after the wedding festivities are over.
One of the greatest advantages of acrylic wedding invitations is the versatility they offer in terms of customization. Whether you prefer a classic design or something more avant-garde, acrylic invitations can be tailor to reflect your unique personality and wedding theme. Various printing techniques such as laser engraving, UV printing, or vinyl lettering can be use to add intricate details and personalize invitations with names, dates, or even special quotes. Additionally, you can experiment with different acrylic finishes, such as matte, frost, or mirror, to create a truly custom and unforgettable invitation suite.
5. Wooden Wedding Invites
By choosing wooden invitations, you can reduce your carbon footprint. Wood is a renewable resource, and many wooden invitation suppliers utilize sustainable practices and materials. Wooden invitations create an immediate impression with their distinctive texture, earthy warmth, and organic aesthetics. They stand out among traditional paper invitations and become cherish keepsakes for your guests. Wooden invitations can be customize to match any wedding theme or style. From engrav designs to laser-cut motifs, there are endless possibilities for personalization.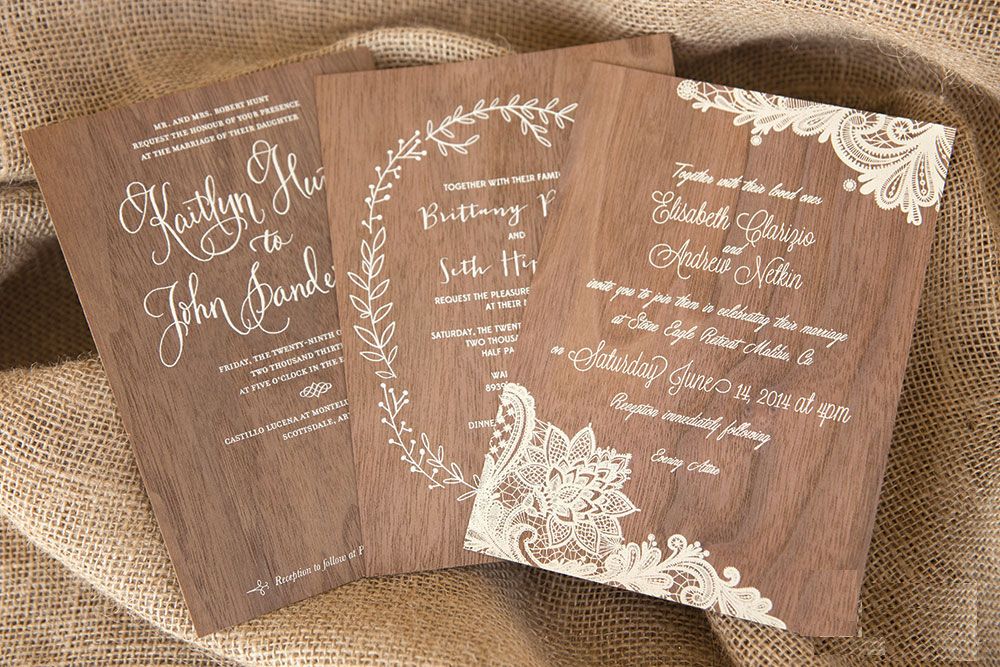 Wooden invitations can be beautifully engrave with intricate patterns, floral motifs, or the couple's names and wedding dates. The natural wood grain adds a unique texture to the design. Laser-cutting technology allows for intricate and precise designs that can be layer or combine with other materials like paper or acrylic, adding depth and dimension to the invitation. Embrace the natural beauty of wood by opting for a simple yet elegant design that showcases the organic textures and colors of the material. Add rustic elements like twine, burlap, or dried flowers for an extra touch.
Wooden wedding invitations offer a unique blend of elegance, eco-friendliness, and timeless appeal. From engraved designs to laser-cut intricacies, these invitations make a lasting impression on your guests while showcasing your commitment to sustainability. When selecting wooden invitations, keep practical considerations in mind, such as weight, postage, and the need for accompanying paper inserts. By choosing wooden invites, you'll add a touch of rustic charm and create a lasting memento of your special day.