When it comes to wedding desserts, cake pops are an excellent choice. These bite-sized treats not only look adorable but also offer a wide range of flavor possibilities. If you want to impress your wedding guests with a delightful and unique dessert option, consider incorporating these delicious cake pop flavors into your wedding menu. From classic favorites to innovative combinations, these flavours are sure to leave a lasting impression on your guests.
1. Play With Shade
Shade Cake Pops are a whimsical take on the traditional cake pop concept. These delightful treats feature a gradient of colors, transitioning from light to dark or vice versa. Their captivating appearance adds an extra layer of beauty to your dessert table, making them a perfect fit for any wedding theme or color scheme.
One of the best things about Shade Cake Pops is the variety of flavors you can experiment with. From classic choices like vanilla, chocolate, and red velvet to more adventurous options like salted caramel, lemon zest, or raspberry truffle, there's a flavor combination to suit every palate. Consider offering an assortment of flavors to cater to the diverse tastes of your guests.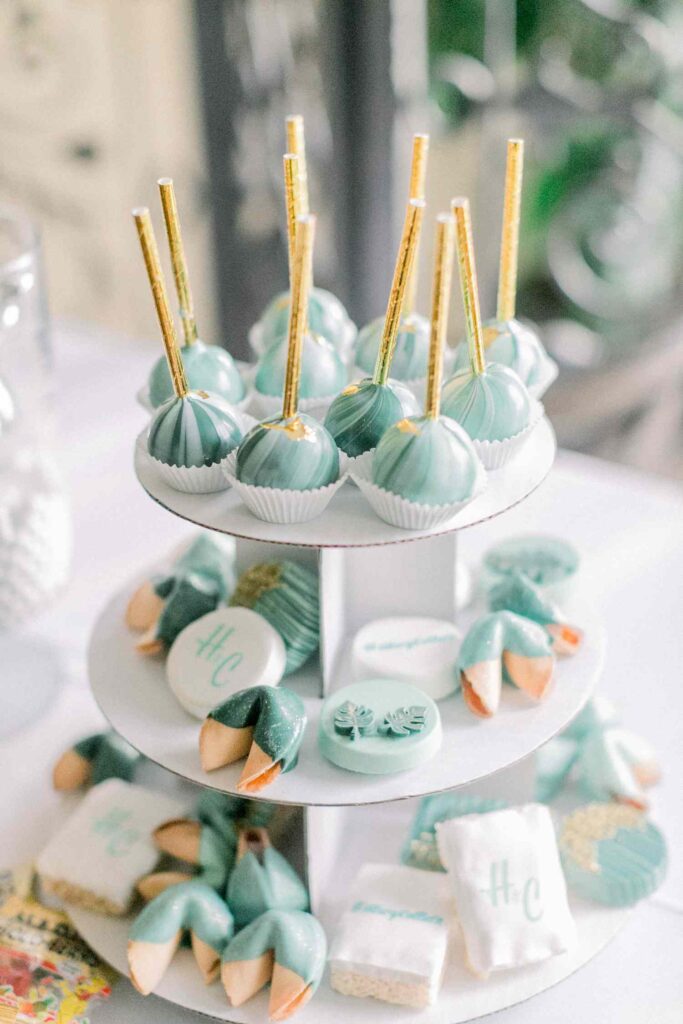 Personalization is key when it comes to planning a memorable wedding. With Shade Cake Pops, you can customize the gradient shades to match your wedding colors. Whether you opt for an ombre effect or a harmonious blend of hues, these vibrant treats will effortlessly blend in with your overall wedding theme.
Shade Cake Pops offer endless design possibilities. Whether you're having a rustic, vintage, or modern-themed wedding, you can find or create designs that perfectly align with your vision. From delicate floral patterns to elegant monograms or even miniature replicas of your wedding cake, these cake pops can be transformed into miniature edible works of art.
2. Arrange With Acrylic
Planning a wedding involves making countless decisions, from choosing the perfect venue to selecting the most delectable treats. When it comes to dessert options, acrylic cake pops are an innovative and eye-catching choice that will leave your guests in awe. In this blog post, we'll delve into the world of acrylic cake pops, exploring their versatility, and beauty, and how they can elevate your wedding celebration to new heights.
Acrylic cake pops are more than just delicious treats; they are miniature works of art that can transform your wedding into a visually stunning and memorable occasion. From their aesthetic appeal to their versatility in design, these edible wonders are sure to delight both you and your guests. So, why not consider adding a touch of elegance and whimsy to your wedding celebration with acrylic cake pops? Let your imagination run wild, and prepare for a truly unforgettable experience.
3. Suit Up Your Sweets
Begin your cake pop journey by selecting flavors that complement your wedding theme and cater to various tastes. Classic options like vanilla, chocolate, and red velvet are always popular choices. For a more sophisticated twist, consider flavors like lemon lavender, salted caramel, or champagne-infused cake pops.
The secret to creating stunning cake pops lies in the art of decorating. To align with the wedding ambiance, opt for a color palette that matches your chosen theme or incorporates your wedding colors. Use pearlized sprinkles, edible gold or silver dust, or delicate floral accents to add a touch of elegance. Consider personalizing the cake pops with monogram initials or miniature edible sugar flowers.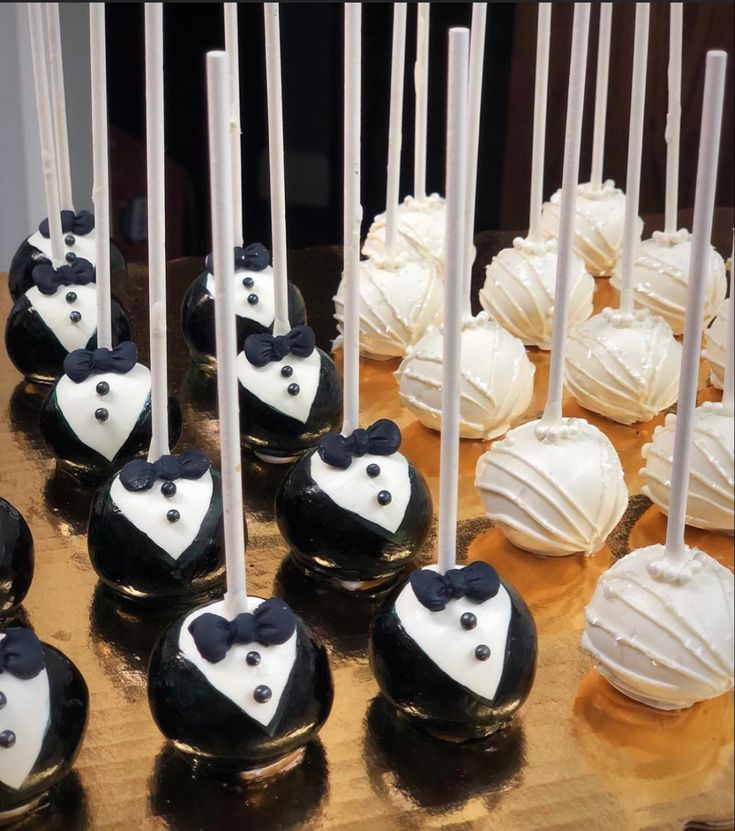 For an added touch of grandeur, dress up your cake pops in miniature tuxedos and wedding gowns. Create a black and white ensemble for the tuxedo-inspired cake pops by dipping them in white chocolate and adding edible black bowties. To fashion the wedding gown cake pops, dip them in white chocolate and use edible pearlized sprinkles or tiny edible flowers to represent lace details. These creative designs will make your cake pops truly stand out.
Choosing the right way to showcase your cake pops is essential to create a visually appealing dessert table. Consider using a tiered cake pop stand to present them in an organized and eye-catching manner. Alternatively, place them in elegant glass containers, or arrange them in decorative boxes tied with ribbons matching your wedding colors. You can also incorporate personalized tags or small flags with the names of the couple or a special message for the guests.
4. Mix Them In
So buy a pack of some fruit cakes or dry cakes and crush them into a powdery mix. Add a spoonful of melted butter to the cake crumb mix, and remix them. Now make balls of this mix and keep them on a tray to set for a minute or two. Do not insert a skewer in these balls. On the hand, either take some chocolate syrup or make one yourself (exclude the kids from this process). Dip these balls in the syrup and put them back on the tray and finally freeze them for ten to fifteen minutes.
Another way to amaze your kids is- take two separate bowls and two different colored cake crumbs or dry cakes. Now add butter in both and mix them well. make a semi-circle ball of one crumb mix and one semi-circle of the other mix. combine both these balls and dip them in melted white chocolate and sprinkle some chocolate chips and edible sprinkles in silver color. Freeze it and treat your kids with some pop balls that will make them go amused.
Make some white choco balls and with white chocolate as the top layer, sprinkle some colored sugar on these popsicle sticks. Put all the bright colors in a line on the white popsicle, and there, your unicorn cake pops are ready to make your kids go more wondrous.
5. Pop of Pie
Pop of Pie cake pops is a delightful fusion of traditional cake pops and the flavors of beloved pies. Imagine a perfectly baked pie crust enveloping a moist, flavorful cake center, all handcrafted into a bite-sized treat. With a variety of pie flavors to choose from, such as apple, cherry, pumpkin, and even lemon meringue, these cake pops offer a unique twist on classic wedding desserts.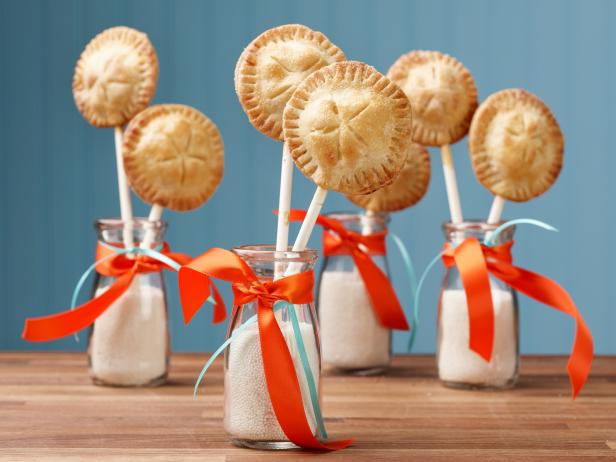 Looking for unique wedding favors or edible gifts for your guests? Pop of Pie cake pops can be individually packaged in charming boxes or bags, personalized with tags or ribbons to match your wedding theme. These delectable treats make for memorable and delectable gifts that your loved ones can take home and enjoy even after the celebration.
Pop of Pie cake pops offer convenience both for you and your guests. With their handheld nature, they eliminate the need for plates and cutlery, making them a hassle-free option. Each cake pop is individually portioned, allowing guests to indulge without worrying about portion control. They are ideal for outdoor receptions or events with limited seating arrangements.