Save-the-date photos are a fun and creative way to announce your upcoming wedding or special event. They set the tone for your celebration and give your guests a glimpse into your personality and style. If you're looking for some inspiration to make your save-the-date photos truly unique and memorable, we've got you covered. In this blog post, ideas will help you capture the essence of your special day and leave a lasting impression on your loved ones.
1. Wooden Boards To Save The Date
Planning a wedding is an exciting journey filled with countless decisions to make, including choosing the perfect save-the-date announcement. If you're looking for a unique and rustic touch, wooden boards can be an excellent choice.
In this blog post, we'll explore how you can incorporate wooden boards to create charming save-the-date announcements that will capture the hearts of your guests.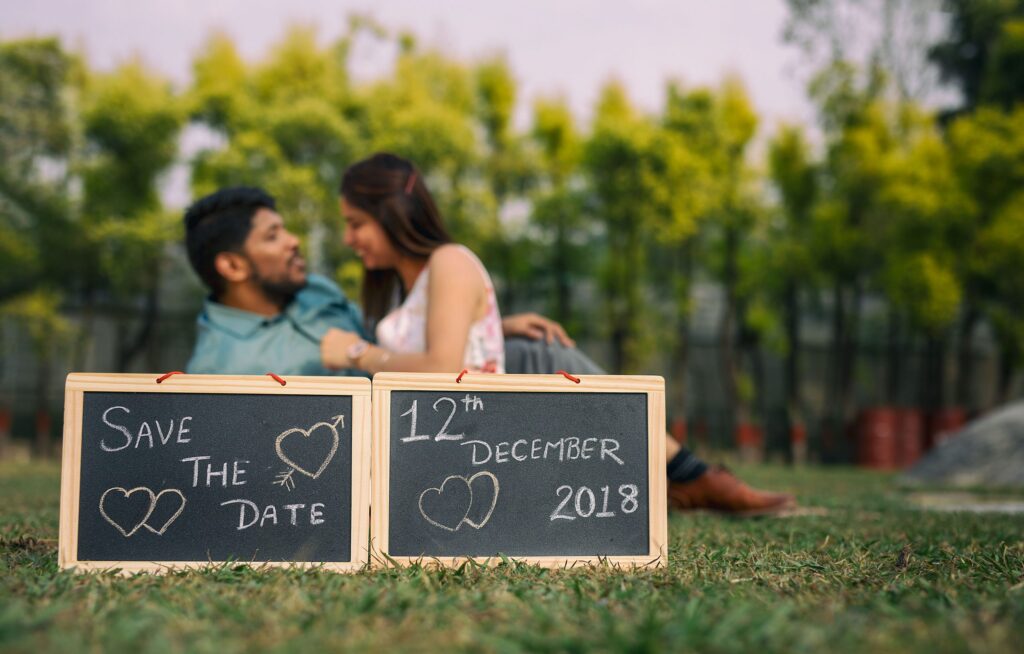 Wooden boards bring a touch of nature's elegance to your save-the-date announcements. They exude warmth and create a rustic ambiance that perfectly complements outdoor or rustic-themed weddings. By incorporating wooden elements, you can add a unique and organic flair to your wedding stationery.
Creating your own wooden board save-the-date announcements is a fun and creative project. Start by selecting high-quality wooden boards that are smooth and well-sanded. Consider using different types of wood, such as birch, cedar, or pine, to add texture and variety to your designs. Paint or stain the boards to match your wedding colors or leave them in their natural state for a more rustic look.
To give your wooden board save-the-dates a personalized touch, consider engraving or calligraphy.
Engraving the details of your wedding, such as the names of the couple, the wedding date, and the venue, adds an elegant and timeless touch to the boards. Alternatively, you can opt for calligraphy to handwrite the information, showcasing your attention to detail and adding a romantic vibe.
2. Say It With Shoes
Choose a picturesque location and capture a reflective shot of both of your shoes together. Whether it's a serene beach, a bustling cityscape, or a lush garden, the reflection will symbolize your journey together and the reflection of your love.
Take a leisurely stroll hand-in-hand, capturing the movement of your feet. This dynamic shot showcases your shared journey and the steps you'll take together as a couple. Let your footwear choices reflect your personality and style, from classic heels to trendy sneakers or even barefoot on the sand!
Create an artistic composition by arranging your shoes and accessories in an eye-catching pattern. Spell out your wedding date or initials using your shoes, along with other meaningful props like flowers, confetti, or decorative signs. This playful and visually appealing shot will make your save-the-date cards stand out.
Highlight your chosen footwear as the main focal point of the photo. Whether it's elegant heels, polished dress shoes, or rustic boots, zoom in on your shoes while keeping yourselves slightly out of focus. This style adds a touch of mystery and elegance, drawing attention to the details that make your wedding unique.
Let your shoes tell a story by capturing them in various settings that reflect your shared interests or hobbies. For example, if you both love hiking, take a photo of your shoes on a scenic mountain trail. If you're food enthusiast, capture your shoes beside your favorite restaurant or food truck. These personalized shots will add a touch of authenticity to your save-the-date photos.
3. Save The Date Photos On A Beach
When it comes to announcing your upcoming wedding, "Save the Date" photos can be a delightful way to set the tone for your special day. If you're dreaming of a romantic and picturesque setting, what could be more perfect than a beach?
With its breathtaking views, soft sand, and soothing sound of crashing waves, a beach offers a natural backdrop that adds a touch of magic to your photographs.
In this blog post, we'll explore the enchanting world of "Save the Date" photos on a beach, showcasing why it's a timeless choice for couples looking to capture their love in an idyllic setting.
One of the biggest advantages of beach "Save the Date" photos is the inherent beauty of the location itself.
The soft, golden sand, the vast expanse of the ocean, and the serene coastal scenery create a captivating backdrop that effortlessly enhances the romantic ambiance. You can take advantage of the natural light during the golden hour or the stunning colors of a sunset for a truly enchanting setting.
Beach "Save the Date" photos provide an opportunity for couples to showcase their effortless style and create a casual yet elegant atmosphere. Embrace the laid-back nature of the beach by opting for comfortable yet fashionable attire.
Flowing sundresses, linen shirts, and bare feet bring a relaxed and romantic vibe to your photos, making them truly unique and memorable.
A beach setting allows for playful and spontaneous interactions between you and your partner, resulting in genuine and candid moments captured on camera.
Walking hand-in-hand along the shoreline, splashing in the waves, or even building sandcastles together can create unforgettable images that reflect the love and joy you share. Let the beach be your playground as you create memories that will last a lifetime.