A beach wedding is a dream come true for many couples who envision a romantic and picturesque celebration. The tranquil sound of waves, warm sand between your toes, and a gentle breeze create the perfect setting for an unforgettable ceremony. To make your beach wedding truly magical, it's essential to pay attention to the details and incorporate creative decorations that enhance the natural beauty of the surroundings. In this blog post, we'll explore some unique and inspiring beach wedding decoration ideas to help you set the perfect mood for your special day.
1. Starting with traditional Indian beach wedding decorations
Indian weddings are known for their vibrant colors, grandeur, and rich cultural traditions. Combining the timeless beauty of traditional Indian decor with the breezy charm of a beach setting creates a truly magical ambiance for a wedding celebration. In this blog post, we delve into the enchanting world of traditional Indian beach wedding decorations, exploring the key elements, color palettes, and design ideas that will transform your special day into an unforgettable experience.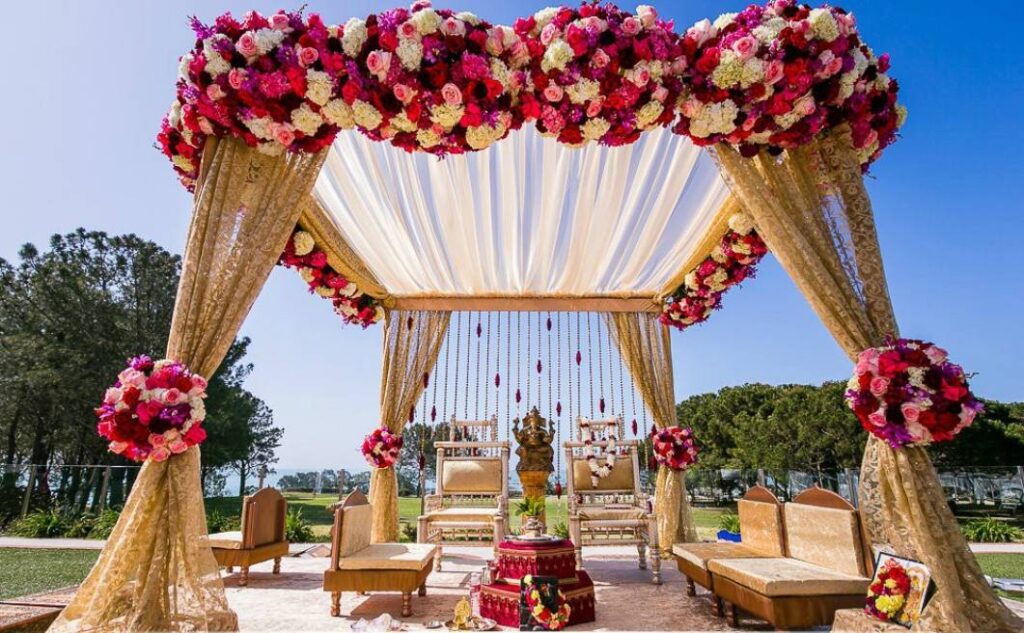 The mandap is the centerpiece of any Indian wedding ceremony, symbolizing the sacre union of the couple. For a beach wedding, consider incorporating elements of nature such as bamboo or driftwood to create a rustic yet elegant mandap structure. Adorn it with vibrant fabrics, marigold garlands, and delicate seashell hangings for an enchanting fusion of Indian and beach aesthetics.
Indian weddings are a celebration of colors, and for a beach wedding, you can choose from a variety of color palettes to reflect the coastal vibe. Opt for a combination of soft pastels like coral, mint green, and sky blue, mix with pops of traditional Indian hues such as rich reds, royal purples, and sunny yellows. These colors will evoke a sense of warmth, joy, and visual harmony against the backdrop of the beach.
2. Lotus-style mandap with lots of flowers is a dream
Every couple dreams of a wedding day that exudes romance, elegance, and enchantment. And what better way to bring this dream to life than with a lotus-style mandap adorned with a plethora of beautiful flowers? A symbol of purity, beauty, and spiritual awakening, the lotus holds a special place in many cultures and is a perfect choice for a wedding ceremony. In this blog post, we will delve into the mesmerizing world of lotus-inspired mandaps, exploring their significance and showcasing creative ideas to make your wedding day truly unforgettable.
The lotus flower holds deep symbolism in various cultures and religions. From ancient Egyptian mythology to Hinduism and Buddhism, the lotus represents purity, enlightenment, and the unfolding of the soul. Incorporating lotus motifs and design elements into your mandap will not only add a touch of elegance but also infuse your wedding ceremony with profound meaning.
Imagine walking down the aisle, surrounded by an ethereal ambiance of vibrant flowers. A lotus-styled mandap allows you to transform your wedding venue into a breathtaking paradise. Fill the mandap with an abundance of flowers, choosing colors that complement your wedding theme. Roses, orchids, lilies, and jasmine can be used to create cascading floral arrangements, giving your mandap an enchanting and romantic appeal.
3. The only blue that is acceptable in a wedding
When it comes to beach wedding decorations, there are various shades of blue that can work beautifully and create a serene and elegant atmosphere. Here are a few examples of blues that are commonly accepted and popular for beach wedding decorations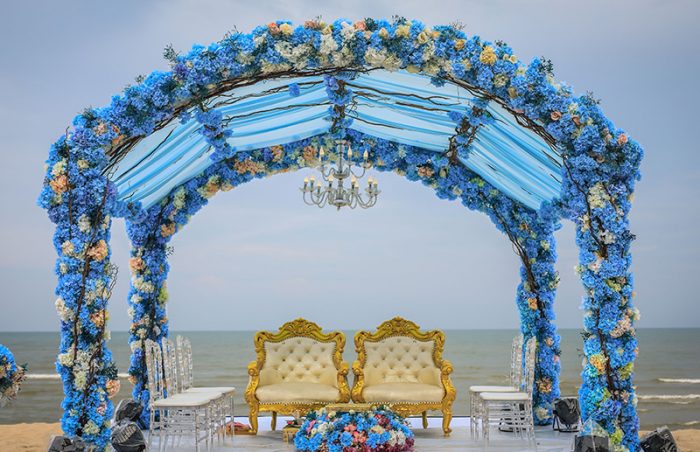 This vibrant and refreshing shade of blue is often associated with the ocean and tropical destinations. It exudes a sense of tranquility and adds a pop of color to beach-themed weddings. Consider incorporating turquoise in table linens, chair sashes, or as an accent color in floral arrangements.
A soft and delicate shade of blue, sky blue complements the natural elements of a beach wedding. It evokes images of clear skies and gentle waves, lending a serene and dreamy feel to the decor. You can use sky blue in drapes, ribbons, or even in the bridesmaids' dresses.