Start with a rich and moist chocolate cupcake base. Top it with a luscious layer of glossy chocolate ganache, and adorn it with delicate chocolate shavings or a sprinkle of edible gold dust. These classic chocolate ganache cupcakes are a timeless choice that will satisfy any chocolate lover's cravings.
1. Tasty Chocolate Wedding Cupcake Ideas
When it comes to wedding desserts, cupcakes have become an increasingly popular choice. And what better flavor to indulge in than the beloved chocolate? Rich, decadent, and irresistibly delicious, chocolate wedding cupcakes can add a touch of sweetness and elegance to your special day. In this blog post, we'll explore a variety of mouthwatering chocolate wedding cupcake ideas that are sure to please both you and your guests. From classic combinations to unique twists, let's dive into the world of chocolatey bliss!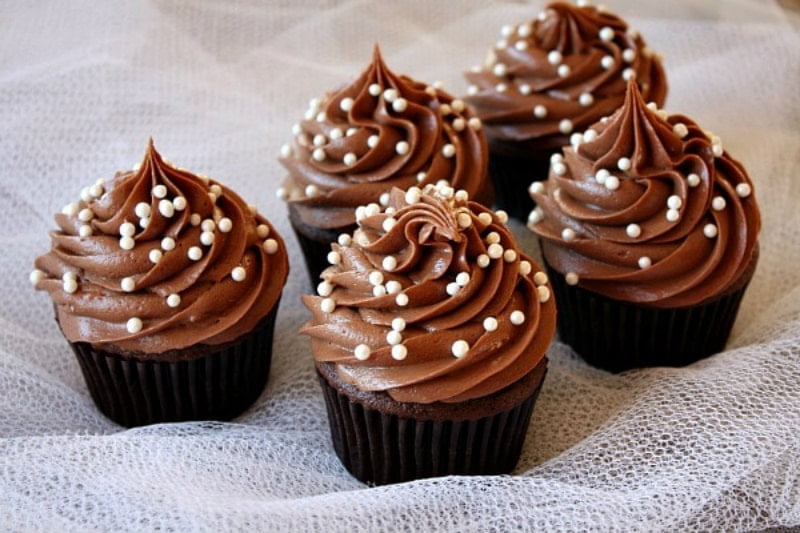 Kick off your wedding cupcake extravaganza with a timeless classic. These delectable chocolate cupcakes are filled with smooth, velvety ganache and topped with a luscious chocolate buttercream swirl. For an extra touch of elegance, you can adorn them with edible pearls, delicate flower decorations, or a dusting of edible gold.
For those who crave the perfect balance between sweet and salty, salted caramel chocolate cupcakes are an ideal choice. Pairing the richness of chocolate with the indulgence of caramel and a sprinkle of sea salt creates a heavenly combination. Drizzle some caramel sauce on top and garnish with caramel shards or tiny chocolate sea salt flakes for an exquisite presentation.
2. Creative Wedding Cupcakes
Wedding cakes have always been a cherished tradition, but in recent years, a delightful alternative has taken center stage: wedding cupcakes! These petite treats offer a whimsical and personalized touch to your special day. From elegant designs to mouthwatering flavors, wedding cupcakes provide a unique and memorable experience for both you and your guests. In this blog post, we will explore the world of wedding cupcakes, from design inspiration to flavor combinations, and share tips for incorporating these sweet delights into your wedding celebration.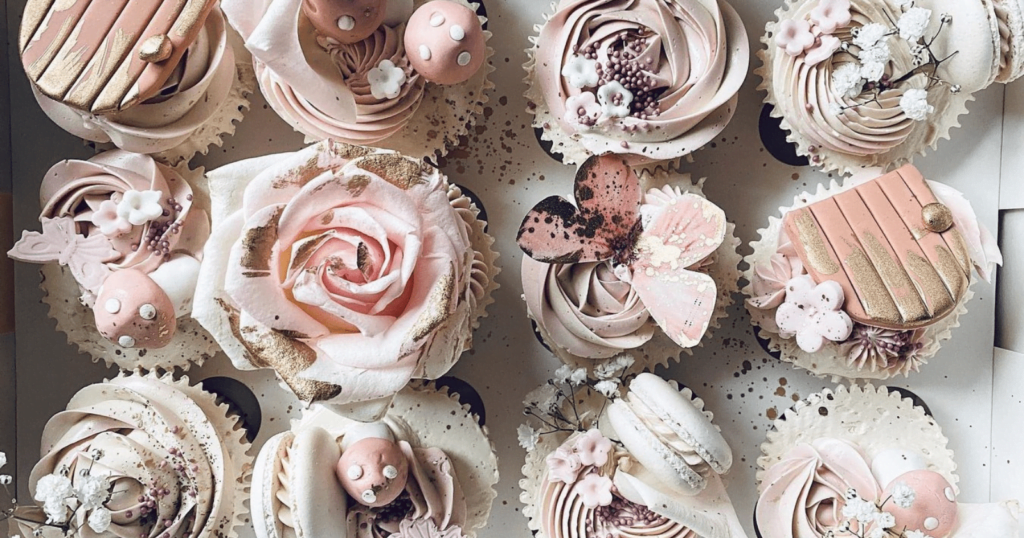 Wedding cupcakes allow you to express your personality and style through their intricate designs. Explore a plethora of options, from classic and elegant to quirky and whimsical. Consider incorporating elements such as delicate sugar flowers, intricate piping, metallic accents, or even personalized toppers. The possibilities are endless, so let your imagination run wild!
One of the most exciting aspects of wedding cupcakes is the variety of flavors you can offer to your guests. Traditional options like vanilla, chocolate, and red velvet are always popular choices. But don't be afraid to experiment with unique flavors such as lavender lemon, salted caramel, or even champagne-infused cupcakes for a touch of sophistication. Provide a diverse selection to cater to different tastes and preferences, ensuring everyone finds their favourite flavor.
3. Cupcakes With A Mint Touch
When it comes to delightful desserts, cupcakes have always been a fan favorite. Their individual portions, endless flavor possibilities, and charming aesthetics make them a go-to treat for any occasion. If you're looking to add a refreshing twist to your cupcake repertoire, why not try incorporating a hint of mint? In this blog post, we'll explore the world of cupcakes with a mint touch, discovering delectable recipes, creative decorating ideas, and tips for achieving that perfect balance of flavors. Get ready to indulge in the cool and invigorating essence of mint, all wrapped up in a delightful cupcake!
So I am a big fan of music in general. I love jammin' out and I love to dance, even though I might not really look that great doing it. Lately, music is one of those things I haven't been able to listen to as much. Now I tend to listen to the sound of baby toys or baby monitors. In fact, the first time I got in the car to go to the grocery store after the boys were born, I heard music that wasn't a baby toy and realized how much I'd missed it. I turned it up and car danced all the way to the store.
4. Wedding Cupcakes With Berries
Weddings are a celebration of love, and what better way to sweeten the occasion than with delectable wedding cupcakes? These miniature delights offer a charming twist to traditional wedding cakes. In this blog post, we'll explore the world of wedding cupcakes with a focus on incorporating luscious, seasonal berries. Whether you're a bride-to-be, a baking enthusiast, or a curious reader, get ready to be inspired by these delightful and visually appealing treats.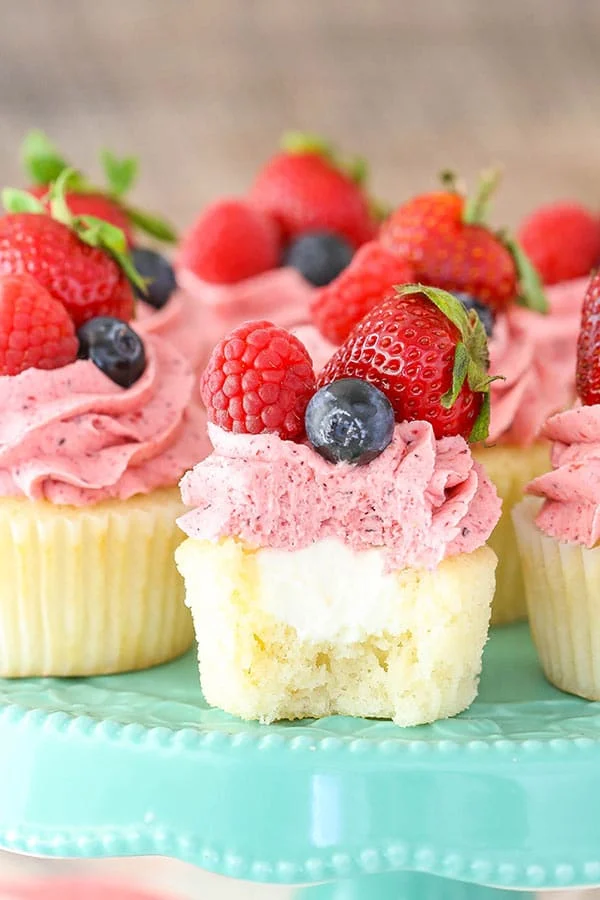 Wedding cupcakes with berries offer a delicious and visually appealing alternative to traditional wedding cakes. By incorporating fresh, seasonal berries and carefully selecting complementary flavors, frostings, and decorations, you can create a delightful dessert experience for your guests. Whether you opt for a rustic-themed wedding or an elegant affair, these delectable treats are sure to add a touch of sweetness to your special day. So, get creative, experiment with flavors, and enjoy the process of creating wedding cupcakes that leave a lasting impression.
5. Black And White Cupcakes
Welcome to our delectable journey into the world of black and white cupcakes! These charming treats are a delightful twist on the classic cupcake, combining the richness of chocolate with the lightness of vanilla in a visually stunning presentation. Whether you're planning a special celebration, a themed party, or simply want to indulge in a delightful treat, these black and white cupcakes are sure to impress. Join us as we delve into the recipe, decoration ideas, and tips for creating these irresistible delights!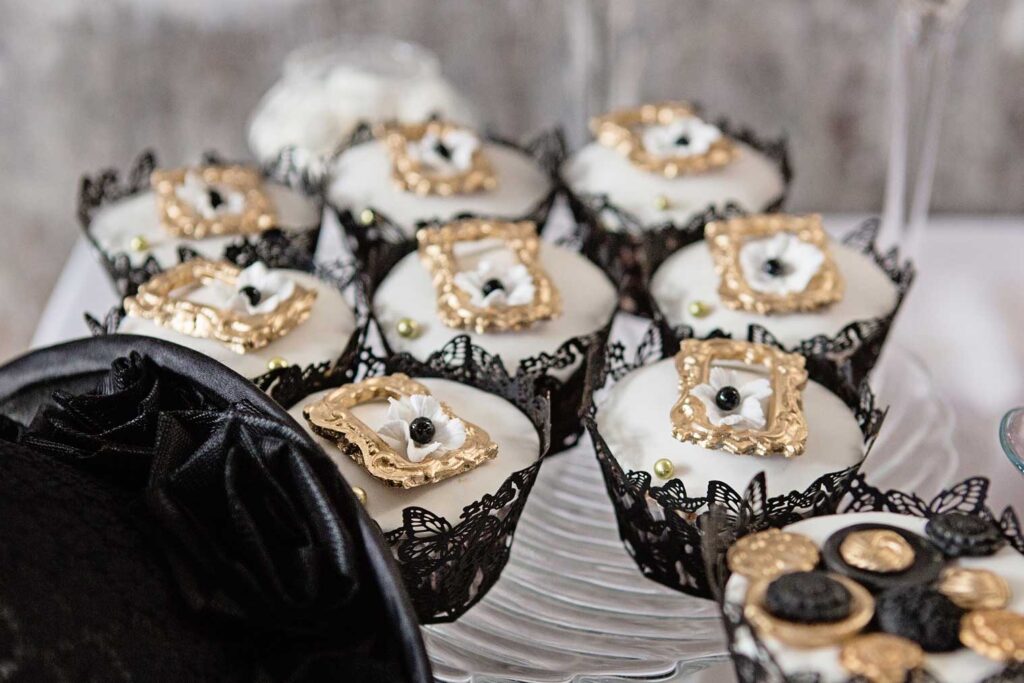 These really taste exactly like the cookie, just a bit more cake on the bottom. The glaze is my favorite though because it's surprisingly easy to make and looks so smooth when it dries. Pretty sure these black and white cupcakes would be perfect with little candles placed in each cupcake for a birthday! Speaking of, I turn 30 in a few weeks. AAH! I can't believe I'll be saying goodbye to my 20s! Might have to drown my sorrows in these tasty cupcakes.