Planning a wedding pool party? Get ready to dive into a world of fun and romance! Poolside celebrations are the perfect way to beat the heat and create lasting memories. To ensure your wedding pool party is an unforgettable event, we've curated a list of poolside decorations that will transform your venue into a tropical paradise. From floating floral arrangements to sparkling lights, let's explore the perfect elements to create an enchanting ambiance for your special day!
1. Poolside Decorations
A wedding pool party is a fantastic way to celebrate your special day with family and friends while enjoying the refreshing ambiance of a poolside setting. To make your wedding pool party truly unforgettable, it's essential to decorate the area with elements that evoke a sense of beauty, elegance, and fun. In this blog post, we'll explore a range of stunning poolside decorations that will transform your wedding pool party into a magical and memorable event.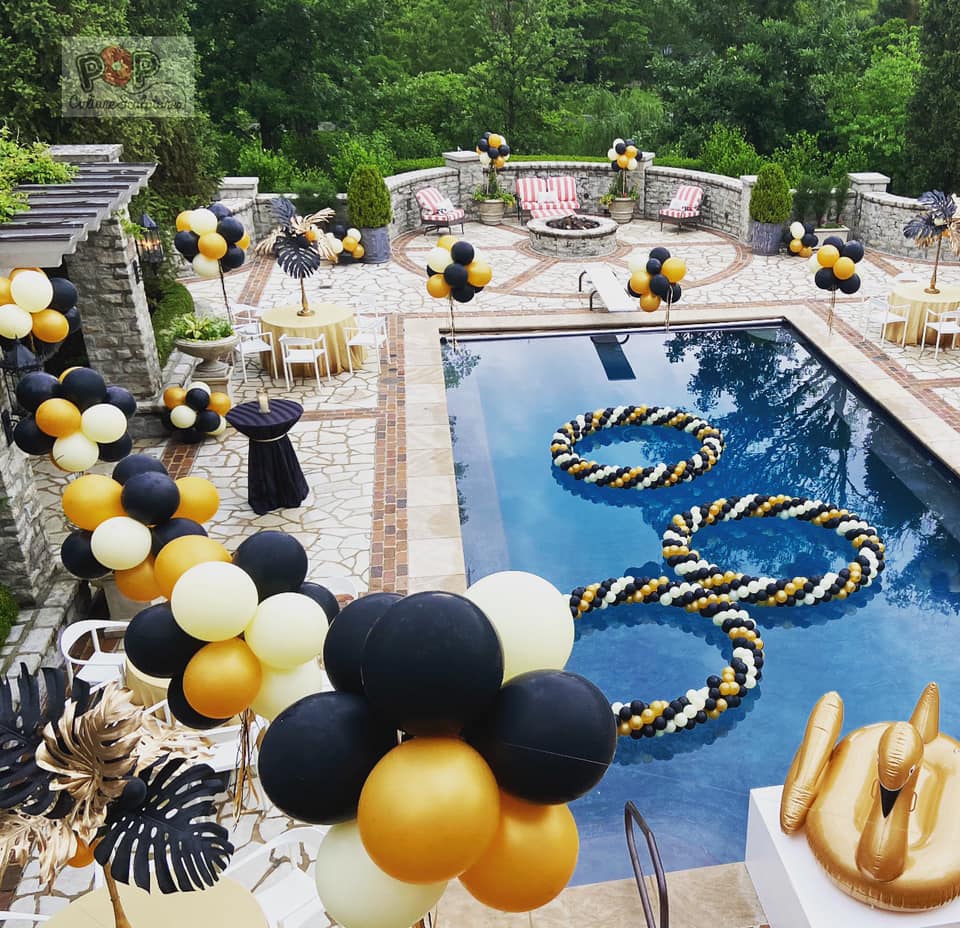 Create a romantic and whimsical atmosphere by adorning the pool with floating flower centerpieces. Choose vibrant blooms that match your wedding theme and place them in elegant glass bowls or rustic wooden crates. Floating candles can also be added for an enchanting touch after sunset.
Illuminate the poolside area with an array of lanterns and fairy lights. Hang them from trees, pergolas, or umbrellas to add a soft and ethereal glow. Opt for warm, soft hues that complement the surroundings and enhance the romantic ambiance as the evening progresses.
2. Swimming Pool Wedding Décor With Flower Petals
A wedding ceremony held near a swimming pool can be an enchanting and unique experience. To enhance the ambiance and add a touch of romance, incorporating flower petals into the pool décor is a wonderful idea. In this blog post, we will explore creative ways to use flower petals to transform your swimming pool wedding into a dreamy and unforgettable event.
Selecting the perfect flower petals is crucial to achieving the desired atmosphere. Opt for petals that complement your wedding theme and color scheme. Popular choices include rose petals (red, pink, or white), orchid petals, or even a mix of colorful petals to create a vibrant effect.
Create floating petal centerpieces by placing a variety of flower petals in elegant glass bowls or vases filled with water. Choose large, sturdy petals like those from roses or lilies. Float candles amidst the petals for a soft and ethereal glow during the evening ceremony.
Place floating candles in glass holders amidst scattered flower petals on the water's surface. Choose unscented candles to ensure they don't overpower the natural fragrance of the flowers.
3. Pool Wedding Decor Ideas With Floating Candles
A poolside wedding can be a breathtaking and romantic event, especially when you incorporate beautiful decorations like floating candles. The soft flickering light, combined with the gentle reflection on the water, creates a magical ambiance that will leave your guests in awe. In this blog post, we'll explore some creative ideas for using floating candles to enhance the beauty of your pool wedding decor.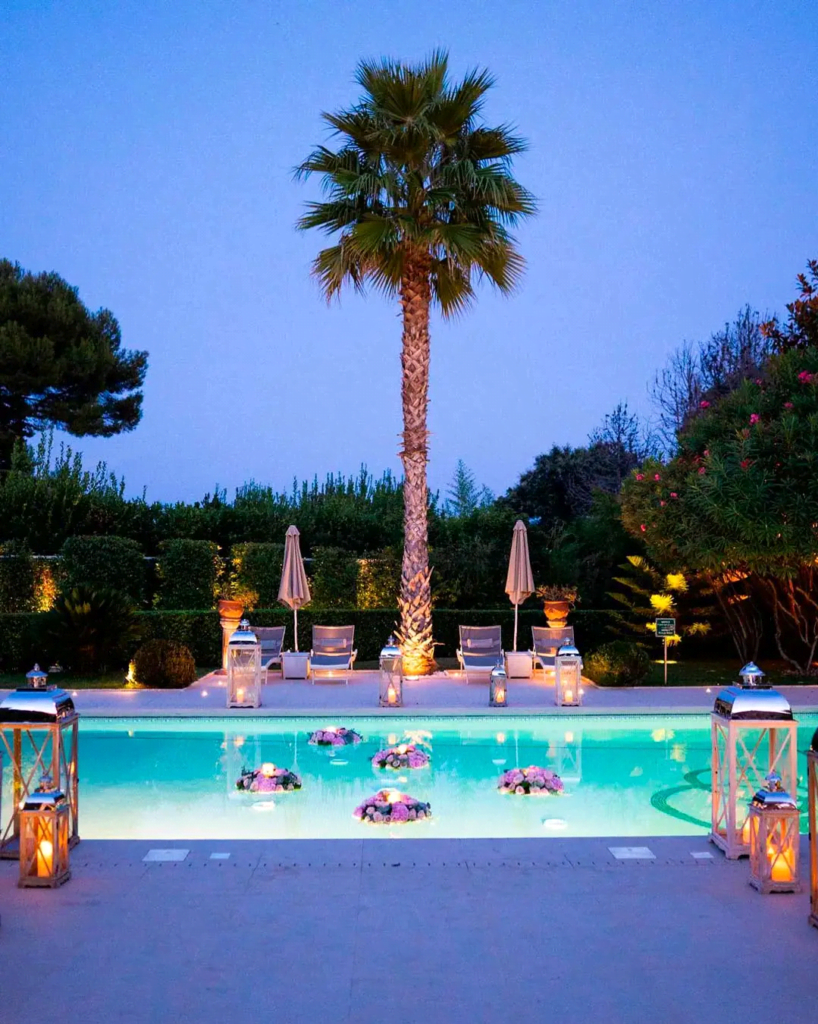 Create stunning centerpieces by placing floating candles in elegant glass bowls or vases. Fill the vessels with water and add a few flower petals or greenery for an extra touch of elegance. You can use varying heights of candles to add visual interest to the arrangement. Place these centerpieces on tables surrounding the pool or even float them directly on the water for a captivating effect.
For an enchanting entrance, consider lining the poolside aisle with floating candles. Place small, sturdy containers filled with water and floating candles along the edges of the aisle.
For a touch of rustic charm, incorporate floating candle lanterns into your pool wedding decor. Use miniature lanterns with glass panels or openwork designs, and place small floating candles inside. Hang these lanterns from trees or place them on ledges near the pool to create a warm and inviting atmosphere.
4. Pool Wedding Decor – Lettering
Make a grand entrance by setting the tone with a stylish poolside welcome sign. Use bold and vibrant lettering on a weatherproof board or mirror to greet your guests with a warm message. Consider incorporating playful water-themed elements like waves, seashells, or mermaid tails to add a whimsical touch.
Add a romantic touch to your pool wedding by floating large foam or inflatable letters on the water's surface. Spell out your initials, "LOVE," or even "I DO" for a picture-perfect backdrop that will make your guests swoon. Opt for elegant and calligraphic fonts to create a visually stunning display.
Quench your guests' thirst with a refreshing poolside bar. Adorn the bar area with eye-catching signs displaying your drink menu or signature cocktails. Choose playful and bold fonts that match your wedding theme, and consider incorporating tropical elements like palm leaves or pineapples to enhance the summer vibe.
Ensure your guests don't miss out on any of the poolside fun by providing clear and stylish directional signage. Guide them towards the ceremony area, reception, dance floor, and other key locations with signs that feature arrows and creative typography. Choose fonts that match your wedding theme and consider incorporating elements like starfish, palm trees, or beach umbrellas.