Your wedding day is one of the most important and memorable days of your life. As you walk down the aisle, all eyes will be on you, and you'll want to look and feel your best. While the bride's gown often takes center stage, don't underestimate the significance of the right pair of shoes. In this blog post, we'll explore various wedding shoe styles for both brides and grooms, focusing on comfort and style to ensure you can dance the night away with ease.
1. Bridal Shoe Styles:
Classic Elegance: Delve into timeless, elegant options like traditional pumps, slingbacks, and peep-toe heels, which complement various gown styles and can be worn on many other occasions.
Glamorous High Heels: For brides who love a touch of drama and want to add extra height, explore strappy stilettos, embellished heels, or platforms to make a statement.
Comfortable Flats: Discover chic and comfortable flats, perfect for outdoor or beach weddings or brides who prefer a more laid-back look without sacrificing style.
Romantic Wedges: Explore wedges that provide stability and comfort while offering a touch of romance to enhance the overall bridal look.
2. Groom's Shoe Styles:
Classic Oxford Shoes: Timeless and versatile, Oxfords are the go-to choice for most grooms, seamlessly pairing with various suits and tuxedos.
Sleek Loafers: Perfect for modern grooms looking for both style and comfort, loafers offer a sophisticated alternative to traditional dress shoes.
Dapper Brogues: Add a touch of personality to the groom's footwear with brogues, featuring decorative perforations that add a touch of flair to formal attire.
Stylish Boots: For rustic or winter weddings, consider elegant dress boots that exude masculinity and charm while keeping the feet warm and comfortable.
3. Considerations for Both:
Comfort First: On your big day, comfort should be a priority. Opt for shoes that fit well and provide ample support, especially if you'll be on your feet for extended periods.
Material Matters: Select high-quality materials for durability and to ensure the shoes look their best throughout the day. Break Them In: Avoid blisters and discomfort by breaking in your shoes before the wedding day through gentle wear around the house.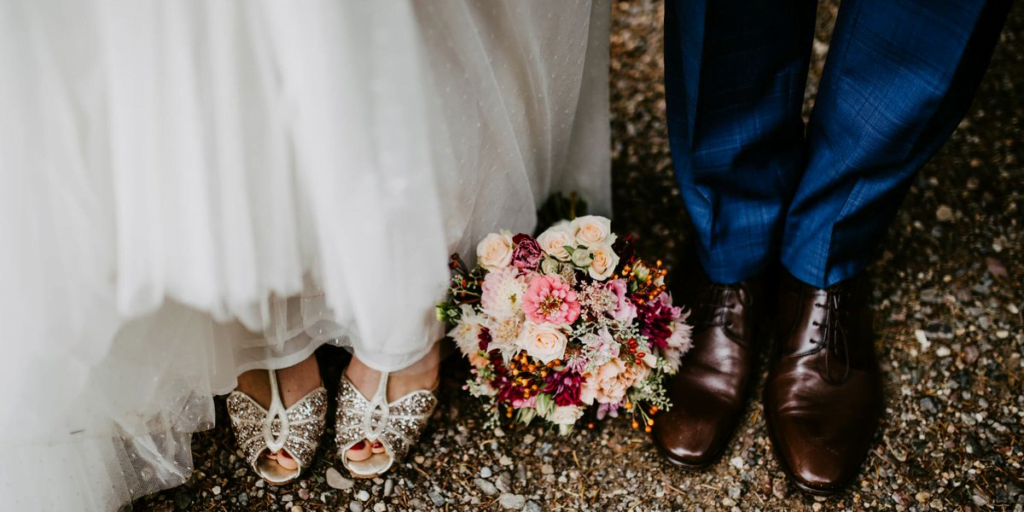 Color Coordination: Coordinate shoe colors with the wedding attire and overall color scheme to create a cohesive and polished look.Personal Touch: Add a personal touch by customizing shoes with monograms, engravings, or even a sentimental touch hidden inside.
Your wedding shoe choice is not only about style but also about comfort. Whether you're the bride or groom, finding the perfect pair of shoes will make your walk down the aisle a memorable and enjoyable experience. Embrace your unique style and personality while considering practicality, and you'll be ready to take each step toward your happily ever after with confidence and grace. Happy shoe shopping!