Your wedding dress is the centerpiece of your big day, a symbol of elegance and love that deserves to be immortalized in photographs. These photos will serve as cherished memories for years to come, allowing you to relive the magic of your wedding day. To ensure you capture the essence and beauty of your wedding dress, we have compiled a list of must-take photos that you should consider adding to your shot list. From close-ups to creative compositions, let's explore the essential images that will highlight your gown's exquisite details and showcase your radiant bridal beauty.
1. Hanging In The Light
A wedding day is a celebration of love, romance, and everlasting commitment. One of the most important elements of this special day is the bridal dress—the epitome of elegance and grace. In this blog post, we present a stunning bridal dress photoshoot titled "Hanging in the Light." Join us as we explore the ethereal beauty, intricate details, and timeless allure of bridal fashion captured in this captivating series.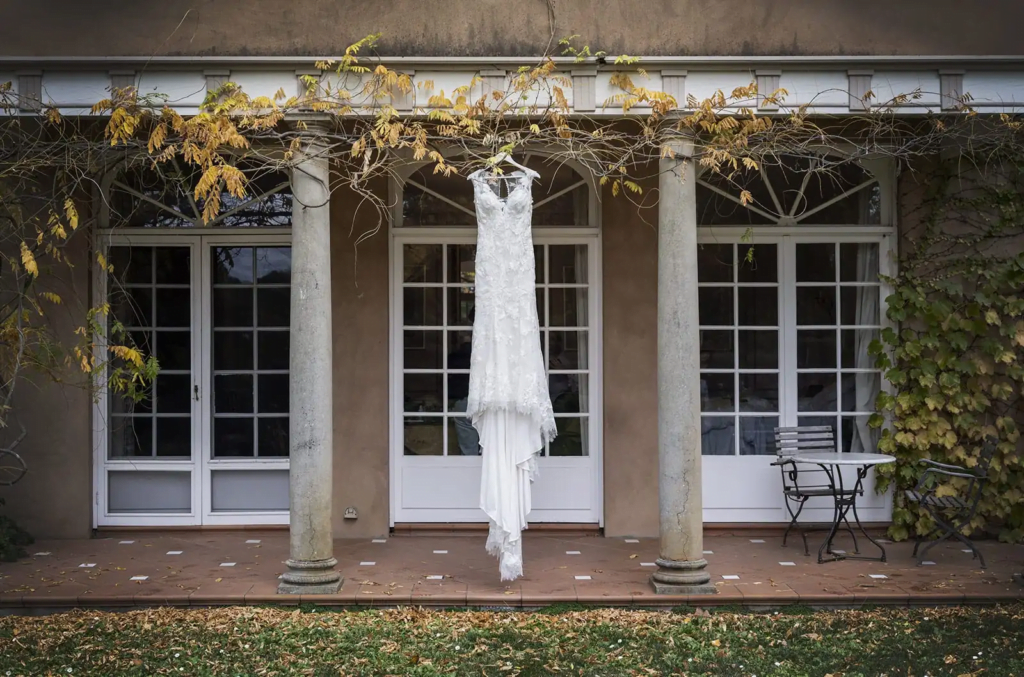 The photo shoot begins with the selection of a dreamy location that provides the ideal backdrop to showcase the bridal dress. Whether it's a sun-kissed garden, a grand ballroom, or a secluded beach, the interplay between natural and artificial light sets the stage for enchantment.
2. Getting Ready Photos
Every bride's journey begins with the excitement and anticipation of getting ready for her special day. From the first glimpse of her wedding gown to the final touches of makeup, this behind-the-scenes process is filled with joy, nerves, and countless precious moments. In this blog post, we'll explore the enchanting world of getting ready for photoshoots, showcase the significance of these images, and offer tips for capturing the magic that unfolds during this cherished time.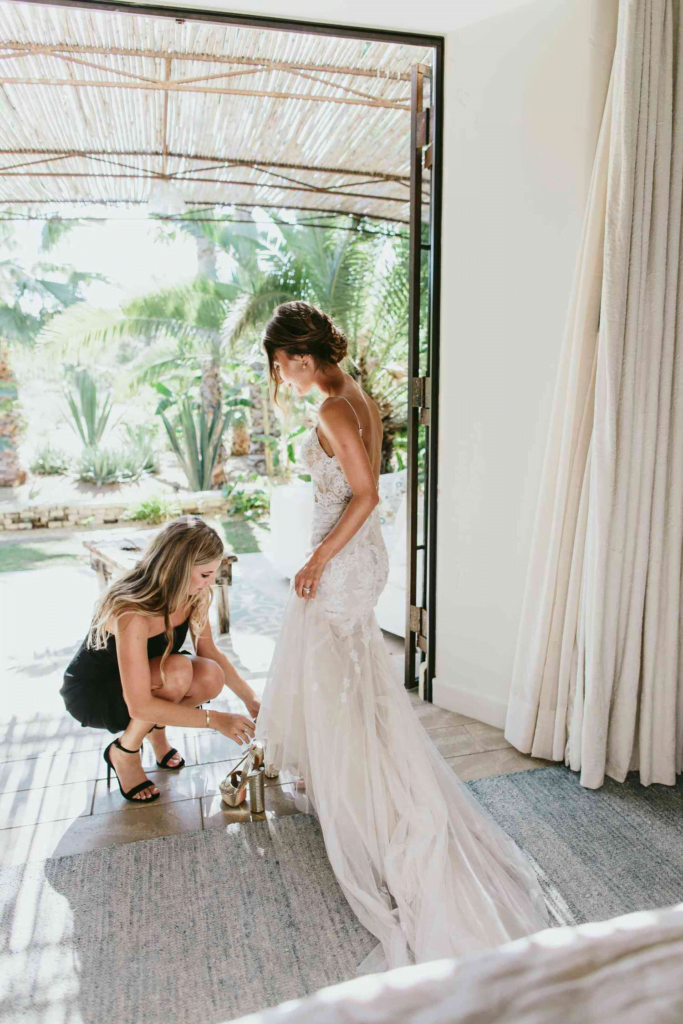 Getting ready photos offer a glimpse into the beginning of a bride's magical journey. They encapsulate the anticipation, joy, and love that surround the bridal preparations.
By paying attention to the details, emotions, and candid moments, photographers can create a collection of images that tell a captivating story of a bride's transformation into a radiant bride-to-be. So, embrace the enchantment of the getting ready process and capture those once-in-a-lifetime moments for the bride to cherish for years to come.
3. Charming Brides Photos With Bouquets
A bride's bouquet is not just a simple accessory but a reflection of her personality and the overall theme of her wedding. It adds a touch of elegance and beauty to her attire, making her look even more radiant on her special day.
In this blog post, we invite you to embark on a visual journey, exploring captivating brides adorned with breathtaking bouquets. Let's delve into the enchanting world of wedding bouquets and the captivating brides who hold them.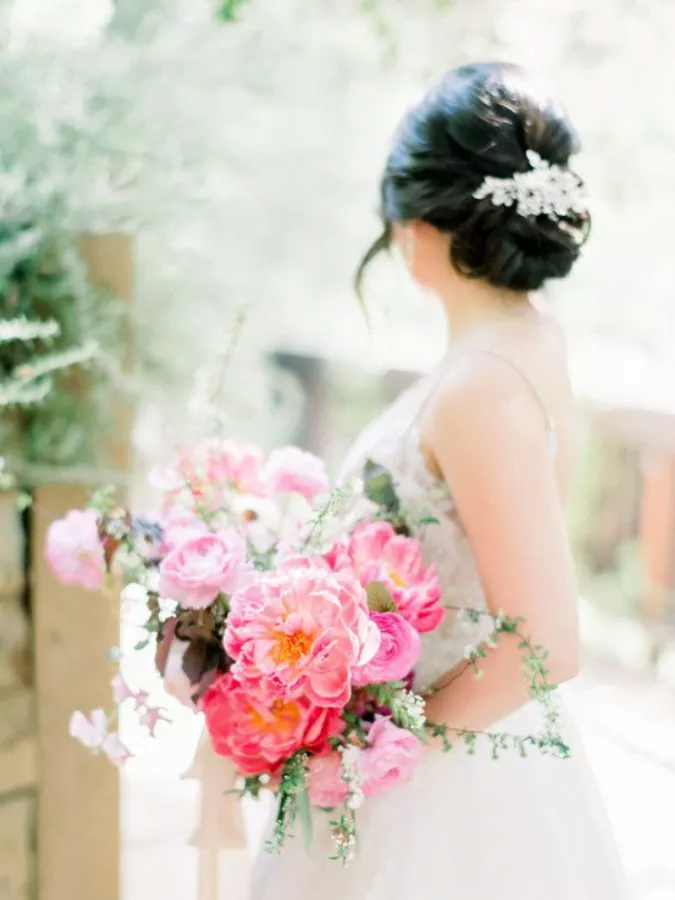 For brides seeking a more whimsical and natural vibe, garden-inspired bouquets are the perfect choice. These bouquets often incorporate a variety of wildflowers, daisies, and greenery, evoking a sense of a blooming meadow. Through stunning photographs, we showcase brides who embraced the beauty of nature, holding enchanting bouquets that perfectly complement their ethereal charm.
4. Putting On The Dress
Preparing for your wedding day is an exciting and joyful experience, and one of the most memorable moments is getting ready for your bridal photoshoot. As you step into your dream wedding dress, emotions and anticipation run high, creating the perfect opportunity for stunning photographs. In this blog post, we'll guide you through the process of putting on the dress and provide tips to make the most of this special time, ensuring your bridal photoshoot captures the magic of the moment.
Select a well-lit and spacious location for your bridal preparations. Natural light streaming through large windows will enhance the ambiance and create beautiful, soft lighting for your photos. Ensure the room is tidy and clutter-free, allowing the focus to be on you and your dress.
5. First, Look At Your Close Ones
A wedding is a magical moment in a person's life, filled with love, joy, and anticipation. One of the most exciting parts of a wedding is the bridal photoshoot, where the bride gets to showcase her beauty, grace, and happiness.
The bridal photo shoot begins with setting the stage and creating an atmosphere that reflects the bride's personality and vision for her wedding day. From selecting the perfect location, and arranging beautiful props.