Engagement photos are an exciting way to celebrate your love and announce your upcoming journey into marriage. These photos will be cherished for a lifetime, serving as a beautiful reminder of the joyous time leading up to your wedding day. To help you create stunning and memorable engagement photos, we've compiled a list of 10 creative and unique ideas that will capture the essence of your love story. From picturesque outdoor locations to fun and whimsical concepts, let's dive into these inspiring engagement photo ideas.
Classy Engagement Photos
An engagement marks a beautiful milestone in a couple's journey toward a lifetime of love and commitment. It's a time filled with excitement, joy, and anticipation. And what better way to celebrate this special occasion than by capturing it through classy engagement photos? In this blog post, we will explore the art of creating elegant and timeless engagement photos that beautifully showcase the love and connection between the couple.
Choosing the right location is crucial to creating a classy and captivating engagement photo shoot. Opt for picturesque settings such as a lush garden, a charming vintage-inspired location, a scenic beach, or an elegant cityscape. These locations not only provide a visually appealing backdrop but also add a touch of sophistication to the overall aesthetic.
The right lighting can make all the difference in creating stunning engagement photos. Opt for soft, natural lighting, which is most flattering and adds a romantic ambiance. Plan your photo shoot during the "golden hour," which is the hour after sunrise or before sunset, when the lighting is soft and warm, and creates a magical glow.
Cute Engagement Photos
Engagement photos are an incredible way to celebrate and capture the love and excitement of a couple embarking on a lifelong journey together. These photos serve as cherished memories and can also be shared with family and friends to announce the happy news. If you're looking for inspiration for your engagement photo shoot, we've curated a collection of adorable and heartwarming ideas that will make your hearts flutter. From romantic settings to playful moments, these cute engagement photos are sure to bring a smile to your face.
Picture a picturesque meadow, a cozy blanket, and a charming picnic setup adorned with flowers and candles. This dreamy scene is perfect for capturing intimate moments between the couple as they share laughter, smiles, and stolen glances over a delicious picnic spread.
If you and your partner are adventure seekers, why not incorporate your favorite activities into your engagement photos? Whether it's riding bicycles, hiking in the mountains, or strolling along a sandy beach, these playful shots will capture the joy and excitement of your shared experiences.
If you're a dog-loving couple, including your furry friends in your engagement photos will add an extra dose of cuteness. Whether it's a playful game of fetch or a cozy cuddle session, your four-legged companions will undoubtedly steal the spotlight and create heart-melting moments.
Fun Engagement Photos
Engagement photos are a wonderful way to celebrate the love and joy between a couple before their big day. In this blog post, we'll explore some creative and entertaining ideas for engagement photos that will bring out your unique personality and create lasting memories.
If you and your partner love the great outdoors and enjoy adrenaline-pumping activities, why not incorporate that into your engagement photos? Consider capturing moments while hiking a picturesque trail, kayaking on a serene lake, or even rock climbing together. These action-packed shots will showcase your shared spirit of adventure and create stunning visual narratives.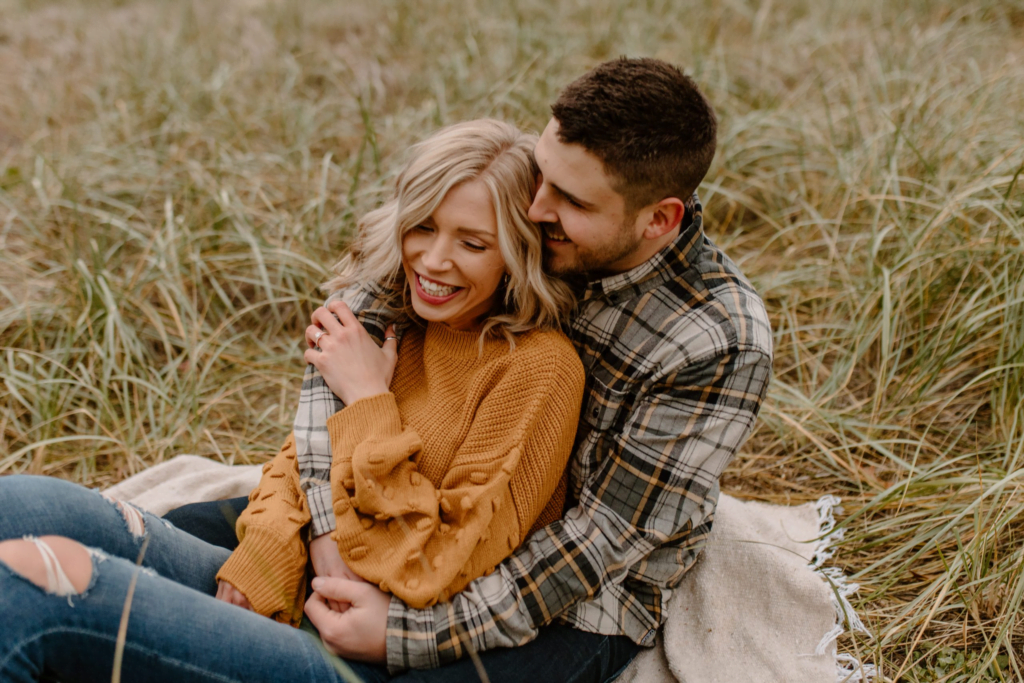 Take a nostalgic trip down memory lane by recreating scenes from your childhood.Swing on swings, build sandcastles, or have a playful water balloon fight. These playful moments will capture your enduring connection and showcase your carefree spirits.