Hawaii, with its breathtaking landscapes, turquoise waters, and golden sands, is a dream destination for couples seeking a romantic getaway. We'll explore some of the most enchanting beaches in Hawaii that are sure to set the stage for unforgettable moments with your loved one.
Lanikai Beach
Are you dreaming of a picture-perfect honeymoon destination where soft, powdery sand meets the crystal-clear waters of the Pacific Ocean?
As you set foot on Lanikai Beach, you'll instantly understand why it's considered one of the most beautiful beaches in the world. The name "Lanikai" translates to "heavenly sea," and it's easy to see why.
Sunset Beach
Start your romantic journey by checking into one of the luxurious beachfront resorts that line Sunset Beach. With elegant suites and private villas offering stunning ocean views, you'll find yourself immersed in comfort and serenity. Wake up to the gentle sound of waves lapping at the shore and savor a delightful breakfast on your private balcony.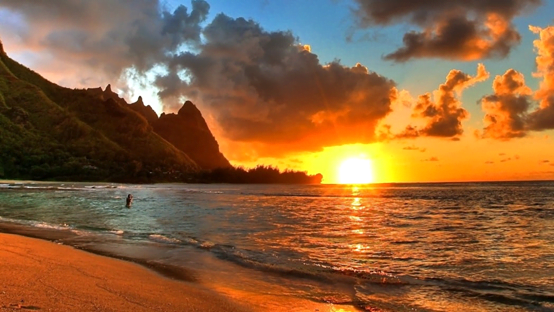 Unwind and bask in the sun at Sunset Beach's pristine shores. Stroll hand-in-hand along the shoreline, leaving footprints in the sand as you explore this picturesque stretch of coastline.
Kaanapali Beach
After a short flight to Maui, we were greet with a warm aloha spirit and stunning views of the Pacific Ocean. We checked into our luxurious beachfront resort, where our suite provided panoramic views of the ocean and easy access to the beach. The sound of gentle waves crashing against the shore became the soundtrack of our romantic escapade.
We spent our days lazing under swaying palm trees, sipping tropical cocktails, and taking leisurely walks along the shore. For adventure seekers, activities like snorkeling, paddleboarding, and even surfing were readily available.
Witnessing the sunset at Ka'anapali Beach is a must-do experience.