Set the tone for your engagement party with DIY invitations and stationery. You can design elegant digital invitations using free online platforms like Canva or opt for handmade invitations using craft paper and embellishments. Personal touches and heartfelt messages will make your invitations even more special.
Balloon Decoration
Create a stunning focal point by adorning your engagement party venue with balloon garlands. Choose balloons in soft and romantic colors, such as blush pink, ivory, gold, and rose gold. Balloon garlands can be placed on walls, archways, or as a captivating backdrop for a photo booth. Mix in some greenery or flowers to add a touch of nature's beauty, making your engagement party a memorable experience for all.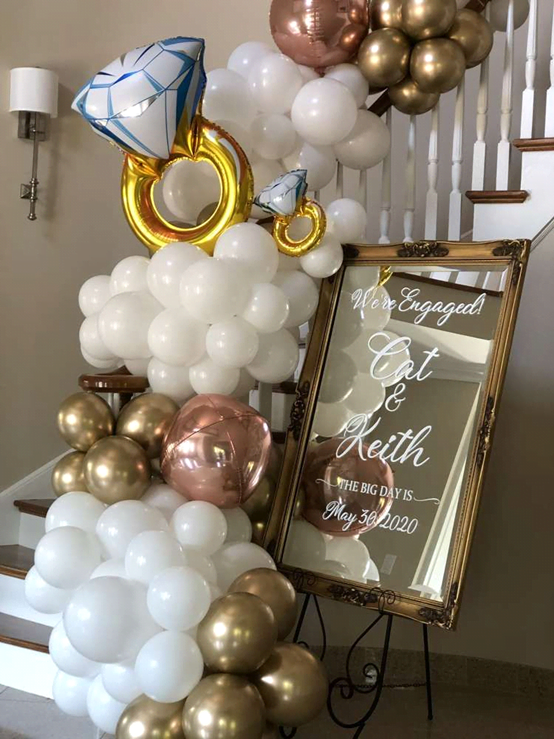 For a captivating and dreamy ambiance, consider using floating balloon centerpieces. Fill clear balloons with helium and add a few smaller balloons or confetti for an extra touch of charm. These floating wonders can be anchored to tables or let loose to drift gently to the ceiling. Guests will surely be mesmerized by the enchanting sight of floating balloons throughout the venue.
Vintage Plates
An engagement party is a momentous occasion, marking the start of a beautiful journey towards marriage. To make this special event unforgettable, why not go back in time and embrace the elegance and charm of vintage plates? Vintage-themed decorations add a touch of nostalgia and sophistication, creating a warm and inviting ambiance for your guests.
Create captivating table centerpieces using stacks of vintage plates. Place an assortment of plates in various sizes and designs, one on top of the other, to create a charming focal point. Add vintage-inspired flowers, such as roses or hydrangeas, in mismatched vases to complete the centerpiece.
Incorporate vintage plates into your guest book activity. Provide permanent markers, and ask guests to leave their heartfelt messages and well-wishes on a large vintage platter. This personalized keepsake will remind you of your special day for years to come.
Photo Station
During the engagement party, let your guests know about the Photo Station and encourage them to participate. You can announce it during speeches or have a designated MC inform everyone about the fun awaiting at the Photo Station. It's an excellent icebreaker and will get everyone in a festive mood!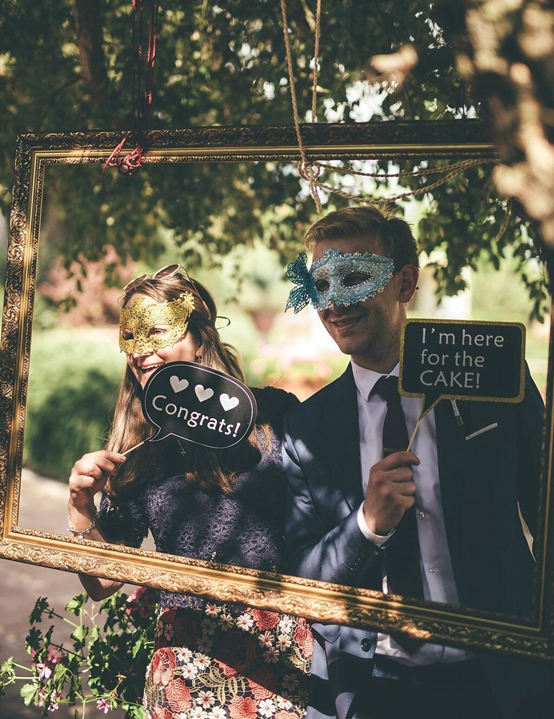 After the party, collect all the wonderful photos taken at the Photo Station. You can share them with your guests as a token of appreciation for their presence or create a dedicated online album for everyone to reminisce about the fantastic time they had.
Dried Flower
Create stunning centerpieces using dried flowers. Arrange them in vintage vases, mason jars, or rustic containers. You can mix and match various dried flower types, such as lavender, baby's breath, roses, and eucalyptus, for a beautiful arrangement. Craft garlands and wreaths with dried flowers to adorn the walls, entrance, or tables. These can serve as eye-catching decorations and create a delightful backdrop for photo opportunities.
Add a touch of elegance to the table settings by placing dried flowers or petals around the tableware. You can also tie bundles of dried flowers to the napkins with twine for a rustic look. Instead of traditional confetti, use dried flower petals to scatter on tables or use during the celebratory moments like the ring exchange or cake cutting. Hang bunches of dried flowers from the ceiling or along the walls using twine or ribbons. This will give the venue a whimsical and romantic feel.