A wedding cake is the centerpiece of any wedding reception, and the timeless combination of black and white adds an elegant touch to the celebration. However, modern couples are embracing their individuality and creativity by infusing traditional black and white wedding cakes with innovative twists. Whether you're planning a chic city wedding or a whimsical outdoor affair, these modern twists will surely inspire your perfect black and white wedding cake.
The Symbolism Of Black And White In Weddings
Black is a timeless color that exudes elegance and sophistication. When incorporated into a wedding cake, it adds a touch of glamour and grandeur. The use of black can elevate the cake's overall appearance and create a sense of opulence, perfect for formal or luxurious weddings.
White is traditionally associated with purity and innocence. The wedding cake's predominantly white design can symbolize the purity of the couple's love for one another, as they embark on a new chapter in their lives together.
Incorporating black and white into a wedding cake can add layers of symbolism and meaning to an already significant celebration. From elegance and sophistication to purity and harmony, these colors hold profound significance, reminding us of the timeless qualities of love and marriage. As the couple takes that first bite of their wedding cake, they are also savoring the richness of the symbolism that will accompany them on their lifelong adventure together.
Elegant Black And White Wedding Cakes
When it comes to wedding cakes, few color combinations are as timeless and sophisticated as black and white. The striking contrast between these two classic hues creates a visually stunning centerpiece that perfectly complements any wedding theme. If you're seeking a cake design that exudes elegance and sophistication, consider these elegant black and white wedding cake ideas.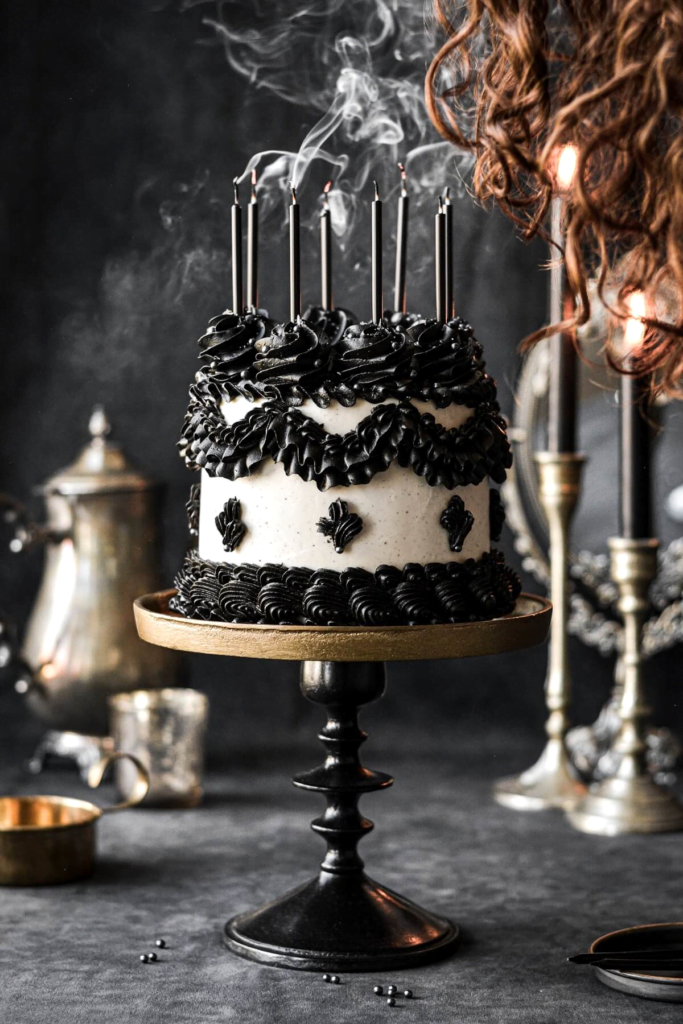 The beauty of black and white lies in their simplicity. Opt for a cake adorned with intricate black and white sugar flowers, delicate lace patterns, or elegant piped designs. A monochromatic approach creates a sense of refinement that stands the test of time.
For a modern and chic twist, opt for a minimalist black and white wedding cake. A sleek, smooth white fondant cake with a single black ribbon or geometric accent exudes understated glamour and sophistication.
Unique Cakes For Your Big Day
A classic black and white tiered cake with intricate piping and delicate sugar flowers exudes timeless elegance. The contrast of black and white creates a striking visual effect that will leave a lasting impression on your guests. Opt for a monochromatic design or add a touch of gold or silver accents to elevate the sophistication.
Add a touch of whimsy to your wedding with a playful black and white polka dot cake. This delightful design can range from large dots for a fun and carefree look to tiny dots for a more refined appearance. Complement the design with a matching cake topper or fresh flowers for an extra touch of charm.
Incorporate the intricate beauty of lace into your black and white cake design. Skilled bakers can create stunning edible lace that wraps around the tiers or adorns specific sections of the cake. The result is a cake that exudes grace and sophistication, perfect for a romantic wedding.
Wedding Cakes With Gold Accents
Gold accents come in various forms, each adding a unique charm to the wedding cake. Delicate gold leaf appliques delicately brushed onto the tiers offer a refined and elegant touch. Alternatively, intricately designed gold piping can create mesmerizing patterns, evoking the essence of lacework. Moreover, gilded sugar flowers or edible metallic beads can add a tasteful touch of extravagance.
Cake artists can employ edible metallic paints and dusts to give wedding cakes a glamorous sheen. Brushing the tiers with edible gold paint can create a shimmering effect, while dusting the cake with gold luster dust adds a subtle and magical sparkle. These techniques allow for creative freedom, ensuring each cake is a unique work of art.
Complementing the gold accents on the cake itself, gilded cake toppers offer an elegant finishing touch. From monograms and initials to intricate figurines, the golden toppers can be personalized to match the couple's preferences and wedding theme. These toppers add an extra layer of sophistication to the cake presentation.
Wedding Cakes With Flowers
Black and white wedding cakes are a delightful departure from traditional all-white cakes. The monochrome palette exudes sophistication and contemporary charm, creating a visual impact that is hard to ignore. Whether opting for a fully black cake, a purely white creation, or a blend of both colors, these cakes offer a unique canvas for floral artistry.
The choice of flowers can transform a simple cake into a work of art. Delicate blooms like white roses, peonies, and orchids add elegance and grace, while bold black flowers like dahlias or anemones create striking contrast and drama. Complementing the cake's design and the wedding theme, the right flower selection elevates the overall aesthetic to new heights.
The juxtaposition of black and white can be striking, and finding the right balance is essential. Some couples may opt for a predominantly white cake with subtle black accents, while others might choose a bold black base with intricate white detailing. Understanding how to strike the perfect equilibrium ensures a cake that not only looks stunning but also complements the overall wedding decor.