You'll have a very special place in your heart for your wedding band. While your engagement ring symbolizes your desire to wed, your wedding band is the ultimate representation of dedication, fidelity, and a lifelong union.
There are a few things to think about while selecting the ideal wedding ring, from different metal types to warranties and insurance. Uncertain about where to start?
For useful advice on how to choose the ideal wedding band, keep reading!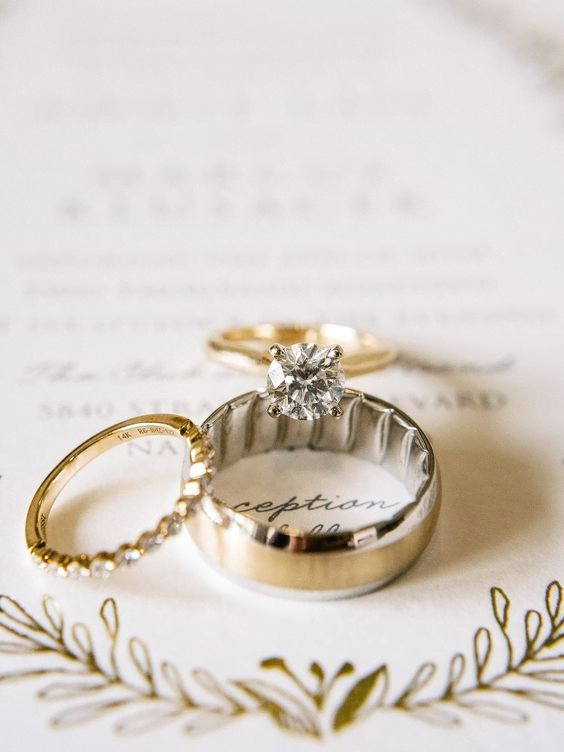 When Should You Get Your Wedding Bands?
So, how far in advance should you think about getting your wedding bands organized? It's generally recommended to begin searching for your wedding bands around 3–4 months before the day and have them in hand around 4-6 weeks before your wedding.
The appropriate timeline for purchasing your wedding bands will really depend on your jeweler and the style of your ring. Will you be purchasing your ring in-store, or do you need to allow extra time for a custom design? If you're ordering your wedding bands online, what is the expected delivery timeframe?
When in doubt, ask your jeweler; they'll be able to confirm the best time to order your wedding bands based on their availability and processes.
Who Buys the Wedding Bands?
Traditionally, each member of the couple would pay for their partner's wedding band. However, in today's modern world, there really are no rules – you can approach this decision in whatever way works best for your relationship.
For example: if you pool your money together with shared bank accounts, this would simply be considered a joint purchase. Or, if one partner paid for the engagement ring (which is typically a more expensive purchase), the other partner might decide to cover the costs of the wedding bands. It's completely up to you!
Which Type of Ring Metal Should You Choose for Your Wedding Bands?
Choosing the perfect wedding band will ultimately depend on a few things – your personal style, your budget, and the design of your engagement ring.
First, you'll need to consider the best metal style for your wedding band. The most common metals used for wedding bands include yellow gold, white gold, rose gold, platinum, titanium, tungsten, silver, and stainless steel. These metals come at different price points and have different properties to consider. To choose the right metal style, consider the following questions:
Do you want to match the metal of your engagement ring?
Do you want a metal style that can be resized?
Do you work outdoors/with your hands and need something durable and low-maintenance?
Do you have sensitive skin and need a hypoallergenic option?
Do you want an affordable wedding band, or are you happy to splurge?
Again, the best practice is to simply chat with your jeweler. They'll be able to suggest the right metal style to complement your budget and lifestyle.
Next, consider the overall style and design of your wedding band. You can choose a classic round band that sits snugly next to your engagement ring, or a contoured band designed to curve around your engagement ring. You might prefer a thin, dainty wedding band, or something thick and chunky. You can also choose to keep your wedding band simple and minimal or choose one embedded with diamonds or precious stones.