There are many great reasons to embrace a DIY approach for your special day, from keeping costs down to letting your creativity shine through. With this being said, taking the DIY route with your wedding planning requires some careful preparation, and staying organized will be essential.
We know the wedding planning process can be overwhelming (especially when you're doing everything yourself!) so we're here to help. Read on as we share our ultimate guide to planning a DIY wedding below, including budgeting tips, decor ideas, and more.
What is a DIY Wedding?
A DIY wedding is when a couple is responsible for organizing their entire event from scratch. They usually occur at a "blank canvas" venue, rather than an all-inclusive wedding venue.
So, what's the appeal of planning a DIY wedding? Well, they can often work out to be more affordable – and without any venue limitations, they allow you to put a personal touch on your celebration. This makes them ideal for couples working on a tight budget, or who want to have full creative control over their event.
However, without a team of professional wedding vendors to rely on, a DIY wedding will also require more planning on your behalf. This is why it's crucial to stay organized during the wedding planning process to avoid any unwanted stress.
Not sure where to begin? Let's talk about some of the key steps involved in pulling together a seamless DIY event.
Define Your Wedding Vision
The foundation of a DIY wedding is having a clear vision of how you want the day to look and feel. Defining your wedding vision will allow you to make the right decisions and prioritize your tasks moving forward.
Sit down with your partner and openly discuss your ideas and preferences for the day. What are the most important elements to you both? How do you want the overall ambiance to feel? What kinds of colors and styles are you drawn to?
Pinterest, bridal blogs, and wedding magazines can be great sources of inspiration during these early planning stages. You can also use our free wedding vision worksheet to narrow down your top shared priorities for the day.
Set a Realistic Budget
Establishing a budget is essential for any wedding, but it is especially crucial for a DIY wedding.
Because you'll be planning your entire wedding from scratch, you may be surprised at how quickly the costs add up! With this in mind, make sure you determine the total amount you're willing to spend before making any major decisions.
Once you've set an overall wedding budget, you can then break this down into different categories such as catering, decor, attire, and photography. Be realistic about how much you can actually spend, and prioritize the elements that matter most to you. You can use an online tool like our handy budget calculator to help you figure out exactly where to allocate your funds.
Create a Detailed Timeline
When it comes to planning a DIY wedding, time will be your friend! You'll want to start the planning process as early as possible and create a detailed timeline with due dates for all of the tasks that need to be completed. This should include everything from sending invitations to creating your floor plan, booking transport, and finalizing your menu.
Having a master checklist will help you stay organized and ensure you aren't rushing around in a panic as the big day approaches. It also means you can prioritize your tasks and see exactly what needs to be done, without feeling overwhelmed. Use our 12-month wedding planning timeline as a helpful guide to get started!
Use a Digital Wedding Planner
One of the best wedding planning hacks for a DIY wedding is to use a digital wedding planner. When you're not working with a professional wedding planner, having a seamless project management system is invaluable.
Here at WedSites, we have everything you need to plan your DIY wedding in one place, from designing a wedding website to collecting RSVPs, creating your seating plan, tracking your budget, and more.
Keeping all of your planning details together will make it much easier to find the information you need when you need it. We'll even send you digital reminders to hold you accountable!
Scout The Perfect DIY Wedding Venue
Finding the right venue can be one of the most significant decisions you make for a DIY wedding. You'll need to look for locations that align with your vision, budget, and guest numbers, so be sure to nail down these details first.
When it comes to planning a DIY wedding, many couples gravitate towards blank canvas spaces such as warehouses, barns, and private properties. These empty spaces will allow you to create something truly personal from the ground up.
Just remember: while outdoor venues like parks and backyards can be affordable options for DIY weddings, they also expose you to the weather! Don't forget to arrange a Plan B (such as reserving a marquee or tent) in case of rain.
Something else to consider when hunting for DIY wedding venues is what time you can arrive for set-up. Some venues allow access a day early, which means you'll have ample time to set up tables, chairs, and other decorations.
Plan DIY Decor
If you're planning a DIY wedding, you'll be responsible for organizing all of the styling elements for your special day. There are so many great ways to transform your venue without breaking the budget, although you may need to get a little crafty!
Why not create a DIY photo booth backdrop, sew your own linen napkins, build handmade signage, or thrift an eclectic mix of vases to use as table centerpieces? Pinterest is filled with creative DIY styling ideas to inspire you.
Consider DIY Invitations
Designing your own digital save-the-dates and invitations is another easy way to cut costs for a DIY wedding. You can design them from scratch or use online tools and templates to help you achieve a professional look!
As an added bonus, going digital with your wedding invitations will also allow you to track RSVPs and manage your guests' details. Here at Wedsites, we have a whole suite of paperless invitations to match your wedding website, with the ability to upload your own design if preferred.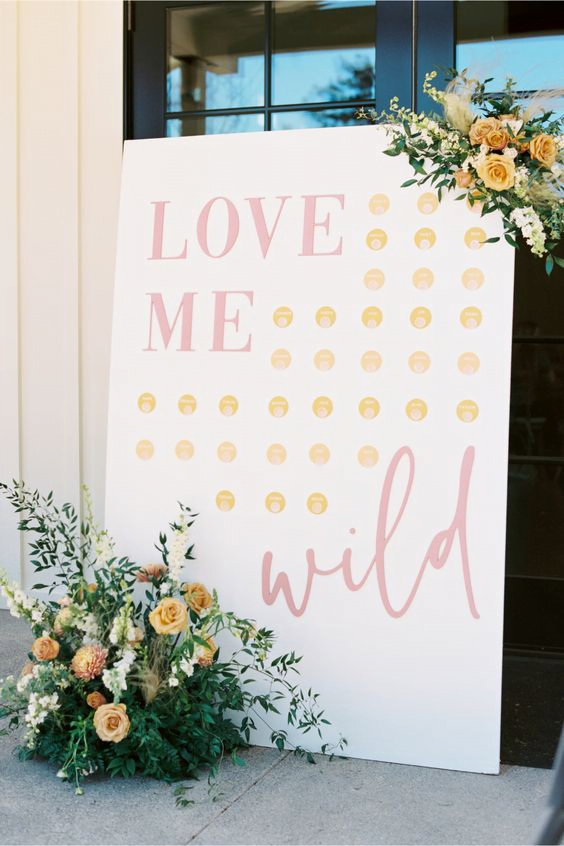 Research and Book Remaining Vendors
Although you'll be doing the lion's share of the wedding planning, you may still need to hire professional vendors for certain aspects of your day. Think carefully about which elements you're willing to DIY, and which elements you would prefer to invest in. Again, this will all come down to the priorities you identified earlier in the planning process.
For example, you may be happy to create an iPhone playlist for wedding entertainment but want to splurge on a videographer to capture lifelong memories. Or, you may decide to invest in an on-the-day coordinator to manage your wedding schedule and save you time and stress.
Once you've identified the vendors you need for your wedding, start researching options and comparing quotes to find the best fit.