Your wedding day is one of the most significant and cherished moments of your life. Amidst the excitement and planning, choosing the perfect wedding suit can seem like a daunting task. Your claim should not only reflect your personal style but also complement the overall theme and atmosphere of your wedding. This guide is designed to help you navigate the world of wedding suits and make a choice that will leave you looking dashing and feeling confident on your special day.
1.Desert Stripe Wool Suit
The Desert Stripe Wool Suit is a harmonious blend of traditional design and modern aesthetics. Its finely crafted pinstripe pattern, reminiscent of the vast desert landscapes, adds a subtle touch of uniqueness to the suit. The stripes, while offering a timeless appeal, also lend a contemporary edge, making it a suitable choice for various occasions. Whether you prefer a single-breasted or double-breasted jacket, the Desert Stripe Wool Suit offers a range of options that cater to your personal style.
One of the most compelling reasons to invest in the Desert Stripe Wool Suit is its unparalleled versatility. This suit effortlessly transitions from formal events to business meetings and even offers the flexibility to be dressed down for semi-formal gatherings. Pair the jacket with a crisp white shirt and a tie for a polished corporate look, or ditch the tie and opt for a patterned shirt to embrace a more relaxed yet sophisticated ensemble.
2.Vera Wang Blue Suit
Blue is a color that exudes confidence, sophistication, and tranquility, making it a superb choice for wedding attire. Vera Wang's Blue Suit collection includes various shades of blue, from deep navy to lighter hues like steel blue. This versatility allows grooms to choose a shade that complements their wedding theme and personal style. Whether it's a formal evening affair or a chic beach wedding, the Vera Wang Blue Suit effortlessly adapts to different settings while maintaining its timeless charm.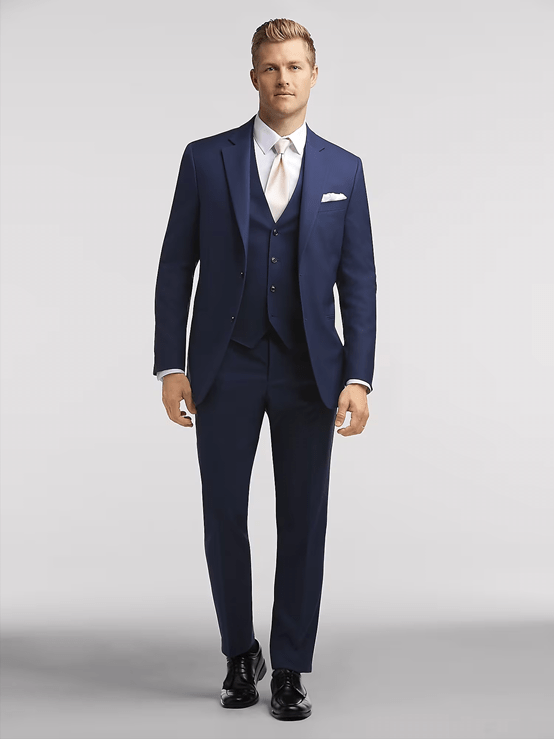 Vera Wang is synonymous with impeccable tailoring, and her Blue Suit collection is no exception. Crafted with the utmost attention to detail, these suits offer a slim, modern silhouette that flatters a range of body types. The precision in tailoring ensures a comfortable fit, allowing grooms to move with ease and confidence throughout the day. From the lapels to the buttons, every element of the suit showcases Vera Wang's dedication to perfection.
3.Pastel Azzurro
A well-fitted suit is the cornerstone of a groom's ensemble. A Pastel Azzurro suit, crafted to perfection, accentuates the groom's physique and exudes confidence. Tailoring details such as lapel style, pocket squares, and button choices can be customized to match the overall wedding theme, creating a harmonious visual experience for the guests.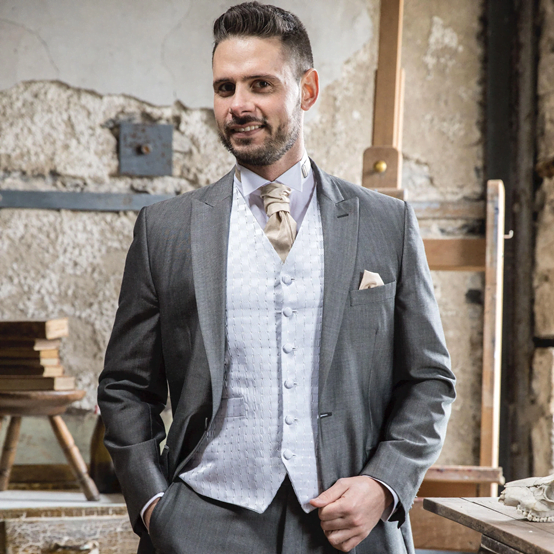 Pairing a Pastel Azzurro suit with complementary shades can amplify its charm. Crisp white shirts or soft pastel tones for the shirt and tie can create a harmonious blend. When it comes to accessories, metallic accents like silver or rose gold can add a touch of sophistication. A classic white pocket square and a boutonniere that matches the wedding flowers tie the entire look together.
A Pastel Azzurro suit seamlessly adapts to various wedding themes and venues. Whether it's a beachside destination wedding or a romantic garden ceremony, the suit's versatility shines through. It complements outdoor settings by echoing their natural surroundings and adds a touch of refinement to indoor venues.
4.Masculino Formal Wear
When it comes to your big day, every detail matters, and none more so than your choice of wedding suit. A well-selected formal case not only reflects your personal style but also sets the tone for the entire event. Whether you're aiming for classic sophistication or modern flair, this guide will walk you through the essentials of masculine formal wear for your wedding day.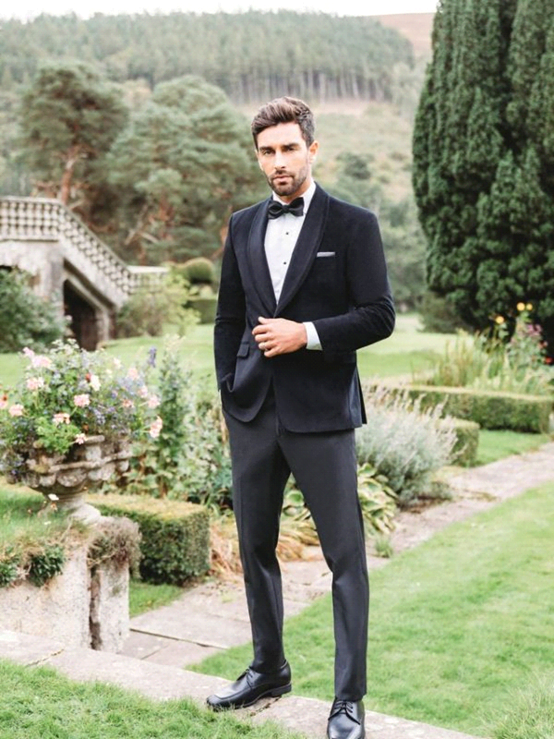 Fabric choice greatly affects both the look and comfort of your suit. While black and midnight blue are classic choices, modern trends allow for a deeper exploration of color, such as charcoal gray, deep burgundy, or even subtle patterns like herringbone or pinstripes. Quality wool or wool-blend fabrics are ideal for formal suits, providing a refined appearance and ensuring comfort throughout the day.
Complete your ensemble with proper grooming. Get a fresh haircut, ensure your facial hair is well-groomed, and practice good skincare in the days leading up to the wedding. A clean and polished appearance elevates your entire look.
5.Grey Tweed Three Piece Suit
A wedding day is a celebration of love, commitment, and style. When it comes to choosing the perfect outfit for this momentous occasion, a grey tweed three-piece suit stands out as a timeless choice that exudes sophistication and charm. We will delve into the captivating world of grey tweed three-piece wedding suits, exploring their history, versatility, and tips for creating an unforgettable wedding ensemble.
Tweed fabric has stood the test of time, having originated in Scotland in the early 19th century. It was designed to withstand the harsh climate of the British Isles, making it a durable and reliable choice. Over the years, this fabric has evolved into a symbol of sophistication and class, finding its way onto runways, red carpets, and, of course, wedding venues. Accessories play a pivotal role in refining your gray tweed three-piece wedding suit. Consider adding a pocket watch for a touch of vintage charm or a boutonniere that complements your partner's bouquet.