The shift from white wedding dresses to colorful ones is a significant departure from traditional norms. Brides today are embracing the opportunity to break free from convention and express their individuality through their choice of dress color. This departure has paved the way for a more personalized and creative approach to weddings, allowing couples to tailor their celebrations to match their unique styles.
Bright Yellow Bridal Dresses
Yellow is often associated with sunshine, happiness, and positivity. Incorporating this vibrant hue into a wedding dress can infuse the celebration with a sense of joy and excitement. Yellow is also linked to energy and optimism, making it an excellent choice for brides who wish to express their exuberance and zest for life on their special day.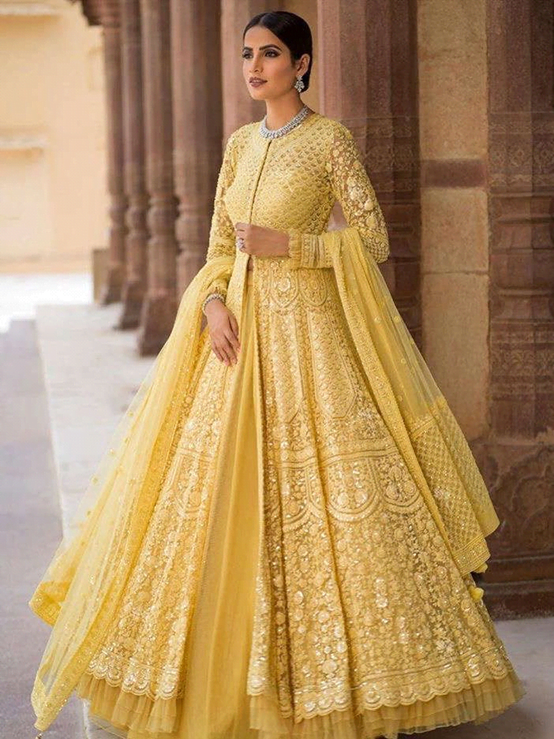 Bright yellow bridal dresses are a daring departure from tradition that allow brides to radiate joy and positivity on their wedding day. From subtle pastels to bold and vibrant hues, the spectrum of yellow offers endless possibilities for creating unique and memorable bridal looks. Whether you're a bride with an affinity for bright colors or simply want to make a bold statement, a yellow wedding dress can beautifully capture the spirit of celebration and new beginnings.
Ombre Gowns For Non-Traditional Bride
This, derived from the French word meaning "shaded" or "graduated," is a technique that blends colors seamlessly from light to dark or vice versa. Ombre gowns offer a captivating visual journey, as the colors transition gracefully, adding depth and dimension to the dress. This effect can be subtle or bold, making ombre gowns perfect for brides who want to make a statement while walking down the aisle.
For brides who want to break away from traditional white or ivory gowns, ombre offers an exciting alternative. The gradual color shift allows brides to incorporate their favorite hues, from soft pastels to vibrant jewel tones, creating a dress that resonates with their personality. This is an excellent way to infuse the wedding with a touch of the bride's unique style, making the day even more memorable.
Marvelous White & Black Wedding Dresses
White has long been associated with innocence, purity, and new beginnings, making it a quintessential choice for weddings. On the other hand, black carries connotations of elegance, sophistication, and mystery. The juxtaposition of these two contrasting colors in wedding dresses is a reflection of the complex and beautiful journey of marriage. The union of purity and depth, innocence and experience, create a powerful metaphor for the shared path that couples embark upon when they say "I do." Moreover, these dresses can symbolize the merging of individual identities into a harmonious whole, much like the interplay of white and black.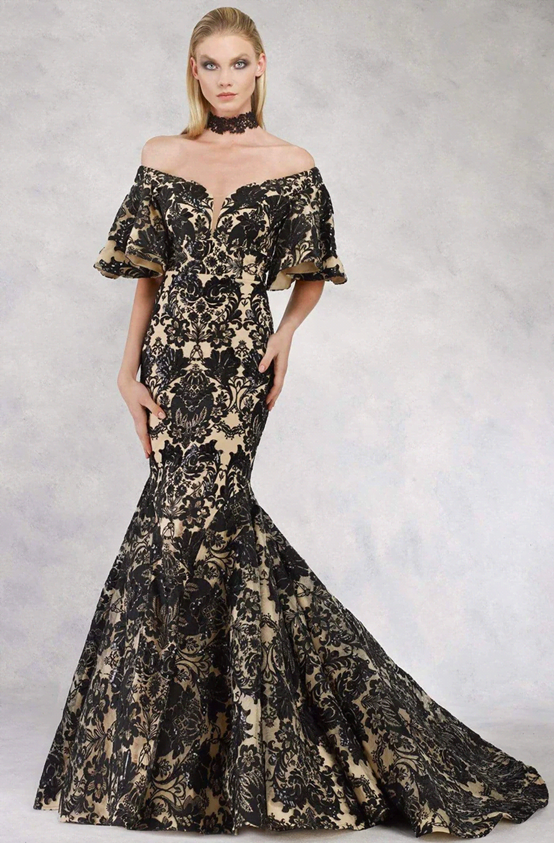 White and black wedding dresses come in a myriad of styles and designs, each offering a unique take on this enchanting trend. From classic ball gowns with black lace accents to modern mermaid silhouettes with white embroidery on black fabric, the possibilities are limitless. The combination of white and black allows for intricate details to stand out, whether it's delicate beadwork, lace overlays, or elegant appliqués. These dresses often feature creative designs that maintain the timeless appeal of white while infusing the boldness of black.
Dark Color Bridal Dresses
Traditionally, bridal dresses have been synonymous with pristine white, symbolizing purity and new beginnings. However, the world of weddings is evolving, and modern brides are breaking away from convention to embrace individuality and personal style. Dark-colored bridal dresses have emerged as a trend that not only challenges tradition but also adds an air of sophistication and allure to the wedding ensemble. we delve into the enchanting world of dark-colored bridal dresses, exploring their meanings, styling tips, and the emotions they evoke.
Dark-colored bridal dresses are a testament to the evolving world of weddings, where brides are confidently embracing their individuality and redefining traditional norms. These dresses offer a blend of elegance, mystery, and sophistication that can create a truly unforgettable wedding day look. Whether it's a deep blue, a romantic burgundy, or a timeless black, the allure of a dark-colored bridal dress is undeniable, making it a trend that's here to stay.
Purple Colourful Wedding Dresses For Bride
A wedding is a celebration of love and individuality, and what better way to express your unique style than through your wedding attire? While white has traditionally been the go-to color for wedding dresses, modern brides are embracing a wide range of colors to reflect their personality and create a memorable and enchanting wedding experience. One captivating option that has gained significant popularity is the purple wedding dress. we'll explore the allure of purple wedding dresses and offer insights into how to pull off this stunning and vibrant choice for your special day.
A purple wedding dress is a bold and captivating choice that allows you to express your individuality while adding an air of enchantment and elegance to your special day. By carefully selecting the shade, design, and complementary elements, you can create a memorable and visually stunning wedding experience that reflects your unique style and love story. Embrace the power of purple and embark on a journey to create a truly magical and colourful wedding day.