A honeymoon in the Maldives is the epitome of romance and luxury. With its pristine beaches, crystal-clear turquoise waters, and secluded resorts, the Maldives offers an idyllic setting for couples to celebrate their love. Planning the perfect honeymoon requires careful consideration and attention to detail. In this ultimate guide, we will provide you with all the information you need to plan a truly unforgettable romantic getaway in the Maldives.
Why Maldives Are Good For A Honeymoon
Planning a romantic honeymoon is an exciting time for newlyweds, and choosing the perfect destination is key to creating unforgettable memories. If you're looking for a breathtaking, idyllic setting, the Maldives should be at the top of your list. This tropical paradise, comprised of over a thousand coral islands in the Indian Ocean, offers an unrivaled experience for honeymooners. In this blog post, we will explore the reasons why the Maldives is the ultimate honeymoon destination.
Imagine walking hand in hand with your partner along white sandy beaches, while the crystal-clear turquoise waters gently lap at your feet. The Maldives boast some of the world's most pristine and picturesque beaches, with powdery sand and vibrant coral reefs just offshore. These secluded and private beaches provide an intimate setting for couples to relax, unwind, and enjoy each other's company.
The Maldives is renowned for its iconic overwater bungalows that epitomize luxury and romance. These elegant villas, perched above the shimmering waters, offer breathtaking views, direct access to the ocean, and unparalleled privacy. Many resorts in the Maldives provide exclusive amenities such as private pools, outdoor showers, and personal butler service, ensuring an indulgent and intimate experience for honeymooners.
Best Time To Visit The Maldives
The Maldives, a tropical paradise located in the Indian Ocean, is renowned for its pristine white-sand beaches, crystal-clear turquoise waters, and abundant marine life. Planning a trip to this dream destination requires careful consideration of the weather, as it can greatly impact your overall experience. In this blog post, we will guide you through the best time to visit the Maldives, taking into account weather patterns, tourist seasons, and various activities available during different times of the year. Let's dive in!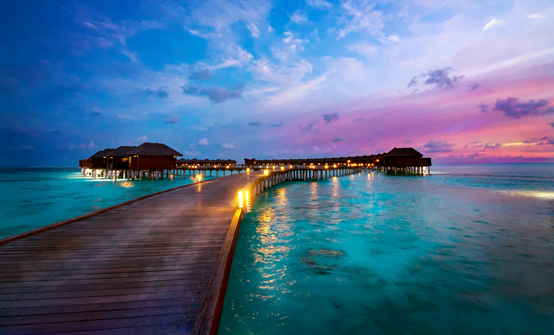 The Maldives experiences its peak tourist season during these months, characterized by dry and sunny weather. The temperature hovers around a pleasant 28–30 °C (82–86 °F), with minimal rainfall and low humidity. These ideal conditions make it the perfect time for beach lovers, honeymooners, and water sports enthusiasts. However, it's important to note that this is also the most crowded and expensive time to visit. Early booking is recommended to secure accommodations and activities.
Travel Tips
The Maldives boast a tropical climate, with warm temperatures year-round. However, the best time to visit is during the dry season, which runs from November to April. This period offers ideal weather conditions for water activities like diving and snorkeling, with calm seas and excellent visibility. As you'll spend most of your time enjoying the beach and water activities, pack lightweight clothing such as swimwear, shorts, light dresses, and breathable fabrics. Don't forget essentials like sunscreen, a hat, sunglasses, and reef-safe sunscreen to protect the delicate marine ecosystem.
Indulge in the flavors of Maldivian cuisine during your stay. Seafood lovers will be in paradise with the abundance of freshly caught fish and shellfish. Don't miss trying traditional dishes like mas huni (shredded fish with coconut and spices) and garuda (a fish broth). Seek out local cafes and restaurants for an authentic culinary experience.
While the Maldives is undeniably breathtaking, it's essential to be prepared for additional expenses. Resorts often include accommodation, meals, and activities in their package prices. However, be aware that alcohol, spa treatments, and other luxury services may come at an additional cost. Research and budget accordingly to avoid any surprises.