Your wedding day is one of the most special moments in your life, and every detail counts to make it memorable. One crucial aspect that completes your bridal look is the hairstyle. If you're torn between wearing your hair up or letting it down, why not have the best of both worlds? Half-up half down hairstyles are a beautiful and versatile choice for brides, providing an elegant balance between an updo's sophistication and the flowing allure of loose locks.
Long Hair Half Up, Half Down Wedding Hairstyles
For a fairytale-inspired look, a romantic braided crown is a wonderful option. Start by creating loose, soft curls throughout your hair. Then, take two small sections from the front and braid them, gently pulling each braid to make them appear fuller. Cross the braids at the back of your head, securing them with bobby pins, and let the rest of your hair cascade down in cascading waves.
For a more polished and refined style, consider an elegant twisted chignon. Begin by curling your hair to add texture and volume. Gather the top half of your hair and create a loose twist, securing it with pins near the nape of your neck. Next, gather the remaining hair and create another twist, intertwining it with the first one to form a sophisticated chignon. Add some delicate hairpins or decorative accessories to complete the look.
Medium Length Hair Half Up Half Down Wedding Hairstyles
Create a whimsical and romantic look by opting for a twisted half updo with delicate floral accents. Begin by twisting sections of hair from both sides of your head and securing them together at the back. Intertwine small blooms, such as baby's breath or daisies, along the twists to add a touch of nature's charm. This hairstyle is perfect for garden or outdoor weddings and complements a boho-inspired gown flawlessly.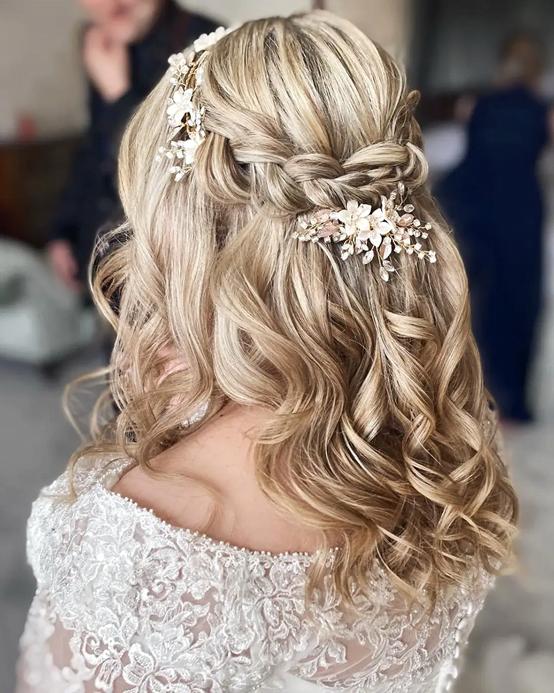 Channel your inner princess with a braided half-up, half-down hairstyle. Start by creating two braids on each side of your head, bringing them towards the back, and securing them together with bobby pins. The braided crown effect will give you an ethereal and elegant look, especially when paired with a classic ball gown or a romantic lace dress.
Half Up Half Down Wedding Hairstyles Short Hair
This hairstyle features a delicate twist at the back, adding a touch of whimsy and elegance to your overall look. Gather the top section of your hair and gently twist it before securing it with bobby pins. Leave some tendrils loose at the front to frame your face, and you'll achieve a chic and effortless appearance.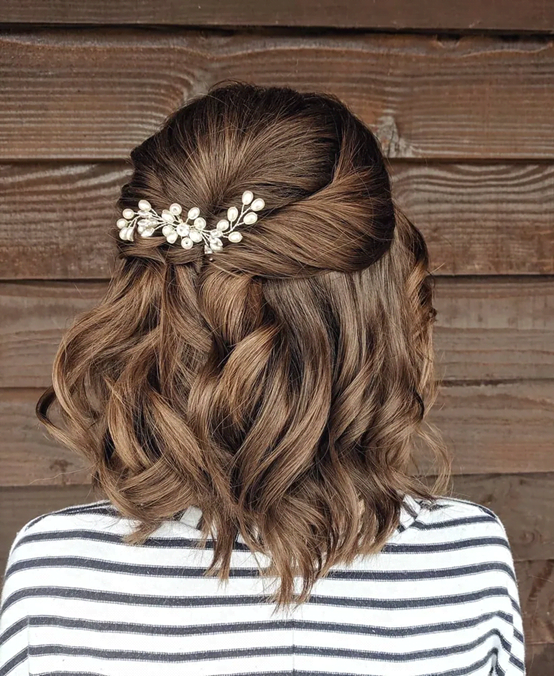 If you have a curly bob, embrace those curls for your wedding day. Enhance your natural texture by gently pulling back the top section of your hair and securing it at the crown. Allow the curls to cascade freely, creating a romantic and carefree look.
Short hair shouldn't deter you from experimenting with various wedding hairstyles. Half up half down styles offer an array of possibilities, and with a bit of creativity and the right accessories, you can achieve a stunning look that complements your overall bridal ensemble. Embrace your short hair and let it shine on your wedding day with these enchanting half-up, half-down hairstyles!