Destination weddings are an incredible experience for both you and your guests, essentially acting as a mini-holiday and honeymoon all in one. A destination wedding also allows you to extend your wedding celebrations and make the most of this exciting time with your nearest and dearest.
There are so many great reasons to consider a destination wedding. But with such a huge selection of beautiful locations to choose from, where exactly should you plan to tie the knot?
When selecting the ideal destination wedding location, there are many factors to take into account, including costs, customs, and legalities. Whether you're dreaming of a tropical getaway or a European celebration, keep reading as we walk you through five of our top picks!
Bali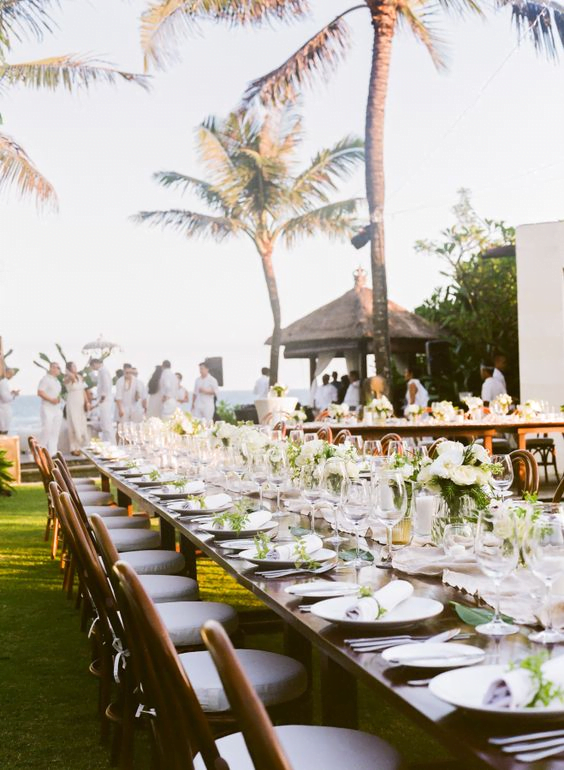 Beautiful Bali is one of the most popular destinations to tie the knot, with incredible ocean views, gorgeous scenery, and rich culture. You'll find an abundance of picturesque resorts and luxury villas dotted along the coastline, with Seminyak and Canggu being two of the more sought-after locations.
Luckily for us Aussies, a destination wedding in Bali can be one of the most inexpensive ways to plan an overseas celebration. With the ability to take advantage of cheap flights and accommodations, planning a Bali wedding can be an affordable option for both your own budget and that of your guests.
If you opt to get married at a resort, you'll usually be able to reserve hotel room blocks at a discounted rate. Many Bali wedding venues will also offer all-inclusive packages that cover styling and decorations, furniture hire, lighting, cake, and even music. Depending on your guest numbers, you could find packages that cover absolutely everything for less than $10,000.
The most desirable time of the year to host a wedding in Bali is between May and August, during the dry season. These months are slightly cooler and experience less rainfall, making them ideal for an outdoor wedding.
Legally getting married in Bali, however, can be a somewhat complicated process. This is why many couples will legally marry in Australia either before or after their trip and host a non-legal "blessing" ceremony in Bali instead.
If you do want to host a legal wedding in Bali, you will be required to conduct both a religious and civil ceremony on the same day, with both partners declaring the same religion. After filing a Notice of Intent to Marry, you'll also need to present a Certificate of Non-Impediment from the Australian Embassy, along with other relevant documentation like your passport and birth certificate.
Because the Indonesian Marriage Law is continually update, it's always best to employ the help of a Bali-base wedding planner who will be able to guide you through the process!
Mexico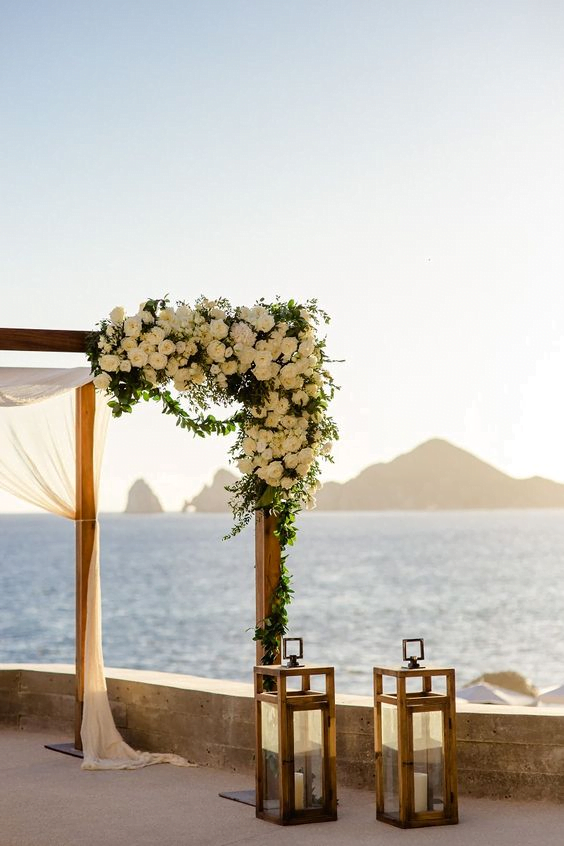 For incredible weather, stunning views, and sun-soak tropical beaches, Mexico is another destination wedding favorite. Cancun and Cabo San Lucas are two of the most popular locations when it comes to tying the knot, with beautiful natural backdrops creating the most amazing photo opportunities.
One of the reasons Mexico is such a great destination wedding location to consider is due to the all-inclusive nature of their hotels and resorts and the discounte blocks of accommodation on offer. The wedding industry in Mexico is huge, and the pricing options definitely cater to this.
The majority of popular resorts in Mexico offer comprehensive and affordable wedding packages that generally include everything you'll need for the big day. This is a huge drawcard, as it makes the wedding planning process much easier for destination brides!
Mexico also experiences pleasant warm weather year-round, although it does experience a rainy season between June and October.
To legally get married in Mexico, a civil ceremony must first be performed by a Mexican civil registry official. There will also be a stack of paperwork to complete, which you'll need to organize at least three days before your ceremony.
Different states in Mexico have different requirements, but most include blood tests, witnesses, and authentic documentation. You should always consult a local wedding planner in your chosen location, who will be able to confirm the exact steps required.
Alternatively, it can be much easier to host a 'symbolic' ceremony while in Mexico and legally marry back on home soil either before or after the trip.
New Zealand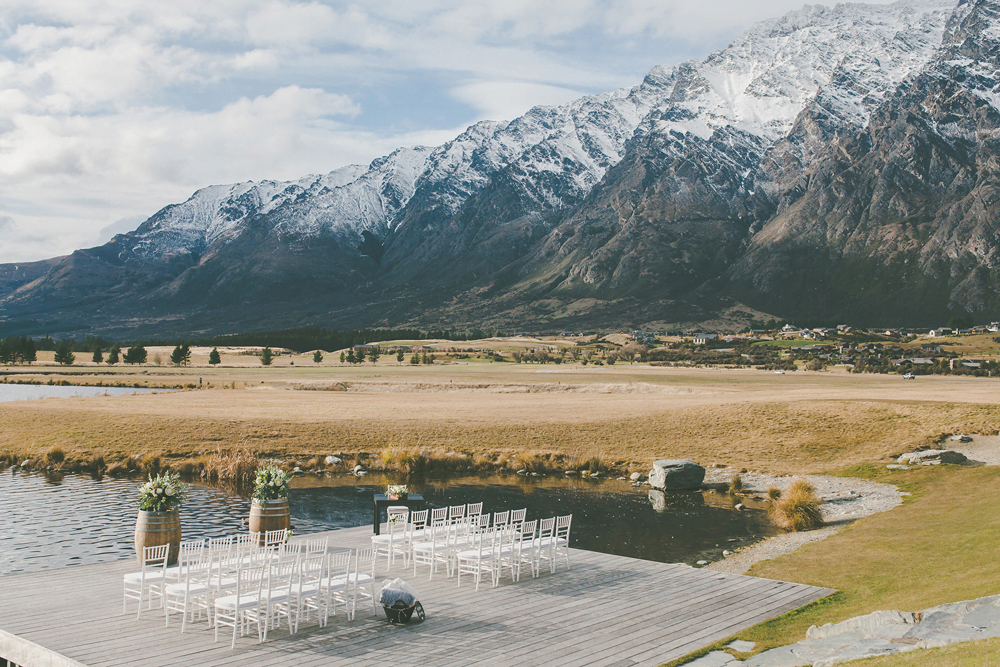 With majestic mountains, beautiful lakes, and stunning landscapes, it's easy to see why many Aussie couples are opting for New Zealand weddings.
Along with the absolutely incredible scenery, this destination hotspot also has the add benefit of being just a few hours away from anywhere in Australia. New Zealand is host to an endless array of open-air wedding locations, with some of the most popular being found in Queenstown, Auckland, and Matarangi Bay.
From charming vineyards to secluded beaches or mountainous lookouts, there's no shortage of stunning spots to tie the knot. Due to the short distance, New Zealand is also one of the most easily accessible venue locations for your nearest and dearest, with the least amount of travel time.
Cost-wise, the venues and suppliers in New Zealand can be a little pricier than the all-inclusive packages you might find in other destinations. There are fewer resorts and hotels offering package deals and more bespoke venues. The average New Zealand wedding can cost anywhere between $10,000 and $30,000, depending on guest numbers.
In terms of paperwork and legalities, the process is much more straightforward. You'll need to organize a marriage license before you arrive by completing a Notice of Intent to Marry and posting this to the registry office closest to your chosen venue. You can then collect your marriage license on arrival and use an approved marriage celebrant for the proceedings.
Greece
For those dreaming of a truly romantic escape, look no further than the idyllic Greek islands!
With amazing sunsets, quaint white-washed buildings, cobblestone stairways, and stunning ocean views at every turn, Greece is the perfect location for a European wedding.
Santorini is one of the most popular Greek islands to say I do, with a dedicated wedding industry helping destination brides plan the perfect celebration. Many of the resorts in Santorini offer wedding and honeymoon packages, and there are many experience wedding planners able to organize suppliers and coordinate your day from beginning to end.
Although flights and travel costs can be on the more expensive side for us Australians, there is an opportunity to save money by hosting a low-key reception at one of the many restaurants or Greek tavernas with cost-effective food and beverage packages. A budget of between $10,000 and $20,000 is an approximate guide to cover all inclusions, depending on guest numbers.
One quirky custom you'll have to follow is publishing a notice in one of the local Greek newspapers or Town Halls prior to obtaining your marriage license. Your relevant documentation will then need to be delivere to the local Town Hall, and your marriage license will be issue eight days later.
Different rules apply depending on whether you wish to host a civil or religious ceremony. As requirements vary throughout each region, it's recommend to consult local authorities for specific advice and next steps regarding legal marriage requirements for your chosen location.
Hawaii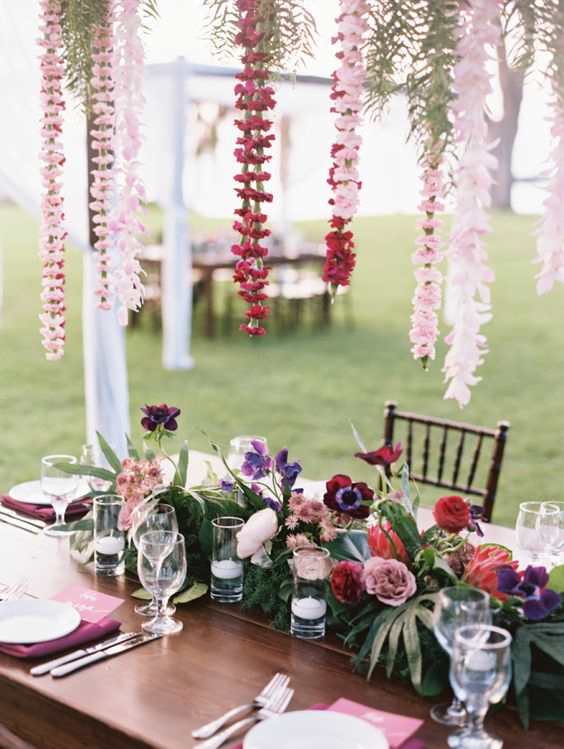 The lush tropical surroundings and warm, friendly culture of Hawaii make it another popular destination for overseas wedding celebrations. With pristine beaches, towering palm trees, and breathtaking scenery, there are plenty of Australians flocking to the island to host their big day.
Oahu, Kauai, and Maui are just a few of the beautiful islands to choose from, with each location offering something unique. Hawaii is home to some pretty incredible venue options, from beachfront resorts to exclusive private estates.
To legally be married in Hawaii, the process is much simpler than in other tropical destinations.You'll then need to be married by a celebrant licensed by the State of Hawaii to make it official!