Spring is a beautiful time to get married. The flowers are blooming, the birds are singing, and the sun is shining—basically, love is in the air! When it comes to fashion and style for brides, spring is also the perfect time to show a little skin and experiment with color and prints, as well as new silhouettes (jumpsuits and culottes, anyone?). And because spring brides can anticipate cooler temperatures than summer brides, you might also want to try warmer textures and layers. There are so many options to play with as a spring bride, which is why planning your wedding gown and looking for your big day is so fun. Here are four style tips for spring brides:
1. Play with Pastels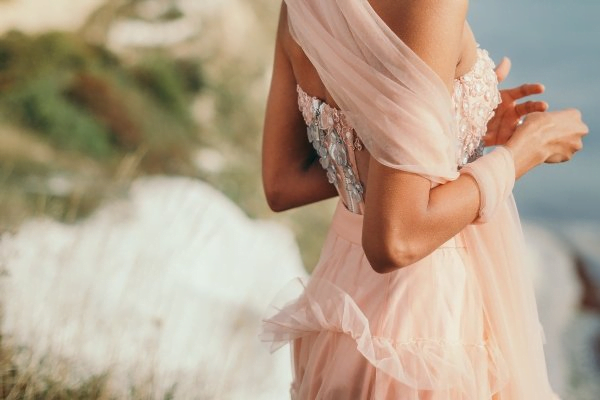 Pastels are the foundation of the spring palette. Think baby blue, lilac, blush, and buttercup yellow. You can mix and match pastel colors with your accessories—everything from your shoes to your headpiece to your jewelry—or you might even experiment with wearing a blush gown. If you ever dreamed of wearing a non-white wedding gown, this would be your season! The key is to stick with one or two tones, like white and blush, and have them complement each other while leaning on one shade more. For example, you might opt for a totally blush gown with blush shoes and white accessories.
2. Experiment with Prints
Of course, you don't have to strictly stick with pastels as a spring bride. Experimenting with prints is also a perfect way to have some fashion fun as a spring bride. Floral prints are the most popular around this time of year, but gingham is also a classic print that adds some richness to your look. You can include some pretty prints on your accessories or you could consider incorporating weaves of floral or gingham throughout your wedding gown. Bigger still: a stunningly gorgeous floral gown could be the wedding dress of your dreams!
However, when it comes to prints, remember: less is more. If you are wearing a white gown, keep the prints for the accessories only. If you are opting for a floral gown, go for a simple silhouette and keep everything else (accessories, bouquet) fairly clean and simple for a sleek look. No one wants to look like window drapes walking down the aisle!
3. Try Something Different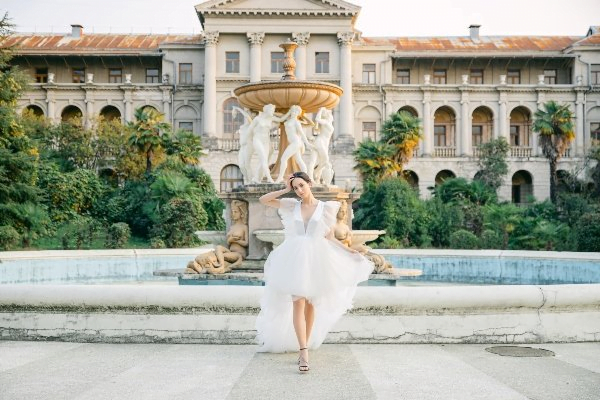 The milder weather makes it easier to play around with different cuts when it comes to your wedding gown. You have a bit more options than winter brides and summer brides because the temperature is not too cold or too hot, but just right. That's why opting for an elegant jumpsuit might be a great choice if you're open to experimenting and expanding your fashion sense. You get some nice coverage (meaning your legs are covered and warm) while also being sexy at the same time.
Is a jumpsuit too extreme for your taste? Try switching up the length of the dress. You can easily play with a midi-length gown to show off your legs. Another fun option might be to try a two-piece set with a beaded crop top and a full-length or mermaid skirt. Rocking a sleeve à la Kate Middleton is also a lovely choice for a spring bride. Don't be afraid to get creative!
4. Keep Your Accessories Practical and Stylish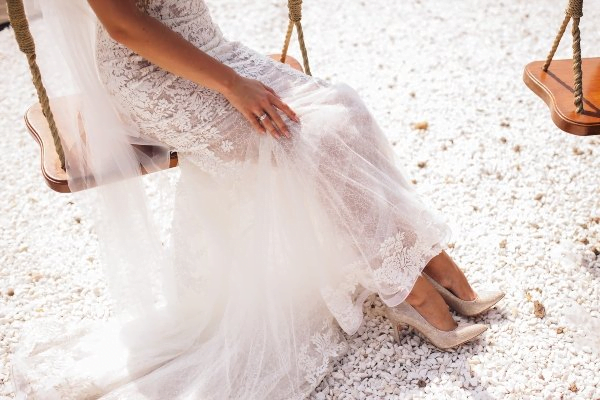 Because it can get a little chilly in the spring, you want to make sure your accessories are helping you in more ways than one. Skip the sandals and strappy heels for a pump and slingbacks that will keep your toes toasty and look fabulous. If you're wearing a sleeveless or strapless gown, you'll definitely want to have a statement coat or elegant shawl on hand to keep your shoulders warm. You can feel comfortable and chic at the same time!
Being a spring bride gives you a ton of options when it comes to your wedding day style. Keep it fresh and fun, and don't forget to stay warm, too!