A summer wedding is warm, bright, and gorgeous—the energy you need for married life. This beautiful time of the year offers stunning palettes for all summer wedding themes. The blooms are bright and open, and there are more fashion and outdoor wedding options. However, with its beauty comes its high temperature and hotness, depending on your zone. Keep guests comfortable with signature cocktails like Popsicles in Prosecco, sangria, iced tea, or lemonade. Make their mouths water with an ice cream station or truck and naked cake desserts. Opt for greenery and hanging installations; remember tents, fans, and sunscreen. And get more summer wedding inspiration here.
1. Wedding Ceremony Decor With Greenery
Whether an indoor or outdoor summer wedding venue, greenery can infuse your ceremony with character. Infuse a rustic touch into your wedding arch with garlands of greenery wound around the frame. You can also create a monogram shrubbery topiary showing your initials at the venue entrance. Add flowery-accented leafy swags to the porches, aisles, and chairs for a romantic touch. And for a bohemian feel, place pots of succulents at varying heights down the aisle.
2. Bohemian Wedding Decorations
Wedding decoration ideas for summer can't get better than the bohemian theme. Install dream catchers in floral hoops or crisscrossed naked strings of light to create the boho spin. Adorn your tables with cacti and succulents and give them as favors to guests after the wedding. To curate the perfect ceremony backdrop, hang foliage tendrils above a bohemian-style rug. Or line the aisle with mismatched rugs. Finish by adding huge display elements like fruits, flowers, candles, succulents, and geometric and traditional candleholders to create a natural look.
3. Calligraphy Wedding Decorations
One of the most creative outdoor wedding ideas for summer is calligraphy wedding decorations. They are timeless and unique, giving off classic love letter sentiments. The best part is that calligraphy works on almost every surface. For instance, you can create a minimalist look with a copper monogram framed in greenery wreaths. Other options include Tuscan touch escort cards, scrawled table runners, and whimsical calligraphed balloons. You can also opt for laser-cut welcome signs, scripts on gilded mirrors, and calligraphed cake icing for neon signs.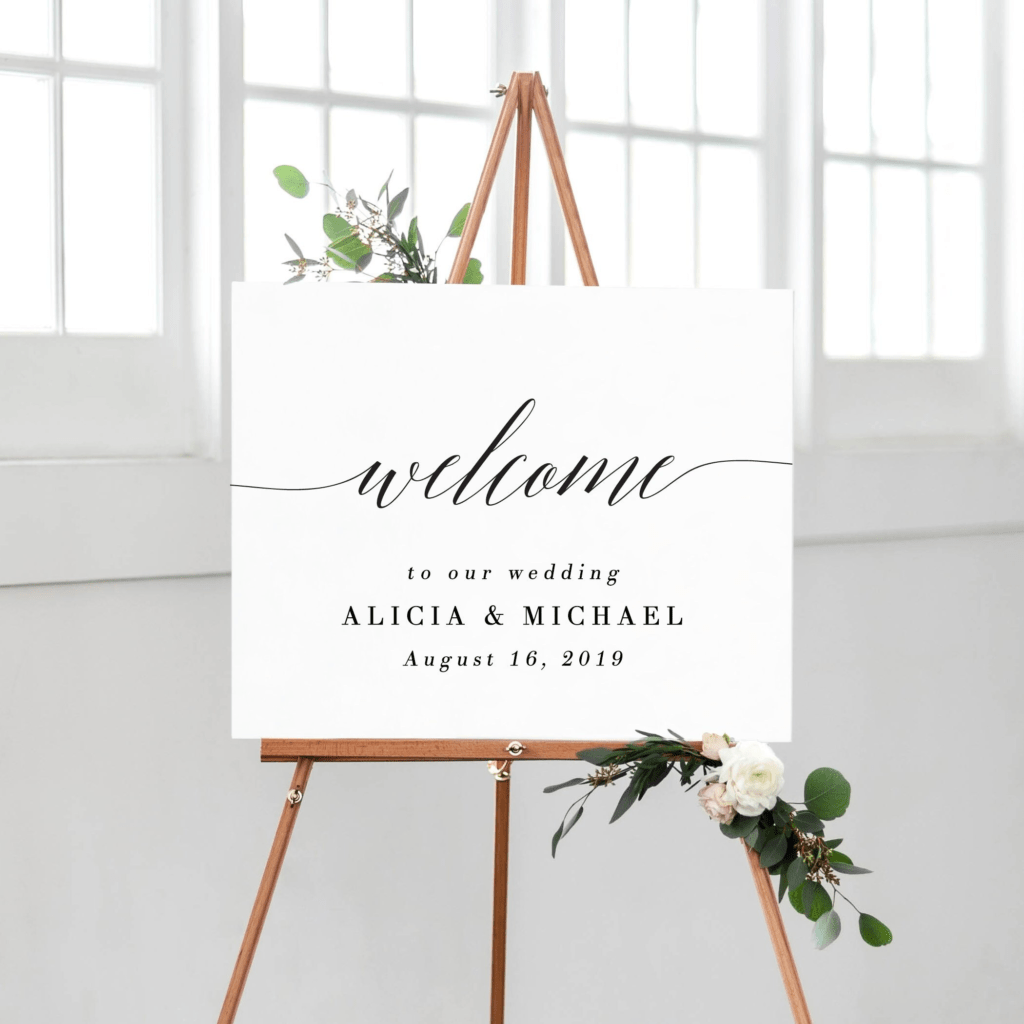 4. Hanging Installation Under The Tent
Tents are essential additions to an outdoor, summer-themed wedding. But you can make jaws drop with your hanging installations. Pair the duo of hanging paper lanterns with birch trees as supporting beams for a rustic touch. Or wrap hanging crystal chandeliers with trailing leaves for a natural facelift. Complement your centerpieces by hanging pink paper floral halos for a romantic look. And if you are a fan of the rugged jungle, pair willow tree-inspired overhead installations with tall leafy centerpieces. Lighten up the whole place with floating bare light bulbs combined with greens for a natural and industrial aura.
5. Personalized Wedding Signs
Summer wedding decorations are incomplete without some custom wedding signs. They are perfect for rustic, indie-rustic, boho, country, industrial-chic, and more. Separate your reception from the ceremony with directional wooden arrow signs, and sign off with your initials. Include a sentimental quote that binds you together on a colorful cloth sign or set the wedding scene with a hand-lettered sign. Choose copper signage adorned with wreaths or a romantic, rugged leather patina for an elegant look.