Selecting the right color for your bridesmaid dresses is a crucial decision when planning your wedding. Yellow is a delightful and vibrant choice that can bring warmth and happiness to your special day. However, finding the perfect shade of yellow can be a bit challenging. We'll guide you through the process of choosing the ideal yellow hue for your bridesmaid dresses, taking into account factors like your wedding theme, venue, and your bridesmaids' skin tones.
Long Yellow Bridesmaid Dresses
Yellow is a color associated with happiness, warmth, and optimism. Long yellow bridesmaid dresses can be a perfect choice for various wedding themes, from rustic barn weddings to elegant beach ceremonies. This versatility makes them an excellent option for brides seeking a color that complements different settings and styles.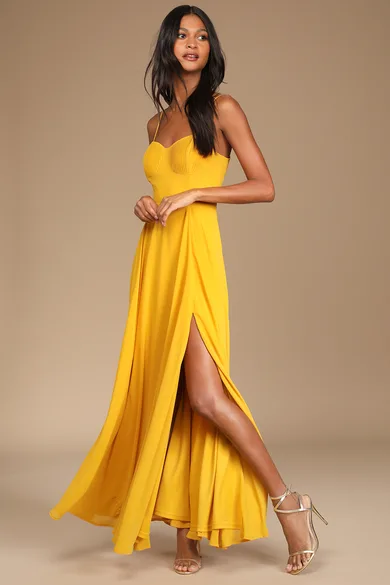 When it comes to yellow bridesmaid dresses, there's a wide spectrum of shades to choose from. Consider soft pastels like pale lemon and buttercup for a delicate and romantic look, or opt for vibrant, bold shades like mustard or sunflower for a more dramatic and striking appearance. The choice of shade can also be influenced by the season and the overall wedding color palette.
Beautiful Short Yellow Bridesmaid Gowns
Yellow is a color that exudes happiness, optimism, and warmth. It's often associated with joy and new beginnings, making it an excellent choice for a wedding. Whether your wedding has a traditional, rustic, or contemporary theme, short yellow bridesmaid gowns can effortlessly blend in or stand out, depending on your vision.
Yellow bridesmaid gowns provide a canvas for a wide range of accessories. From delicate floral crowns to bold statement necklaces, there are endless ways to personalize each bridesmaid's look. Consider adding metallic accents like gold or silver for an extra touch of elegance, or opt for neutral shoes to balance the vibrancy of the dresses.
Light Yellow Dresses For Bridesmaids
Choosing the perfect color palette for your wedding is a crucial decision, and when it comes to bridesmaid dresses, light yellow is a delightful choice. This soft and sunny hue exudes happiness and positivity, making it an excellent option for brides looking to create a cheerful and elegant atmosphere on their big day. We'll explore the beauty of light yellow dresses for bridesmaids and offer some inspiration and tips to help you create a stunning bridal party ensemble.
Light yellow bridesmaid dresses are a beautiful choice for any wedding, bringing warmth, happiness, and a touch of elegance to your bridal party. Whether you opt for soft pastels or bolder yellows, this versatile color can be customized to fit your wedding theme and create stunning photo opportunities. By following these tips and embracing the allure of light yellow, you'll set the stage for a memorable and picturesque celebration.
Sunflower Yellow Dresses For Your Girls
A timeless choice for warm-weather days, a classic sunflower yellow sundress is a must-have for your girl's closet. Its simplicity and elegance make it suitable for various occasions, from picnics to family gatherings. Pair it with white sandals and a matching headband for an effortlessly chic look. Floral prints in sunflower yellow are a delightful choice for girls of all ages. Whether it's a dainty floral pattern or bold, oversized blooms, these dresses capture the essence of summer. Your little one will feel like she's wandering through a sunflower field, no matter where she wears it.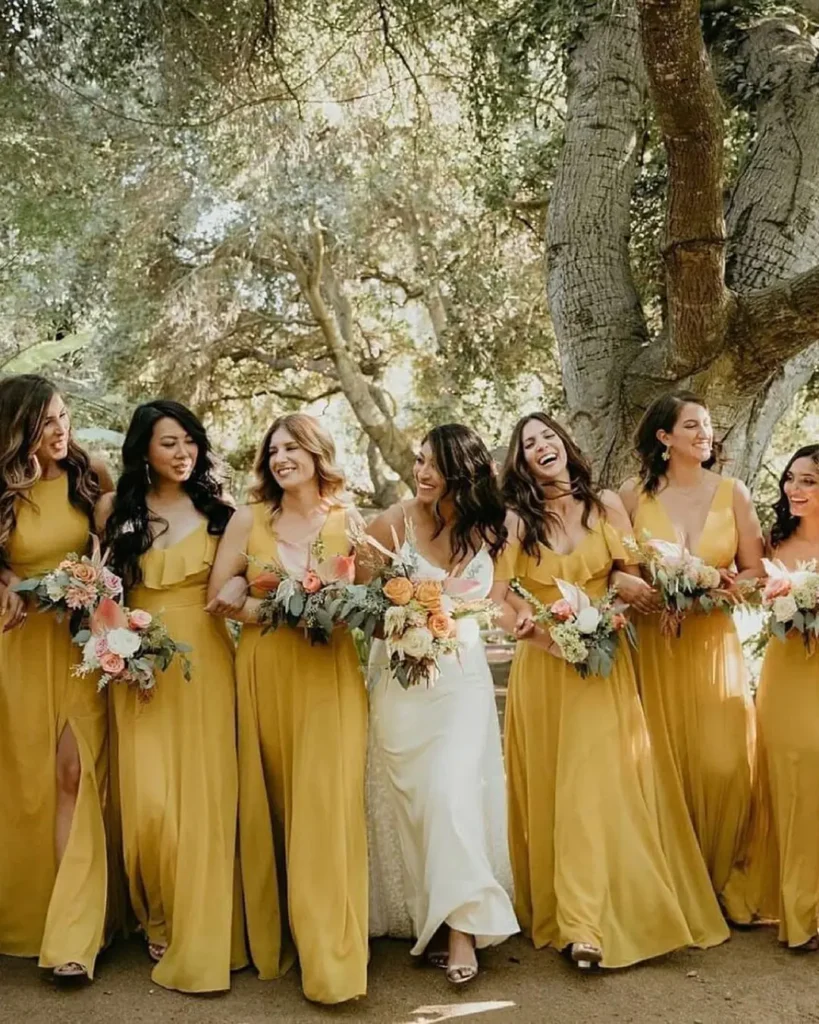 If you're feeling crafty, why not create some DIY sunflower-themed accessories or embellishments for your girl's dress? Craft activities like making sunflower hair clips or painting sunflower patterns on plain shoes can be a fun bonding experience. When shopping for sunflower yellow dresses, consider the fabric's comfort, the dress's style, and your child's preferences. Look for adjustable straps, breathable fabrics, and easy-to-care-for materials to ensure both you and your little one are happy with the choice.
Perfect Mustard Yellow Gowns
Mustard yellow, a warm and vibrant hue, has taken the fashion world by storm in recent years. This delightful shade adds a touch of sunshine and sophistication to any outfit, making it a perfect choice for a variety of occasions. One particularly enchanting way to showcase this color is through a mustard yellow gown. In this blog post, we'll explore the allure of mustard-yellow gowns and how you can style them for different events.
Mustard yellow is a versatile color that complements various skin tones. It exudes confidence, warmth, and a sense of adventure. Whether you're attending a formal gala, a summer wedding, or a romantic evening out, a mustard yellow gown can be your go-to choice. The key to looking stunning in a mustard yellow gown is selecting the right silhouette for your body type. A-line, sheath, and mermaid gowns are popular choices. Remember that the fit and cut of the gown can make a significant difference in how you feel and look.