A wedding is a magical moment that marks the beginning of a beautiful journey with your significant other. If you've always dreamt of a fairytale wedding, where every detail sparkles with luxury and enchantment, you're in the right place. we will guide you through the process of creating a fairytale wedding with luxury decor that will leave you and your guests spellbound. From choosing the perfect venue to selecting the most exquisite decorations, let's turn your dream into reality.
Wedding Arch Decor Ideas
Adorn your wedding arch with lush, cascading blooms in your chosen color palette. Roses, peonies, and eucalyptus are popular choices.
Embrace the rustic trend with a wooden wedding arch draped in burlap and accented with wildflowers and mason jars. Create a bohemian-inspired arch with macramé hangings, pampas grass, and a mix of colorful, eclectic textiles. Go green with an arch covered in vibrant vines, ivy, and hanging ferns for a fresh and enchanting atmosphere. Add a touch of luxury with crystal curtains that catch the light and create a dazzling effect as you exchange vows.
Achieve a vintage look with lace and antique-inspired props like vintage suitcases, old books, and heirloom trinkets. If you're having a beach wedding, decorate your arch with seashells, driftwood, and billowing white fabric for that coastal charm. Opt for a clean and modern design with a sleek metal arch adorned with simple geometric shapes or monochromatic florals. Recreate a fairy tale setting with a whimsical arch draped in twinkling fairy lights and delicate tulle.
Luxury Wedding Aisle
The foundation of a luxury wedding aisle is exquisite decor. Lay a lush carpet of flower petals in your chosen color scheme to create a vibrant and romantic path. Hang elegant crystal chandeliers from the trees or gazebo along the aisle for a touch of glamour. Frame the entrance to your aisle with oversized floral archways, creating a breathtaking focal point. Place rows of pillar candles in ornate holders along the aisle, creating a warm and inviting atmosphere. Your guests' comfort and visual delight are crucial. Opt for plush, velvet-covered chairs or chic transparent acrylic chairs adorned with cushions in your wedding colors. Consider ornate golden or silver chairs for the bride and groom, enhancing their regal presence.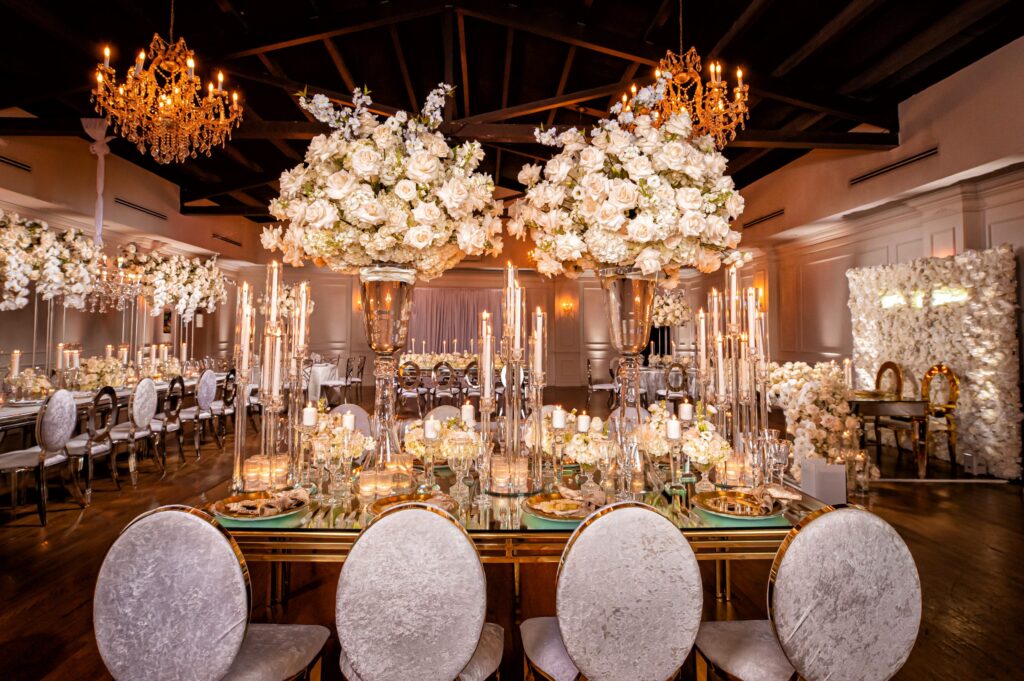 Choose a stunning aisle runner that complements your wedding theme. From classic white to luxurious satin or even a personalized monogrammed runner, it's an opportunity to add a touch of opulence. Flowers are an integral part of luxury wedding decor. Adorn the ends of each row with grand floral arrangements that coordinate with your overall design. Create a breathtaking backdrop of cascading flowers at the end of the aisle, ensuring a memorable exit. Hang lush garlands or floral swags along the sides of the chairs for a garden-inspired look. The right lighting sets the mood for a luxury wedding. Opt for soft, warm lighting along the aisle, such as fairy lights, lanterns, or ornate candelabras.
Wedding Luxury Centerpiece
Before you start choosing your luxury centerpieces, it's crucial to establish a theme or overall aesthetic for your wedding. Whether you're leaning towards classic, modern, vintage, or bohemian, your centerpieces should seamlessly integrate with your chosen theme. Consider the season, location, and personal preferences when making this decision.
Flowers are a quintessential element of wedding decor, and they are the go-to choice for luxury centerpieces. Opt for high-quality blooms that complement your color palette and theme. Popular choices for luxury weddings include roses, peonies, orchids, and calla lilies. You can also incorporate greenery and foliage to add depth and texture to your arrangements.
Table Runner Decor
The art of table decoration goes far beyond setting plates and silverware. It's about creating an atmosphere that enhances your dining experience and leaves a lasting impression on your guests. One simple yet impactful way to achieve this is by using table runners. we will explore the world of table runner decor, offering you tips, ideas, and inspiration to transform your dining table into a visual masterpiece.
Before diving into the creative aspects of table runner decor, let's start with the basics. Selecting the right table runner is crucial. Consider factors such as the table's shape, size, and the overall style you want to achieve. Whether you opt for a traditional, rustic, modern, or bohemian look, there's a table runner to suit every aesthetic.