Creating a unique matching couple's tattoo can be a beautiful way to express your love and commitment to each other. Tattoos are a permanent symbol of your bond, and choosing a design that is meaningful to both of you is essential. we'll explore some unique matching couples tattoo ideas to help you and your partner find the perfect design that reflects your love and connection.
Good Luck Charms
The horseshoe has long been considered a symbol of good luck and protection. In many cultures, it's believed to ward off evil spirits and bring prosperity. As a couple tattoo, you can each get half of a horseshoe tattoo on your body. When you come together, the horseshoes will form a complete circle, symbolizing your unity and the continuous flow of good luck in your relationship.
The four-leaf clover is an iconic symbol of luck, with each leaf representing hope, faith, love, and luck. Consider getting matching four-leaf clover tattoos with each leaf representing one of these elements, and the center of the clover could be a heart to symbolize your love's centrality in your life. Some people have specific numbers they consider lucky. These numbers could be your birthdate, anniversary date, or any other meaningful number. Getting your lucky numbers tattooed can be a subtle yet personal way to celebrate your unique bond and shared superstitions.
A Subtle Match
Sometimes, the simplest designs can carry the deepest meanings. Consider getting each other's initials tattoo in an elegant and minimalistic font. These tattoos can be place on the wrist, forearm, or any location that resonates with both of you. This choice not only symbolizes your love but also maintains an air of subtlety.
Puzzle piece tattoos are a charming way to show that you complete each other. Each partner can get one half of a puzzle piece tattoo, and when you're together, the pieces fit perfectly. It signifies that your love is the missing piece in each other's lives. Is there a place that holds extraordinary significance in your relationship, like where you first met, had your first date or got engaged? Consider getting the coordinates of that location inke on your bodies. These tattoos will not only commemorate the memories but also serve as a reminder of your journey together.
Stars Aligned
The beauty of stars in the night sky has always fascinated humanity. Stars are seen as eternal, just like the love between a couple. One popular design is a pair of matching star tattoos. These can be tiny stars place on the wrists, behind the ears, or any other subtle location. Each partner can choose their favorite star, making the tattoos personal and unique.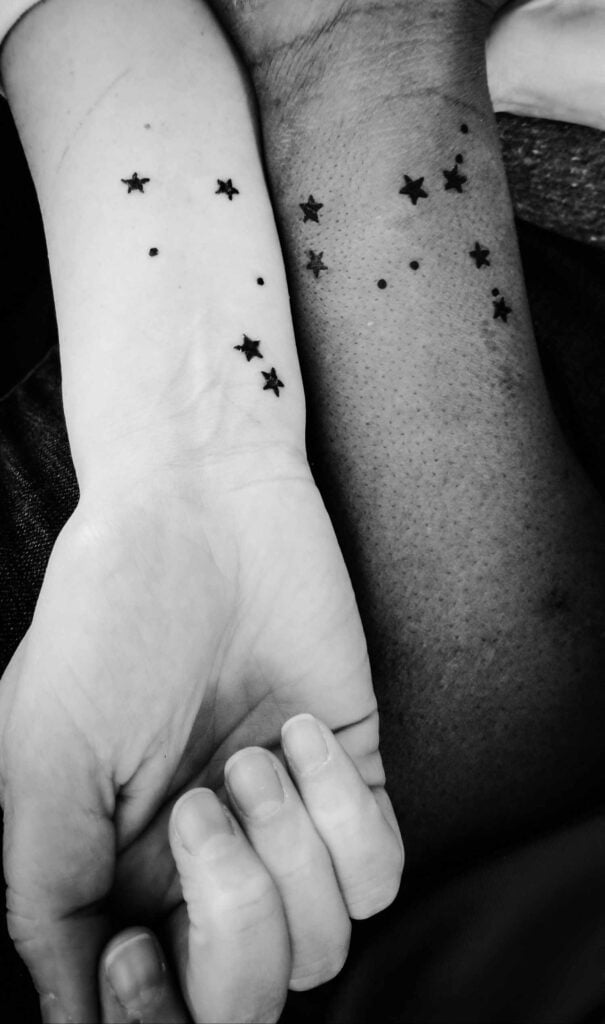 Another romantic option is to get matching constellation tattoos. Choose a constellation that holds significance for your relationship, such as the couple's zodiac signs or the constellation under which you first met. These tattoos can be intricately detaile or minimalist, depending on your preferences.
Be Lighthearte
Consider getting matching puzzle piece tattoos that fit together perfectly. Each piece represents one half of the whole, symbolizing how you complete each other. This design can be adapted in various sizes and styles to suit your preferences. The lock and key motif is a classic choice for couples. One partner gets a lock tattoo, while the other gets a key. It signifies that one person holds the key to the other's heart. It's a playful and charming way to show your love.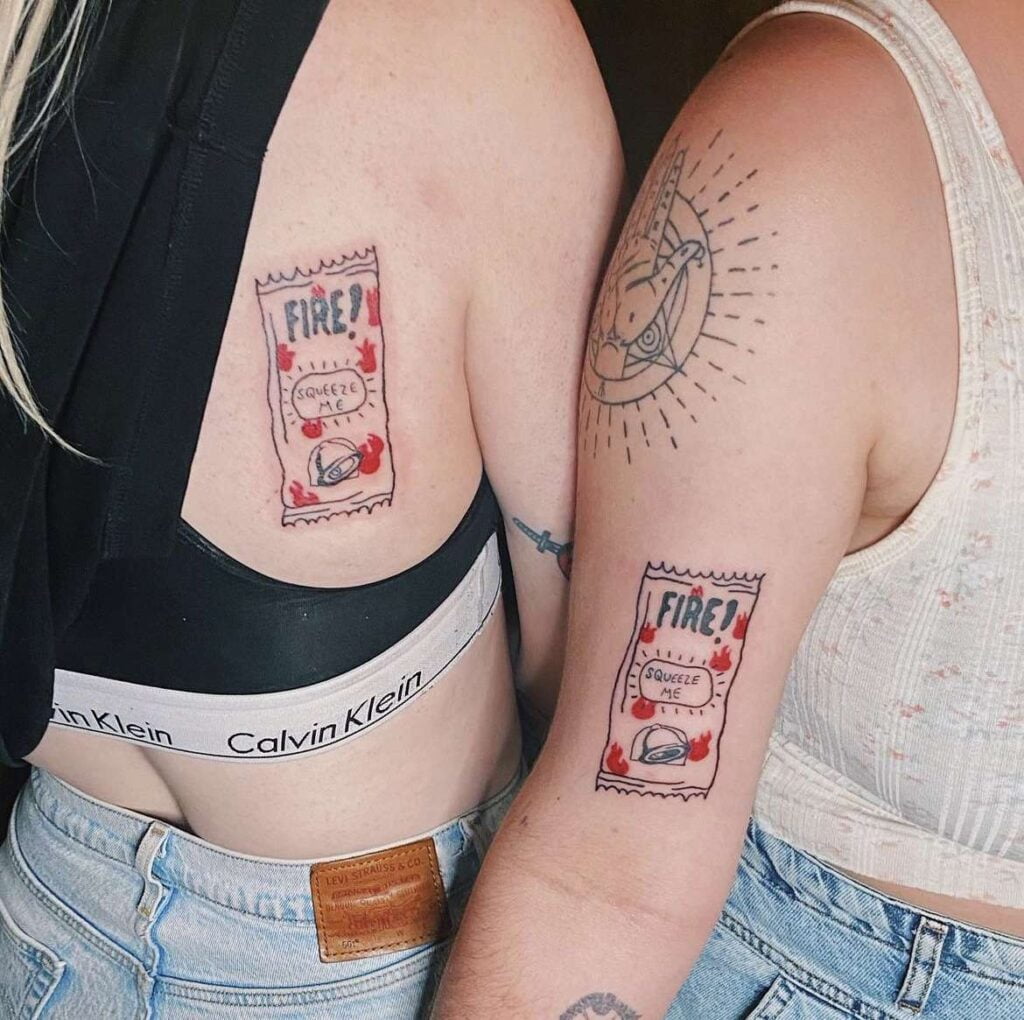 Disney fans will adore getting matching Mickey and Minnie Mouse tattoos. These iconic characters represent timeless love and are perfect for couples who share a passion for all things Disney. Show your love and admiration by getting "King" and "Queen" tattoos on your wrists or fingers. It's a fun way to remind yourselves that you're the rulers of each other's hearts. For couples who have a goofy sense of humor, peanut butter and jelly tattoos can be a fantastic choice. These tattoos can be cute and quirky, just like the two of you.
Two Halves
The "Two Halves Matching Couples Tattoo" concept is all about creating a single image or message that is split into two parts, with each partner having one half of the design tattooed on their body. When you come together, the two halves form a complete and meaningful image or message. This concept symbolizes the idea that you and your partner complete each other and are two halves of a whole.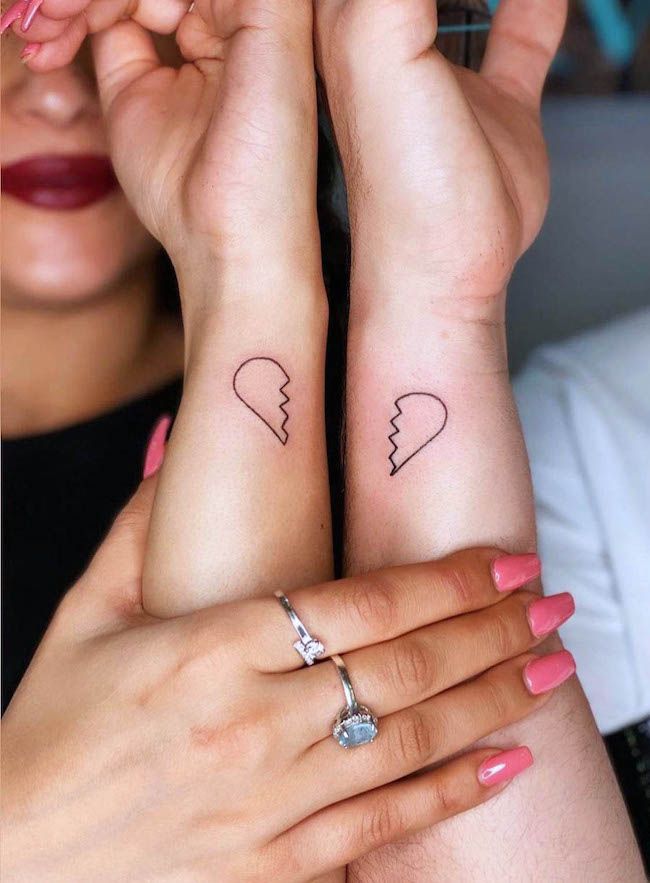 One of the most popular choices for this concept is to get puzzle-piece tattoos. Each of you gets a piece of the puzzle, and when you're together, the pieces fit perfectly. This design represents the idea that you complete each other. One person can get a lock, and the other can get a key. When you're together, the key unlocks the lock, signifying that you hold the key to each other's hearts. If you're into celestial symbols, one of you can get a moon, and the other can get a sun. When you stand side by side, it symbolizes the balance and unity in your relationship.