Tropical weddings are all about embracing the lush beauty, vibrant colors, and laid-back elegance of exotic destinations. When it comes to the sweetest part of your special day, the wedding cake should reflect this tropical paradise. In this ultimate guide, we'll explore everything you need to know about tropical wedding cakes, from design ideas to flavor combinations that will transport your guests to a beachfront oasis.
Fiji Inspiration
Start your Fiji-inspired wedding cake journey with a Beachy Bliss Cake. This confection captures the essence of Fiji's stunning beaches with soft, sandy hues, and delicate sugarcrafted seashells and starfish. Add a touch of turquoise ombre to represent the crystal-clear waters that surround the island. Top it off with tropical flowers like hibiscus or orchids for a touch of island charm.
For a cake that's pure island magic, consider a Palm Paradise Cake. Decorate your cake tiers with edible palm leaves and delicate fondant or sugarcrafted coconuts. The earthy greens and browns will evoke the lush rainforests of Fiji, while a subtle pineapple or mango-flavored filling will add a tropical twist to your taste buds.
Tropical Wedding Cakes With Flamingo
Tropical weddings are all about bold and bright colors that mimic the exotic beauty of the islands. Think vibrant shades of coral, turquoise, and lush greens. Your tropical wedding cake should be a reflection of this vibrant palette. Explore cake designs that incorporate these colors into the frosting, edible flowers, and decorations. The result? A cake that radiates the warmth and joy of the tropics.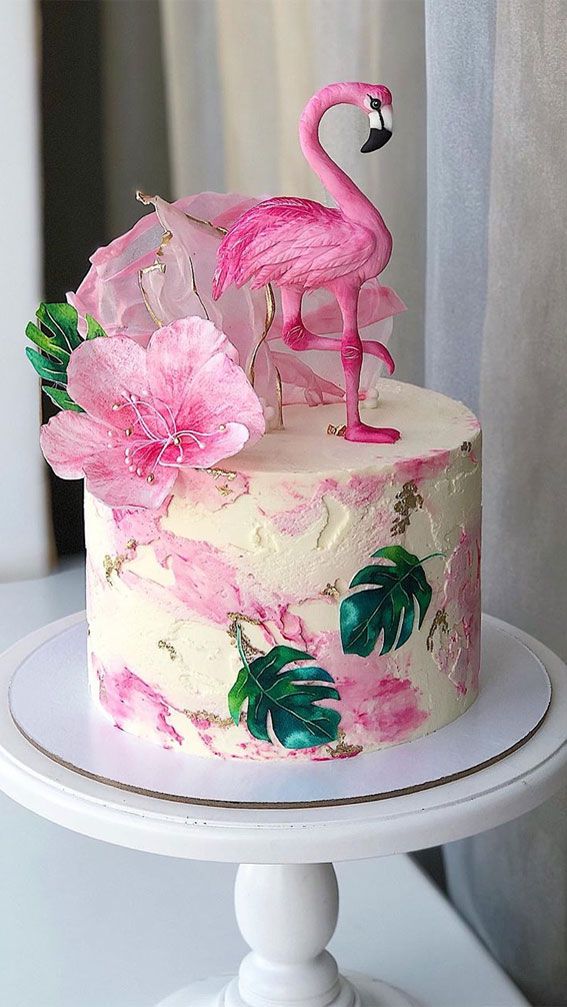 One of the most charming ways to infuse your wedding cake with tropical vibes is by featuring edible flamingo fondant toppers. These graceful birds add a touch of whimsy and elegance to your cake. Whether they're standing tall, gracefully poised, or forming a heart-shaped pair, flamingo toppers can be customized to suit your wedding style.
Pineapple & Banana Leaf
Imagine a multi-tiered wedding cake adorned with cascading banana leaves made of edible fondant or chocolate. This lush greenery can serve as the backdrop for various tropical elements like vibrant hibiscus flowers, delicate orchids, or even miniature pineapples. These details can be handcrafted by skilled pastry artists to match your wedding's color palette and theme.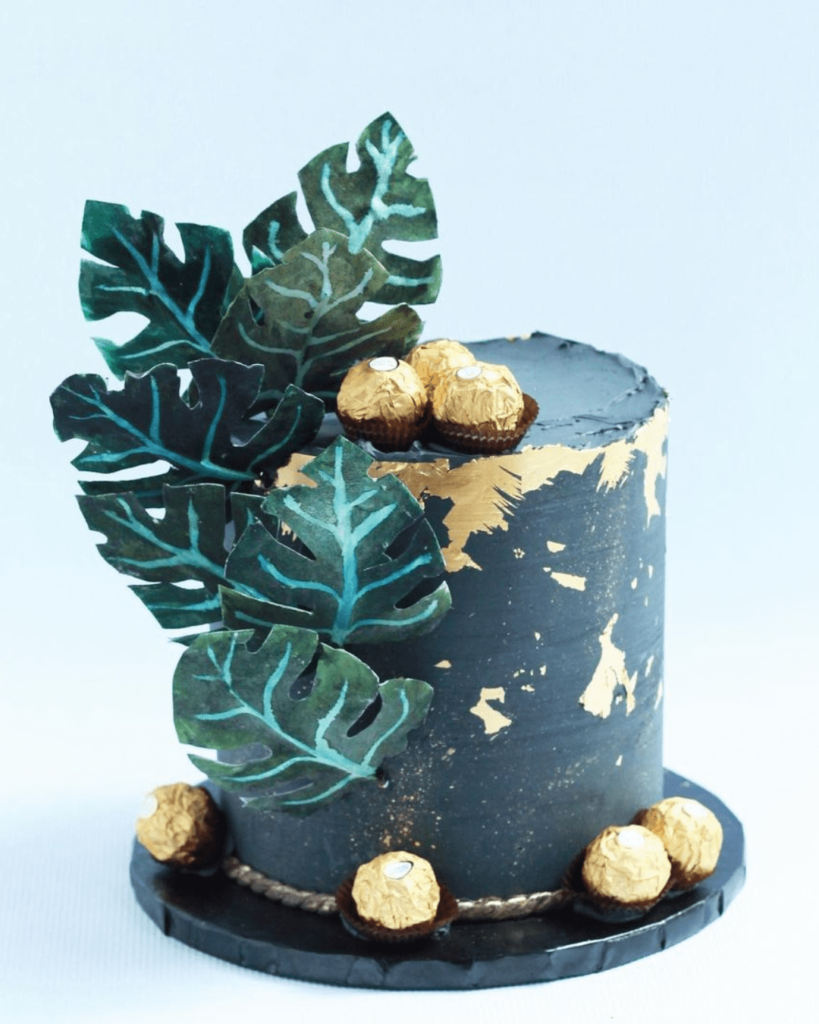 Pineapples are not just a delicious fruit; they also symbolize warmth, hospitality, and friendship. Incorporating pineapple flavors into your wedding cake can be a delightful surprise for your guests. Consider a pineapple-flavored cake paired with a pineapple filling and a light, tangy pineapple buttercream frosting. This combination will transport your taste buds to a tropical paradise.
Orange & Pink Cakes
An orange and pink wedding cake is not just a dessert but a work of art that can elevate the visual appeal of your wedding. With the right design, flavors, and presentation, it can become a memorable centerpiece of your celebration. So, whether you're planning a spring garden wedding or a summer beach affair, consider the vibrant charm of orange and pink wedding cakes to add a burst of love and color to your special day.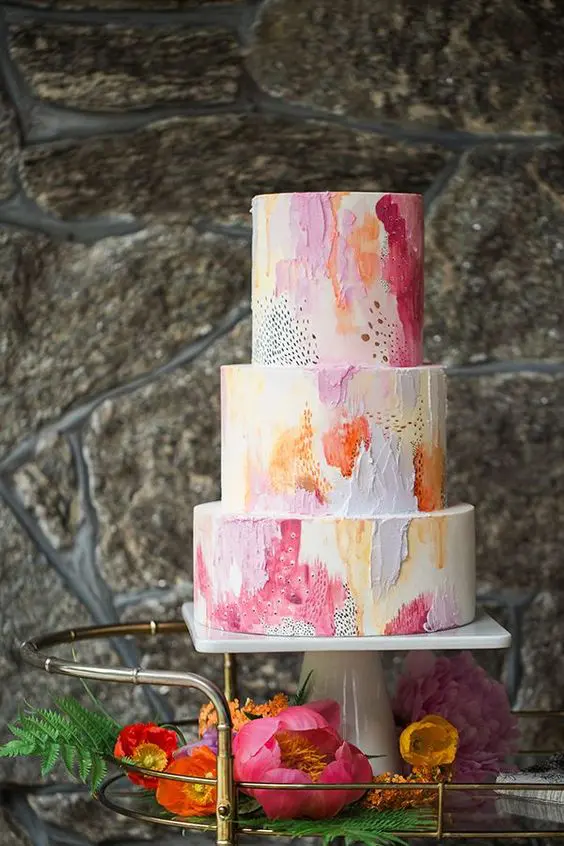 Orange and pink wedding cakes have the power to infuse your special day with vibrancy, romance, and personality. Whether you choose a cake that's elegant, tropical, whimsical, modern, rustic, vintage, or a combination of these styles, the key is to let your creativity shine. These cakes are not just desserts; they are works of art that will leave a lasting impression on your guests and serve as a beautiful centerpiece for your wedding celebration. So, dare to be bold with your choice of colors and let your wedding cake reflect the love and joy of your special day.
Tropical Themed Wedding Cakes
Tropical wedding cakes often feature a color palette inspired by the lush landscapes of the Caribbean, Hawaii, or other tropical destinations. Think shades of coral, turquoise, bright green, and sunny yellow. Your cake's icing and decorations can reflect these vibrant hues, creating a visually striking centerpiece.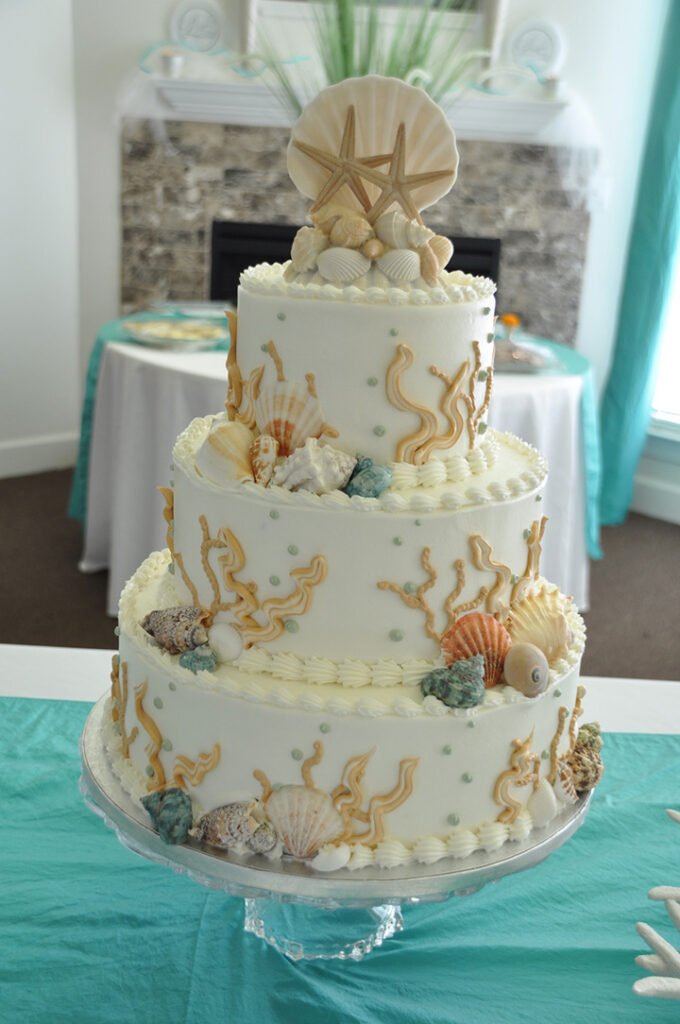 For a more rustic or bohemian wedding style, opt for a semi-naked or textured buttercream cake with tropical embellishments. These cakes have a charming, laid-back appeal that suits a casual tropical affair. Don't forget to add a personalized cake topper that reflects your tropical love story. Whether it's a custom figurine of you and your partner lounging in a hammock or a romantic sunset silhouette, a unique topper can tie your cake into your wedding theme seamlessly.