Indian weddings are renowned for their grandeur and rich cultural traditions, and one of the most captivating aspects of these celebrations is the diverse and exquisite wedding attire worn by brides, grooms, and guests. Each region of India boasts its unique clothing styles, fabrics, and accessories, making Indian wedding attire a vibrant tapestry of colors, patterns, and designs. we'll take you on a journey through the enchanting world of traditional Indian wedding attire, shedding light on the significance of each piece and providing insights into the variations across different regions.
Best Indian Wedding Dresses
Indian weddings are a tapestry of colors, customs, and celebrations. One of the most captivating aspects of these weddings is the array of stunning attire worn by brides, grooms, and guests alike. In this blog post, we'll explore some of the most exquisite Indian wedding dress ideas, encompassing various regions, cultures, and styles.
Indian wedding attire is a reflection of the country's rich cultural diversity and history. Whether you prefer a traditional ensemble or a modern fusion look, there's no shortage of options to choose from. Ultimately, the best Indian wedding dress is one that makes you feel confident, beautiful, and connected to your heritage. Happy shopping and planning for your special day!
Traditional Indian Wedding Dresses
The saree, an unstitched length of fabric that drapes gracefully around the body, is the quintessential Indian bridal attire. Explore its various regional styles, including the Banarasi silk, Kanjeevaram, and Bandhani, each reflecting the unique culture and craftsmanship of its origin. The lehenga choli, a two-piece ensemble consisting of a flared skirt (lehenga) and a blouse is favored by brides across India. Discover the intricacy of zari work, mirror embellishments, and the vivid color palettes that adorn these splendid outfits.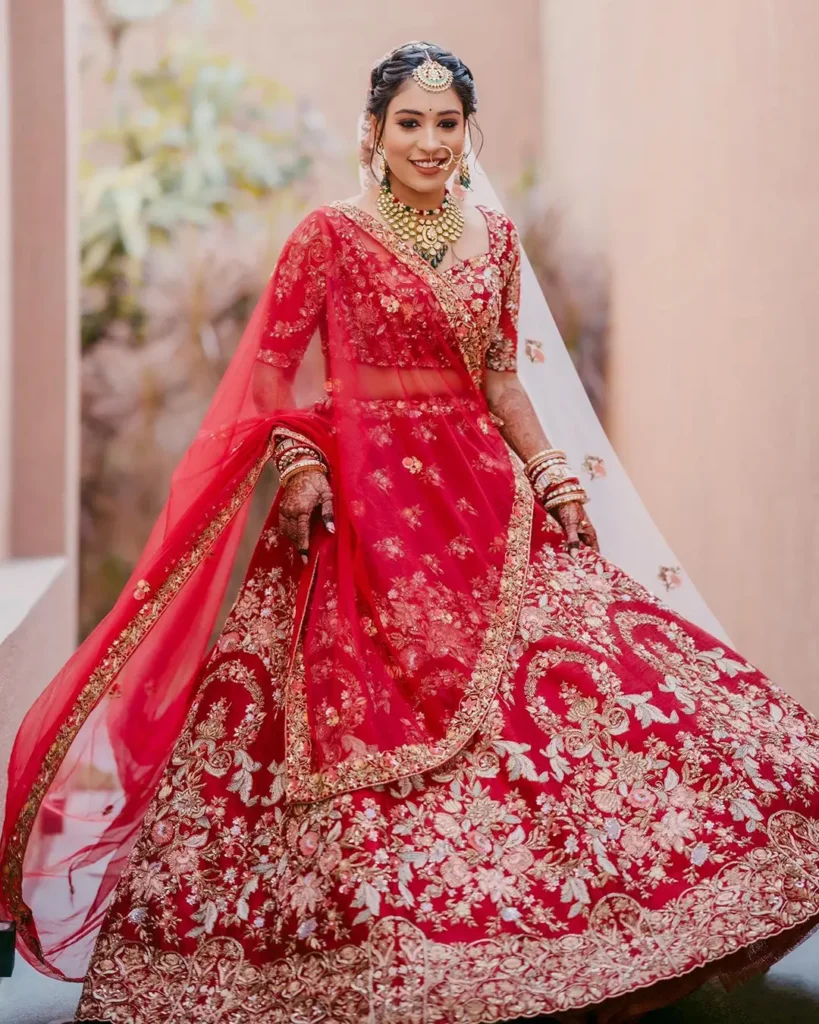 India's vast cultural diversity is reflected in its wedding attire. Discover the distinct styles of bridal wear from various regions, such as the regal Rajasthani poshak, the vibrant South Indian Kanjeevaram, and the graceful Bengali saree. Contemporary Indian brides and grooms often seek a fusion of modern and traditional elements in their wedding attire. Explore how designers are infusing new ideas into traditional garments to create stunning ensembles that cater to evolving tastes.
Modern Indian Wedding Gowns
Modern Indian wedding gowns often feature a fusion of cultures. Brides are increasingly opting for gowns that combine elements from various regions of India, creating a diverse and stunning bridal ensemble. For example, a gown might feature intricate Rajasthani embroidery paired with a South Indian temple jewelry-inspired necklace.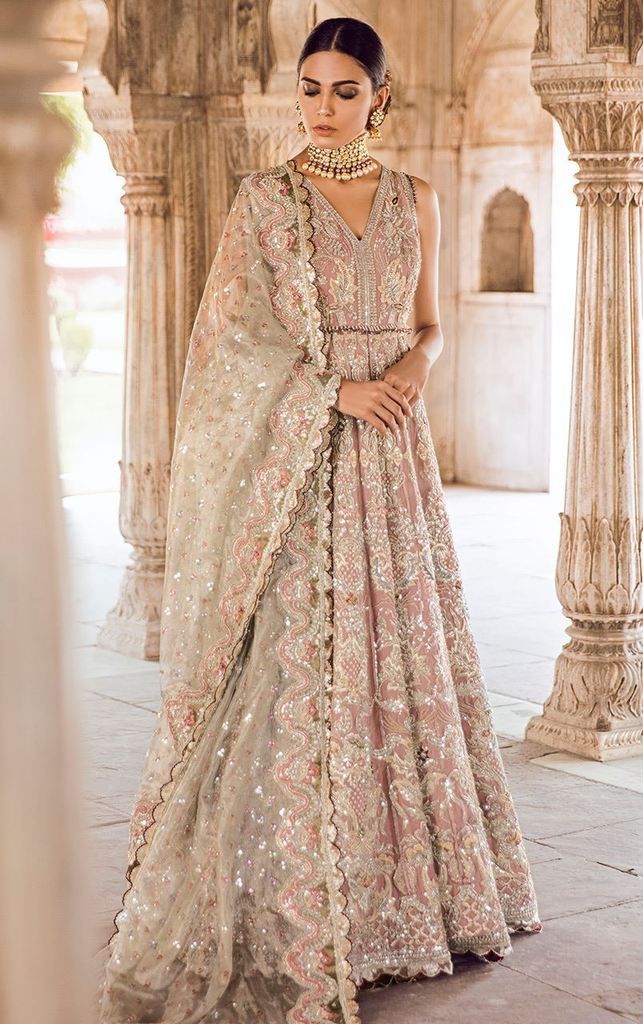 The choice of fabric plays a pivotal role in the design of modern Indian wedding gowns. Brides are gravitating towards luxurious materials like silk, velvet, and satin to add a touch of opulence to their attire. These fabrics allow for intricate detailing and draping, creating a regal look. While traditional Indian attire is known for its flared lehengas and voluminous sarees, modern wedding gowns introduce contemporary silhouettes. Mermaid, A-line, and ballgown styles have become increasingly popular among brides looking for a more Western-inspired look. These silhouettes accentuate the bride's figure while maintaining the elegance of Indian aesthetics.
Red Indian Bridal Gowns
Red has an unequivocal significance in Indian culture, particularly in weddings. It is believed to be the color of love, prosperity, and marital bliss. It's no surprise that red plays a central role in Indian bridal attire. Red bridal gowns, known as "lehengas" or "sarees," are an embodiment of this symbolism.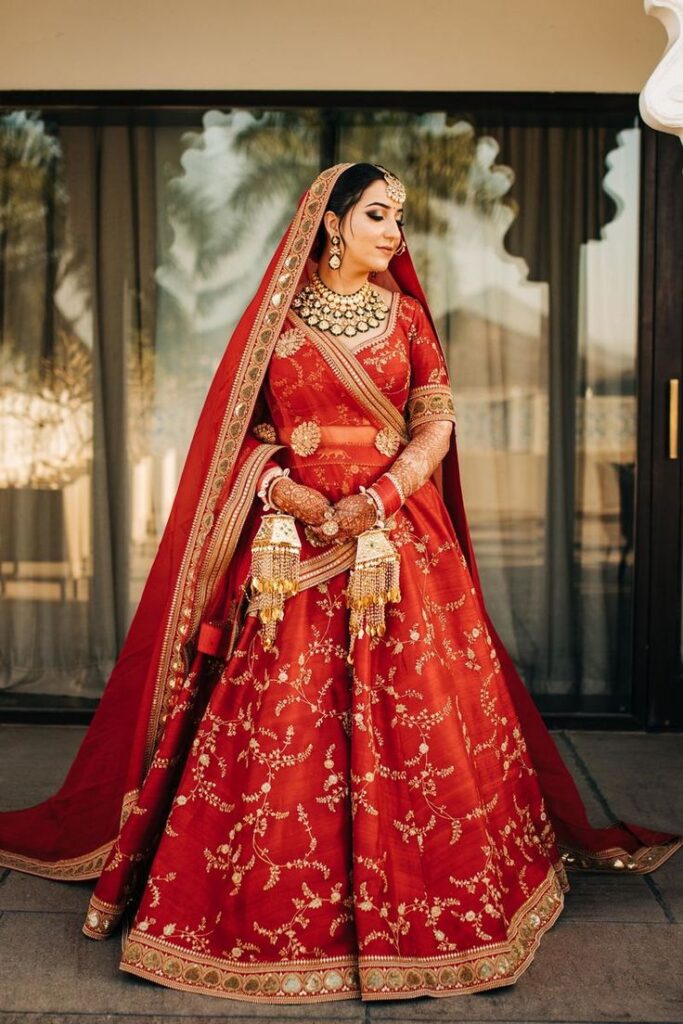 While red has always been the preferred choice for Indian brides, the styles and designs of red bridal gowns have evolved over time. Traditionally, brides wore heavily embroidered red sarees, but today, modern brides often opt for red lehengas or gown-style dresses. These gowns come in various shades of red, from deep maroon to vibrant scarlet, allowing brides to choose the hue that best suits their skin tone and personal style.
Gold Indian Wedding Gowns
Indian weddings are a grand celebration of love, culture, and tradition. Among the many elements that make these weddings so special, the bride's attire takes center stage. While red is a traditional choice for Indian brides, gold Indian wedding gowns have been gaining popularity for their elegance and timeless appeal. we'll explore the allure of gold Indian wedding gowns, their significance, and some stunning design ideas.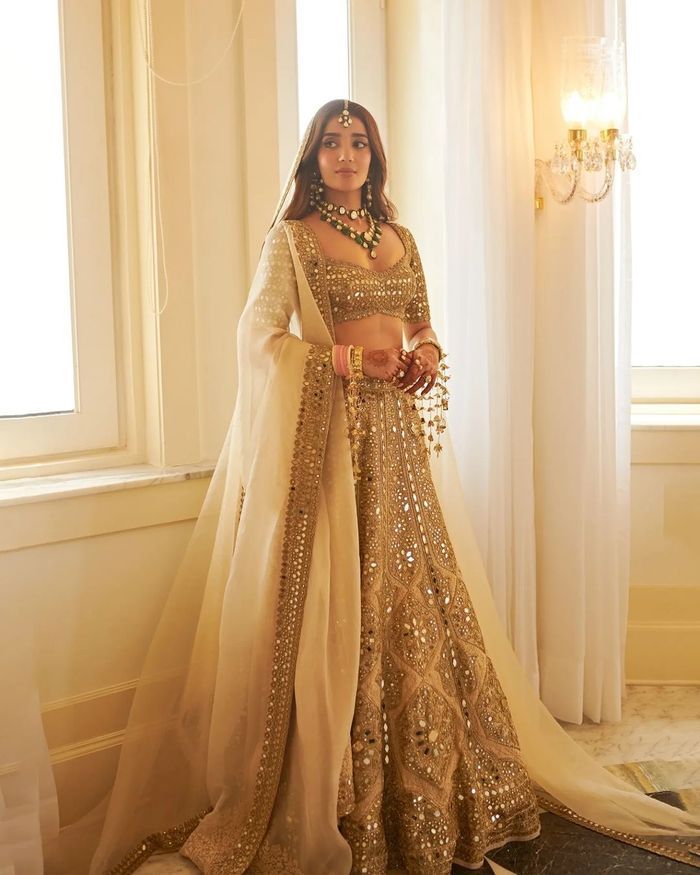 Gold holds a special place in Indian culture, symbolizing wealth, prosperity, and good fortune. It's considered an auspicious color for weddings, making it an ideal choice for bridal attire. The allure of gold lies in its ability to exude elegance and sophistication while maintaining a strong connection to tradition. Gold Indian wedding gowns come in a diverse range of designs and styles, catering to the preferences of brides from different regions of India and beyond.