As the bride's closest friends and confidantes, bridesmaids play a pivotal role in her special day. To complement their stunning dresses and add a touch of sophistication, consider navy blue nails for your bridal party. Navy blue is a versatile and timeless shade that can effortlessly blend with various wedding themes and color palettes. we'll explore a range of navy blue nail ideas to help your bridesmaids look their absolute best on your big day.
Acrylic Navy Blue Wedding Nails
Navy blue is a classic color that exudes sophistication and refinement. It's a shade that effortlessly complements a wide range of wedding themes and color palettes. Whether you're having a beachfront wedding, a rustic countryside celebration, or a glamorous ballroom affair, navy blue acrylic nails can seamlessly fit into your chosen aesthetic.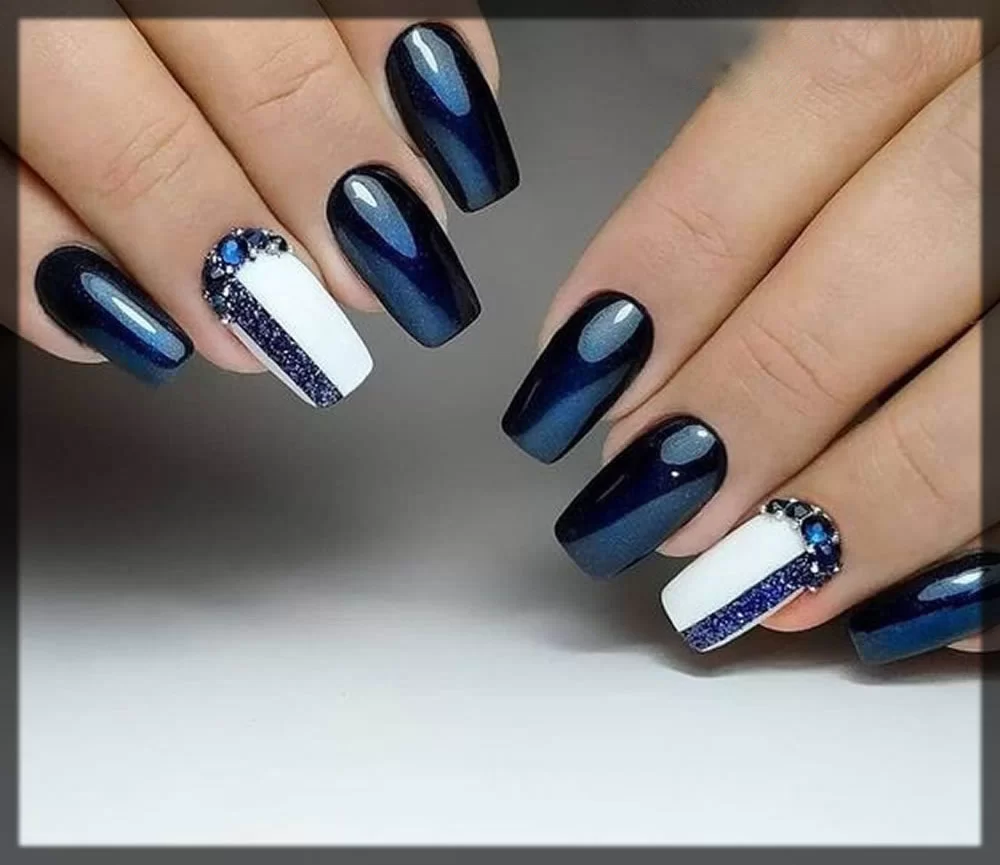 Your wedding day is an opportunity to express your unique style and personality, right down to your nails. Acrylic navy blue wedding nails add a touch of timeless elegance and sophistication to your bridal look. With their versatility, durability, and countless design options, they're an excellent choice for any bride looking to make a lasting impression on her special day. So, embrace the beauty of navy blue acrylic nails and let your hands tell a story of elegance, love, and celebration on your wedding day.
Short And Natural Shaped
Before you begin, it's essential to prep your nails. Start by shaping them to your desired length and shape. For short and natural wedding nails, a classic square or slightly rounded shape works best. Trim any excess length and gently file the edges for a clean finish. Healthy nails are the foundation of a beautiful manicure. Ensure your nails are well-moisturized, and consider getting a professional manicure a few days before your wedding to ensure they're in their best condition.
Selecting the right navy blue nail polish is crucial. Opt for a shade that complements your wedding color palette and personal style. Whether you prefer a deep, rich navy or a softer, pastel-like hue, there's a navy blue shade that will suit your taste. If you want to add a touch of glamour, consider incorporating subtle nail art. Simple white or silver accents like delicate stripes, polka dots, or a single accent nail with a rhinestone or glitter accent can elevate your navy blue wedding nails without overwhelming the natural look.
French Tip Nails
Navy blue is a color that exudes elegance and sophistication. It's a versatile shade that complements various wedding color palettes, making it a fantastic choice for brides who want a timeless look. Navy blue pairs beautifully with other colors, whether you're having a classic black and white wedding, a nautical-themed celebration, or a romantic blush and gold affair. It can be easily incorporated into your overall wedding theme and attire.Navy blue French tip nails can be an ideal match for a white or ivory wedding gown. The contrast between the deep blue and the pristine white creates a stunning and eye-catching effect.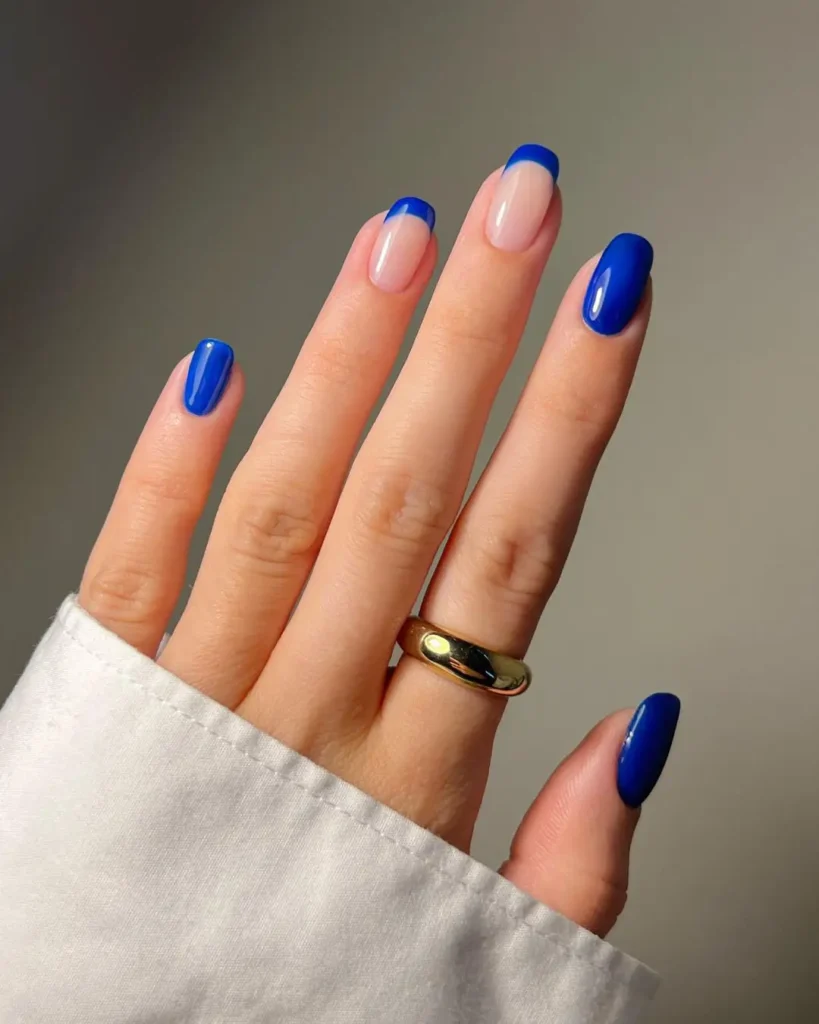 Navy blue is a universally flattering color that complements various skin tones, ensuring that your nails will look stunning in photos and in person. Unlike trendy nail designs that may feel outdated in a few years, navy blue French tip nails have a timeless appeal. Your wedding photos will stand the test of time with this classic choice.
Blue With Silver Designs
Create a mesmerizing ombre effect by blending navy blue and silver glitter on your nails. This design adds a subtle, sparkling touch to your nails, making them perfect for a glamorous wedding. For a more minimalistic yet striking look, consider silver foil accents on a navy blue base. This design is sleek and modern, offering a touch of luxury to your overall bridal aesthetic.
Matte nails are all the rage, and combining them with intricate silver geometric patterns results in a truly unique and artistic nail design. These nails will be a conversation starter at your wedding.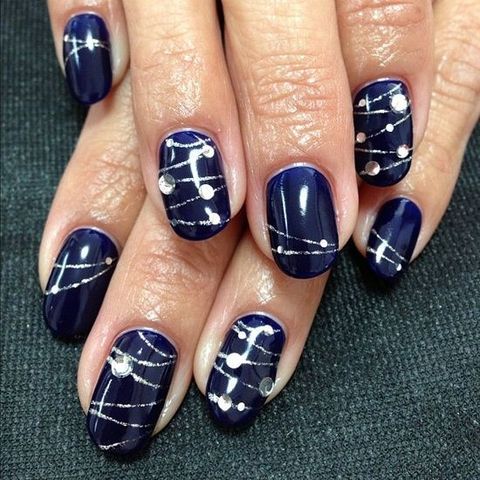 Navy Blue And Gold Wedding Nails
Start with a classic French manicure in navy blue and replace the traditional white tips with luxurious gold. This twist on a timeless look adds a touch of opulence to your nails while keeping the overall design understated and elegant. For a more intricate look, consider adding gold foil accents to your navy blue nails. You can opt for delicate gold foil stripes, geometric patterns, or even tiny gold foil flowers for a whimsical touch. Create a stunning gradient effect by blending navy blue and gold together in an ombre style. This nail design beautifully represents the merging of two lives as you and your partner embark on your journey together.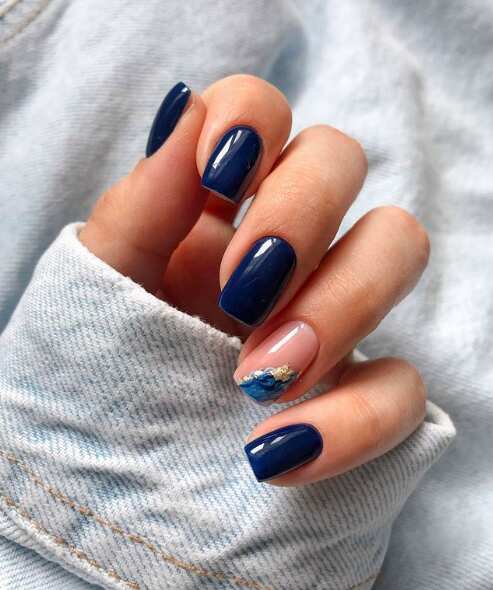 Add a touch of sparkle to your wedding nails by incorporating gold glitter into your navy blue polish. You can choose to apply the glitter as an accent nail, on the tips, or create a dazzling full glitter nail. Marble nails are a trendy choice that can be adapted to suit your wedding theme. Mix navy blue and gold together to create a luxurious marbled effect on your nails. This unique design is sure to leave a lasting impression.
Embrace the romance of your wedding day by incorporating delicate gold floral designs on your navy blue nails. These intricate details add a touch of femininity and elegance to your overall look.