When it comes to planning your dream wedding, every detail matters – even the ice cream flavors! While traditional wedding cake will always have its place, many couples are opting for unique and unforgettable dessert experiences. Ice cream can be a delightful addition to your wedding dessert menu, offering a refreshing and fun alternative. To help you create a memorable dessert menu, we've compiled a list of unique ice cream flavors that will leave your guests craving more.
Make It Mini
Start with timeless favorite ice cream. Mini vanilla cones or cups can be customized with colorful sprinkles, edible flowers, or even a drizzle of gourmet honey. Vanilla serves as an excellent base for pairing with other dessert elements, like fresh berries or warm fruit compote. For the chocoholics in your wedding party, miniature chocolate ice cream treats are a must. Offer a variety of options, such as chocolate-dipped mini cones, rich chocolate ganache-filled cups, or tiny chocolate ice cream sandwiches. Top them with mini chocolate chips, crushed cookies, or a dusting of cocoa powder.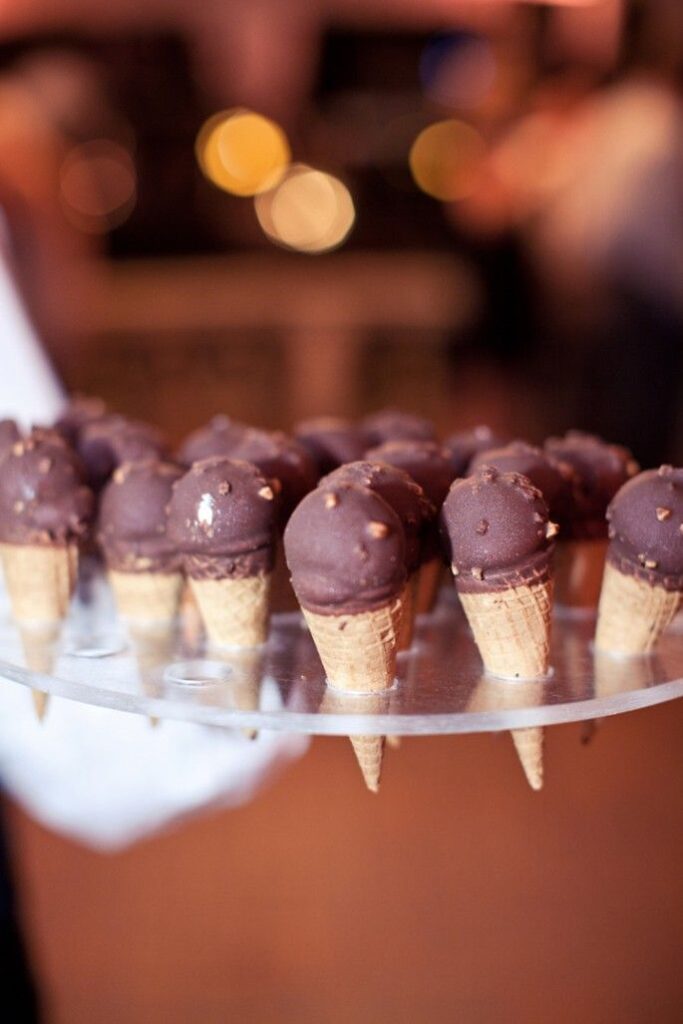 Sorbet is a refreshing and dairy-free alternative for those with dietary restrictions. Mini fruit sorbet cups or popsicles in flavors like lemon, raspberry, or mango can add a burst of vibrant color and fruity flavor to your dessert spread. Consider serving them on a bed of crushed ice for an elegant presentation. For a touch of sophistication, feature mini portions of nutty ice creams like pistachio or almond. These flavors add a delightful crunch to your dessert table. Serve them in tiny waffle cones or garnish with slivered almonds or crushed pistachios.
Serve Prepared Sundaes
Start with a timeless favorite, vanilla ice cream. Its creamy, neutral flavor serves as a versatile base for a variety of toppings, making it a crowd-pleaser for guests of all ages. Complement it with a selection of classic toppings like chocolate sauce, caramel drizzle, chopped nuts, and maraschino cherries. For the chocolate lovers among your guests, a rich and velvety chocolate ice cream will be a hit. Pair it with hot fudge sauce, whipped cream, crushed Oreo cookies, and chocolate shavings for an indulgent chocolate lover's dream.
Bring a refreshing twist to your dessert table with fruit-inspired ice cream flavors. Consider options like strawberry, mango, or lemon sorbet for a lighter, fruity alternative. Top them with fresh berries, citrus zest, and a sprinkle of crushed meringue for a burst of flavor and color. For the caffeine enthusiasts, coffee-flavored ice cream is the way to go. Serve it with a shot of espresso, toffee bits, whipped cream, and a dusting of cocoa powder to create a sophisticated and energizing sundae.
Embrace Color With Rainbow Sprinkles
Planning a wedding can be a whirlwind of decisions, from choosing the perfect venue to selecting the ideal flowers and decor. However, one often-overlooked aspect of wedding planning is the dessert. If you're looking to add a fun and colorful twist to your wedding, consider incorporating rainbow sprinkles ice cream flavors into your dessert menu. Not only will this sweet treat delight your guests' taste buds, but it will also add a playful and vibrant touch to your special day.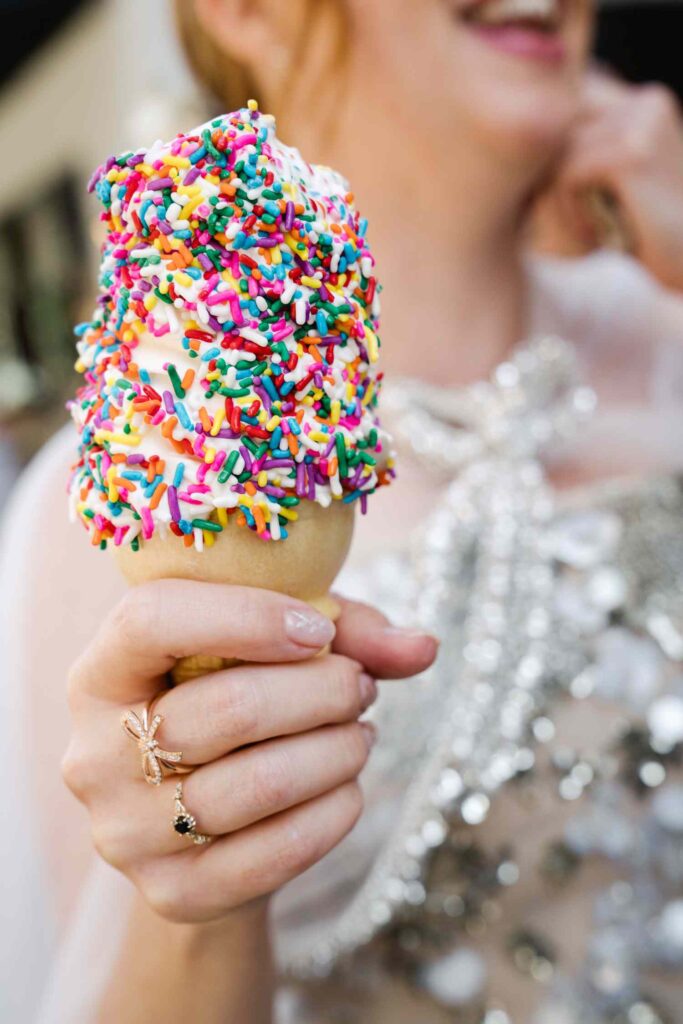 Rainbow sprinkles ice cream has a way of evoking childhood memories of ice cream trucks and sunny summer days. Incorporating this nostalgic treat into your wedding can create a warm and familiar atmosphere that resonates with guests of all ages. If you have guests with dietary restrictions, you'll be happy to know that many ice cream shops offer dairy-free or vegan options, ensuring that everyone can enjoy this delightful dessert. You can also provide gluten-free cones or toppings for those with specific dietary needs.
Dish Out Decorated Cones
When it comes to planning your wedding dessert, why settle for the ordinary when you can delight your guests with something extraordinary? Ice cream cones are a delightful and creative choice that can add a touch of whimsy and fun to your big day. we'll explore how to dish out decorated ice cream cones with a variety of unique and delicious flavors to make your wedding dessert unforgettable.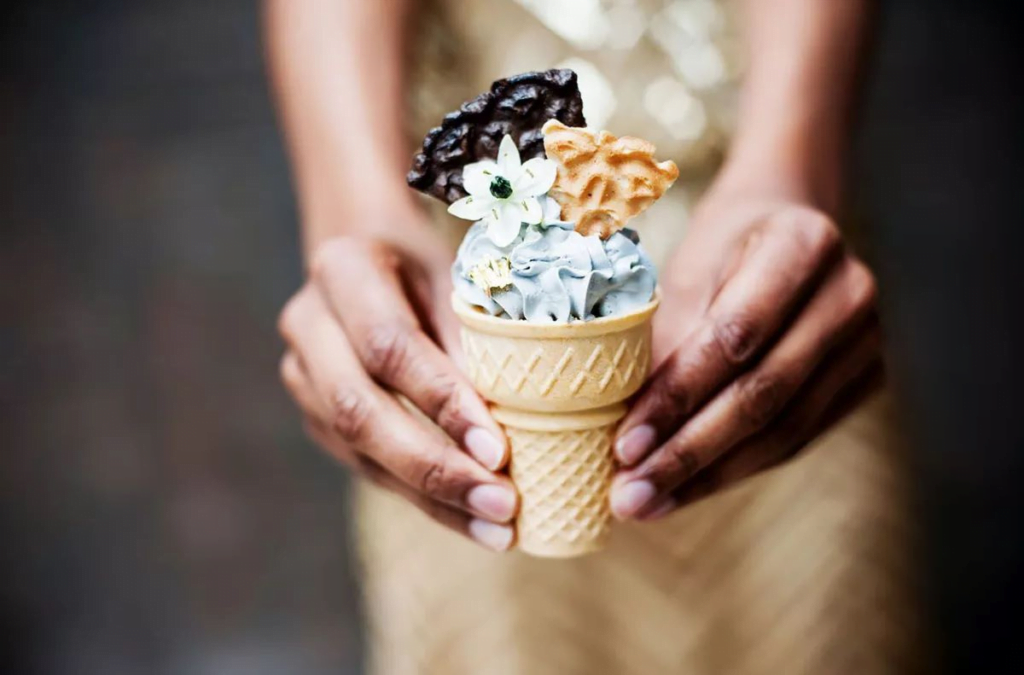 Dishing out decorated ice cream cones at your wedding is a delightful and unique way to sweeten the celebration. By choosing a variety of flavors, decorating with creativity, and accommodating dietary preferences, you'll create a memorable dessert experience for your guests. So, get ready to scoop up some joy and make your wedding day even sweeter with this delightful treat!
Serve Ice Cream Sandwiches
Ice cream sandwiches offer a wide variety of flavors, making it easy to cater to diverse tastes. You can choose classic options like vanilla, chocolate, and strawberry, or get adventurous with gourmet flavors like salted caramel, mint chocolate chip, or even non-dairy alternatives for vegan guests. With so many choices, you can be sure to please every palate.
One concern with serving dessert at weddings is the potential for mess. Ice cream sandwiches are relatively mess-free compared to alternatives like cake or cupcakes. They are neatly contained in a cookie shell, minimizing the chances of spills and stains on wedding attire. Wedding costs can add up quickly, but ice cream sandwiches can be a budget-friendly dessert choice. They are often more affordable than elaborate wedding cakes or dessert bars. Plus, you can control portion sizes to ensure you have enough for everyone without overordering.