A bridal shower is a cherished pre-wedding tradition that brings together friends and family to celebrate the bride-to-be's upcoming nuptials. Among the many elements that make a bridal shower memorable, the cake takes center stage. It's not just a delicious treat, it's also a piece of edible art that can tie into the theme and style of the event. In this blog post, we'll explore ten irresistible bridal shower cake ideas that will add a touch of sweetness to your celebration.
Celebrate Your Bride-to-Be
A bridal shower is a special occasion where friends and family gather to celebrate the bride-to-be as she embarks on the journey to wedded bliss. One of the sweetest ways to honor the bride and set the tone for the festivities is with a beautifully crafted bridal shower cake. we'll explore some delightful and creative bridal shower cake ideas that will leave your guests in awe and make your bride-to-be feel truly cherished.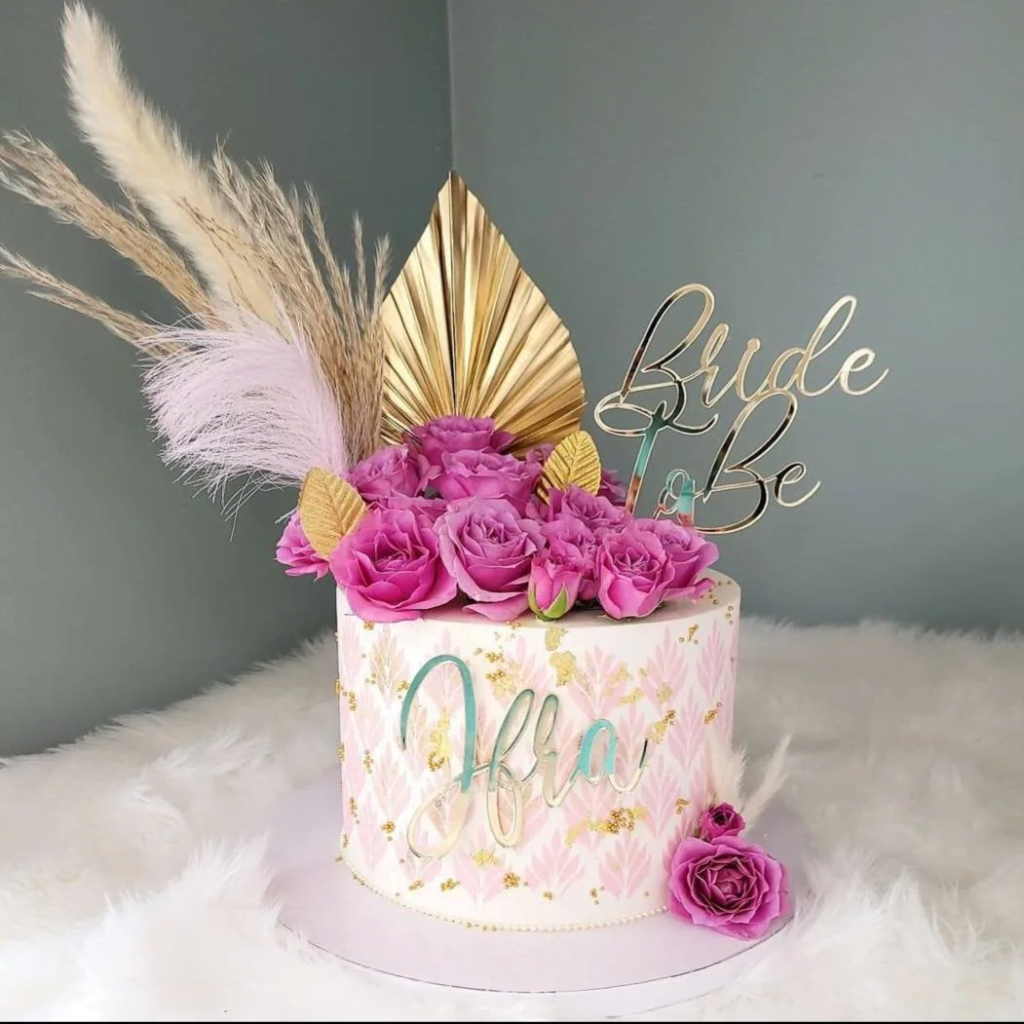 A bridal shower is a joyous occasion that sets the stage for the upcoming wedding. Choosing the perfect cake can be a delightful and creative way to celebrate your bride-to-be. Whether you opt for classic elegance, floral fantasy, vintage charm, or a personalized touch, the cake will undoubtedly be a highlight of the event, leaving everyone with sweet memories of this special day. Make sure to consult with a skilled cake designer to bring your chosen design to life and ensure it tastes as heavenly as it looks. Cheers to the bride-to-be and her journey to wedded bliss!
Bon Voyage
Set the tone for the adventure ahead with a passport-inspired cake. A cake shaped like a passport, complete with edible visa stamps showcasing the couple's upcoming honeymoon destinations, is an excellent choice. Decorate it with a world map, luggage, and a tiny edible airplane for that perfect travel-themed touch. If the bride-to-be and her partner have a specific honeymoon destination in mind, consider designing a cake that represents that place. For example, a tropical beach destination might feature a cake adorned with edible palm trees, seashells, and beach chairs. Alternatively, a European getaway could include iconic landmarks like the Eiffel Tower or the Colosseum.
Bring a sense of wanderlust to the party by crafting a cake that looks like vintage luggage. Stack square cake layers to create the suitcase shape, and then cover it in fondant to mimic leather. Add edible luggage tags with the bride and groom's names, as well as the destination and wedding date. Embrace the spirit of adventure with a cake adorned with elements like hot air balloons, globes, compasses, and hiking boots. This cake design will remind everyone that life is a journey, and the newlyweds are embarking on an exciting one together.
Top It With Love
The first step in creating your dream wedding cake is selecting the flavors that will delight your taste buds and those of your guests. Whether you're a fan of classic vanilla and chocolate or daring enough to try exotic flavors like lavender and passion fruit, your cake's taste should reflect your personality as a couple. Your wedding cake should be a work of art, and designing it is a chance to get creative. Think about the overall theme of your wedding and incorporate it into the cake's design. Do you want a traditional tiered cake, a rustic naked cake, or a modern and minimalist masterpiece? Choose colors, textures, and decorations that resonate with your love story.
Infuse your love story into your wedding cake. Consider incorporating elements from your journey together, such as the place you met, your shared hobbies, or even a quote that's meaningful to both of you. These personal touches will make your cake even more special. Schedule tasting sessions with your chosen baker to ensure the flavors you've selected are as delicious as you imagined. Don't be afraid to provide feedback and make adjustments to create the perfect taste sensation.
On Palette
A classic elegant cake is the perfect choice for those who appreciate timeless beauty. A three-tiered cake adorned with delicate lace detailing, sugar flowers, and a subtle hint of shimmer exudes sophistication and grace. opt for a color palette that matches the bridal theme, such as soft pastels or romantic whites, to create a visually stunning centerpiece that will leave everyone in awe. If you're planning a bridal shower with a rustic or countryside theme, a cake that captures the essence of nature is ideal. Consider a semi-naked or buttercream-frosted cake decorated with fresh flowers, berries, or twigs. This charming design brings a touch of romance and organic beauty to the table, while the simplicity of the presentation adds a cozy and intimate feel.
A whimsical cake is a perfect choice for the bride with a playful and imaginative spirit. Let your creativity run wild with a cake featuring unique shapes, vibrant colors, and unexpected decorations. From carousel-inspired tiers to hand-painted illustrations or edible sugar sculptures, the whimsical cake will surely be a conversation starter and a delightful surprise for all attendees. Embrace the charm of the past with a vintage-inspired bridal shower cake. Adorned with delicate lace patterns, sugar pearls, and intricate piping work, this cake style captures the elegance and nostalgia of a bygone era. Consider incorporating vintage motifs such as keys, cameos, or delicate bows to add a touch of whimsy and authenticity.
Barbie Bride
When it comes to dream weddings, a Barbie-inspired theme is every little girl's fantasy. From the elegant wedding gown to the picture-perfect accessories, Barbie dolls have been a source of inspiration for generations. So why not take that inspiration to the next level with a Barbie Bride-to-Be cake that's as enchanting as the doll herself? we'll show you how to create a show-stopping Barbie Bride-to-Be cake that will make your wedding day truly magical.
Creating a Barbie Bride-to-Be cake is a delightful way to celebrate your wedding day with a touch of childhood nostalgia and whimsy. This cake is sure to be the centerpiece of your wedding dessert table and will leave your guests in awe of its beauty. Whether you're a lifelong Barbie fan or simply looking for a unique wedding cake idea, this creation is bound to make your special day even more magical. Enjoy your Barbie-inspired wedding cake and all the sweet memories it brings!