When it comes to dreamy destination weddings, Jamaica is a top pick for couples seeking a tropical paradise backdrop. With its stunning beaches, lush landscapes, vibrant culture, and warm hospitality, Jamaica offers a picture-perfect setting for your special day. we'll explore some of the most enchanting wedding venues on this beautiful Caribbean island, helping you turn your dream destination wedding into a reality.
Strawberry Hill
Imagine exchanging vows amidst lush tropical gardens, with the Blue Mountains towering majestically in the background. Strawberry Hill offers unparalleled natural beauty that creates a breathtaking setting for your wedding day. With its sweeping views, vibrant flora, and crisp mountain air, this venue is a photographer's dream come true.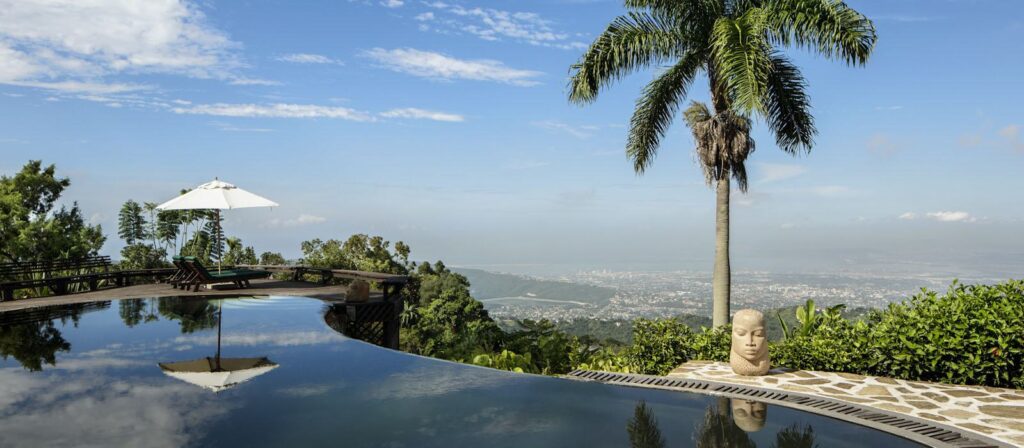 Planning a destination wedding can be overwhelming, but Strawberry Hill's experienced wedding planning team is here to help. From coordinating the ceremony to arranging catering and entertainment, their expertise ensures your big day goes off without a hitch. You can customize your wedding package to suit your preferences and budget, making it a stress-free experience.
Sandals South Coast
Imagine exchanging vows in an overwater chapel surrounded by the crystal-clear waters of the Caribbean Sea. Sandals South Coast boasts one of the most unique wedding venues in the world an intimate chapel with panoramic ocean views. Your guests will be mesmerized by the stunning backdrop as you say "I do" in this truly magical setting.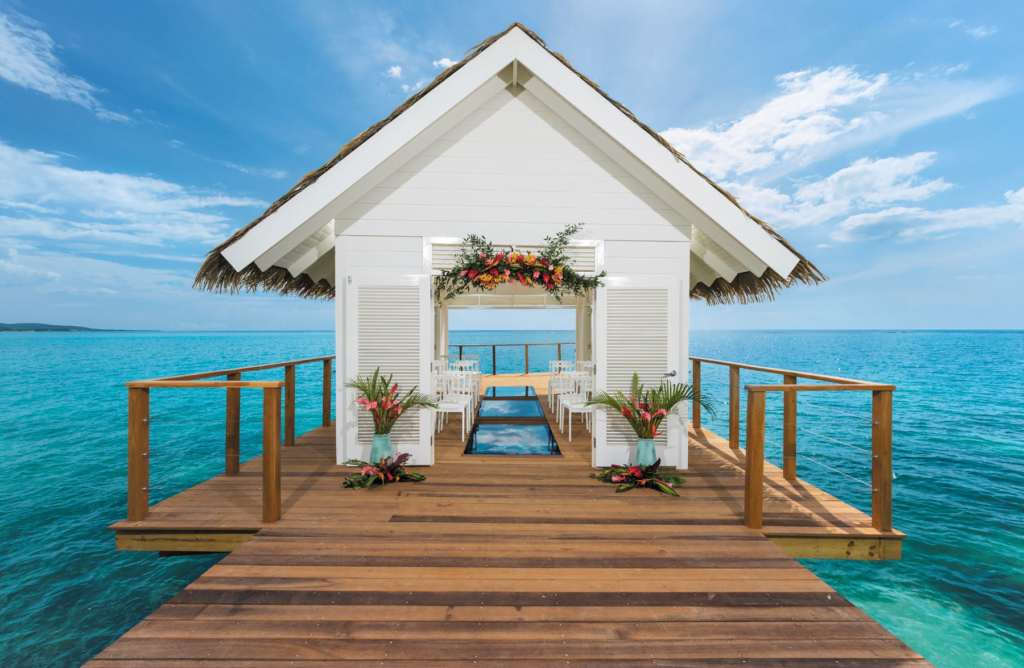 For those who prefer a beachfront wedding, the pristine, white-sand beaches at Sandals South Coast are the perfect choice. Whether you want an intimate ceremony for two or a grand celebration with family and friends, the beach provides a romantic and picturesque setting to make your dream wedding a reality.
Couples Tower Isle
Jamaica's natural beauty, vibrant culture, and warm hospitality make it an ideal destination for couples seeking a dream wedding in paradise. Among the many stunning venues on this Caribbean island, Couples Tower Isle stands out as a top choice for couples looking to say "I do" in a picture-perfect setting. we'll explore why Couples Tower Isle is a fantastic choice for a destination wedding and highlight some of the most enchanting wedding venues it has to offer.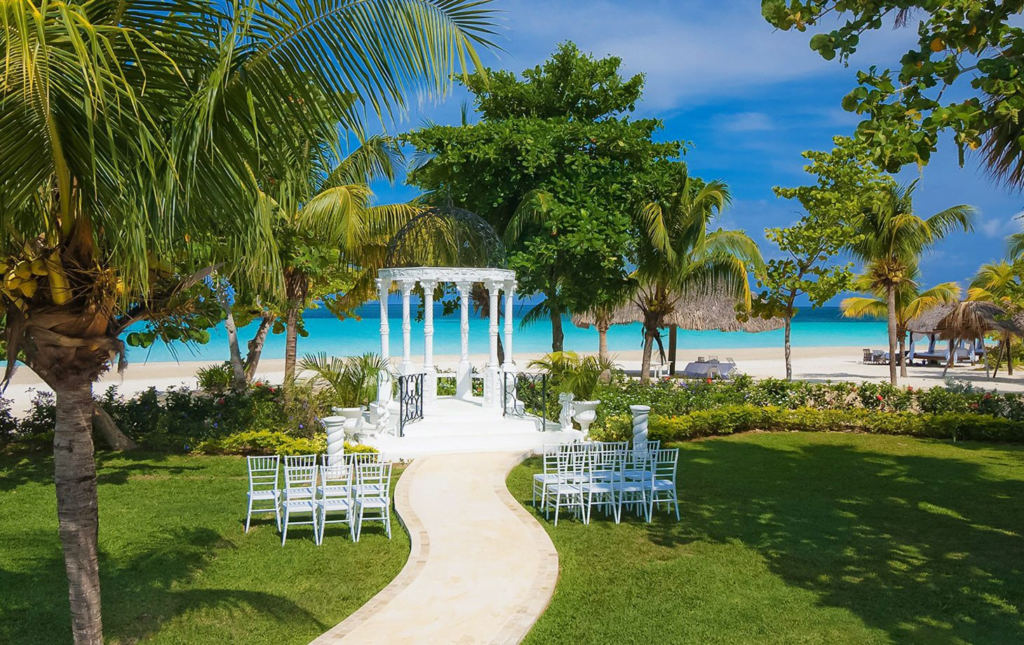 Couples Tower Isle in Jamaica is a dream destination for couples looking to tie the knot in a tropical paradise. With its stunning wedding venues, top-notch service, and the natural beauty of Jamaica as your backdrop, your destination wedding at this resort is sure to be an unforgettable experience for both you and your guests. Start planning your romantic journey to happily ever after at Couples Tower Isle today!
Secrets Wild Orchid Montego Bay
Nestled on the northwest coast of Jamaica, Secrets Wild Orchid Montego Bay boasts an idyllic setting that combines the natural beauty of the Caribbean with modern luxury. With its proximity to Montego Bay's Sangster International Airport, you and your guests can quickly escape into this tropical paradise, leaving behind the stresses of daily life.
If you're ready to transform your destination wedding dreams into reality, Secrets Wild Orchid Montego Bay in Jamaica is the place where love stories come to life. With its breathtaking setting, luxurious accommodations, and dedicated wedding planning team, your special day will be everything you've ever imagined and more. Say "yes" to love, adventure, and lifelong memories in the heart of the Caribbean at Secrets Wild Orchid Montego Bay.
Grand Palladium Jamaica Resort & Spa
One of the most alluring aspects of the Grand Palladium Jamaica Resort & Spa is its pristine beachfront location. Imagine exchanging vows with the sound of gentle waves as your backdrop, golden sands beneath your feet, and a breathtaking Caribbean sunset on the horizon. The resort offers a variety of beachfront wedding packages, ensuring you have a picture-perfect ceremony in paradise.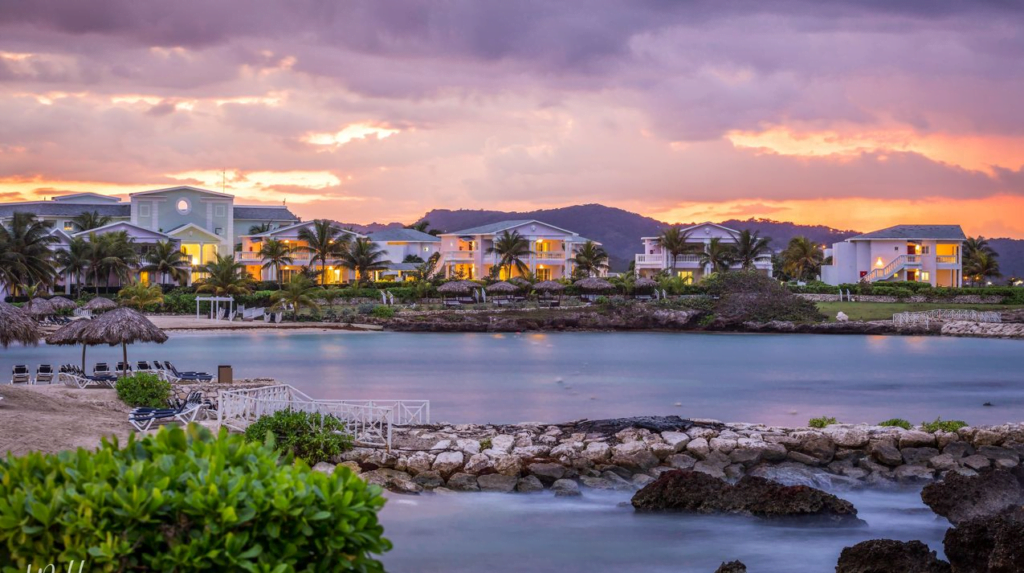 Planning a destination wedding can be overwhelming, but the Grand Palladium Jamaica Resort & Spa has a team of experienced wedding planners dedicated to making your day stress-free and memorable. They will assist you in customizing every detail of your wedding, from flower arrangements to the reception menu, to ensure it reflects your unique style and preferences.