Transport your guests to a bygone era with a vintage tea party theme. Decorate with lace tablecloths, antique teacups, and floral arrangements. Encourage guests to wear vintage dresses and hats for an added touch of elegance. Bring a taste of the tropics to your bridal shower with a Hawaiian luau theme. Decorate with leis, tiki torches, and tropical flowers. Serve fruity cocktails and have a hula dance lesson for entertainment.
Champagne Brunch
Transport your guests to a bygone era with a Vintage Glamour champagne brunch theme. Decorate the venue with vintage china, lace tablecloths, and antique teacups. Incorporate classic champagne coupes for a touch of elegance. Encourage guests to dress in vintage attire, and don't forget to play some jazz music in the background to set the mood.
Indulge in the romance of Paris with a Parisian Elegance theme. Use a color palette of soft pinks, whites, and gold accents. Serve champagne alongside a spread of croissants, macarons, and petit fours. Decorate with Eiffel Tower figurines, vintage maps of Paris, and elegant French-inspired centerpieces. If the bride loves the beach, consider a Beachside Bliss theme. Host the brunch near the shore or decorate with beach-inspired elements. Use seashell and starfish decorations, and serve champagne in seashell-shaped glasses. Opt for a seafood-heavy brunch menu, and encourage guests to wear beachy attire.
Nautical Affair
A bridal shower is a special occasion where friends and family gather to celebrate the bride-to-be before her big day. If you're looking for a unique and charming theme to host the perfect bridal shower, a nautical affair might be just what you need. Nautical themes evoke feelings of romance, adventure, and timeless elegance, making them an excellent choice for celebrating the journey of love. we'll explore the elements that make a nautical affair bridal shower theme unforgettable and provide you with creative ideas to make it a day to remember.
Choose a venue that complements the nautical theme. Waterfront locations, beachside resorts, or even a local yacht club can provide the perfect backdrop for your celebration. Decorate the space with nautical flags, ropes, lifebuoys, and lanterns to create a maritime ambiance. Transform the venue into a nautical wonderland by incorporating themed decorations. Use striped tablecloths or runners, maritime centerpieces with seashells and driftwood, and place settings adorned with anchor motifs. Don't forget to add fresh flowers in shades of blue and white to enhance the coastal vibe.
Beach Bonanza
Planning a bridal shower that's as refreshing and breezy as a day at the beach? Look no further! Beach-themed bridal showers are all the rage, offering a relaxed and picturesque atmosphere for celebrating the bride-to-be. we'll explore a range of Beach Bonanza Bridal Shower Themes that will transport your guests to a coastal paradise. From decor ideas to fun activities and tasty treats, we've got you covered to make this special occasion unforgettable.
Go nautical with a bridal shower that captures the charm of the sea. Decorate with navy blue and white stripes, anchor motifs, and seashell accents. Consider serving seafood appetizers and hosting a "Message in a Bottle" station where guests can write notes of love and advice for the bride-to-be. Combine beach vibes with bohemian flair for a laid-back yet stylish bridal shower. Opt for dreamy macramé decorations, floor cushions, and low tables adorned with seashells and driftwood. Activities like DIY flower crown making and beachy henna tattoo stations will keep everyone entertained.
Tea Party
Transport your guests to the charming English countryside with a classic English tea party theme. Decorate with floral china, lace doilies, and pastel-colored roses. Serve an array of traditional teas, finger sandwiches, scones with clotted cream and jam, and delectable petits fours. Host a garden-inspired bridal shower amid lush greenery. Decorate with potted plants, hanging paper lanterns, and wooden tables. Offer herbal teas and refreshments featuring fresh garden produce like cucumber sandwiches and fruit-infused water.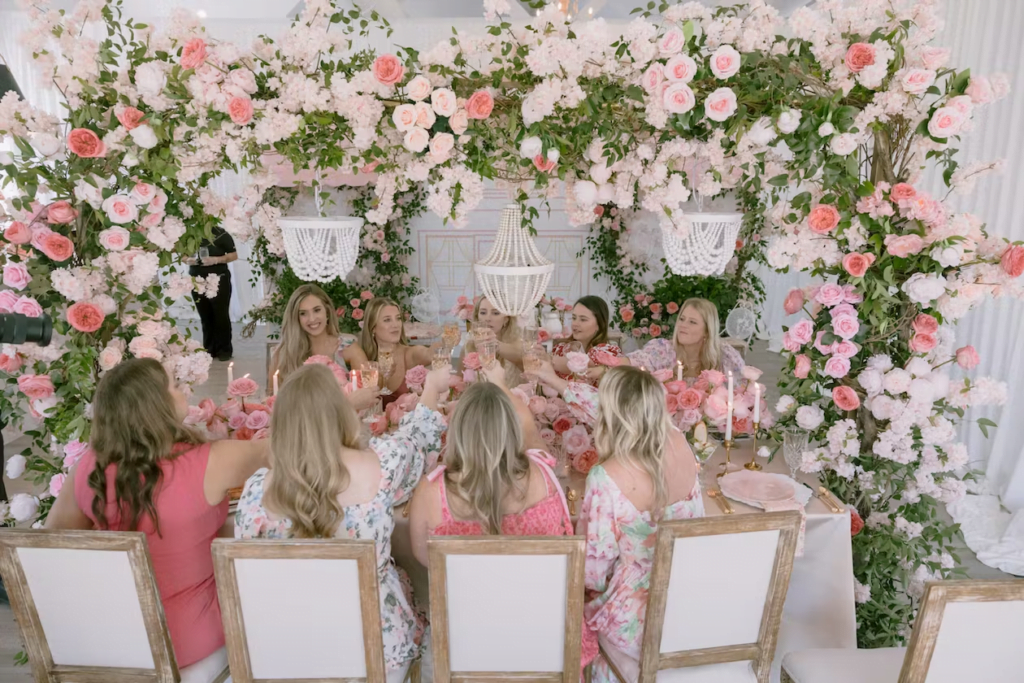 Transform the bridal shower into a fairy tale with a whimsical tea party inspired by storybook characters. Decorate with enchanted forest elements and fairy lights. Serve whimsical desserts and teas inspired by favorite fairy tales. For a contemporary twist on the traditional tea party, opt for a modern minimalist theme. Use clean lines, monochromatic color schemes, and simple, elegant tableware. Serve artisanal teas and a selection of gourmet, small-batch treats.
Glam Pajama Party
Bridal showers have come a long way from the traditional tea parties and brunches. Today's brides are looking for unique and exciting ways to celebrate their upcoming nuptials. If you're a bride-to-be who wants to break away from convention and host a memorable event, or if you're a friend tasked with planning a bridal shower, consider the idea of a "Glam Pajama Party." In this blog post, we'll explore the elements that make a Glam Pajama Party Bridal Shower theme shine, from decor and activities to food and favors. Let's get ready to glam and celebrate!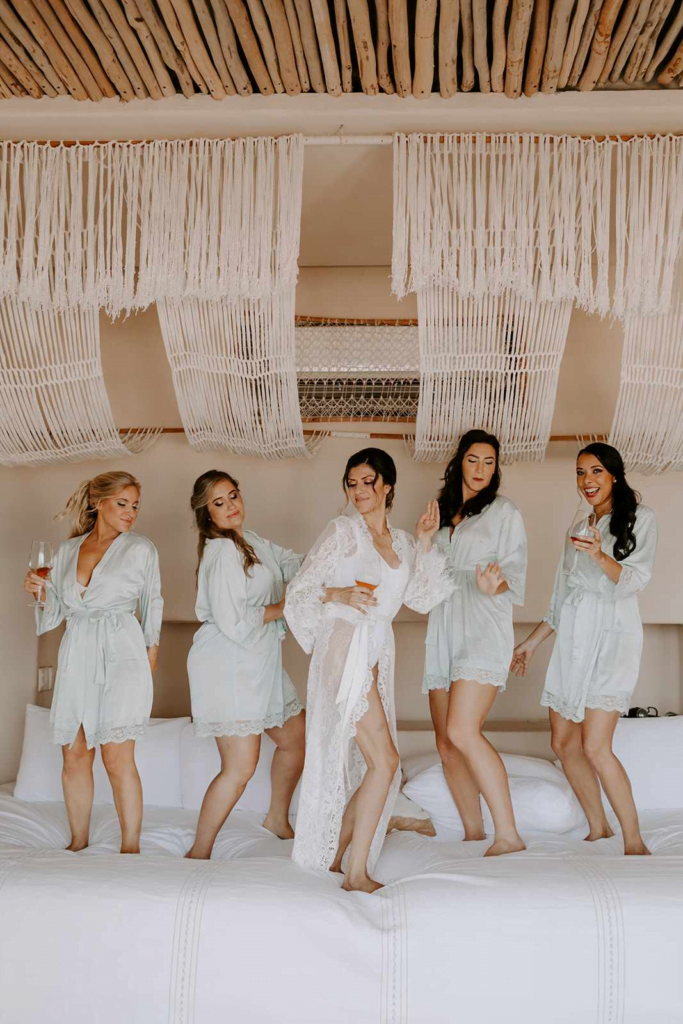 Encourage your guests to come in their fanciest pajamas or loungewear. Think silk robes, satin pajama sets, or even vintage-inspired nightgowns. You could also provide a pajama station with comfy, matching sets as party favors. Create a luxurious atmosphere with plush pillows, fluffy blankets, and twinkling fairy lights. Use plenty of mirrors for that glam touch. A Hollywood-style backdrop with a red carpet can serve as a photo booth for guests to capture their glamorous moments. Set up beauty stations for guests to indulge in pampering activities like manicures, pedicures, facials, and makeup applications. Hire a professional makeup artist for a mini glam session, or DIY with a variety of beauty products.