Raise a toast to your lifelong friendship with personalized whiskey glasses. Engraving each glass with your groomsmen's names or initials adds a personal touch that they'll cherish for years to come. Pair these glasses with a bottle of their favorite whiskey for a complete gift. For a timeless and elegant gift, consider customized pocket watches. Engrave each one with your wedding date or a heartfelt message. Pocket watches not only make a stylish accessory but also serve as a meaningful keepsake.
Eyewear
Eyewear is a versatile accessory that can complement various styles and outfits. Whether your groomsmen are into classic, modern, or casual fashion, there's eyewear to match every taste. You can easily personalize eyewear with engraved initials, names, or special messages to make each gift feel unique and meaningful. Quality eyewear can last for years, serving as a lasting reminder of your special day and the bond you share with your groomsmen. Groomsmen can use eyewear for both formal occasions and everyday wear, ensuring that your gift remains practical long after the wedding.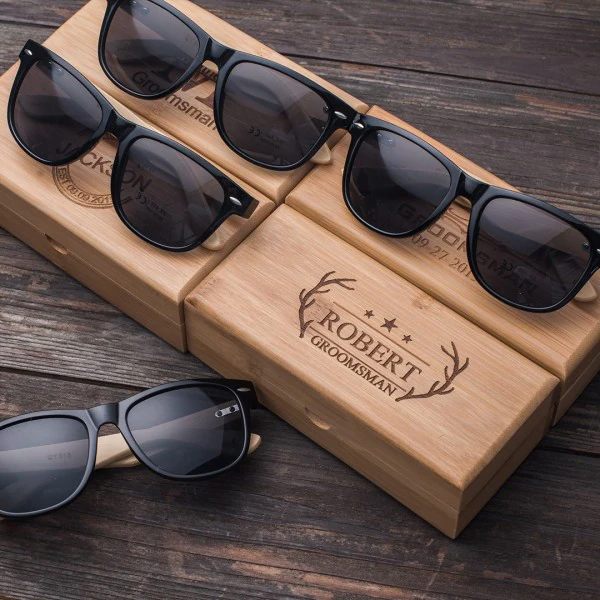 Personalized sunglasses with your groomsmen's names or initials make for a cool and functional gift. You can choose from a variety of styles, including aviators, wayfarers, and sporty frames, to suit each groomsman's taste. Wooden frame glasses are eco-friendly and add a touch of rustic charm. Consider engraving the wooden arms with a special message or date for a personalized touch. If you want to splurge a bit, opt for designer eyeglasses that are not only stylish but also offer exceptional quality and comfort. Choose a brand that resonates with your groomsmen's tastes. In today's digital age, blue light-blocking glasses are highly practical. These stylish glasses can help protect your groomsmen's eyes from digital screen strain during work or play. Go for a retro look with vintage-inspired eyewear, such as round or horn-rimmed glasses. These timeless designs are sure to make a fashion statement.
Ear Phones
When it comes to showing appreciation to your groomsmen, finding the right gift can be a challenge. You want something that's thoughtful, practical, and stylish a token of your gratitude for their support on your big day. Earphones have become an indispensable accessory in our fast-paced world, making them an excellent choice for groomsman gifts.
Choosing the right groomsman gifts can be a thoughtful and memorable part of your wedding planning. These stylish earphones cater to a variety of preferences, ensuring that each groomsman receives a gift they'll cherish long after your special day. So, whether your groomsmen are tech-savvy audiophiles or simply appreciate a good pair of earphones, these options are sure to delight and express your gratitude.
Swimwear
Planning a beach wedding is a dream come true for many couples. The sun, sand, and surf provide the perfect backdrop for a memorable celebration of love. If you're a groom looking for unique groomsmen gifts that align with your beachy wedding theme, look no further than swimwear! Stylish, practical, and a perfect fit for the occasion, swimwear can make for fantastic groomsmen gifts that your friends will appreciate long after the wedding day.
Imagine your groomsmen sporting matching personalized swim trunks on the beach. These trunks can be customized with each groomsman's name or initials, making them a thoughtful and unique gift. You can even choose colors that complement your wedding's color scheme for a coordinated look in photos. For a more practical option, consider gifting your groomsmen stylish rash guards. These protective swim shirts not only look great but also provide sun protection during long hours on the beach. Choose designs or colors that match your wedding theme for a cohesive look.
Slippers
Choosing the perfect groomsman gifts can be a challenging task. You want something thoughtful, practical, and memorable that will show your appreciation for their support on your big day. Look no further than stylish slippers! They are not only comfortable but also make for a fantastic and versatile gift idea.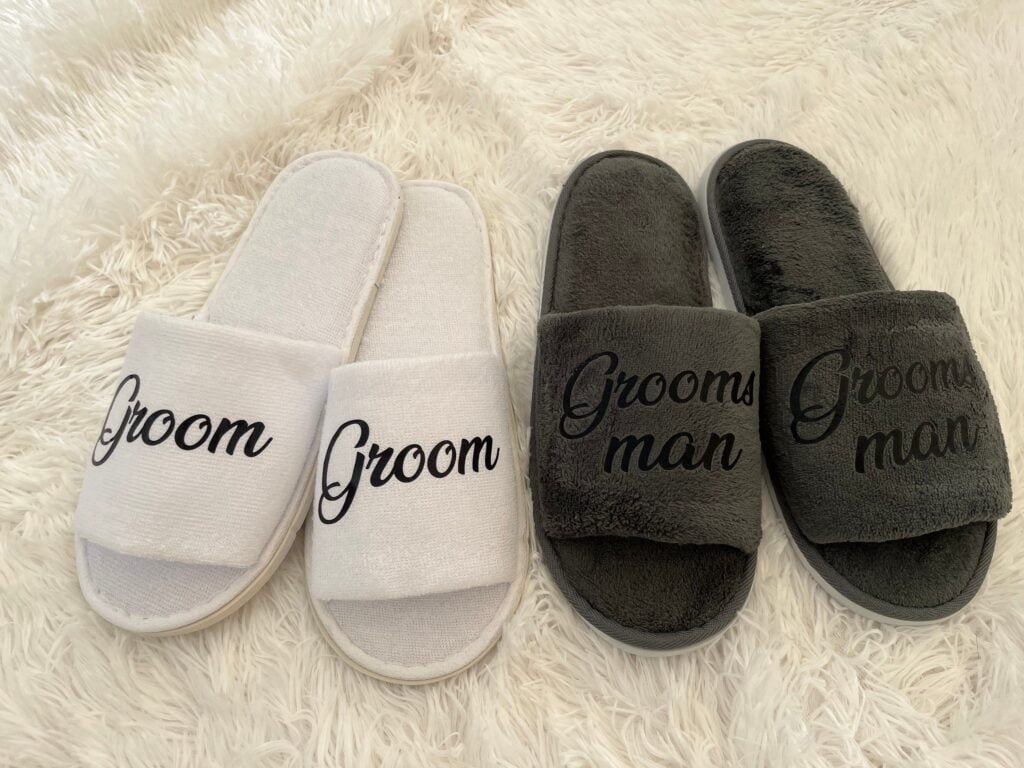 Stylish slippers are not only comfortable but also make for thoughtful and appreciated groomsmen gifts. Whether you opt for classic leather moccasins, luxurious velvet smoking slippers, or personalized monogrammed slippers, your groomsmen will cherish these tokens of your appreciation. Show your gratitude with the gift of ultimate comfort and style on your special day.
Gents Hex Jewelry Stand
Choosing the perfect groomsman gifts can be a challenging task, as you want to express your appreciation for their support on your big day with something meaningful and unique. If you're looking for a gift that combines style and functionality, a Gents Hex Jewelry Stand might be the ideal choice. we'll explore why this jewelry stand makes for an excellent groomsman gift and offer some tips on how to personalize it for your closest friends.
The Gents Hex Jewelry Stand is a piece of art in itself. Its hexagonal shape and sleek design make it a stylish addition to any dresser or bedside table. Not only does it look good, but it's also incredibly practical for organizing and displaying jewelry. These jewelry stands are often crafted from high-quality materials like metal or wood, ensuring they'll last for years to come. This durability makes them a lasting token of your friendship. Many Gents Hex Jewelry Stands can be customized with engravings, allowing you to add a personal touch. You can include your groomsmen's names, the date of your wedding, or a special message to make each gift unique. Groomsmen who wear accessories will appreciate having a dedicated space to keep their jewelry organized. No more tangled necklaces or misplaced cufflinks – the jewelry stand keeps everything neatly in place.