Getting engaged in the winter can result in some of the most amazing engagement photos. So, take advantage of the season and get a magical photoshoot in the snow. It can't get any better than using the snow to your advantage and creating memories with winter engagement photos in a winter wonderland. If you want the romance between you and the enchantment of the season to shine through your photos, then consider a holiday-inspired winter engagement session.
Lovely Ideas For Winter Engagement Photos
When scheduling engagement photos in the winter, it is a good idea to wait for the snow as this is a key element for your photos. Also pick a location that perfectly depicts winter, as a path with evergreen trees and mounds of snow. For the best light, go in the morning, or just before sunset. Also, for props, consider mugs for eggnog or gluhwein, cute, warm hats, and plaid blankets for snuggles and kisses.
Engagement Photos In The Snow
Allow your love to shine through your winter engagement shoot with poses that encourage you to hold each other close. So, lots of hugs and kisses, sometimes under mistletoe in a nod to the holiday season. If you are a playful couple, then consider letting loose and playing in the snow, throwing a few snowballs at each other. You could even make a heart-shaped snowball and hold it together for the camera.
Another option is shared activities, like snowboarding on the slopes or something as simple as enjoying the swings in the snow.
Romantic Winter Couple Photos
Sometimes the simplest things turn out to be the best, even with engagement photo ideas for winter. When considering a white winter engagement, don't miss the magic of a simple kiss, a walk while holding hands, hugging each other, or even the emotion behind a loving and affectionate look from one partner to the other. Capture these with backdrops of a Christmas street in the city or an evergreen winter forest for some of the best winter engagement photos.
Winter Engagement Shoot With Your Dog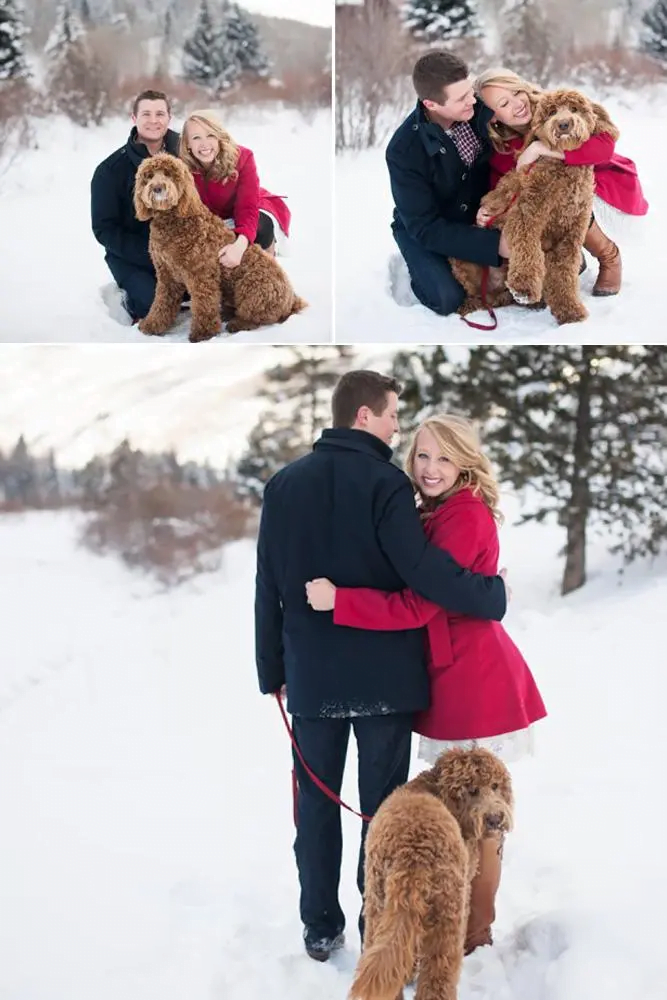 If you have a pet such as a dog, bring them along to be part of your engagement photos in the snow, after all, they're family. Get some shots where they join in on the fun and all of the hugs and kisses, even the cuddles with the blankets. You are sure to capture some undeniably fun, romantic, and adorable winter engagement photos.
Get the best winter engagement photos with these examples and tips that will inspire you when you plan your own. One of the best seasons for a celebration, the winter produces such picturesque locations and ideas, that it would be a sin not to use the opportunity. Enjoy your winter wonderland and the most romantic snow engagement pictures.