It's no longer news that many couples opt for a destination wedding these days, whether locally or on foreign soil. In fact, according to a study done by Real Weddings — about 23% of couples got married more than 200 miles away from their homes. Hence, there's no crime as a couple to want to have something exotic and away from home. So, what is the average price of a destination wedding, and how much does a destination cost for specific locations? Whether on a Caribbean island, or a beach in Mexico, let's see average destination wedding costs, breakdowns, and estimations.
What Is The Average Cost Of A Destination Wedding?
One of the factors to consider when planning a destination wedding is the location. Would you rather do something local and out of state? Or do you opt for international luxury wedding destinations?
That decided, what are the average destination wedding costs to make your budget?
The total average price of a destination wedding, whether local or international is about $33.391. It has also been well established that you're to spend more hosting a local destination wedding at about $28.372. This is because of the sizeable guest list. On the other hand, you're likely to spend more per guest for an international destination wedding at an average of $27.277. This is because the number of guests at an international destination wedding is 86.
The bulk of the money goes into travel. Couples tend to subsidize it for guests by paying a fraction of it. So, for local destination weddings, couples part with an additional $532. And for international weddings, it's an additional $1427 for guests' travel.
In total, this brings the couple's expense per guest to $2623 for an international destination wedding. And for a local destination wedding, each guest consumes $1032.
Destination Wedding Cost Estimator
When you decide on planning a wedding of any kind, the first thing to do is set a budget. This is very important as it's the basis of everything. How much can you afford and how much are you willing to spend? If it's a destination, you must plan everything to the last detail. Next is your checklist, a very dicey aspect.
Your checklist will help gauge your budget and the guest list. You want to know every single item that will make your wedding a success. This is because you don't want to get stranded halfway. It's even more terrible that everything can be ruined in the twinkle of an eye. So details, and careful planning.
Having known how much is at your disposal and the things you need to do, accommodate the guest list. The guest list has to match what's in your checklist and what your budget can afford. It's so because whatever is on your checklist will cater to only a particular number of people. And this brings us to the destination wedding cost estimator.
For a regular traditional wedding, the cost per guest is usually an average of $200. We've also established that a local destination wedding cost per guest is $1032. An international destination wedding cost per guest is $2623.
To get an estimate, we'd work with the numbers that were gotten from the research studies above. If you've invited 100 guests, 60 are likely to attend. Take the numbers and do the following.
60 guests x $1032 (cost per guest for a local destination wedding)
60 guests x 2623 (cost per guest for an international destination wedding)
You can switch with your real-time budget and cost per guest. The estimation will depend on the kind of destination wedding you're having.
Destination Wedding Cost Breakdown
Aside from important stuff like wedding venue, officiant, and destination wedding outfit expenses, some factors like the destination wedding costs. Here we are going to do the destination wedding cost breakdown.
Flight fare: If the couple has kids, parents, close family, and a wedding party going with them, they offer to pay.
Food: Unlike a traditional wedding where you have only one meal, this could last even a weekend. So, couples will end up paying for extra brunches, breakfasts, and dinners.
Lodging: Up to 40% of couples offer to pay for their accommodation and their wedding party. The best bet is to look out for group packages with the hotels.
Fun activities: One of the perks of destination weddings is to get new experiences. Before or after the wedding, guests will enjoy fun group activities. About 17% of couples offer to pay for this.
Transportation: If the hotels do not offer transport, you'd have to find a way. Couples will pay for transport from the airport to the lodge, to the ceremony, reception, and back to the lodge and airport.
Gifts: Guests who attend destination weddings should come home with souvenirs. These impressive gift bags will set couples back by over $ 1,000 extra.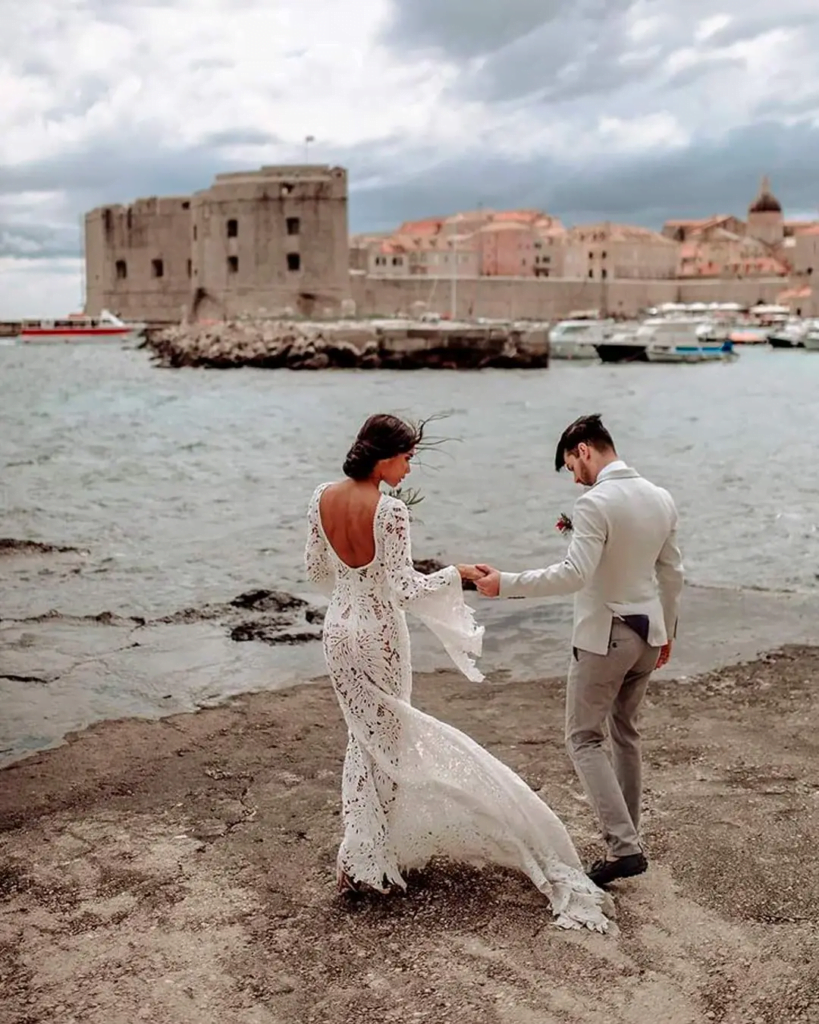 So how much do destination weddings cost for both local and international affairs and how do you break down and estimate? We've been able to put down the average price of a destination wedding, and also break down the mode of expense. You'd spend more generally on a local destination wedding and more per head on an international destination wedding. This is owing to a large number of guests locally but with a lesser cost per head. An international wedding will see a lesser number of guests incurring more logistic expenses.