The Haldi ceremony is a vibrant and joyous pre-wedding ritual that is an integral part of Indian weddings. It involves applying turmeric paste to the bride and groom to enhance their skin's glow and is celebrated with great enthusiasm. For the modern Indian bride, choosing the perfect Haldi outfit is just as important as any other wedding attire. It should reflect her style, personality, and the overall theme of the wedding. we will explore some stunning Haldi ceremony outfit ideas for the modern Indian bride to help her shine on this special occasion.
Bright Yellow Embellished Lehenga for Haldi Ceremony
Yellow, the color of sunshine, is associate with happiness, positivity, and new beginnings. It represents the freshness and zest that come with embarking on a new chapter in life. Wearing a bright yellow lehenga for your Haldi ceremony not only adds a vibrant touch to your ensemble but also symbolizes your excitement and optimism for the future.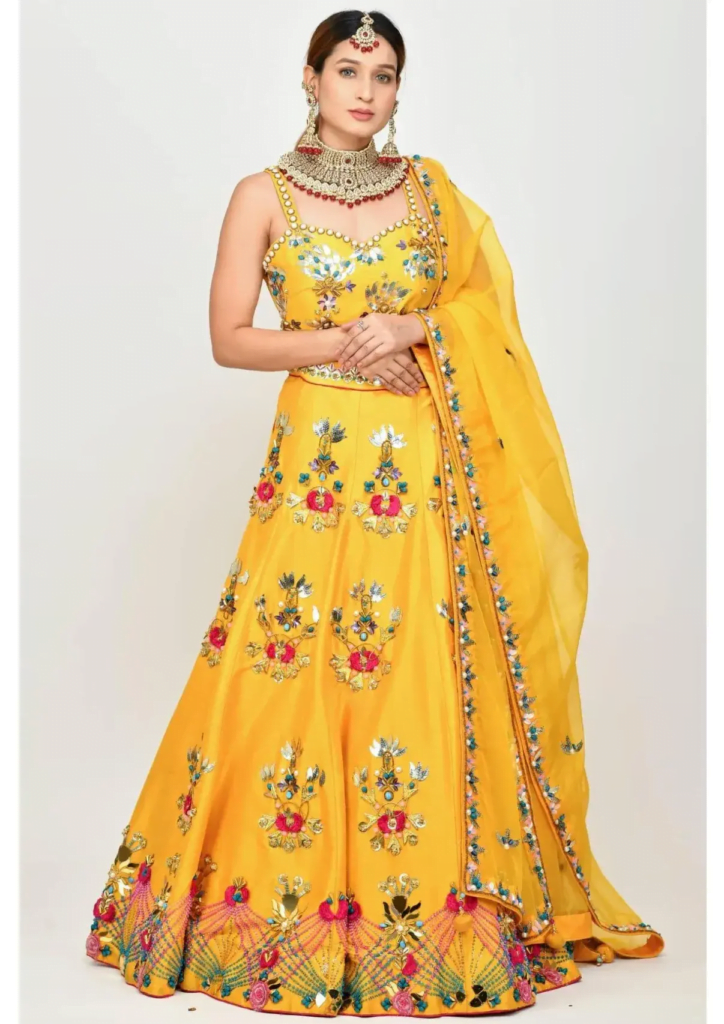 A bright yellow embellished lehenga is a perfect choice for your Haldi ceremony. It symbolizes happiness, optimism, and the beginning of a new chapter in your life. By carefully selecting the shade, embellishments, and styling details, you can create a look that's both traditional and contemporary, ensuring that you shine as bright as the sun on your special day. Embrace the joy and vibrancy of the Haldi ceremony with this radiant choice of attire.
Beige and Yellow Haldi Ceremony Outfit
One of the most popular choices for Haldi ceremonies is a beige and yellow lehenga-choli. The beige skirt paired with a yellow choli (blouse) and a matching dupatta create a harmonious color palette that complements the vibrant atmosphere of the event. You can choose from various fabrics, including silk, chiffon, or georgette, to achieve the desired look and comfort.
To add a touch of elegance to your Haldi ceremony outfit, consider opting for floral embroidery. Yellow and beige outfits adorned with intricate floral motifs, either in threadwork or sequins, can be visually stunning. These motifs can be concentrated at the borders or scattered throughout the outfit for a natural and refreshing feel. Anarkali Suits: For a chic twist on traditional attire, go for a beige and yellow Anarkali suit. Anarkali suits are known for their flowing silhouettes and can make you feel like a princess on your special day. Pair it with statement earrings and minimalistic makeup to complete the look.
Haldi Ceremony Embroidered Lehenga Set
The haldi ceremony is a vibrant and joyous pre-wedding ritual that adds a burst of color and tradition to the wedding celebrations. It's a time when the bride-to-be is adorned with turmeric paste, signifying blessings for her impending nuptials. To make this occasion even more special, many brides opt for exquisite haldi ceremony outfits, and one of the most popular choices is the embroidered lehenga set. we will explore the enchanting world of Haldi ceremony embroidered lehenga sets, diving into their design elements, color palettes, and styling tips to help you shine on your special day.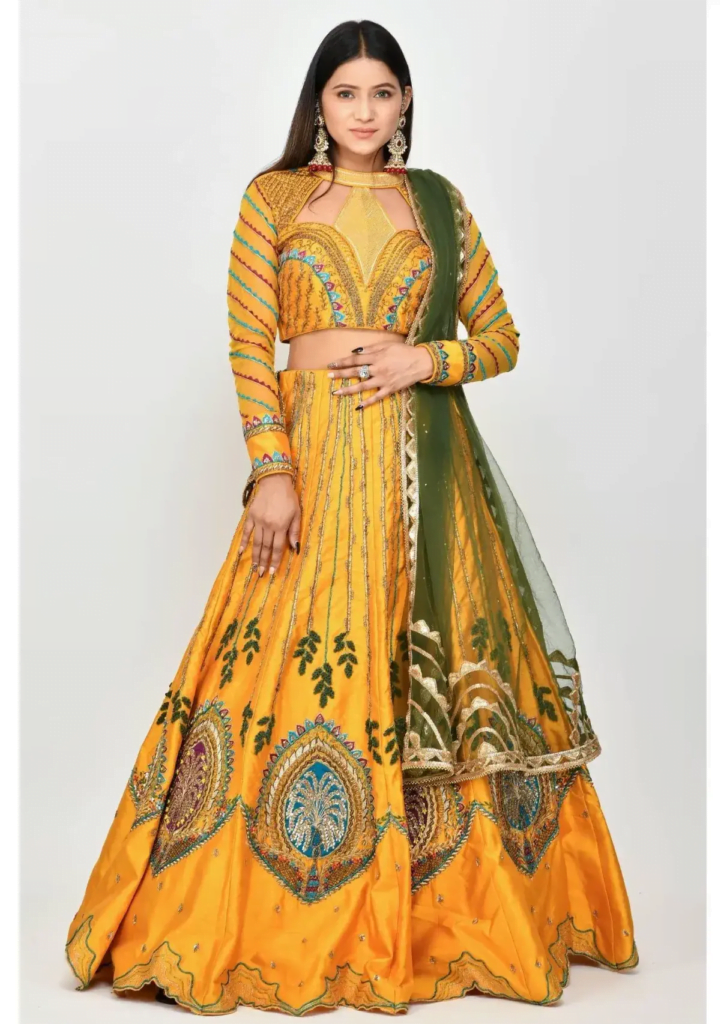 Embroidered lehenga sets are a timeless choice for haldi ceremonies due to their versatility and timeless appeal. The intricate embroidery work adds a touch of opulence and grace to the ensemble, making it perfect for a traditional Indian ceremony. These outfits often feature a lehenga skirt, a blouse or choli, and a dupatta, all adorned with intricate handwork or machine embroidery.
Yellow Haldi Mirror Work Lehenga
Indian weddings are a vibrant tapestry of colors, traditions, and celebrations. One of the most awaited pre-wedding rituals is the Haldi ceremony, where the bride and groom are adorned with turmeric paste to bless them with glowing skin. If you're a bride-to-be or part of a wedding party, choosing the right outfit for this event is essential.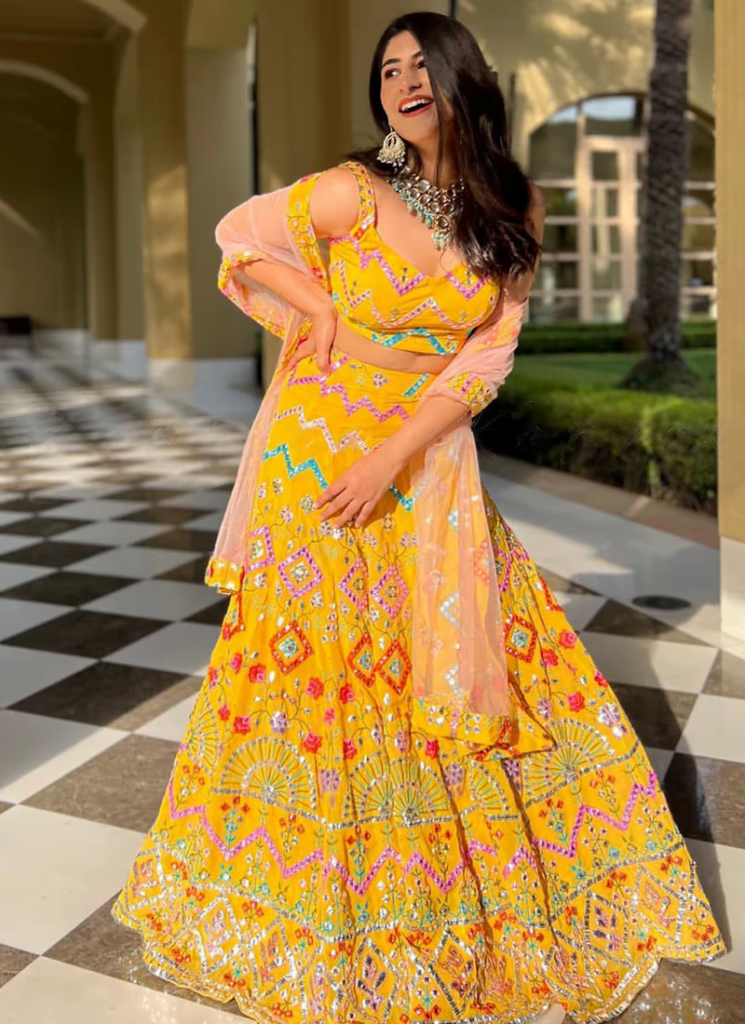 The Yellow Haldi Mirror Work Lehenga is a timeless choice that combines the vibrancy of yellow with the allure of mirror work. It's an outfit that will make you look and feel like a radiant bride during your Haldi ceremony. With its versatility in design, you can personalize it to suit your style while embracing tradition. So, get ready to shine and celebrate your new beginning in style with this stunning ensemble.
Yellow & Green Haldi Ceremony Dress
The Haldi ceremony is an essential pre-wedding ritual in Indian weddings, known for its vibrant colors and joyful atmosphere. One of the most exciting aspects of the Haldi ceremony is choosing the perfect outfit to match the occasion. Yellow and green are popular choices for Haldi ceremony dresses, symbolizing prosperity and new beginnings. we'll explore some stunning yellow and green Haldi ceremony dress ideas that will help you stand out and capture the essence of this beautiful tradition.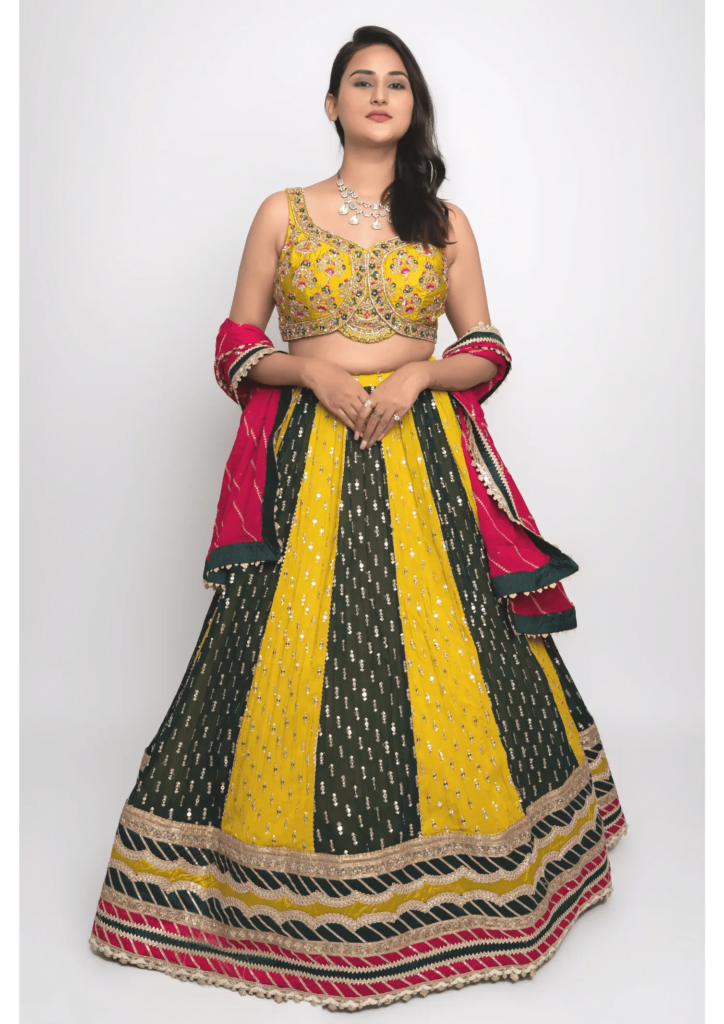 The Haldi ceremony is a special moment in any Indian wedding, and choosing the right outfit is essential to make it memorable. Yellow and green are vibrant and auspicious colors that beautifully capture the spirit of this ritual.
Yellow Lehenga with Unique Blouse
Before we dive into the blouse, let's talk about the foundation of your outfit – the yellow lehenga itself. When selecting a yellow lehenga, consider factors like the shade of yellow, fabric, and embellishments. Opt for a shade of yellow that complements your skin tone.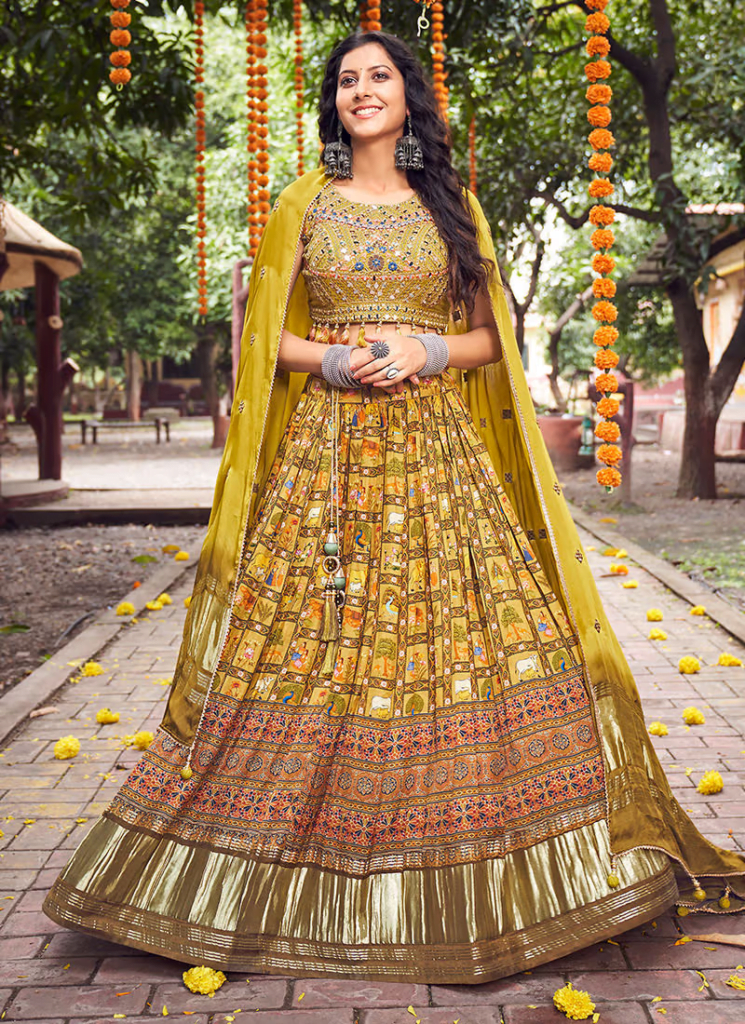 A yellow lehenga paire with a unique blouse is a combination that's bound to turn heads and leave a lasting impression. Whether you're attending a wedding, engagement ceremony, or a festive occasion, this ensemble will make you feel radiant and confident.