Engagement rings come in a variety of shapes and styles, each with its own unique characteristics. Some popular engagement ring shapes include round, princess, oval, pear, cushion, and emerald. The round shape is a classic and timeless choice, while the princess cut features a square shape with pointed corners that create a sophisticated look. The oval shape is elegant, while the pear shape is a flattering combination of a simple round and iconic marquise shape. The cushion shape features soft edges and the emerald cut is characterized by its long, rectangular shape.
Each shape has its own strengths and can be complemented by different settings and metals to create a unique and personalized engagement ring. Ultimately, the choice of shape will depend on your own preference and style.
Cushion Cut Rings
Cushion-cut engagement rings are gaining popularity among boho brides. This diamond cut features softened corners and large facets, which brings it some definite extra sparkle and vintage charm. Also, due to its large facets, cushion cuts look better on larger stones. Choose a cushion cut, if your fiancee has a romantic nature and loves the glamorous elegance of classic old Hollywood. Cushion cut originated in the nineteenth century This timeless gemstone shape originated in the nineteenth century and is especially popular in halo rings. If you are looking for a vintage-inspired ring, this kind of gemstone will be the right choice. Also, choose a cushion cut for fleshier hands – large stones and bold designs will look flattering on girls with larger hands.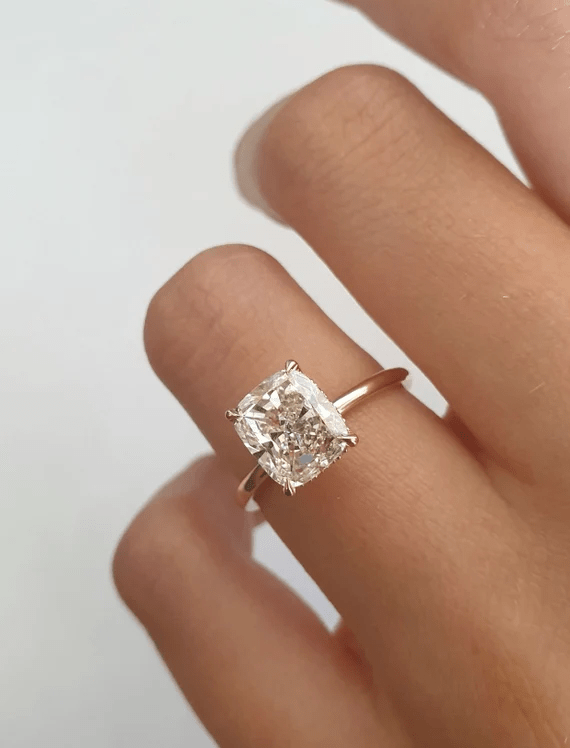 Princess Cut Rings
Princess cut, which was first created in the 1980s is one of the most popular fancy diamond shapes for engagement rings set for women. First of all, this cut is a great choice because it works in almost any style of ring. Also, the princess cut comes the closest to the fire and brilliance of a round diamond, which makes it a perfect combination of unique shape and sparkle for the relative price value. The additional facets of the princess cut add brilliance and make flaws less noticeable, so princess diamonds are one of the least expensive diamond shapes. A princess-cut engagement ring looks bohemian, flirty, and fun, and is often donned as a solitaire engagement ring. Just like other square-shaped gemstones, the princess cut is best for women with long fingers as it makes them appear shorter.
Asscher Cut Engagement Rings
The Asscher cut was developed in 1902 by the Asscher Brothers in Holland, this diamond shape boasts cropped corners and a square shape. Their peak of popularity was in the 1920s, and until recently you could find them only in antique jewelry shops. But the shape is back out and about, due to the cut modifications that give it more brilliance. One of the most famous Asscher cut diamonds was given to Elizabeth Taylor by her husband Richard Burton in 1968. This shape is undeniably elegant, a great choice for a girl who is fashion-forward and prefers to be unique. Asscher cut stones often come with colored diamonds and modern settings, which guarantees some extra attention to the ring. This astonishing shape is all about sophistication and style – a perfect mix of vintage and up-to-date tendencies. Perfect for large hands or fleshy fingers, as they make them look more elegant.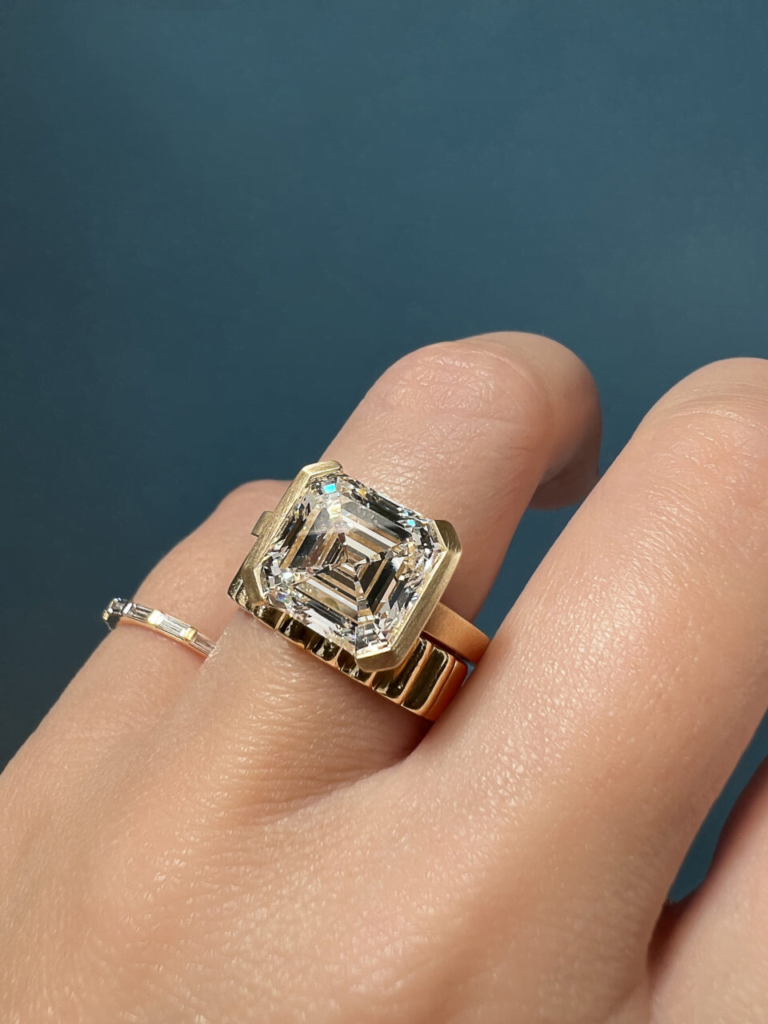 Emerald Engagement Rings
If you want to show off a diamond with a high grade of clarity, a large, glassy table of the emerald cut with its step-cut facets is one of the top choices. This lean rectangular shape makes some of the most beautiful engagement rings. This type of ring is perfect for a girl who is modern, glamorous, and elegant. If she likes to pay attention to detail and is a fan of exquisitely crafted jewelry, this type of diamond cut is definitely for her. Also, its rectangular shape elongates the hand for an ultra-flattering appearance. Famous emerald-cut lovers include Grace Kelly, Sarah Jessica Parker, and Elizabeth Taylor.
Round Engagement Rings
Gold engagement rings with a round-cut diamond are the most popular choice for an engagement ring. It is also the most expensive one, for many reasons – first of all, round-cut stones require perfect symmetry and clarity the rough stone. This shape also requires a larger rough stone, so if you want something classical and luxurious it is your choice. Round-cut diamonds are the brightest and most brilliant stones, due to the way they reflect light. Each of its 58 facets sends a sparkle no other shape can compare with. This type of diamond ring in a solitaire setting is iconic – a truly timeless classic and luxurious simplicity for a stylish lady, who appreciates tradition and elegance. It is also perfect for women with larger hands, as round engagement rings make them look more flattering.