When it comes to wedding photography, capturing the love and connection between the couple is of utmost importance. The way you pose the bride and groom can make a significant difference in the final wedding album. we will explore a combination of classic and modern wedding couple photo poses to help you create stunning and memorable images.
A First Look Moment
Your wedding day is one of the most significant and cherished moments of your life, and capturing those memories through stunning photographs is essential. Among the many moments that you'll want to capture, the "first look" is one that holds a special place in every couple's heart. It's the moment when the bride and groom see each other for the first time before the ceremony, filled with genuine emotions and anticipation.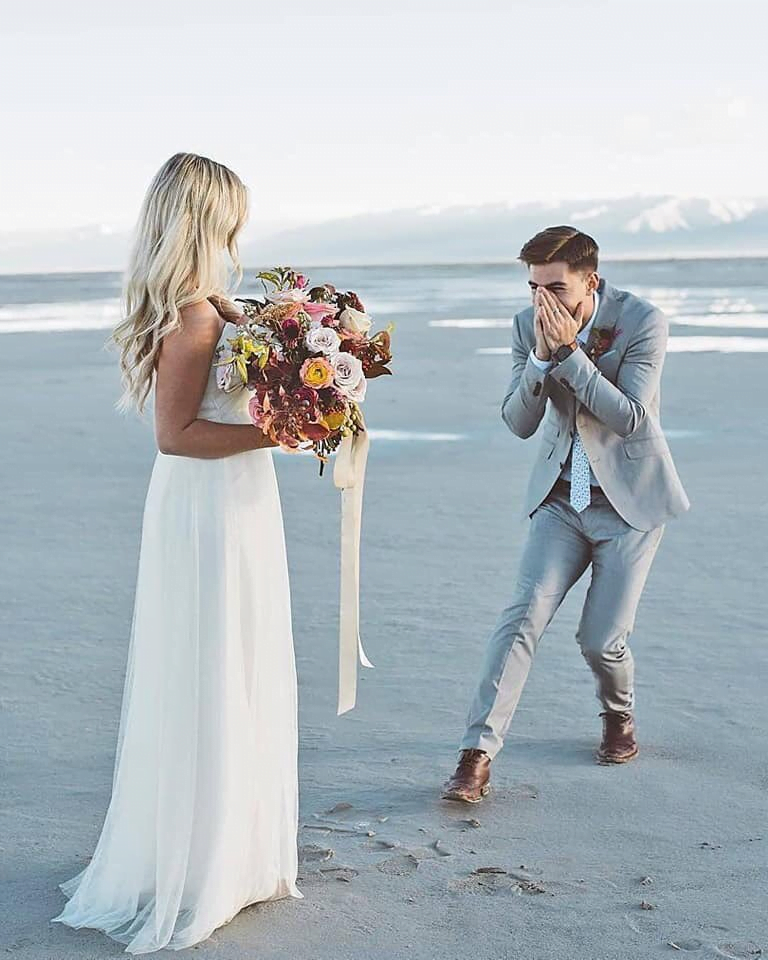 Your wedding day is a celebration of love, and the first look moment is an emotional and intimate part of that celebration. Whether you choose classic poses that stand the test of time or modern poses that reflect your unique style, these photographs will serve as treasured memories for years to come. Work closely with your photographer to capture the essence of your relationship and the magic of the first look in a way that feels authentic to you as a couple.
Wedding Vows Exchanged
A wedding is a beautiful celebration of love and commitment, and one of the most cherished moments of this special day is when the couple exchanges their heartfelt wedding vows. These vows are not only a testament to their love but also a promise for a lifetime together. To immortalize this touching moment, couples often turn to classic and modern photography poses that capture the essence of their love story. we'll explore some timeless and contemporary picture poses that can make your wedding vow exchange even more memorable.
Your wedding day is filled with unforgettable moments, and the exchange of vows is undoubtedly one of the most significant. By choosing classic and modern photography poses, you can ensure that these precious moments are beautifully preserved for a lifetime. Whether you prefer the timeless elegance of classic poses or the innovative charm of modern ones, the key is to capture the love and emotion that make your wedding vows so special. So, work closely with your photographer to plan the perfect shots that will tell your unique love story.
Putting On The Rings
Ask the couple to hold each other close, foreheads touching gently as they exchange rings. This intimate pose showcases their love and connection. Position yourself behind the groom as he places the ring on the bride's finger, capturing the moment from his perspective. This angle adds a unique and personal touch. Focus on the couple's hands as they exchange rings. Capture the intricate details of the jewelry and their entwined fingers, emphasizing the symbolism of the moment. Have the couple open the ring box together, showcasing their anticipation and excitement. This shot works especially well for destination weddings with stunning backdrops.
The exchange of wedding rings is a poignant moment in every couple's journey, and as a photographer, your task is to freeze that moment in time. Whether you prefer classic, timeless poses or modern, creative ones, the key is to capture the emotions, love, and connection shared by the couple. Remember to communicate with the couple beforehand, so you can align your vision with theirs and create a beautiful collection of ring exchange photos that they'll cherish for a lifetime.
Tears And Laughter
Classic poses like a warm embrace between two people can convey a deep sense of connection and love. Whether it's a couple, family, or friends, this pose has been a staple in photography for generations. Holding hands symbolizes unity and support. It's a classic pose that can be adapted for various situations, from weddings to engagement sessions to family portraits.
Capturing a loving gaze between subjects is timeless. It speaks volumes about the bond and affection they share. Modern photography often revolves around capturing candid, unposed moments. These shots are raw and genuine and tell a unique story. Incorporating movement into your photos can inject life and energy. It could be a playful twirl, a jump, or a candid laugh mid-movement. Modern photography often focuses on using the environment as a backdrop, creating a sense of place and context. This approach adds depth and narrative to your images.