Capture the candid moments of bridesmaids sharing a laugh, a heartfelt conversation, or a group hug. These genuine moments often make for the most touching photos. Showcase photos of bridesmaids helping the bride get ready, whether it's buttoning up her dress, doing her makeup, or arranging her veil. Highlight the bridesmaids' bouquets and their dresses. Photos that emphasize the colors and styles of the dresses and the flowers can be visually appealing. Feature group shots of the bride with her bridesmaids. Experiment with different compositions and backdrops to create stunning images. Showcase individual portraits of each bridesmaid. These photos can capture their unique personalities and styles.
Getting Ready On The Wedding Day Morning
The morning of your wedding day is a special and exciting time, filled with anticipation and nervous energy. It's a time to pamper yourself, bond with your bridal party, and make sure everything is in place for the big day. To help you navigate this crucial part of your wedding journey, we've put together a comprehensive guide on getting ready on the wedding day morning. Follow these steps, and you'll ensure a smooth and enjoyable start to your wedding day.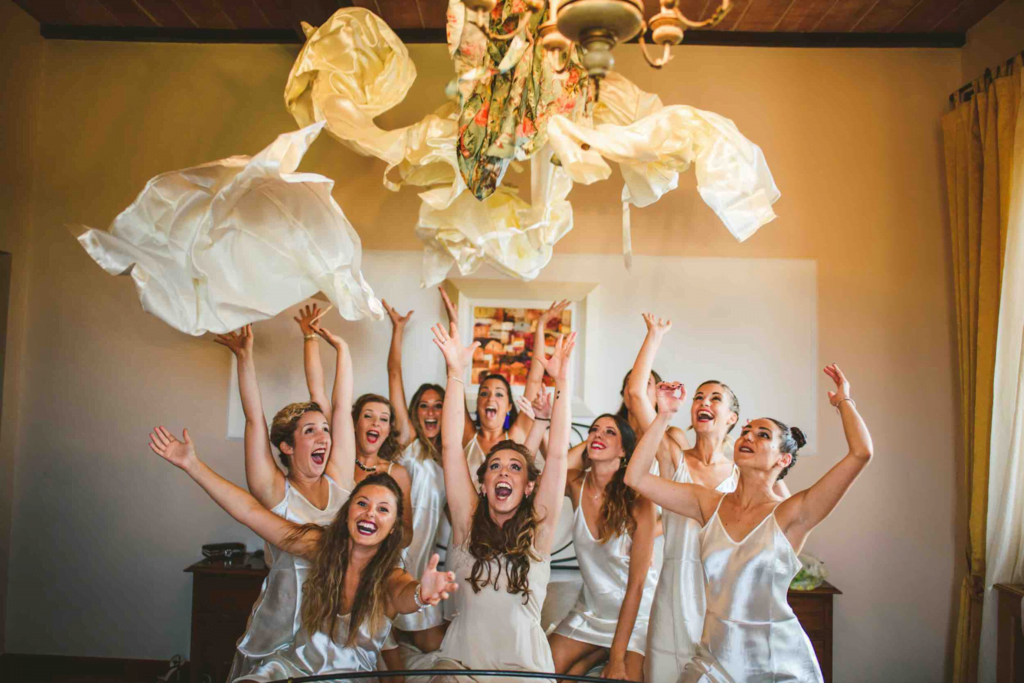 Amidst the chaos, take a few moments to breathe, relax, and reflect on the significance of the day. Meditate, pray, or simply enjoy the solitude. Enjoy a Snack and Stay Hydrated: As the day progresses, have a light snack and continue drinking water. You'll need the energy to sustain you through the ceremony and reception. Getting ready on the wedding day morning is a memorable and emotional experience. With careful planning and a calm approach, you can ensure that this special time is enjoyable and stress-free. Remember to savor every moment, stay organized, and surround yourself with loved ones who can help make your day as beautiful as you've always dreamed it would be.
Bridesmaid Robe Pictures
As weddings become more personalized and unique, bridesmaid robes have emerged as a stylish and practical choice for bridal parties. Not only do they add a touch of elegance to the pre-wedding preparations, but they also make for some stunning photo opportunities. we will explore the beauty and creativity that bridesmaid robe pictures can bring to your wedding album.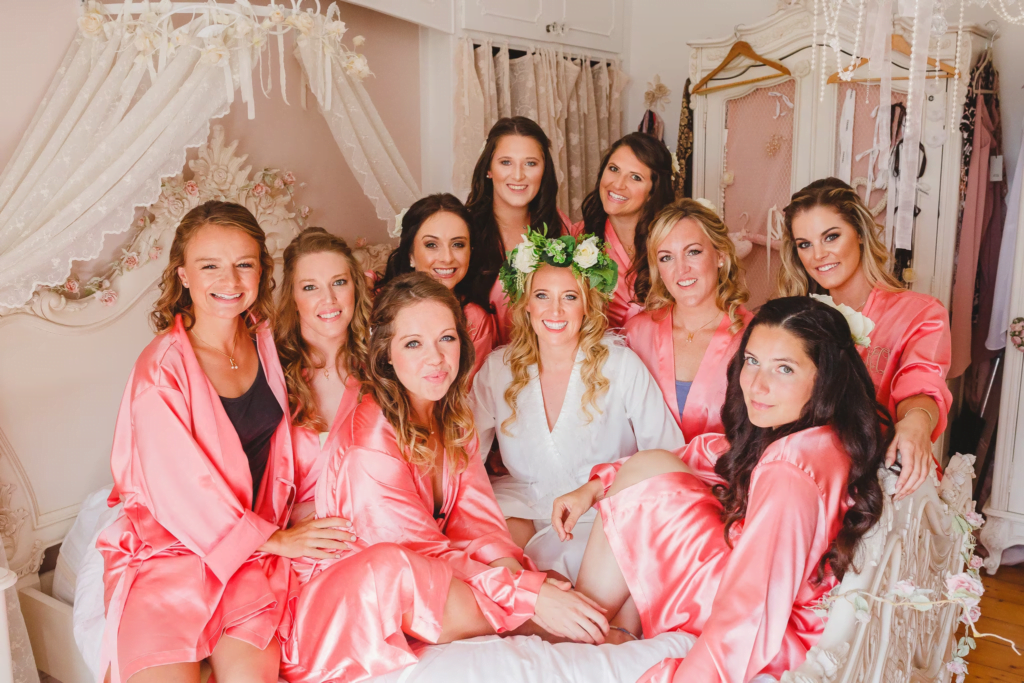 Bridesmaid robes are not just a trendy accessory; they are a delightful addition to your wedding photography that can enhance the beauty and uniqueness of your big day. As you plan your wedding, consider how these robes can be incorporated into your special moments and immortalized in your wedding album. Your bridesmaids will thank you for the thoughtful touch of elegance and comfort.
A First Look Photos
Photography is a timeless art that allows us to freeze moments in time, preserving memories that we can cherish for a lifetime. In this blog post, we're excited to share a first look at some of the incredible photos from our recent session. From candid shots to carefully composed portraits, these images encapsulate the beauty and emotions of the moments they capture.
Before we dive into the photos themselves, let's take a moment to set the stage. Our photo session took place in the picturesque backdrop of [Location], a place known for its stunning natural beauty and unique architecture. The weather was just right, and the lighting was perfect, allowing us to create magic behind the lens. Some of the most beautiful photos are the ones captured when no one is looking directly at the camera. Candid shots have a way of revealing the genuine emotions and connections between people. From laughter to heartfelt glances, these candid moments tell a story of their own.
One-On-One Maid Of Honor Time
Wedding planning can be a whirlwind, and it's easy for the bride and her maid of honor to get swept up in the chaos. Amidst the hustle and bustle, it's crucial to carve out some one-on-one time to reconnect and share moments of joy, laughter, and even a few tears. This quality time can help you both relax and remember what truly matters amidst all the wedding preparations.
Being a maid of honor is not just about fulfilling duties; it's about cherishing and strengthening the bond you share with the bride. One-on-one maid of honor time allows you to create precious memories, support her during this exciting chapter of her life, and remind her of the incredible friendship you both treasure. So, take a break from the wedding planning chaos and prioritize this special time together – it's worth every moment.
Bride With Bridesmaids In Matching Denim Jackets
Weddings are all about celebrating love, but they're also a chance to showcase your unique style and personality. One wedding trend that has gained popularity in recent years is having the bride and her bridesmaids don matching denim jackets. This trend combines a touch of edginess with the traditional elegance of a wedding, creating a memorable and Instagram-worthy look. we'll explore the concept of brides and bridesmaids in matching denim jackets, from the history of the trend to tips on how to pull it off flawlessly.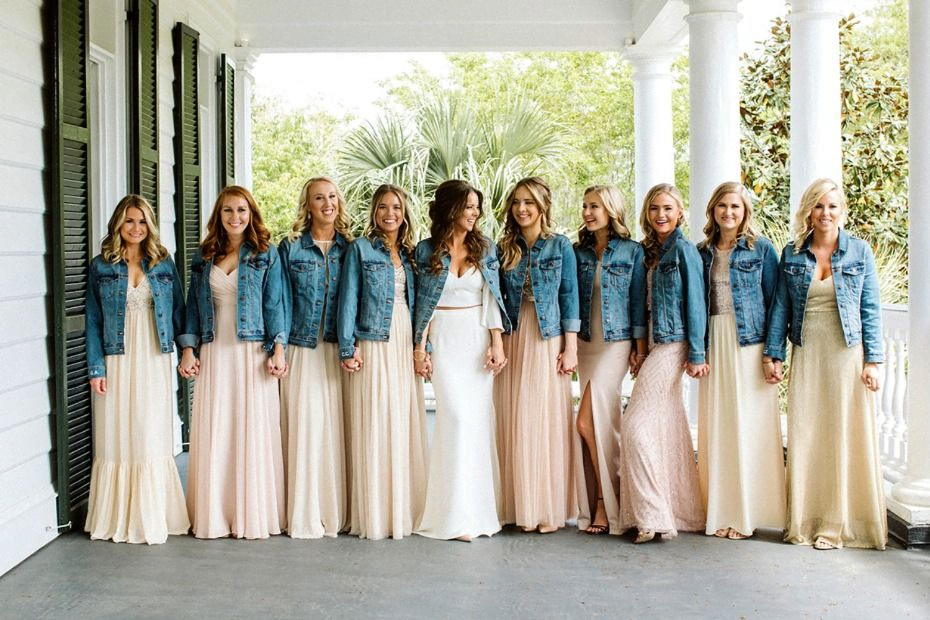 The trend of brides and bridesmaids in matching denim jackets is a fantastic way to add a modern twist to your wedding attire while still maintaining the elegance of the occasion. Whether you opt for customized jackets or keep them simple and chic, denim jackets are sure to make your wedding day memorable and stylish. So, why not consider this trendy and comfortable choice for your upcoming nuptials?