While white is the most traditional color for brides, lots of people have been choosing the unconventional over the conventional these days. If you are such a bride, you might want to consider black wedding accessories for that significant touch of the unique. Whether you'll be going for black wedding hair accessories or even black jewelry for the wedding. That subtle touch of black could make a world of difference. Below we have lots of inspirational ideas for adding unique black elements and accessories to your wedding look.
Black Bridal Veils And Hats
A wedding veil is one way to incorporate black wedding accessories into your bridal look. Whether you need accessories for a black wedding dress or a white one, there are many stylish options with a veil. Such black veils could include a black birdcage veil, black lace veil, or black tulle. Another option would be a hat in the style of a black fascinator.
Black Wedding Headpieces
Your bridal look might include stylish black wedding hairstyles with veils or not. No matter the style that you choose, one element that could enhance your look is a headpiece. From buns, and tiaras to combs and barrettes, there are a lot of options to choose from. Lots of bridal headbands and tiaras come in white, but there is also a variety in black that can help a bride make a statement. Delicate crystal hairpieces and faux floral headbands are just some of these amazing black headpieces.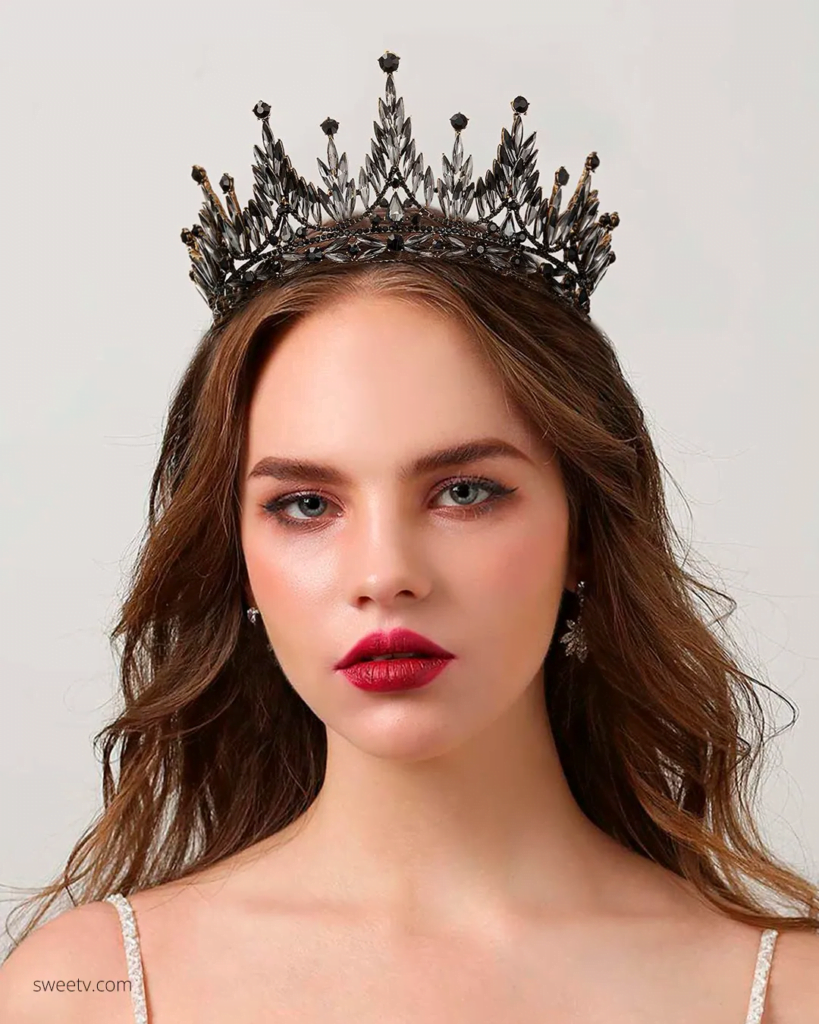 Black Shoes For Your Big Day
There are no rules that say white shoes are compulsory for a bride. And if you'd prefer to rock black heels for your wedding day, no one can stop you. It can be especially stylish to have black shoes peeking out from beneath your wedding dress. This sweet contrast might be all you need to express your style on your big day. Whether it's comfy and stylish black sneakers or magnificent six-inch lace booties, you can make this look your own.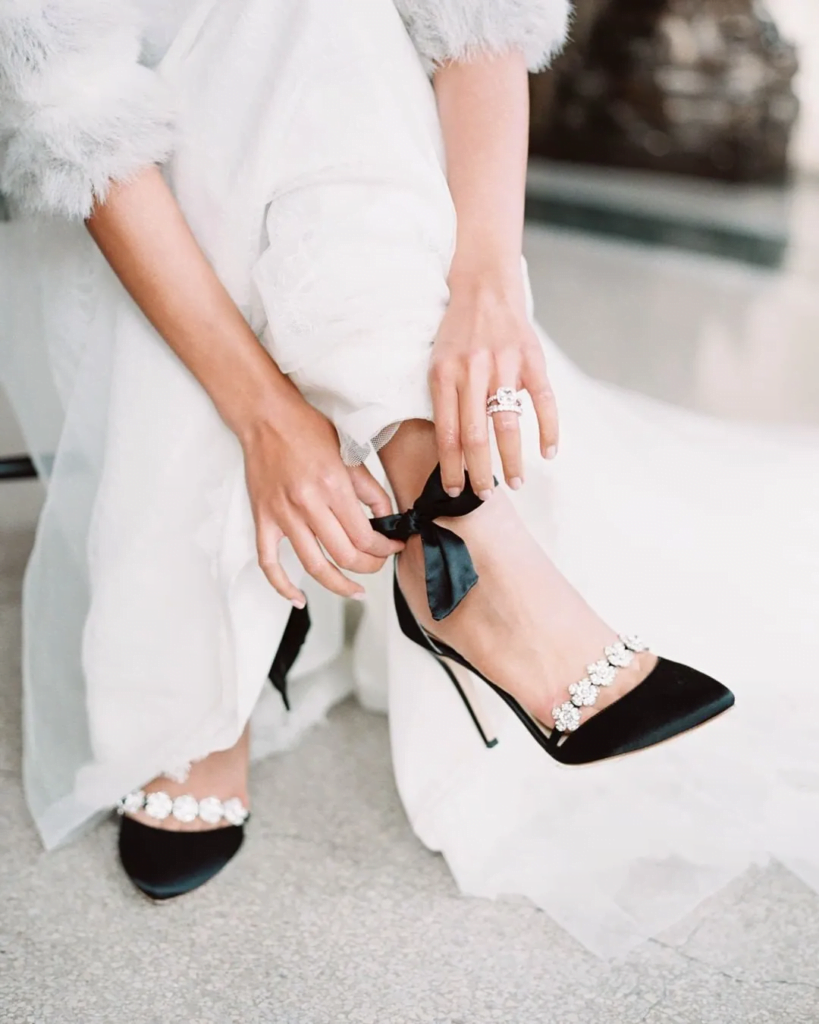 Beautiful Bridal Rings In Black
Black wedding rings are trendy, they are unique, and they are here to stay. This muted color can be the perfect choice for couples who want wedding rings that don't attract too much attention but are just as attractive in their subtlety. From black diamonds to black titanium or tungsten, there are many options in the unique world of black wedding rings.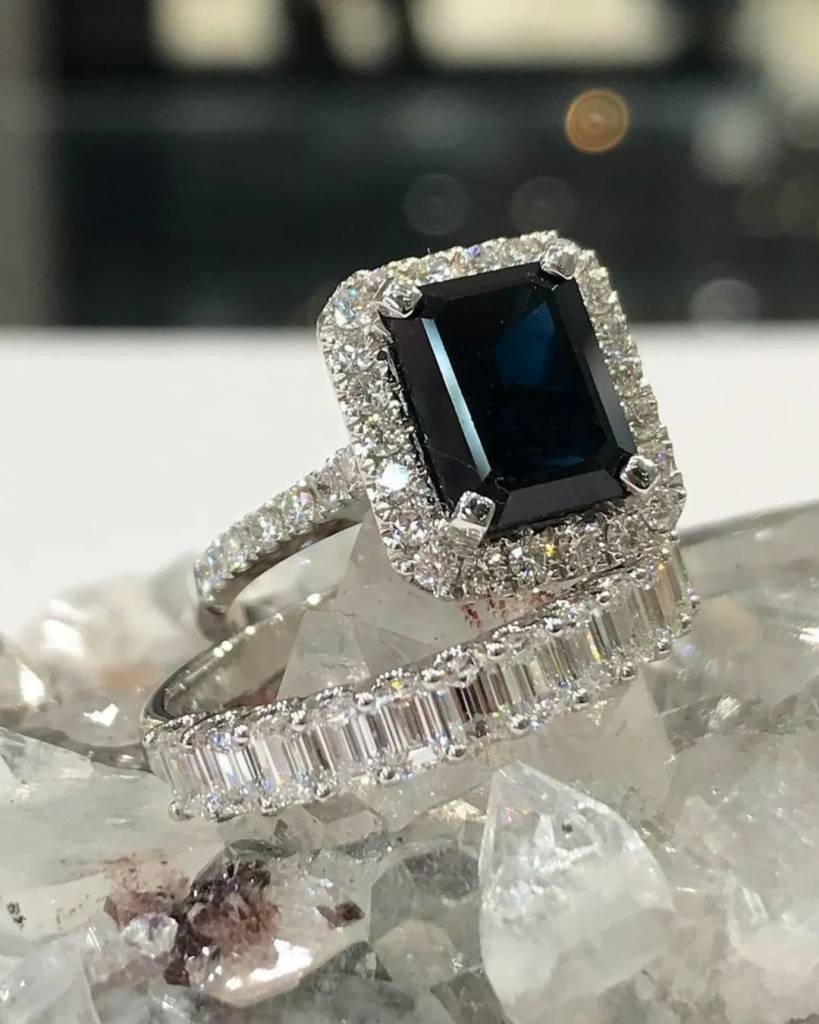 Black Bridal Necklace Ideas
One of our favorite black wedding accessories is the black wedding necklace. A cool way to show off a unique bridal accessory is to place it around your neck. You could consider an elaborate black choker of lace or crystal layers for a strapless dress. For dresses with plunging necklines or back, you could try long black gleaming pearls.
The world is your oyster, and your wedding is yours to enjoy. If black is the color for you, then choose the black wedding accessories that will fit your wedding look and show off your amazing personality on your big day.