Listen. All we want is a pair of stunning heels that don't destroy our feet—a chic wedding shoe that feels special-occasion-worthy but doesn't have us hobbling or going barefoot by the end of the night. Is that too much to ask?!
Everyone is accustomed to seeing very adorable heels that you just know will be uncomfortable or cushy heels that put stability above, well, everything. However, Emmy London has discovered how to do BOTH. Each pair of shoes includes padded insoles made of memory foam from the heel to the toe and each shoe's form is meticulously balanced. The ideal situation for a bride, no?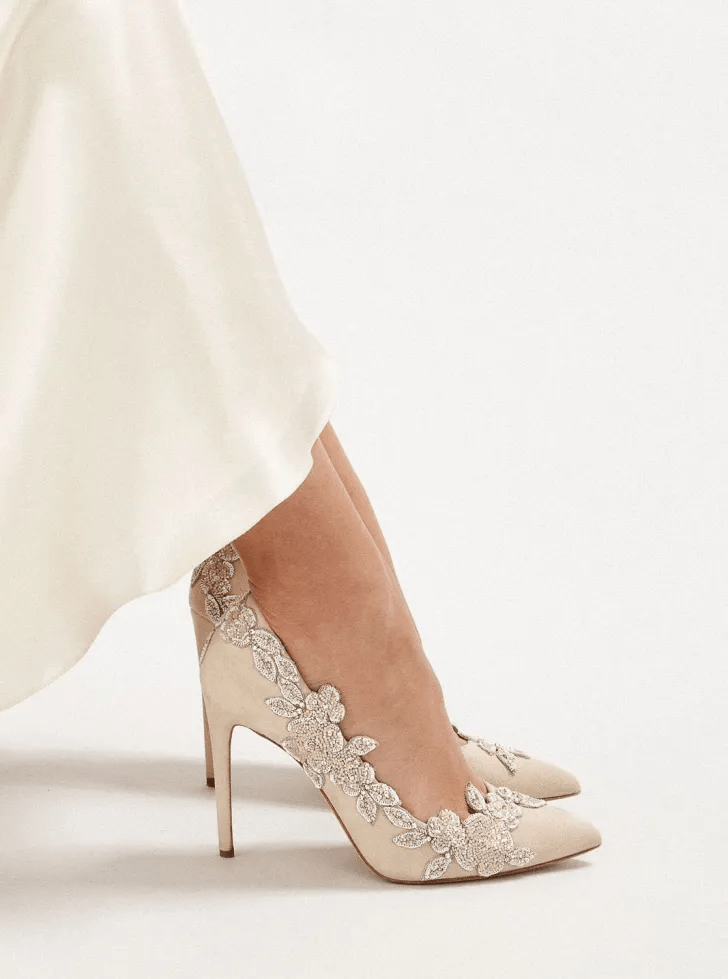 Founded by designer Emmy Scarterfield (who's designed for Georgio Armani and Bottega Veneta, nbd), Emmy London focuses on breathtaking bridal and occasionwear shoes and accessories. They have a wide range of ready-to-wear pairs you can have shipped straight away, but you can also go the made-to-order route and get a pair of wedding shoes custom-made and fit just for you! Ranging from bridal block heels to stilettos, the designs are available in a range of sizes, half sizes, and wide sizes from US 5 (35) – 13 (43) ensuring your shoes fit perfectly making you feel balanced, confident, and comfortable.
Florence Mid Sparkle
If you're a classic bride who wants a timeless silhouette but definitely won't say no to a little glitter here and there, this might be your dream shoe. The Florence Mid Sparkle has a sleek, elegant heel, and those shimmery bows are adjustable so you can tie and style them exactly the way you want. The Florence comes in tons of non-sparkly colors, too, including blush, forest green, and black. And it should be noted that everybody who reviews this particular style/shape can't help but mention how insanely comfortable these are. Love to hear it!
Faye Ivory Sparkle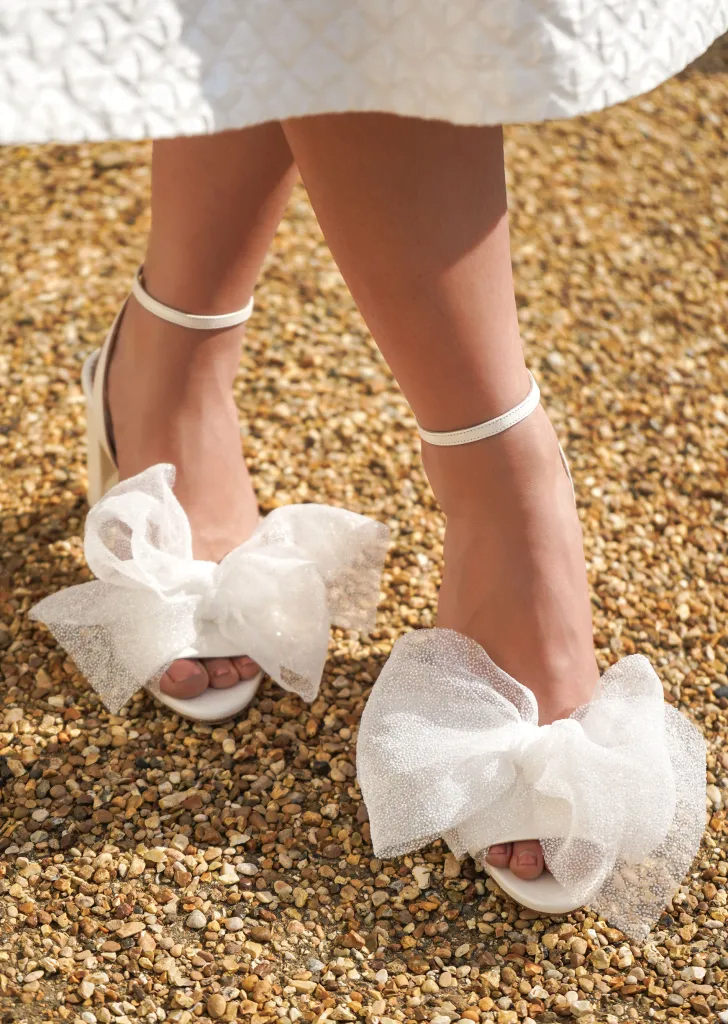 Open toe? Block heel? Sparkly adjustable bow? Ankle strap with a cute, bejeweled buckle? We're OBSESSED with the Faye Ivory Sparkle. We can see it fitting perfectly into a springy outdoor wedding—block heels are such a great way to avoid the dreaded moment when your stilettos sink into the grass. This particular look comes in a non-sparkle ivory version and in black as well!
Stella Gold
We adore a metallic moment! But that's where Emmy London has it totally nailed. Carefully selected soft and breathable materials mean rocking this metallic moment pain-free. And the Stella comes in silver, too!! AND ivory, as well, for a more classically bridal look.
Harriet Ivory
"Beautifully made and very comfy." Love these shoes. Beautiful and comfortable." || "The perfect wedding shoe!" || "I am so happy with my wedding shoes and cannot wait to wear them on the day. They are beautiful and comfortable."
How can you not fall in love with that timeless pointed toe or that ballerina-esque wrap-and-tie ankle strap?! And you KNOW a block heel is a recipe for a sturdy, supported feel.