Celebrate the season of abundance and growth with fall wedding decorations. Explore inspiring ideas for your fall wedding as nature displays its vibrant colors, symbolizing prosperity and warmth. Discover the perfect decor to make your fall wedding truly magical. Keep reading for inspiration.
Fall Wedding Decor Ideas For Ceremony
Arch Fall Wedding Decorations
You have a lot of easy options when it comes to fall wedding decorations. A good place to start is your color pallet. Achieve harmony with the beauty of the outdoors by bringing it indoors. Combine harvest colors with late-bloom florals for a warm, inviting, atmosphere. Think foliage, summer squash, pumpkin, cranberries, and so on. These rich hues can be vivid or muted. Either way, traditional, rustic, boho, and many other wedding themes work extremely well with these colors.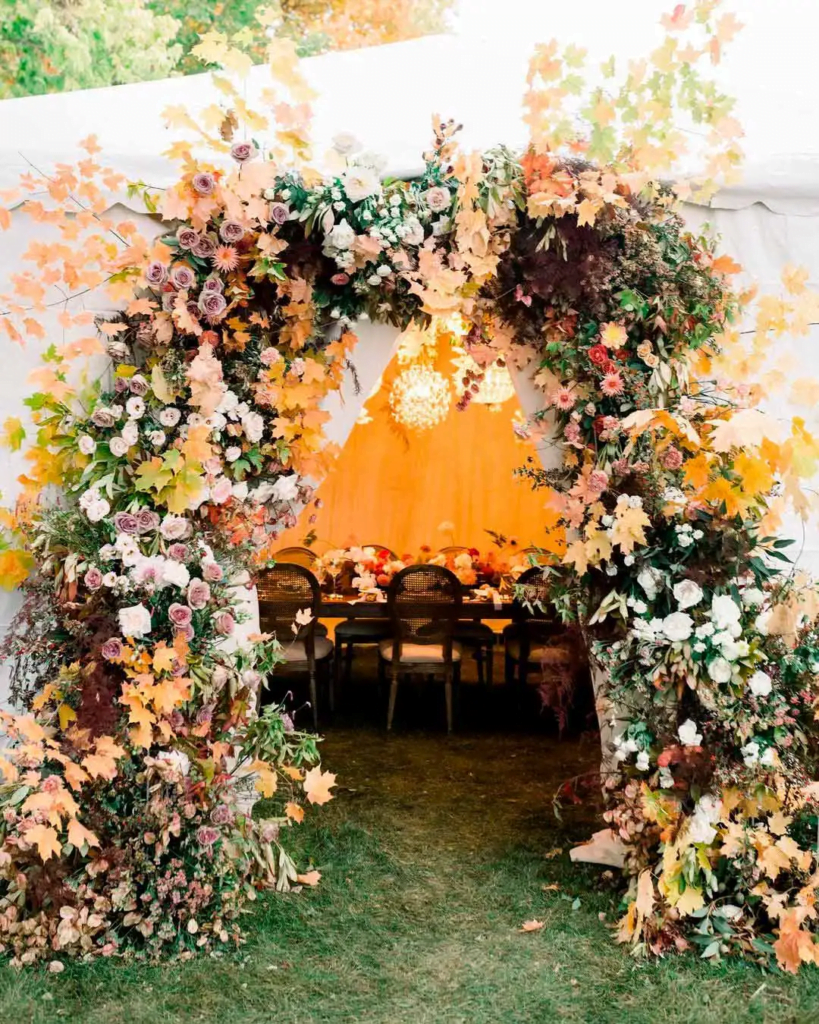 Aisle Fall Wedding Decorations
The allure of rustic elements in fall wedding decor lies in their ability to evoke a sense of warmth, nostalgia, and natural beauty. As the leaves turn vibrant shades of gold and red, couples find inspiration in the rustic aesthetics of the season, setting the stage for a romantic and intimate celebration. Embracing rustic elements in fall wedding decor is a captivating way to create an enchanting ambiance that resonates with both the couple's personalities and the beauty of the autumnal landscape.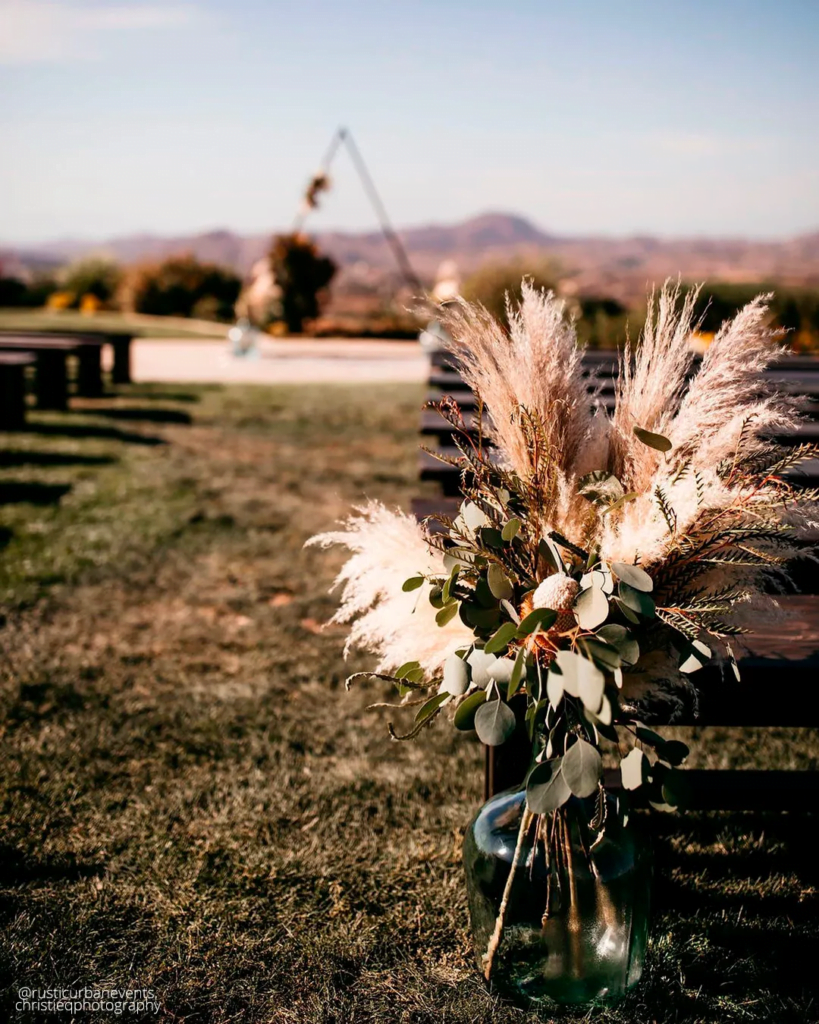 Reception Fall Wedding Decor Ideas
Vibrant Fall Floral Arrangements
Instead of a single, prominent flower, think mélange. This trend prefers a wide variety of sizes, textures, and colors over your classic bundle of roses and baby's breath. For best results, look for the freshest late-bloom flowers you can get your hands on such as dahlias, cymbidium orchids, pampas grass, calla lilies, and chrysanthemums. Create consistency by using the same choices for your centerpieces, aisle decor, and archway.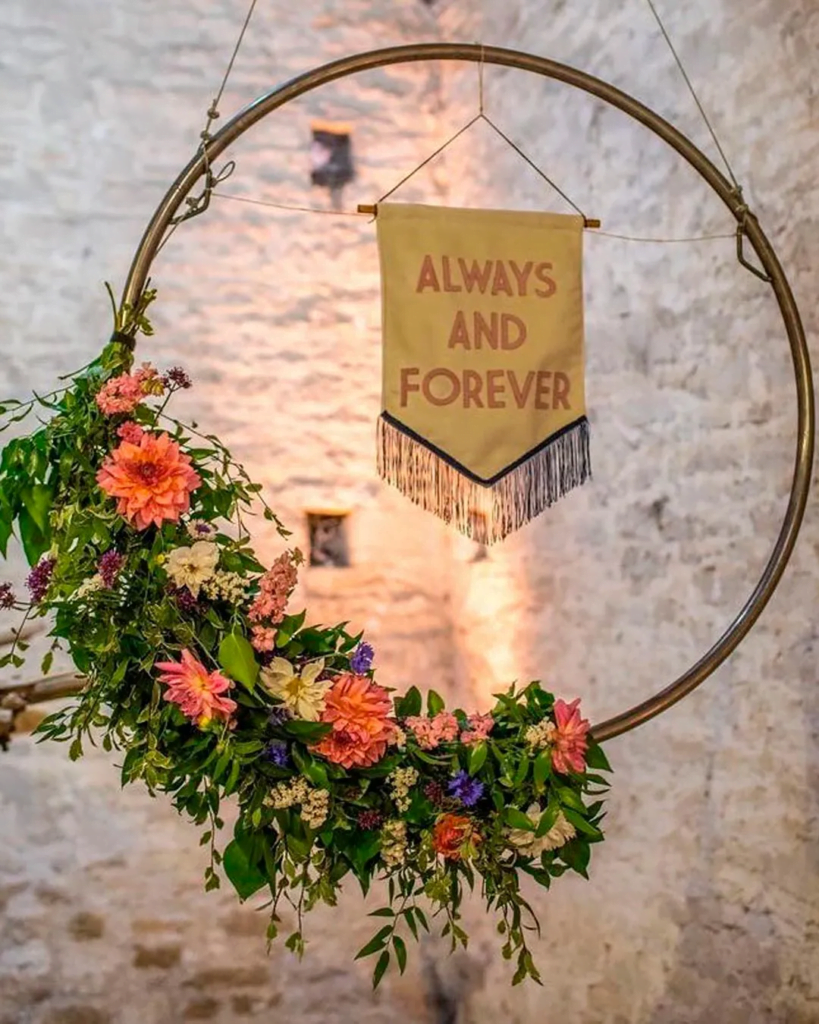 Fall Wedding Centerpiece Ideas
Fall weddings tend to have an old-world appeal to them. Lean into it with vintage lanterns or antique candelabras. Again, make use of harvest veggies and fruits whenever possible. For a trendier, more modern approach, think glass. Create a transparent box around your plants of choice. Or, fill glass containers with cranberries, water candles, or flowers. Make sure to complement all of these colors and textures with other natural elements such as stonework, especially for boho and rustic wedding themes.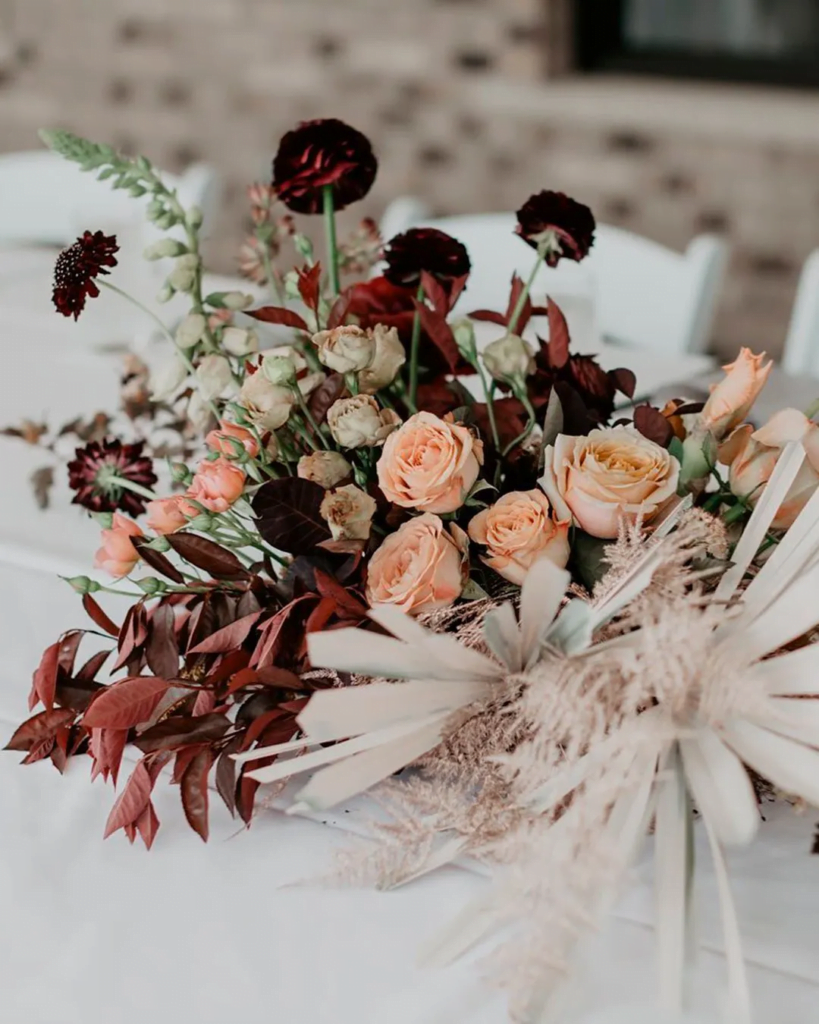 Berries Decor Ideas For Fall Wedding
Elevate your wedding with lush berry decor. Enliven your bouquets and centerpieces with cranberry touches, infusing your celebration with natural allure.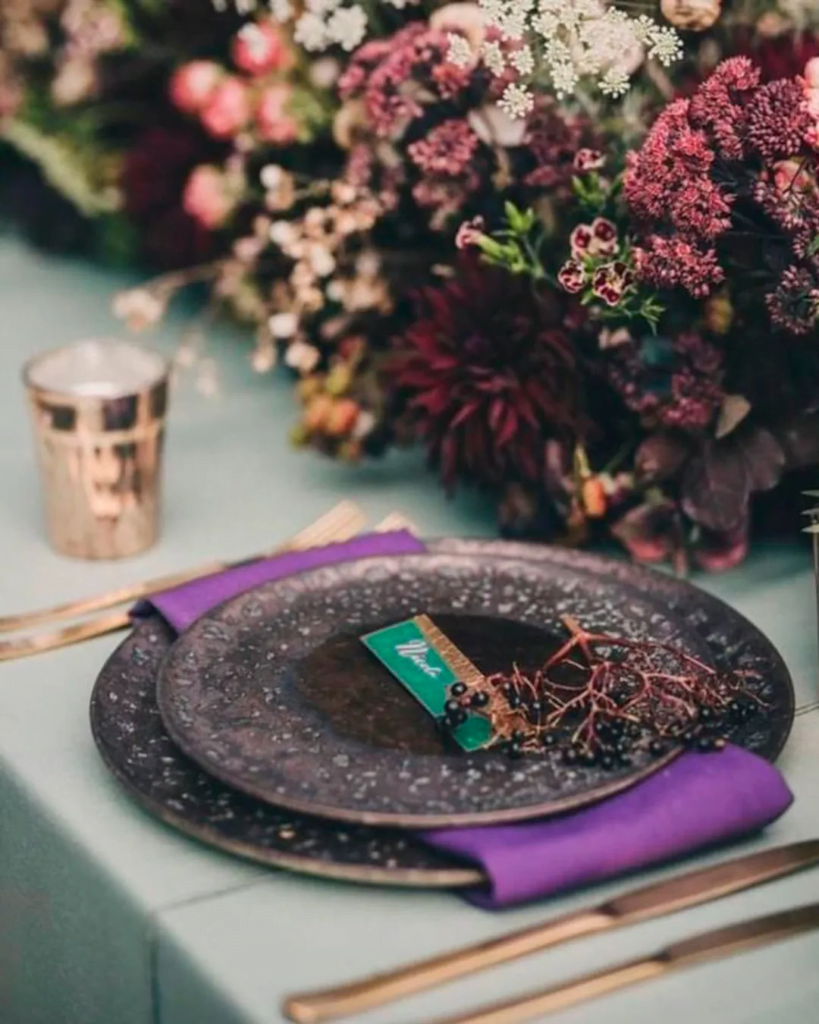 Decorating Tricks For Your Chairs
Take a cue from the rest of your fall-theme wedding decorations and go au naturale. A simple set of wooden plants with "Mr" and "Mrs" etched on them is all you need to stand out from the rest of the seats. To glam it up a step, incorporate your chosen flower scheme in the form of wreaths for the bride and groom, and hanging planters or bouquets for the rest of the guests.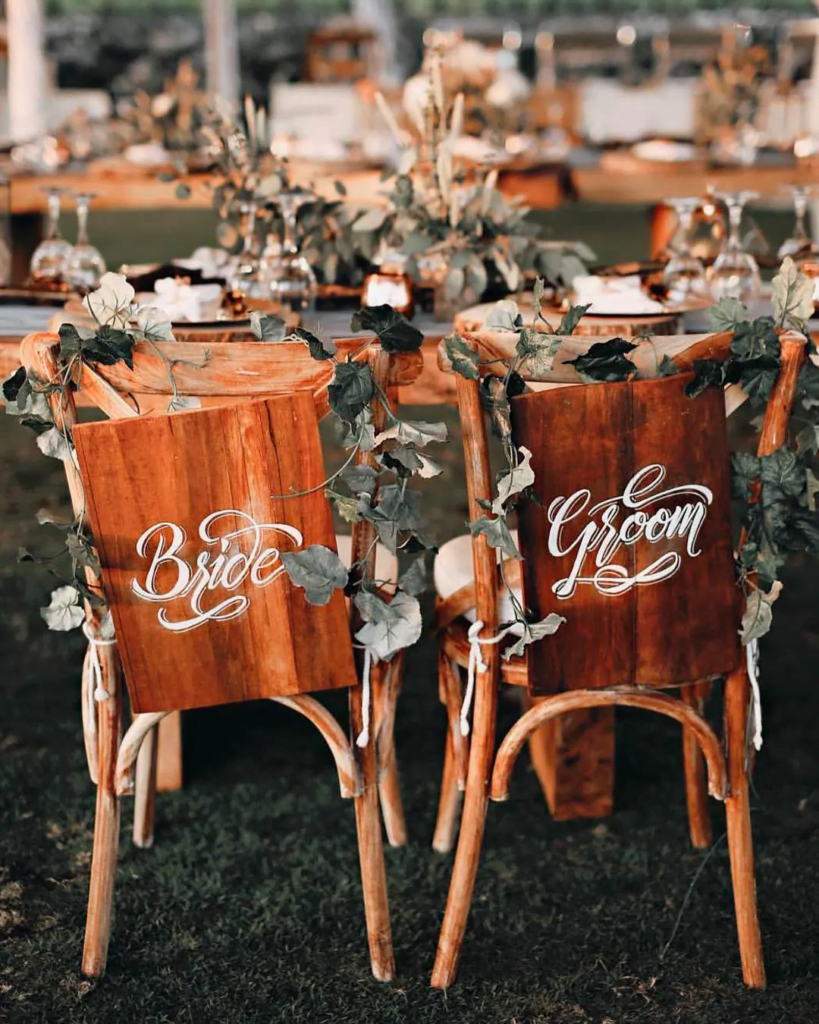 Fall Table Decorations
The fall season is all about food. Consider bringing this element into all of your fall wedding decoration ideas. For example, place berries and holly in your floating candles. Place apples, gourds, or other fruits and veggies directly on the table as ornamentation. You can even offer up unique and useful favors like spiced olive oil or herb salad dressing.
Rustic Fall Decorations – Signs
Immerse your guests in the captivating spirit of the season by weaving earthy elements and warm hues into your wedding. Arrange escort cards on rustic pots adorn with dried flowers, evoking a cozy and enchanting ambiance that beautifully complements your fall-theme celebration.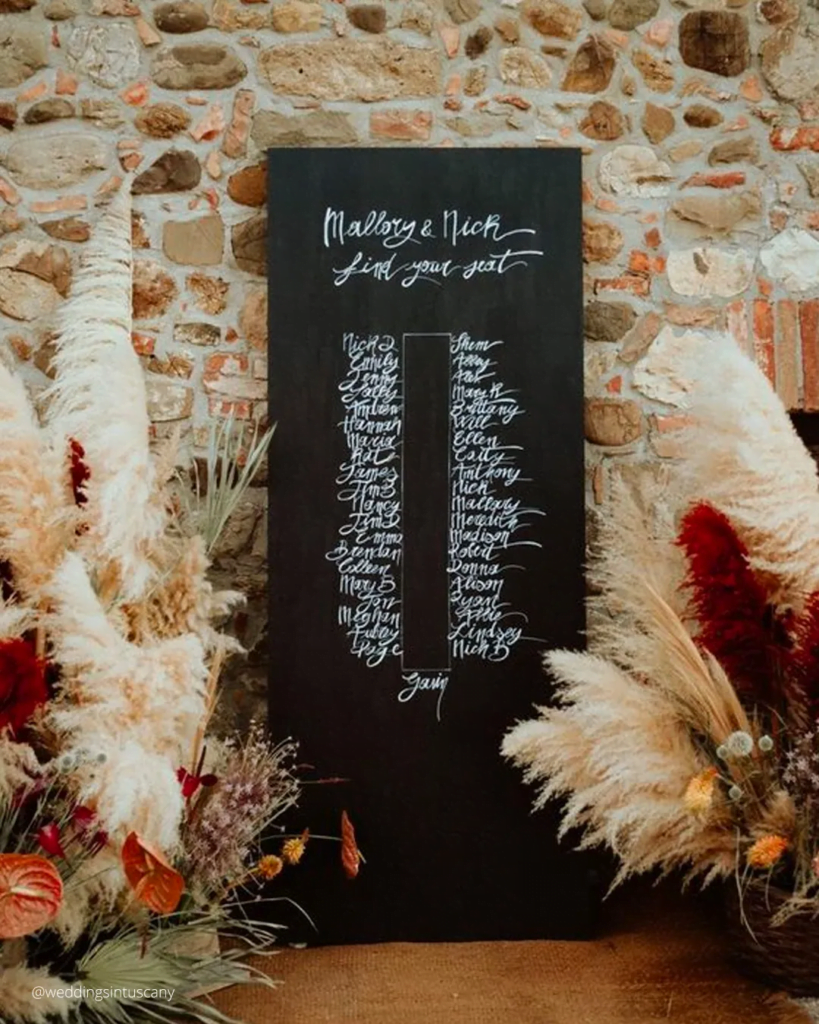 When using leaves, string them together. This way you can create majestic weaves around your other table decor or even create a waterfall design!